Winter Selfie Competition is Live on Torum SocialFi Metaverse!
Hi fam,
Torum is overflowing with your wishes and blessings! The team hopes that all your dreams come true in 2022!
Before 2022, we got a dessert for you...
Dessert: Winter Selfie Competition
Duration: 29th Dec, 12.00 a.m. - 30th Dec, 11:59 p.m.
A photo can play an important role in every life moment. How can a Christmas day be complete without a group selfie photo?
Share the selfie photo about you and your family or friends, and spread the Christmas joy together on Torum! 📸
Torum Christmas contest info:
Torum team is having a big party with the whole community during this Christmas period and distribute rewards to celebrate this amazing Torum year! The team has prepared some competitions and a lucky draw to our wonderful community on such a momentous day. You are eligible to enter the Lucky Draw by participating in one of the competitions. The more competitions you enter, the more lottery entries you will have.
May this holiday season bring eternal joy and happiness to you and your family!
Please read the following link for further information on the event: https://medium.com/torum-official/torum-gingerbread-party-19cd783ff820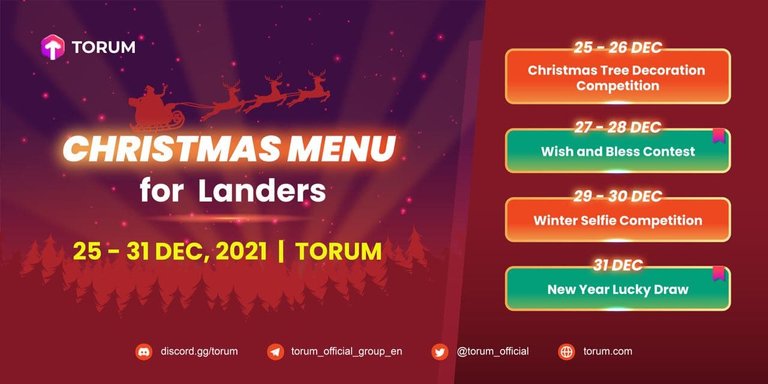 Introduction to Torum
Torum is the world's largest SocialFi ecosystem (Social Network + NFT + DeFi + Metaverse) that is specially designed to connect cryptocurrency users.
XTM is the multichain (Ethereum + Binance Smart Chain + HECO Chain) utility token of Torum ecosystem and it's now listed on Kucoin, Huobi, Uniswap and Pancakeswap.
Read Torum Whitepaper to discover XTM token utilities and the potential of the ecosystem (Crypto-social platform + DeFi platform + NFT marketplace + Metaverse + Airdrop section + Smartphone App + News & Data aggregator): https://whitepaper.s3.us-east-2.amazonaws.com/torum-whitepaper-V4.0-EN.pdf
✅#SocialFi Metaverse Pioneer
✅Backed by Huobi & Kucoin
✅Big community of 190,000 users
✅Get rewarded daily in XTM for your social engagement
✅Sign up with my referral link, complete identity verification and you will earn 7,5 XTM airdrop: https://www.torum.com/signup?referral_code=makeitreal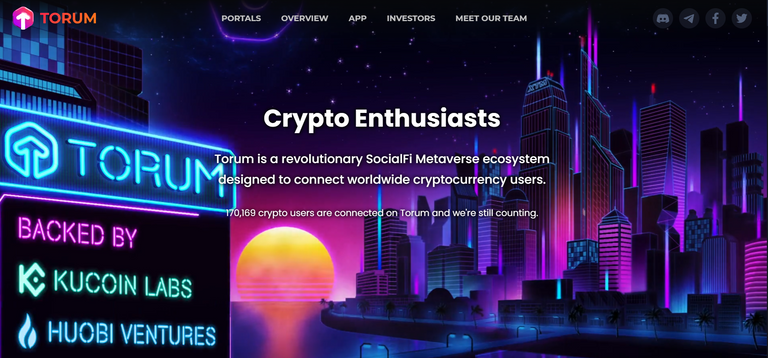 ---
---