I arrived at LEVEL 60 today.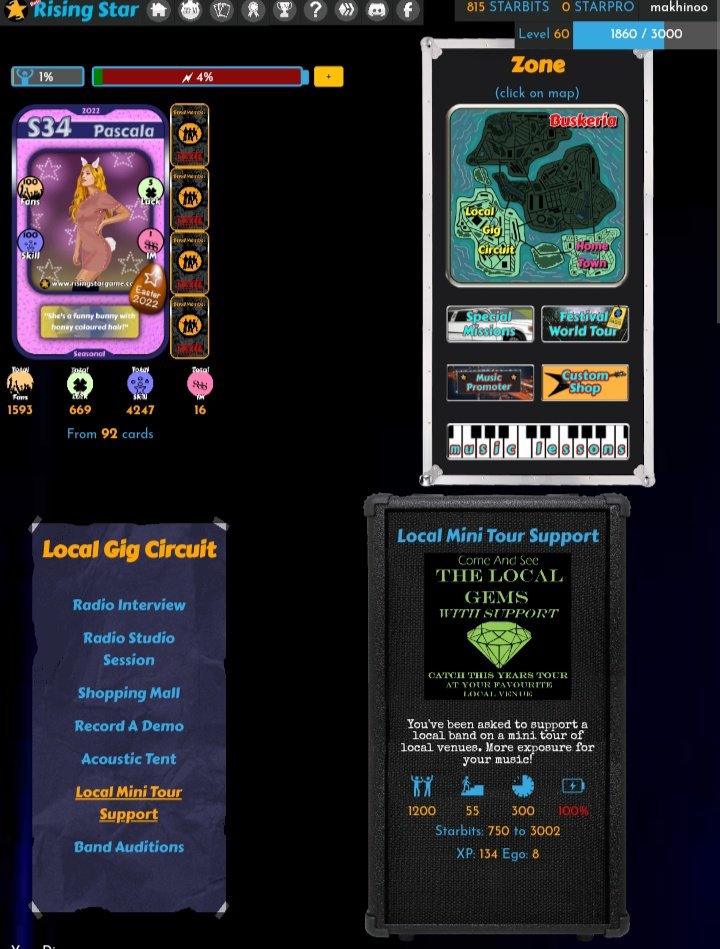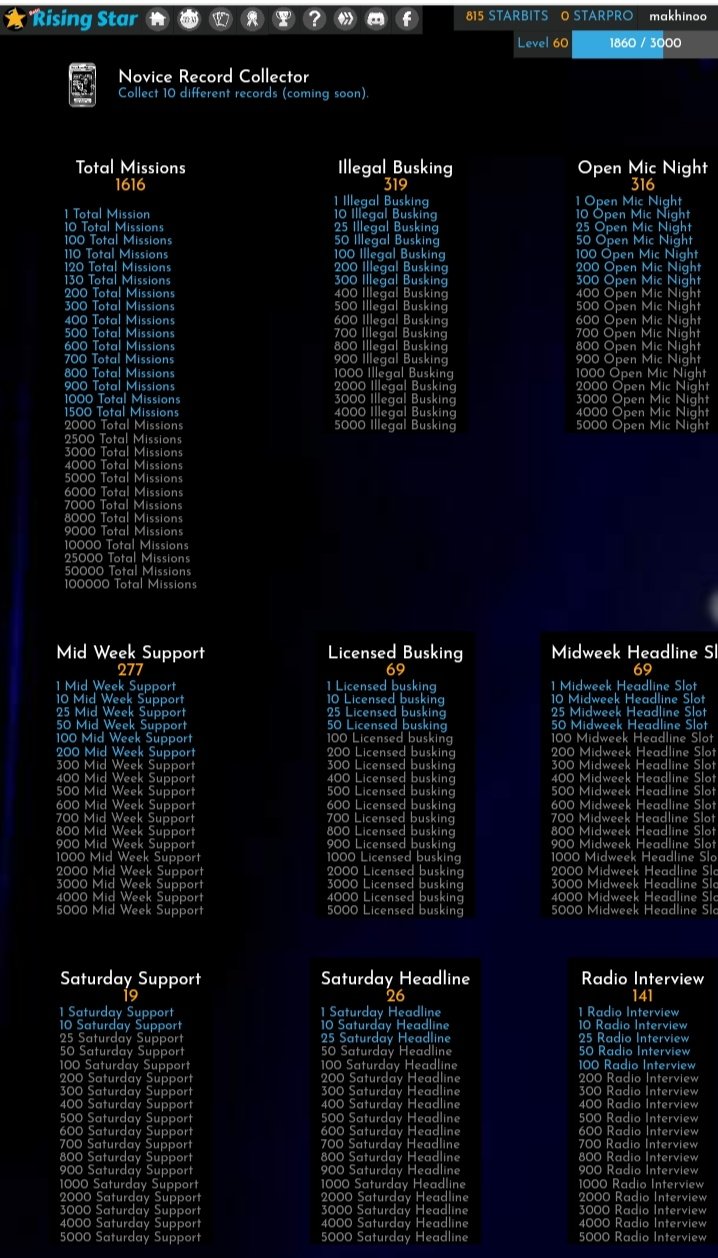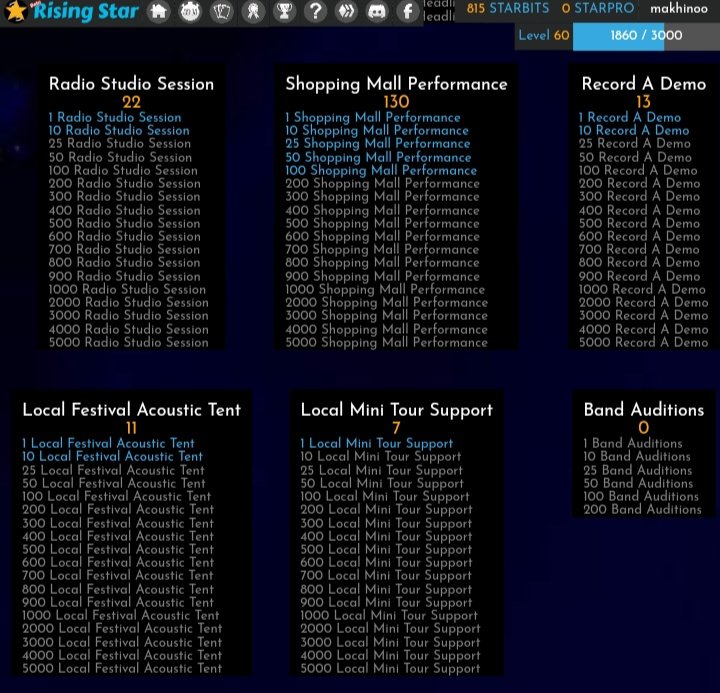 Welcome to all music lovers in the Risingstar game community.
I arrived at LEVEL 60 today.
Currently my EGO% is at 1%.
Now I am constantly reducing my Ego%.
It will return to 0% soon.
I have used the Local Mini Tour Support mission included in the Local Gig Circuit seven times.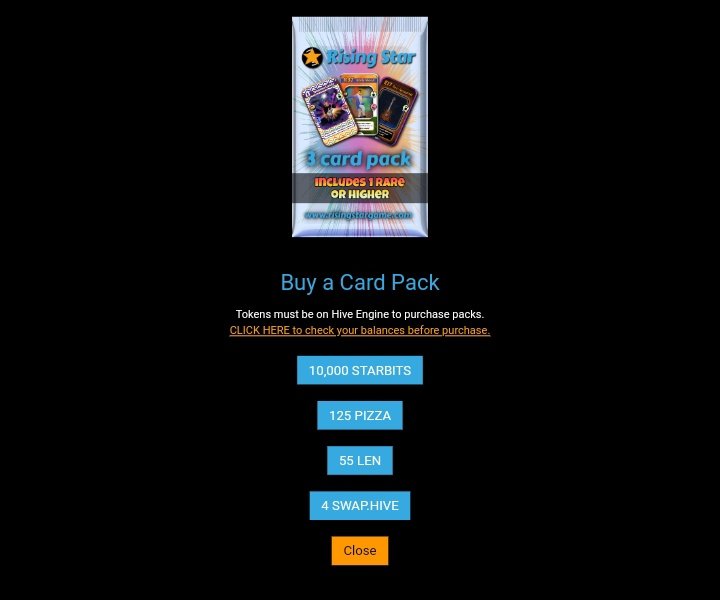 I bought a 3 card pack today.
The cost is STARBITS = 10000.
The three cards I received were ...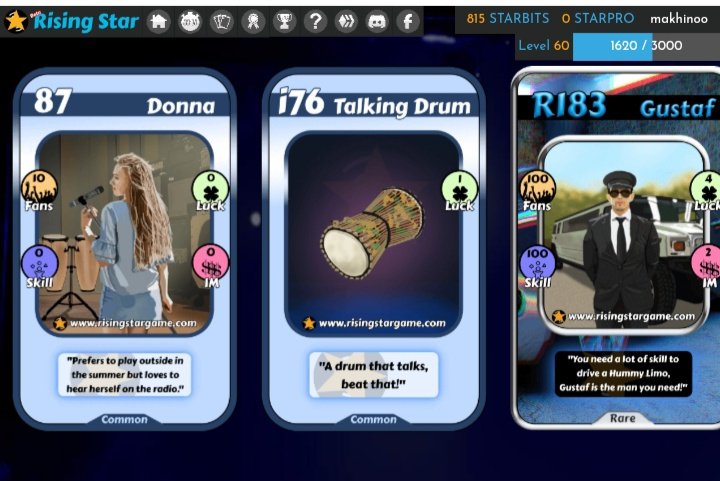 87 Donna
Fans = 10
i76 Talking Drum
Luck = 1
R183 Gustaf
Fans = 100
Skill = 100
Luck = 4
IM = 2
Total Missions completed until 1616.
IIIegal Busking has been completed up to 319.
Open Mic Night has been completed up to 316.
Mid Week Support 277 completed.
Licensed Busking has been completed up to 69.
Midweek Headline Slot Complete 69
Saturday Support has been completed until 19.
Saturday Headline 26 completed.
Up to 141 radio interviews have been completed.
Radio Studio Session 22 completed.
Up to 130 Shopping Mall Performance has been completed.
Record A Demo 13 has been completed.
Local Festival Acoustic Tent completed 11.
Local Mini Tour Support up to 7 completed.
That's all for today.
ဒီနေ့ Level 60 ကိုရောက်နေပါပြီ။
Risingstar ဂိမ်းအသိုင်းအဝိုင်းရှိ ဂီတချစ်သူများအားလုံးကို ကြိုဆိုပါတယ်။
ဒီနေ့ Level 60 ကိုရောက်နေပါပြီ။
လောလောဆယ် ကျွန်တော့်ရဲ့ EGO% က 1% ပါ။
အခု ငါက ငါ့ရဲ့ Ego % ကို အမြဲ လျှော့နေတယ်။
မကြာမီ 0% သို့ ပြန်သွားပါမည်။
Local Gig Circuit တွင် ပါဝင်သော Local Mini Tour Support မစ်ရှင်ကို ခုနစ်ကြိမ် အသုံးပြုခဲ့သည်။
ဒီနေ့ 3 ကဒ် pack ဝယ်လိုက်တယ်။
ကုန်ကျစရိတ်က STARBITS = 10000 ဖြစ်ပါတယ်။
ကျွန်တော်ရရှိသော ကတ်သုံးကတ်မှာ...
87 Donna
ပရိသတ် = ၁၀
i76 Talking Drum
ကံ = ၁
R183 Gustaf
ပရိသတ် = 100
ကျွမ်းကျင်မှု = 100
ကံ = ၄
IM = ၂
စုစုပေါင်း Missions 1616 အထိ ပြီးမြောက်ခဲ့သည်။
IIIegal Busking သည် 319 အထိ ပြီးမြောက်ခဲ့သည်။
Open Mic Night မှာ 316 အထိ ပြီးသွားပါပြီ။
Mid Week Support 277 ပြီးပါပြီ။
လိုင်စင်ရ Busking 69 ခုအထိ ပြီးသွားပါပြီ။
သီတင်းပတ်လယ်ပိုင်း ခေါင်းကြီးပိုင်းစလော့ အပြီးအစီး 69
စနေနေ့ ပံ့ပိုးကူညီမှု 19 ရက်အထိပြီးစီးခဲ့သည်။
စနေနေ့ ခေါင်းကြီး ၂၆ ပြီးပါပြီ။
ရေဒီယိုအင်တာဗျူးပေါင်း ၁၄၁ ခုအထိ ပြီးသွားပါပြီ။
Radio Studio Session 22 ပြီးပါပြီ။
Shopping Mall 130 အထိ စွမ်းဆောင်ရည် ပြီးသွားပါပြီ။
Record A Demo 13 ပြီးသွားပါပြီ။
Local Festival Acoustic Tent 11 ပြီးမြောက်သည်။
Local Mini Tour Support 7 ခုအထိ ပြီးပါပြီ။
ဒီနေ့အတွက် ဒီလောက်ပါပဲ။
---
---