🍪🐼🐷Galletas de animalitos, sabor a vainilla con lluvia de colores hechas por mi chipilín🍪👦🏻 // 🍪🐼🐷 Animal cookies, vanilla flavor with rain of colors made by my chipilín 🍪👦🏻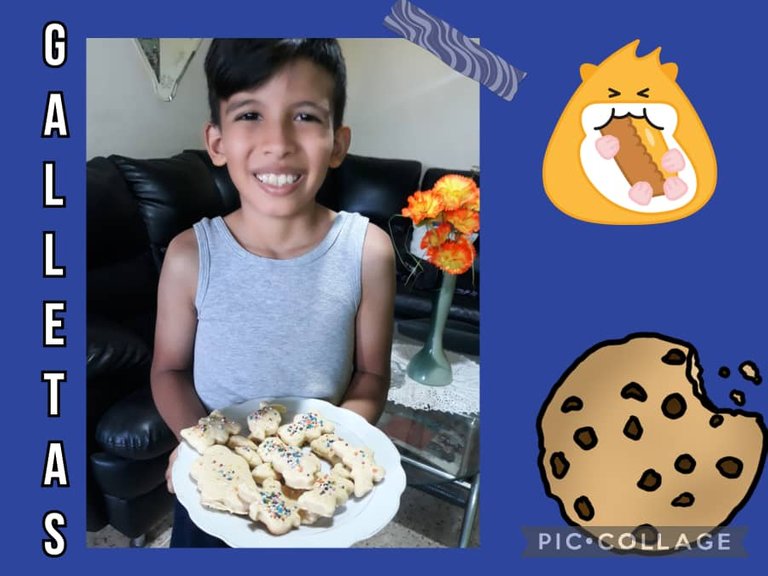 ¡Buenos días abejitas!☕ 💫 Espero se encuentren muy bien. Como les comenté hace unos días las clases escolares finalizaron hace unas semanas y la mayoría de los niños se encuentran en casa, mientras muchos padres continuamos laborando, aunque en mi caso tomo vacaciones pronto.😉
Lo cierto es que los niños quieren hacer actividades distintas, por lo menosmi hijo me dijo para hacer unas galletas con cortadores de figuras de animalitos, entonces hice una masa sencilla con sabor a vainilla y el se encargó del resto.
📝 Ingredientes:
● 🧈1/2 Taza de Margarina
● 1/2 Taza de Azúcar glass o impalpable
● 2 Tazas de Harina de trigo leudante cernida
● 1/2 Cdta de Vainilla
● 🥚1Huevo
Decoración
● Lluvia de colores
👩🏻‍🍳 Preparación:
1.- En un bol colocamos la margarina, azúcar batidos hasta que el color sea más claro, casi blanco. Luego agregamos el huevo, la vainilla y seguimos batiendo.
Good morning bees! ☕ 💫 I hope you are feeling well. As I told you a few days ago school classes ended a few weeks ago and most of the children are at home, while many parents continue working, although in my case I am taking vacation soon.
The truth is that children want to do different activities, at least my son told me to make some cookies with cutters with animal figures, so I made a simple dough with vanilla flavor and he took care of the rest.
📝 Ingredients:
● 🧈1/2 Cup Margarine.
● 1/2 cup powdered sugar or powdered sugar.
● 2 Cups of sifted leavened wheat flour
● 1/2 Tsp Vanilla Beans
● ● 🥚1 Egg
Decoration
● Colorful rain
🧑🏻‍🍳 Preparation:
1.- In a bowl we place the margarine, sugar beaten until the color is lighter, almost white. Then we add the egg, vanilla and continue beating.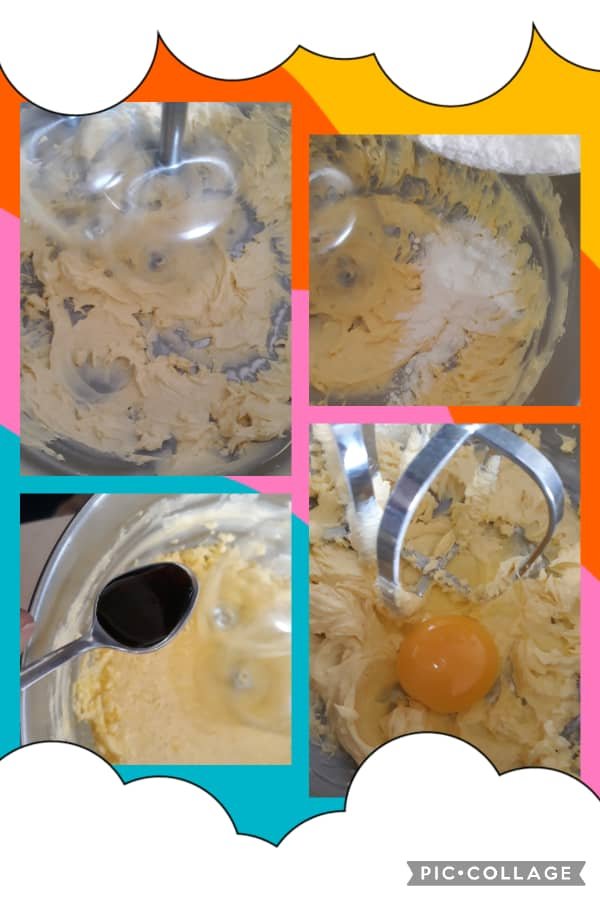 ---
2.- Agregamos poco a poco la harina de trigo hasta que obtengamos una masa manipulable que podamos pasar a un mesón, agregamos un poco de harina y procedemos a estirar con un rodillo. Como el procedimiento lo estaba haciendo mi hijo, corte la masa a la mitad para que se le hiciera más fácil.
2.- We add little by little the wheat flour until we obtain a dough that we can move to a table, add a little flour and proceed to stretch with a rolling pin. As my son was doing the procedure, I cut the dough in half to make it easier for him.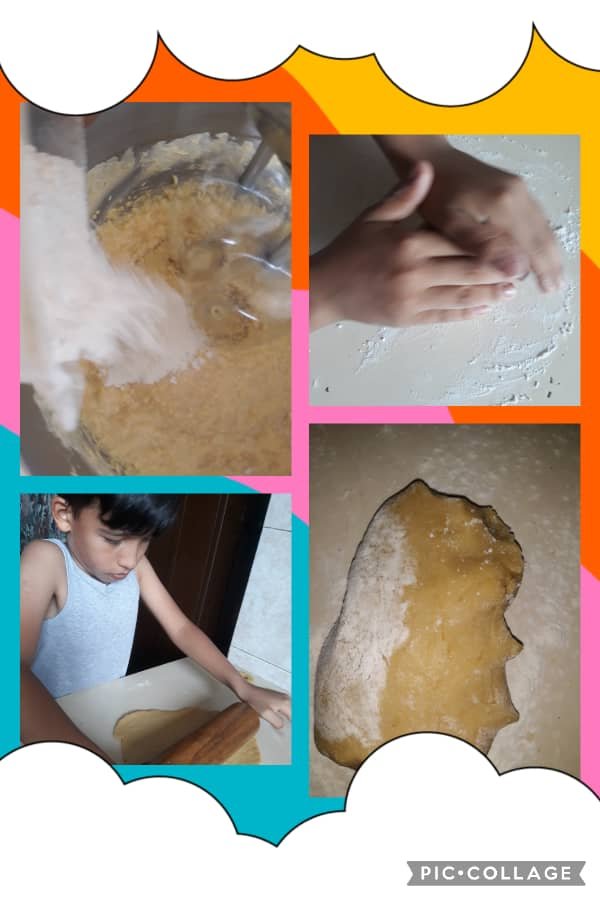 ---
3.- Al tener la masa estirada empezó a cortarla con las distintas figuras de animalitos como oso, mariposa, gallina, cerdo y ballena, retiro el exceso para volver a utilizar.
3.- Once the dough was stretched, he began to cut it with the different animal figures such as bear, butterfly, chicken, pig and whale, I remove the excess to reuse.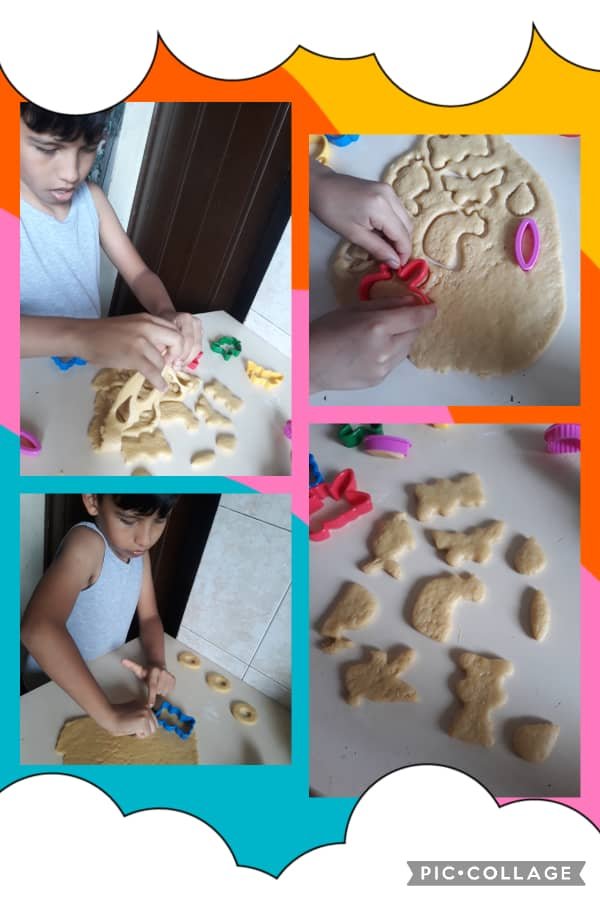 ---
4.- Colocamos las figuras sobre una bandeja para hornear, le agrego lluvia de colores por encima y llevamos al horno por 15 minutos a 180°C o hasta que estén doradas, retiramos y dejamos reposar.
4.- Place the figures on a baking sheet, add colored rain on top and bake in the oven for 15 minutes at 180° C or until golden brown, remove and let stand.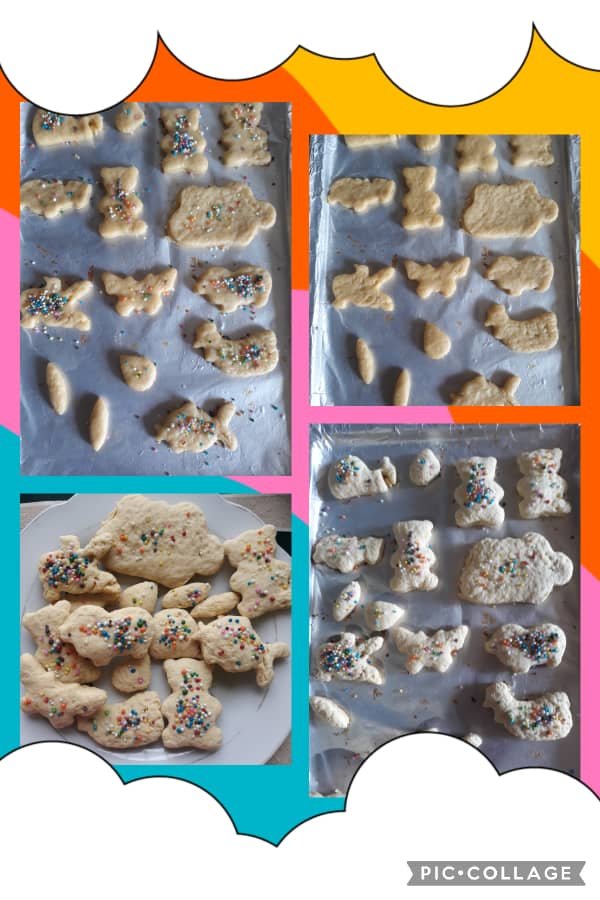 ---
Cuando hayan reposado lo suficiente podemos disfrutar de nuestras ricas galletas de animalitos con lluvia de colores.
When they have rested long enough we can enjoy our delicious animal cookies with rain of colors.
---
Mi hijo quedó contentísimo con el resultado de las galletas y feliz porque en esta oportunidad el corto solito todas las figuras.
My son was very happy with the result of the cookies and happy because this time he cut all the figures by himself.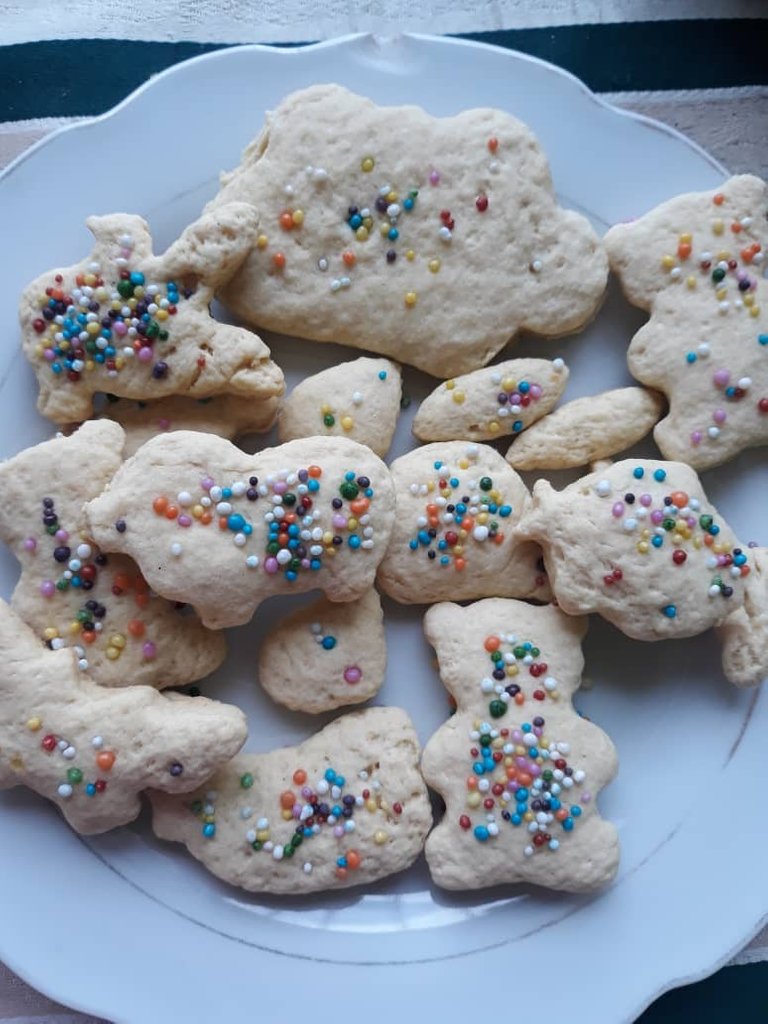 ---
Espero les haya gustado la receta y se animen a reproducirla con sus hijos, pasarán y un rato muy agradable y ellos lo disfrutarán mucho.
¡Gracias por leerme y apoyarme!🙌🏻💜 Me despido hasta el próximo post💫💫
Las imágenes fueron tomadas por mi con un Samsung J5 Pro, el texto lo traduje con la página llamada DeeL.com y las imágenes las edite con la aplicación llamada Pic-Collage.
I hope you liked the recipe and I encourage you to reproduce it with your children, you will have a very nice time and they will enjoy it very much.
Thank you for reading and supporting me!🙌🏻💜 I say goodbye until next post💫💫
The images were taken by me with a Samsung J5 Pro, the text was translated with the page called DeeL.com and the images were edited with the application called Pic-Collage.
---
---