🦖🦕👪Visitando Jurassic Land🦖🦕👪 // 🦖🦕👪Visiting Jurassic Land🦖🦕👪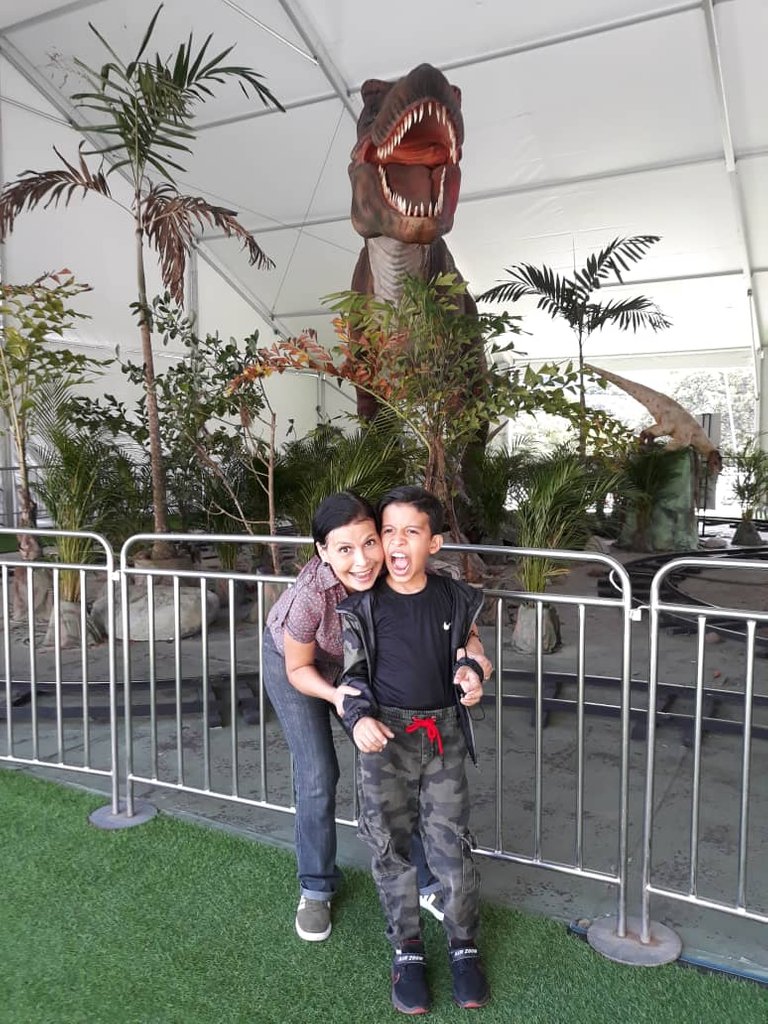 ¡Feliz días amigos!🌈💫 Espero se encuentren excelente. Hoy les quiero contar acerca de la exposición de 🦖Dinosaurios Jurassic Land que se encuentra en el Centro Comercial Ciudad Tamanaco (CCCT) en Caracas.
El lunes llevé a mi hijo estaba loco por ir a ver a los Dinosaurios, ya que le gustan mucho y sus favoritos son el Diplodocus y el Tiranosaurio Rex. Llegamos al Centro Comercial y adquirimos las entradas las cuales tienen un costo de 10$ la general y 15$ la plus con opción a las atracciones mecánicas adicionales como el 🐛montaña rusa.
Happy days friends! 🌈💫 I hope you are feeling great. Today I want to tell you about the exhibition of 🦖Dinosaurs Jurassic Land that is located in the Centro Comercial Ciudad Tamanaco (CCCT) in Caracas.
On Monday I took my son, he was crazy about going to see the Dinosaurs, since he likes them very much and his favorites are the Diplodocus and the Tyrannosaurus Rex. We arrived at the mall and bought the tickets which cost $10 general and $15 plus with the option of additional mechanical attractions such as the 🐛 roller coaster.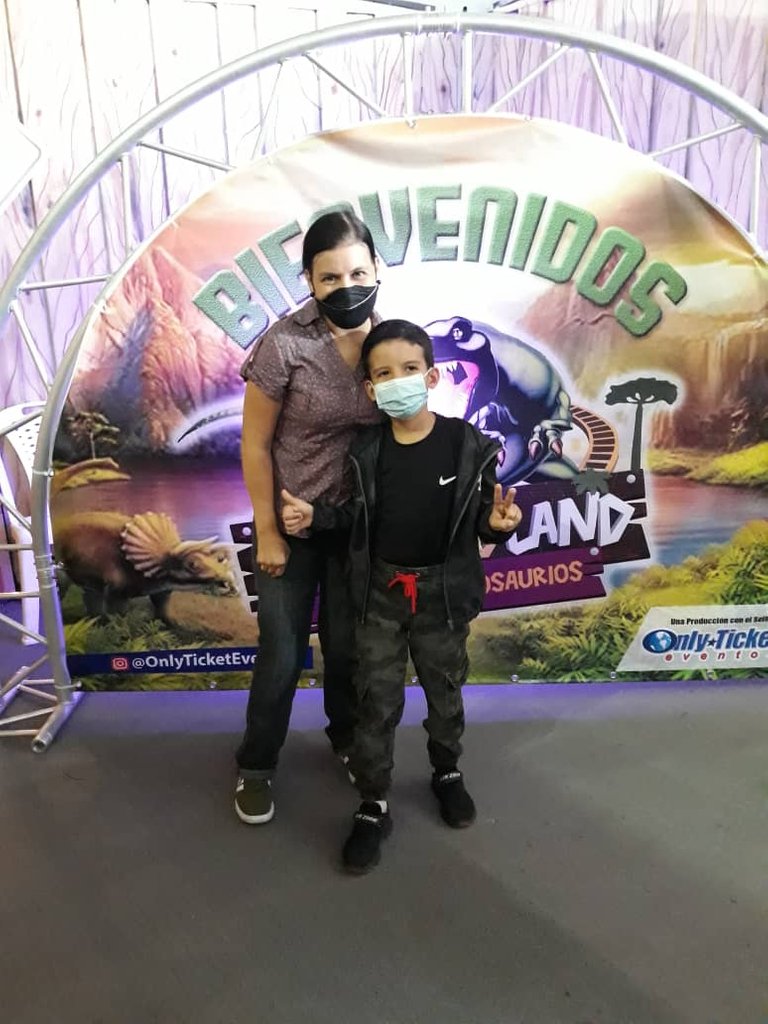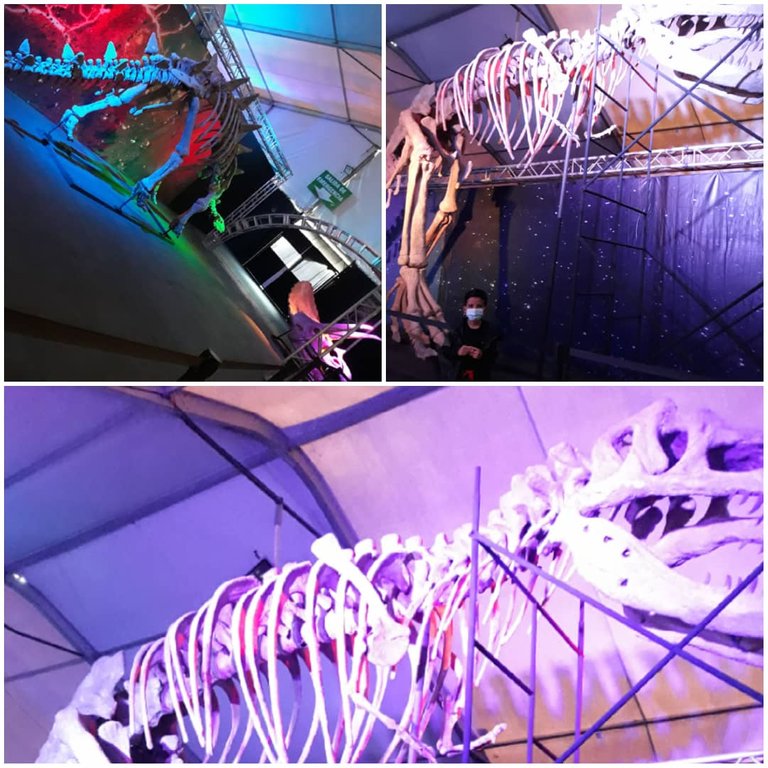 ---
El tour inicia con algunos fósiles donde explican algunas de sus características más resultantes.
Luego vamos a la segunda sala donde se encuentran distintos tipos de dinosaurios animatronicos, muy reales por los movimientos y sonidos entre ellos estaba el Carnotaurus.
The tour starts with some fossils where they explain some of their most important characteristics.
Then we go to the second room where there are different types of animatronic dinosaurs, very real by the movements and sounds among them was the Carnotaurus.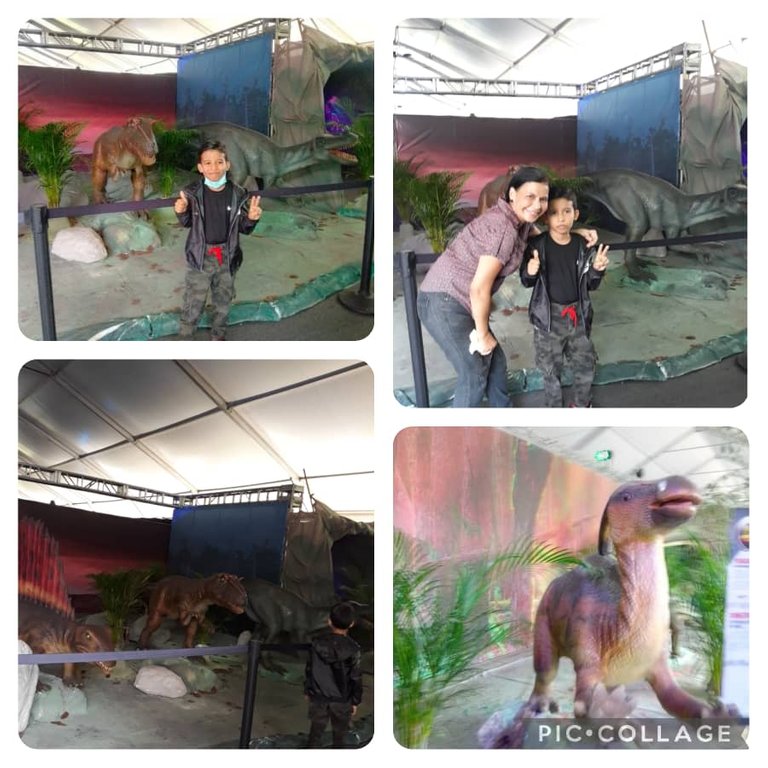 ---
En la tercera sala había una variedad de especies marítimas, de zonas frías desérticas. El que más resalta por su gran tamaño es el megalodon.
In the third room there was a variety of marine species, from cold desert areas. The one that stands out the most for its large size is the megalodon.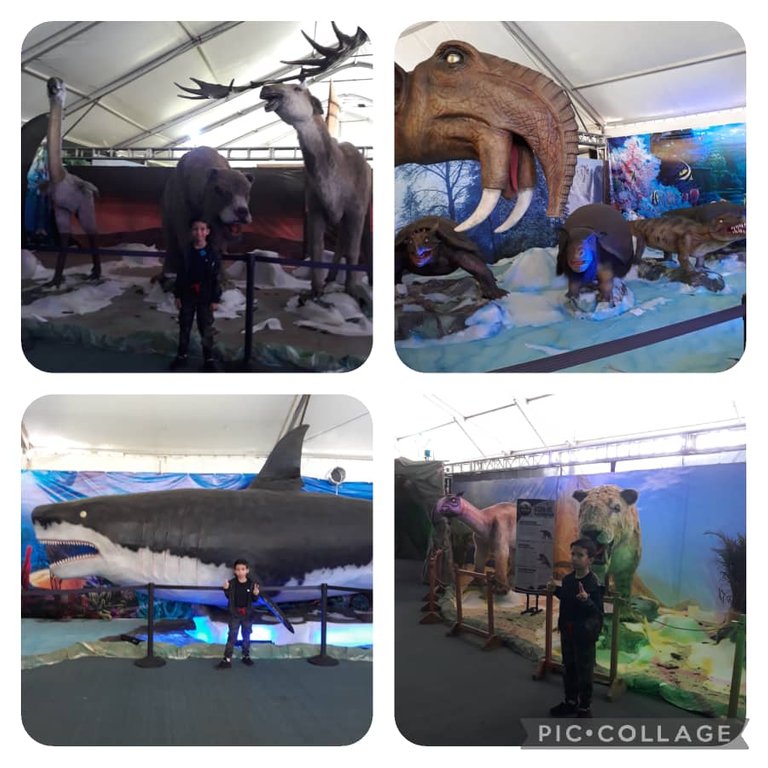 ---
En la cuarta sala y ya para abordar el tran donde se inicia el paseo dentro de la naturaleza hay unos Dinosaurios donde los niños se suben y ellos pueden sentir alguno de los movimientos.
In the fourth room and already to approach the tran where the walk begins in nature there are some Dinosaurs where children get on and they can feel some of the movements.
---
Abordamos el tren y en recorrido hay una gran variedad de animales con sonidos, vegetación, luces, el trayecto es lindo, pero muy rápido.
We boarded the train and on the ride there is a great variety of animals with sounds, vegetation, lights, the ride is nice, but very fast.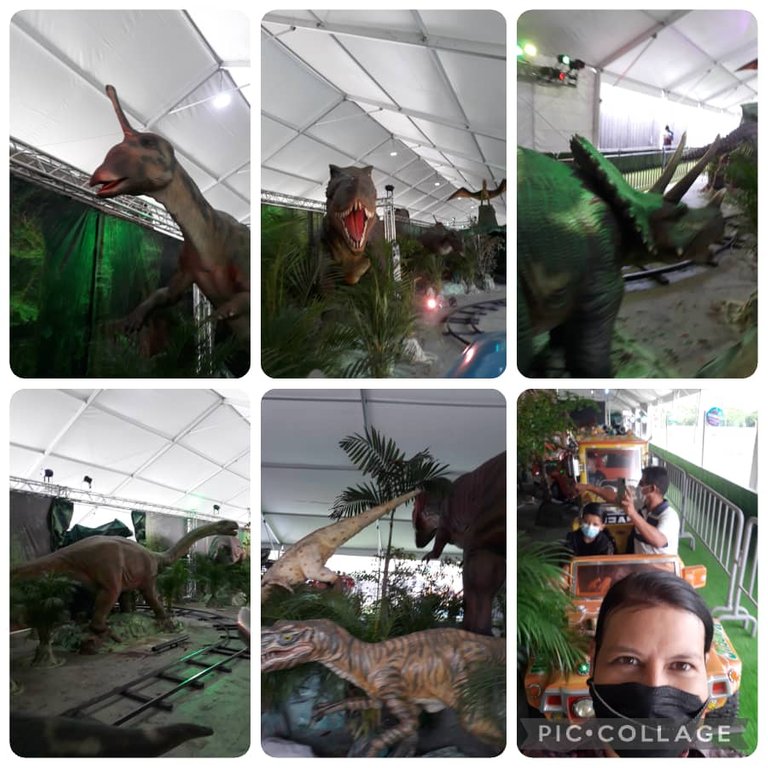 ---
Nos bajamos, tomamos algunas fotos y pasamos al área de atracciones mecánicas donde estaba la cama elástica y gusano que mi hijo aprovechó mucho porque no habían casi niños🤭
We got off, took some pictures and went to the mechanical attractions area where there was a trampoline and a worm that my son took advantage of because there were almost no children🤭.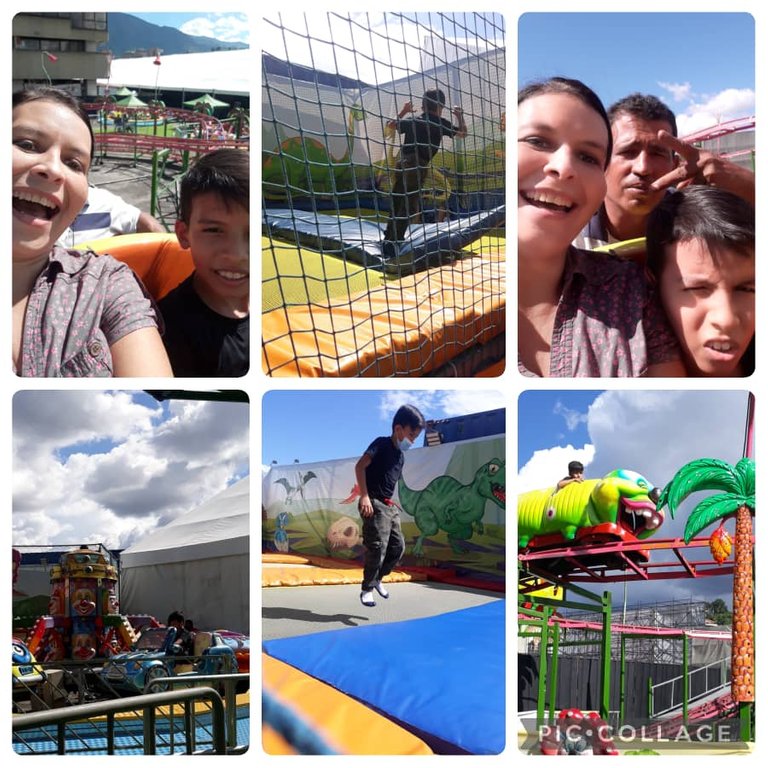 ---
Fué una experiencia muy educativa y divertida para mi hijo, la verdad quedo satisfecho con el paseo. Me parece una excelente opción para llevar a los niños en esta época de vacaciones escolares.
Gracias por acompañarme hasta aquí🙌🏻❤ y será hasta el próximo post🤗.
Las imágenes fueron tomadas por mi con un Samsung J5 Pro, el texto lo traduje con la página llamada DeeL.com y las imágenes las edite con la aplicación llamada Pic-Collage.
It was a very educational and fun experience for my son, he was really satisfied with the ride. I think it is an excellent option to take the children during the school vacations.
Thanks for joining me here🙌🏻❤ and it will be until the next post🤗.
The images were taken by me with a Samsung J5 Pro, the text was translated with the page called DeeL.com and the images were edited with the application called Pic-Collage.
---
---