Thoughts On How To Optimize Leofinance For Greater User Retention

Thoughts On How To Optimize Leofinance For Greater User Retention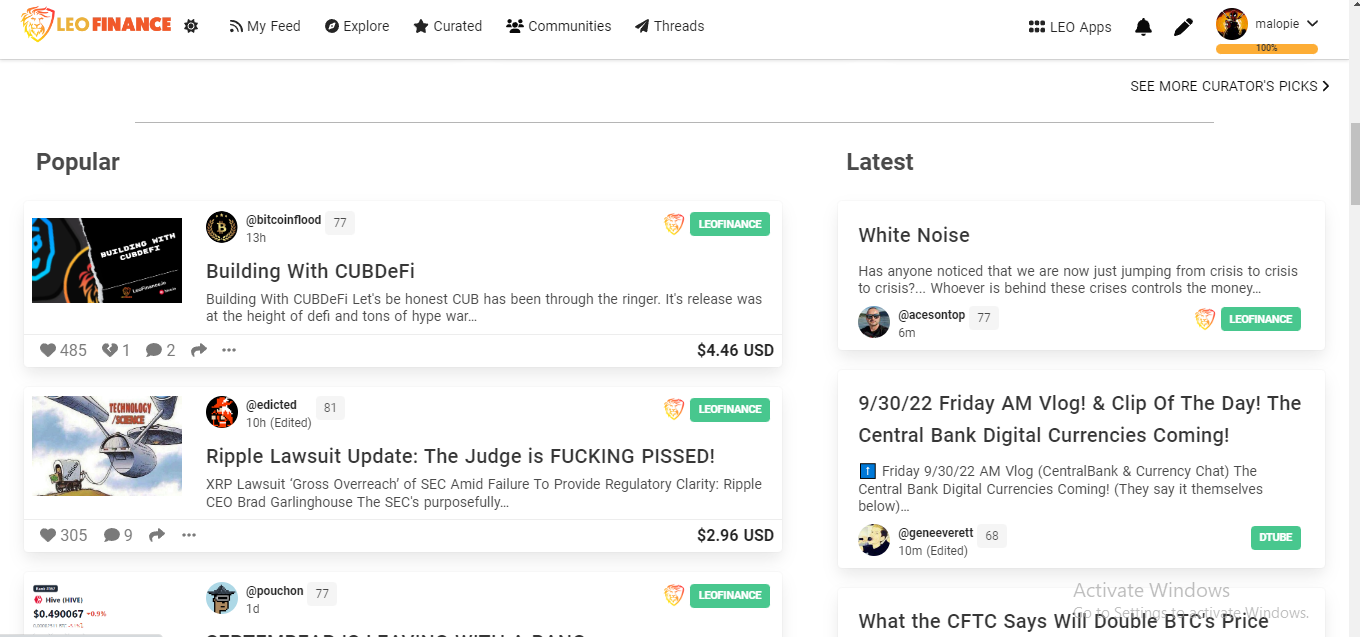 I've been running some checks on what actually keeps users on websites more than they intended and all checks point to "content sorting".
It is something most blog or site owners would want to ignore, to search engines it may not mean much on the basic level, however, to users, it means a lot, and the more users you can retain, the more relevant your website seems to basically every algorithm out there.
On Leofinance, the ability to earn for being on the frontend by performing basic activities like making comments is on the leaderboard on what retains users.
That said, considering that a "product" in the market has to consider many factors if it wants to capture more of the market share.
So, I experimented on myself to figure out what would keep me on a page longer.
I figured that product websites like marketplaces or e-commerce websites tend to retain users easily, but blog sites? Not so much because you need a lot more to get someone to sit and read your damn shits.
Content Recommendation - A Necessity On Leofinance.
One thing with Leofinance and practically all frontends on the hive blockchain is how contents easily grow dead in a short time span. In fact, 3 days is somewhat max for any content to seem relevant, especially to the users.
That said, we need algorithms that will pull these contents and render them in-line with fresh content to engage users even more. How?
Yes, that's what this is about, the ability to switch between new, trending, hot and curated posts is cool, but in a short time span, posts in these categories can all varnish!
Building an algorithm that pulls content based on titles, engagement, content keyword usage, and rewards to render within or at the button of each post published on Leofinance can really boost engagement and user retention.
You can say this could have a similar effect to the "Nested Threads" that was recently announced by the @leofinance team as an update to how threads work, but with huge differences.
Let's see how this works.
This is something I'm personally exploring different algorithms to integrate with icoverage.io and I believe it can be very beneficial here too.
For instance, when I'm reading "What is Bitcoin?" That link will take you to icoverage, asides the in-post-links, at the bottom, there are content recommendations.
icoverage has limited content right now compared to Leofinance, so imagine how powerful it would be here?
On icoverage, you'd figure you get a content recommendation of "What is Bitcoin Mining'' when you visit what is Bitcoin, and similarly when you visit "What is Hive Blockchain?" You'll see "What is Hive Engine" as a recommendation at the bottom.
When you visit "what is hive blog" you'll fine "What Is Leofinance" and what is hive blockchain.
The current algorithm on our platform can be quite weird sometimes by recommending the current page too and most times not including the social graph(thumbnail), that's because of the limited content to pull and recommend at the time.
Applying something similar to Leofinance would be really powerful, especially for readers trying to gather information on a specific topic. At the time, internal linking of content is done by a few and thus, that's a lot of page interaction thrown away.
Creating a post-recommendation system would give things a boost.
Let's say I'm reading "Does Hive Have a founder?" by @edicted and then I get a recommendation of "Why Hive - Decentralized Governance" by @theycallmedan
This would require a really smart algorithm, with this, it's obvious that the follow-up post would really help brush up things, giving readers more insights on the current page or just similar coverages.
Consider a writer like @taskmaster4450 that has written so many posts explaining how hive and HBD can be impactful for real-world operations, the recommendation system would aid these contents getting promoted across the platform.
Keeping them fresh and constantly accessible, and in turn, boosting the general engagement rate of the platform. It would also be powerful for creators, helping them reach a wider audience for writing good content.
Posted Using LeoFinance Beta
---
---