Meet the Legends - Andrew Music / 2 Records NFT giveway! (He can make a guitar sing like a bird!) - Andrew interviewed me!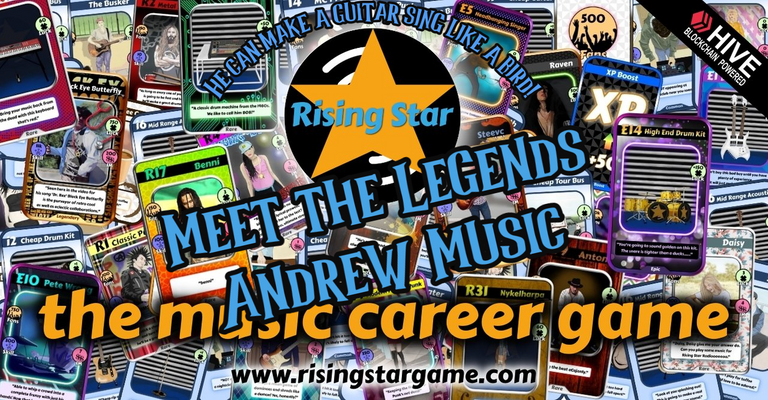 Image Source

Interview with Andrew Music
PRRRRRR!
Since I like to play, I will be a music promoter for artists outside of the game as well, so this is the reason for this initiative.
Today I have put on my interviewer hat and from now on you are going to enjoy something really amazing, a cycle of interviews with the musicians who make life in Rising Star, who have amazing jobs, the content is magnificent and I hope you enjoy it as much as me and my human have done it.
In addition to all this, you should know that this publication will have 2 Records NFT as a free gift(1 for each winner), which will be donated to 5 winners chosen at random using the hive random comment picker app to select the comments that earns it.
The 2 Records NFT will be awarded by @andrewmusic where I receive the payment of this publication. To participate you only have to leave your rising star user in the comments, make a comment writing "Andrew" and tell something about his work, and say me what you think of this interview. This is a special occasion where 2 winners will be selected and each one will be able to earn a record of Andrewmusic in Rising Star, so please write it in the comment . Please remember to write on your comments Andrew, so the app can validate your comment and you can participate on the raffle, and he can make a guitar sing like a bird!.
The winners will be chosen using the Hive random comment tool.And it will be published in a comment on this publication. The comments that will participate in the raffle will be valid until I notify you through a comment that no more entries are validated. All comments made after that message will not be taken into account.
I also want to tell you that with this interview I end the 1st season of meet the legends, the interview with winkandwoo's & Raven legendary cards is still pending, with which I am in the process of communicating and see if they agree to be interviewed, and if so in the next season in about 2 or 3 weeks you will be able to enjoy their answers. But do not be sad because the 2nd season will come with new questions, a new concept and many interesting things, so get ready because this is just beginning.
I need to rest a few weeks because the work that involves planning the interviews requires a HUGE effort on my part, the preparation, research and layout of the posts, before-during-and after each publication involves tons of energy.
I hope you enjoyed this season as much as I did and that you share all these posts.
Here you can find a list of all the interviews in order of appearance.
---
---
So this is my mission from today here in hive !.
Any musician who wants to do an interview, please contact me at discord: user -> manclar#7816 <- and I will gladly promote your work in a post :)
So today our guest is Andrewmusic, an impressive artist that makes the guitars sing like a bird!, also a Legend of Rising Star. I invite you to know what t he has to say, in a very interesting interview loaded with many delicious chords and melodies.
It's very simple, I hope you enjoy it, so let's get started!

English Version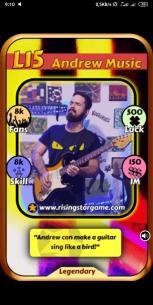 Hi @Andrewmusic it's nice to have the only fellow countryman who is represented in a Rising Star card, how do you feel about that?
I feel very happy, being the only compatriot with a legendary card, because I feel that I am part of the blockchain revolution, being part of a card of a game as prestigious and with such a future as Rising Star should be a reason for total pride.
Great, blockchain is quite a revolution that brings a lot to Hive, and helps communities grow. How are you feeling today?
Today I feel very good, because my grandmother was visiting, and I was able to make some music for her, obviously with my guitar and some YouTube backing tracks.
And how do you feel today?
Regarding the communities, they are vital for our hive platform to be strengthened with our ties of friendship and companionship.
Chevere, right now I dropped a cigarette on top of the shoes that I have next to me and it took me a while to answer you while I was trying to put it out to avoid a fire hahaha. Are you currently working, either in music or in something else that has nothing to do with that?
Well look, F for the XD cigarette, we have to avoid fires haha.
Currently I do not have a permanent job, I worked at the University as a monitor, but due to the pandemic, these activities have not yet returned to normal. I am in the tenth semester, of chemistry, soon to graduate, and my current money input, are some workshops that chemistry that I do, (very well paid), NFTs games of the blockchain, clearly RS is one of them and the publications of hive .
As for music, I hope by the end of the year, or into the next, to release my own music on spotify and upload more songs to RS in the form of NFTs.
__
(Parenthesis), I will send you three of my albums as a courtesy, two for the public and one for you. they are evaluated at 50K starbits each, and I decided not to lower the price to any of them, as it is my first CD NFTs.
I close parentheses
You told me that you were making music for your grandmother, what tracks did you use to make it, and tell us if you improvised or was it just a cover?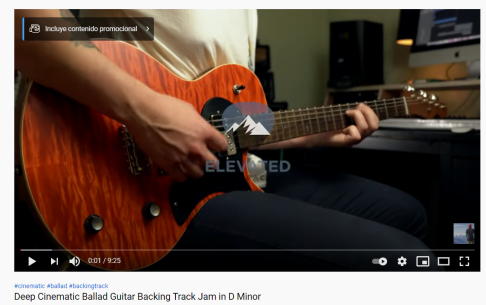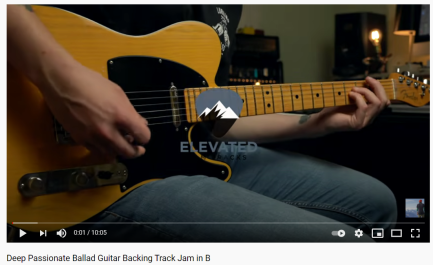 and a guns and roses song, the easiest, knocking on heavens door
it was mainly improvisation, because it is what I like to do the most
photo scales1
using these scales, which are already in my head, almost learned.

Thanks for the gift for the audience and for me too, I appreciate it very much!. Are you currently working on the composition of a new song?
mainly because of the peace of mind that conquering an achievement that has been withheld for some time offers.
I recently watched your interviews, I would like to make as good music as various artists you have interviewed.
Those games promise a lot, Cryptoblades catches my attention, I have seen that you can get up to $28 a day. So I understand that your studies are your current project, or do you have something in mind for later musically speaking?. Oh and thank you for supporting me by reading my interviews, they are done with a lot of love to support all the musicians and the community.
Musically speaking, I would like to achieve what no one else in hive does, and that is to try to collaborate on my own songs with as many artists as possible.
Let me explain, for example @mipiano is an incredible artist who plays the piano, with her I would like to unclean is your user, right?
start with that musical projection and release each song in NFTs format for RisingStar. The plus of this is that they cannot find us on other platforms, to give hive and our game much more value. that is, exclusivity, that is worth a lot.
I proceed

manclar is your user, right?
Yes

clever
And yes, studies are a priority now, because they take away my peace of mind to play blockchain games and earn money haha
I don't know if I ask you questions too
But where are you from, what do you do
(Your answers could be published, in a counter interview, what is happening right now XD)
Andrew: What do you think of that letter, so powerful. I don't have it, because I found out about RS's project recently (January), but I'm a hive musician and I kindly asked for its creation. With the creation of the NFT I am more than honored and happy.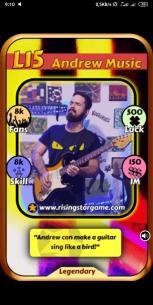 XD, okay, no problem for me, but I want to remind you that everything that comes out between "start interview" and "end of interview" is going to be published, just so you know. If you want to do the publication, but I will also publish this
Yes Manclar, I am an open book for you XD
I had some photos that I wanted to show you, there are around 20, if you want, I'll pass them to you, and you can select, one that catches your attention
send them to my email
clever
Bonus tracks of the interview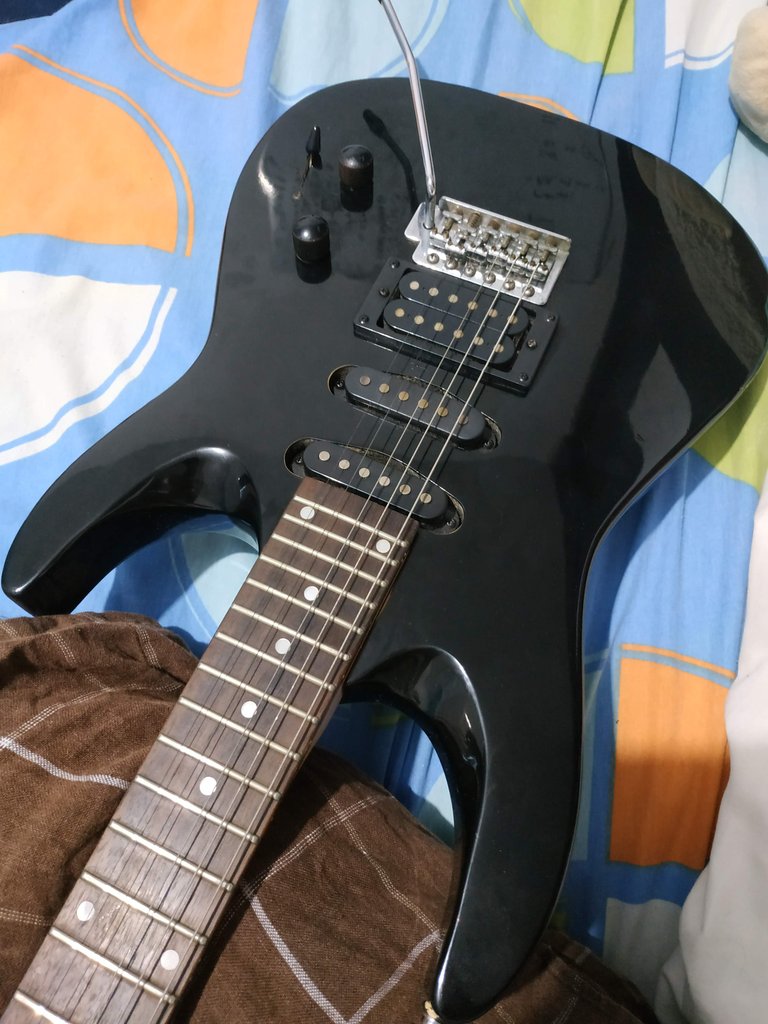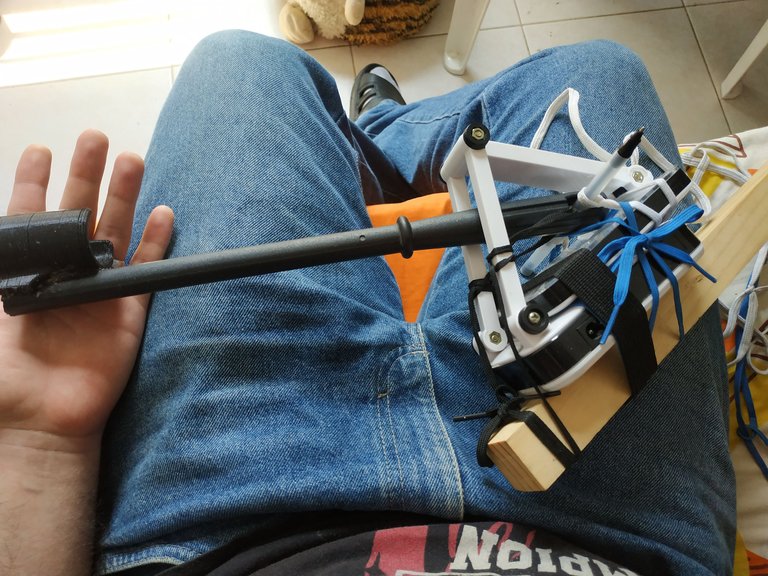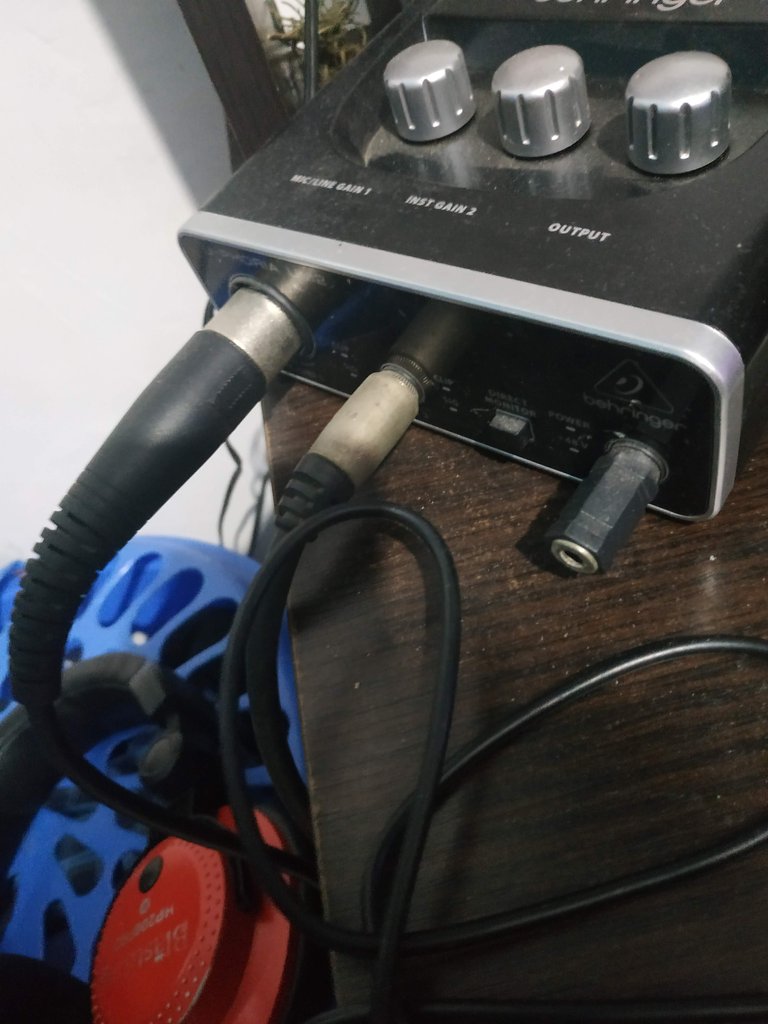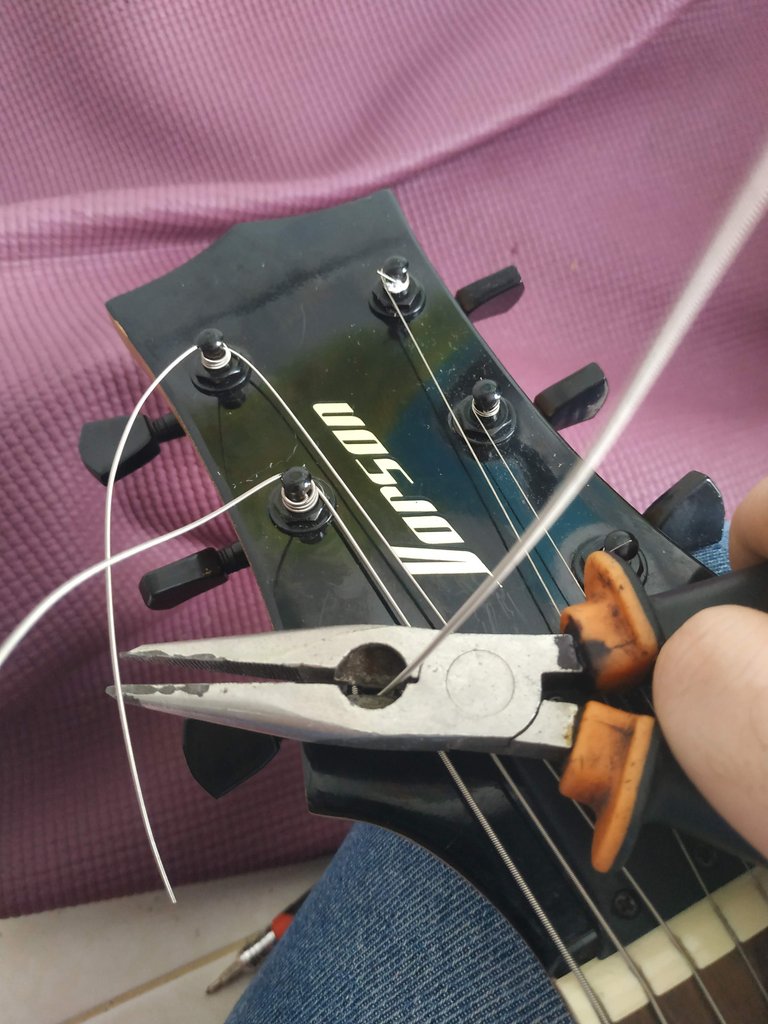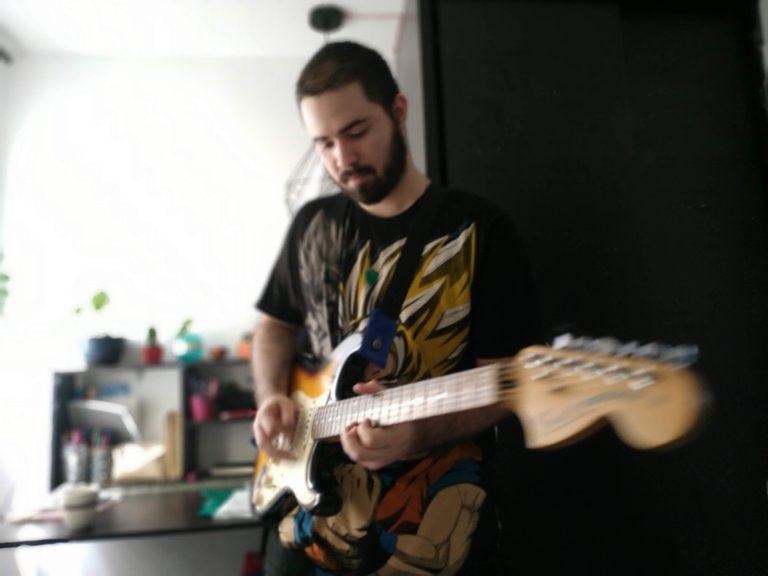 Answering your question, I am from Caracas, I dedicate myself exclusively to making digital content for Hive, Steemit, noise.cash and read.cash. I have been making a living using the internet for over 20 years. Those who know me say that I am a Pandora's box because of the amount of things that I have dedicated myself to and that I currently do. But tell me, How did you get started in the world of music?, oh and feel free to counter interview me, I just hope that the audience does not get bored reading such a long publication, for me it is fine because among other things it fascinates me reading.
Your legendary card is very striking and I really hope I could have it, although I regret that it is not a microphone because I am focused on singing lessons and that is what would suit me like a glove.
My beginning with music was at the age of 15, when my father and my grandmother bought me an electric guitar, for my birthday, I am currently 25 years old, that leaves us playing the guitar in 10 years. I am an empirical musician, that is, I have not received classes as such and that puts certain limitations on me when it comes to wanting to compose music from scratch. Because my dream would be to compose like maestro Joe Satriani, but for now, I can do it, like Andrewmusic. XD
Today I feel generous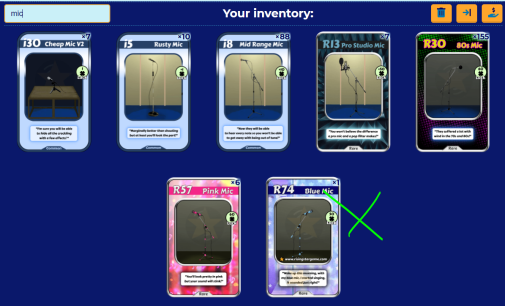 this is my mic collection
I will send you the one you ask me
Why do you feel limited when composing music from scratch?. Hey and thanks for the mic, I select the R30 <3
because composing music from the point of view of Joe Satriani is a whole, you need to understand very well the melody and the emotion that each note generates in the feeling of the other person, I would like to achieve that, but it requires a lot of dedication and study , and for now, time is somewhat limited for all activities and for the family.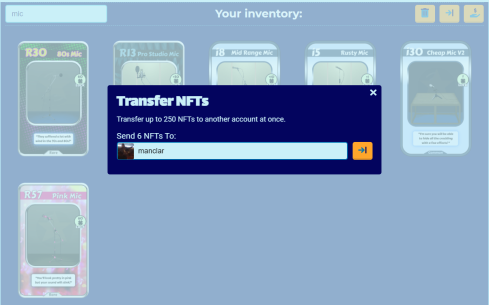 That is to say that you are an empirical musician by nature, that is something very interesting indeed. When you created your hive and rising star account, what did you have in mind?
By opening my account in hive, I wanted to earn money, because we were in the middle of the pandemic, that was in May 2020, but it was not until December or January 2021 that I began to see better results, especially with the help of @ylich He recommended that I show my face, because I liked that a lot on the platform, also the legendary @steevc supported me since my beginnings in hive, so I have felt the support of people with authority on the platform, great teachers.
In the Rising Star game, I entered because steevc did not stop publishing about the game, so I entered out of curiosity, and today is the day I invest money to continue accumulating cards, of course, daily with the millionaire's mission and playing all day the 5 minute missions at current prices, I may be taking between 9 and 11 hives out of the game, but mostly I re-invest it because I think the game has a bright future, especially if we scale in number of users, many will want to buy card packs and that will make the starbits skyrocket in value and that the cards that are worth a lot today, cost much more.
your manclar account is quite new, the first post was 17 days ago, do you manage other accounts? and this is dedicated to RS?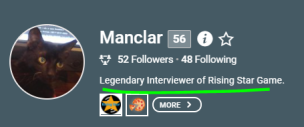 Steve is a great person, he has supported me during a very complex situation that I recently went through on the platform and in response to your question this is one of my alternate accounts, which although it has been created for a long time, I started using it recently due to that I suffered (and I am still exposed to it) the attack of a community from which I decided to leave a long time ago, and decided (although I have the support of important stakeholders) that I was healthier, leave my other main account alone and dedicate myself to this and other accounts that are dedicated to music and gaming. @manclar is the one dedicated to socializing and Rising Star, and @manclar.gaming will be exclusively for retro gaming, which is my new project that I'm about to start. Thanks for asking me this :). You have a roadmap about the plans you want to make for the future, and of course if you want to share it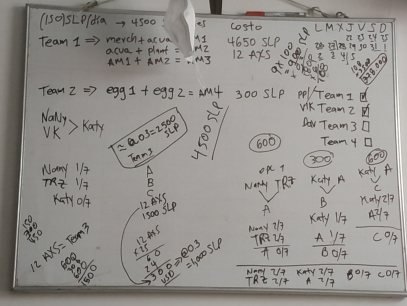 this is my roadmap for the next few days
focus on axie game
this is my roadmap for the next few days
focus on axie game
where I want to get equipment that is not so good, but not expensive either, to create scholarships, these scholarships are 40% scholarships - 60% investors. and they are designed to farm 3,000 SLP monthly, that is, 300 usd for the scholarship.
It seems to me that it is a golden opportunity, to try to help people, even if it is one every month that can help, I will be contributing my grain of sand.
Great, if you manage to do it I hope to be able to participate for a scholarship, although I use linux and axies does not currently have support for linux, I could try to play it by running a virtual machine with windows in my canaima red letters which is what I earn my living with and I interview you :). Do you follow other artists, collect their songs or have any influence from a particular band or musician
From RS I only have these CD's
I have no other additional collections.

And of influences, many, I like all music, I could not say specific names, but I think I have a few guitarists that I admire a lot, I like instrumental music a lot.

Slash

Joe Stariani

Tom morello

Nick Johnston

Eric Jhonson

Tommy Emmanuel

Andy mckee
You are interested in the world of crypto, you have already mentioned it telling us about games cryptoblades, axies, etc. But do you trade cryptocurrencies or is your main interest only in hive/starbits?
I trade but badly, hahaha I would like to learn to improve my skills in it, that is, to earn more than I lose.
What I try is to follow the advice of https://twitter.com/ReySantoscrypto
where he makes recommendations of possible cheap coins that pump, it is important to buy fast because he is a crypto influencer and his followers buy to hodl.
I think blockchain technology and the crypto world is just getting started and the future is bright, so if RS reaches the public outside of hive, we break it in a good way.
Later we can look at a possible scholarship for you, but I do not expect to get scholarships for up to two months. since I want to get one for my cousin and I have to pay other commitments first. The issue of linux we should find out if it is not a reason to ban, mount it in a virtual machine.
By the way corduroy, I am Colombian, but in love with the women of your country, very beautiful, good people and hardworking.
Try to quit smoking, to take care of your lungs, and especially with the virus issue. It's not impossible a guy left him, on time, I guess.
XD

Venezuelans are very special in every way :). I don't think they give up for that, but it will be something I will investigate. With the scholarship I am not in a hurry, because currently my efforts are focused on Rising Star, in which I invested my savings of 350 Hives. But now comes the pointless moment of the interview!. Suppose you were kidnapped and told that the only way to save your life is to submit to abandon your dreams, what would you do about it?. Keep in mind that your alleged kidnappers are gangsters, part of a major criminal organization who are willing not only to kill you, but to ruin the lives of all your loved ones.
It's easy, family first. also dreaming today is difficult, before I dreamed of traveling, but because of the virus, now I dream that my legendary letter comes out in some package hahaha
It's easy, you can always dream something different, reality changes from one moment to the next, and what is the use of fulfilling your dreams if at the end of the day you don't have someone to share it with. with your loved ones.
saved my life
And I make other types of dreams, even if it is to invest in blockchain games anonymously. to earn a living.
What is your deepest thought?
What we would all be doing in every moment of our lives, if we could see the spiritual world as it is.
See entities everywhere influencing people's lives, enter into invisible and endless battles.
I think we would all act different
And regarding cigarettes, I left it many years ago, but I took it up again 2 years ago. Currently it is something that is the product of my anxiety about different things in my life, which is not easy by the way, but that is another issue. What you comment gives me the reason to tell you that the Pandora's box opens a little. I was a psychic, seer, specialist in Tarot, development of intuition, angels, pendulum, crystal therapy, speaker in virtual talks for a couple of years in groups of UFO, UFO and paranormal phenomena, all through conferences via internet, when something existed. called Paltalk. I no longer dedicate myself to that because I wear myself out physically, mentally and spiritually, putting my life at risk for a long time. I quit because it was going to end up killing me.
In relation to the number of audio that you gave me, which is mine? It is to know which ones I should raffle among the audience.
Choose. How interesting, yes, well that is my "deepest" thought
it is better to choose, when one no longer wants those powers. the good thing is that one can choose, at least.
Well, tell us something random about yourself :)
ufffffffff, I like Justin Bieber's music! ha ha ha
the gauge of my strings is 0.09 alice brand
I prefer to sleep on the floor, rather than in my bed, so it is freshly laid out and without clutter
I like chontaduros, with honey and salt
I sleep with the light on
It's been about two years since I've stopped drinking, maybe one or two beers, yes, for the heat. and every month.
I hope that hive reaches 20 usd at some point in history and with the possible money at that price, I want a car, which I will name hive
I think there are several random things
your turn
I love cannabis, and although I have not used it for more than a year, it is one of the things that I enjoy the most in life, for many years. Where readers can be updated with your work, what you do, your social networks, or what do you plan to do?.Share your links.
I have only 22 HP in this account and around 550 in my main lol. But for that we have Rising Star which is going to be a trending topic hopefully in a short time. Did you know that you have a Mexican admirer who holds you in high esteem and asked me to ask you some questions (which you already answered)? Would you like to dedicate a few words to him in this publication? His name is Alex Verde @gr33nm4ster.
Hello Alex, I hope you are very well, take care of yourself and your family from the covid, so that later they can take out an L15 card and sell it very very expensive. I am available in hive, and if you have a song request I can try to do the cover, or a small fragment of the cover. Hurray Mexico!.

Thank you on behalf of Alex, for sure he will be very happy! Well and finally, what message do you want to leave to the entire audience that reads this publication, and to the users who play Rising Star?.
That Rome was built in many years, so Rising Star has the potential to be one of the best NFT games on the internet over time. Patience and if at the end of the day not everything turns out as we wanted, at least we really enjoyed mining starbits like crazy, collecting cards and climbing the daily ranking.
Can they beat @foxon at some point?
Thank you for having the time to answer this interview, I hope this will help you to make your work better known and reach many more people, and that they continue to buy your songs on Rising Star !. Hopefully and you enjoyed this talk as much as I did. And mateo (@foxon) do not be careless or we will take your place!. Oh and please give me a chance in the starpro bid when I recharge my pool, stop being so damn and don't touch my balls! :D
Thanks to you for your time and for the interview, greetings to all
End of interview

So remember, there is 2 Record NFT waiting for you in this post(1 for each winner), thanks to @andrewmusic , show your appreciation for his work in the comments and you will have a chance to get a very cool audio nft!. You can select the one that you want from their records on Rising Star, just write it on the comments.
I hope you enjoyed this interview as much as I did, if you liked it, follow me, and stay tuned because more interviews are on the way that are already in development !.
Together as a community we will vibrate all the instruments of these great musicals, and I invite you to be a music promoter like me!
Meooooooowwww! for all those great musicians who make life on Rising Star and Hive.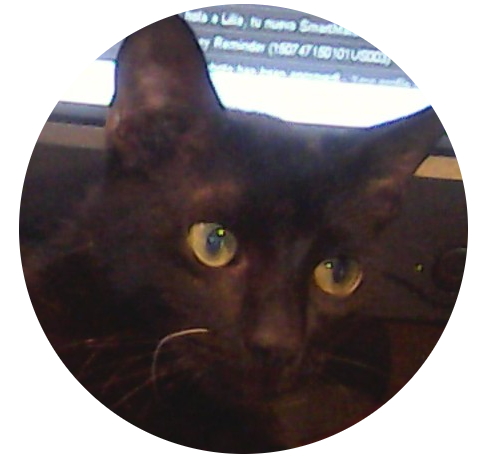 ---
---