Meet the Legends - Black Eye Butterfly /1 R18 Toadie giveway! (Dr. Rex will heal you!)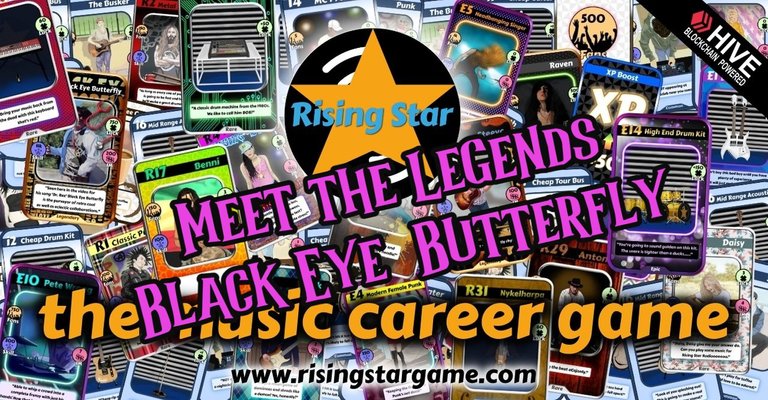 Image Source

Interview with Black Eye Butterfly
PRRRRRR!
Since I like to play, I will be a music promoter for artists outside of the game as well, so this is the reason for this initiative.
Today I have put on my interviewer hat and from now on you are going to enjoy something really amazing, a cycle of interviews with the musicians who make life in Rising Star, who have amazing jobs, the content is magnificent and I hope you enjoy it as much as me and my human have done it.
In addition to all this, you should know that this publication will have 1 R18 Toadie Rare Card as a free gift, which will be donated to one winner chosen at random using the hive random comment picker app to select the comment that earns it.
The rare card will be awarded by Black Eye Butterlfy where I receive the payment of this publication. To participate you only have to leave your rising star user in the comments, make a comment writing "Black Eye Butterfly" and tell something about his work, and say me what you think of this interview.Please remember to write on your comments Black Eye Butterfly, so the app can validate your comment and you can participate on the raffle, and you can be super retro cool!.
The winners will be chosen using the Hive random comment tool.And it will be published in a comment on this publication. The comments that will participate in the raffle will be valid until I notify you through a comment that no more entries are validated. All comments made after that message will not be taken into account.
So this is my mission from today here in hive !.
Any musician who wants to do an interview, please contact me at discord: user -> manclar#7816 <- and I will gladly promote your work in a post :)
So today our guests is Black Eye Butterfly, an awesome song writer and artist that makes you love all the retro stuff, also a Legend of Rising Star. I invite you to know what they has to say, in a very interesting interview loaded with many delicious chords and melodies.
It's very simple, I hope you enjoy it, so let's get started!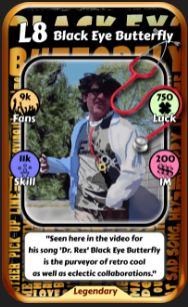 How you today ?
Fantastic, thanks . How about you ??
I'm enjoying a nice hot sunny day here in Southern Canada
And I'm being interviewed !! Hard to top that !!
Great, I'm here without having lunch, working interviewing you, but you know you have to make an effort to bring the talents of the people who deserve attention to the community. I hope you enjoy it and value it as much as I do!. And as a tribute to your work, I will be listening to the songs that you have done throughout this entire interview.
Oh, so you are Canadian, that is very unique, what do you like the most about your country?
I love the land.. I'm a huge Nature lover to say the least. A large portion of my inspiration comes from Nature.
I also love the water.. I live on the 2nd largest fresh water Lake in the World.. Its Beautiful
Do you live in a country area, or in the city?
I'm in a small community located near a larger city.. Its situated right on the river between the U.S.A. and Canada as well. It's an amazing place to live, really. I am quite lucky..
When you talk about where you live, I imagine you in a place surrounded by moose and many animals. In my mind I associate you with the "Alaskan Men" series and all that. Does wildlife represent any risk? , is your house made of wood built with trees cut by yourself?
Haha.. yes
Kidding. I guess there is a bear or two around, but you have to travel a few hundred kms for there to be any real risks. I have seen a moose cross a highway and that was quite amazing. But no. I live in a house and its pretty safe lol
I live on an apartment, i am just the wildest creature here :). Do you consider yourself a wild musician then?
Haha.. Depends which side of the fence you are on. I have a political side to many of my lyrics. That could be wild for some.. But, hmm wild?? Probably not any more haha. There was a time though haha

Are you working on a song or theme today?
. That is, your songs have some social content, and must be very controversial,
what is the most politically incorrect song you have produced?
"The Flu" with "The Stress Cones" That's Billy Korg and myself.. without a doubt.
And I guess Heaving It Behind Me
Share the link with us please
Yeah..Nothing held back on those two
What's the plan for today so ?, aside of being an Antenna?(internal joke,this is the name of a song of black eyed butterly)
haha we are all antennas. Well, later today, I like to take my drone out and shoot some video.. I'm not very good at it yet, but I now, as of a few days ago, I have enough batteries to get some work done
Great, can you share the characteristics or model of the drone you use to make your recordings? , and you can share a pic with us, if you have too.
I have a DJI Mavic 2 Zoom. Its going to shoot some nice film when I get it all figured out lol. So far, I have cut some branches from a tree and did't even get it on film. strong blades haha. The tree wasn't hurt.
They are technologies that must definitely be treated with care. But moving on to something else how did you discover the music world?
The Beatles. I was about 4 and couldn't believe this great sound I was hearing. By the time I was 10, I knew I was going to be a songwriter.

And what did your parents, neighbors and schoolmates say?
I fought them all the way.. I pretty much did my own thing right through my childhood , right up until now. I am happy that I did. It gave me lots to write about. I was the only Family member into music until my Kids were born. Its quite amazing that I have the love for it that I do. It all came, and comes from within
Quite difficult and complicated, you have a very strong willpower and determination, congratulations on that! And did your siblings support you or bully you?
haha not really either.. I'm just very lucky that I decided to listen to me and write my own story.. Let's just say, I'm the dough that fell out of the cookie cutter
Some kind of black sheep maybe, lol.
haha.. I was def, The black sheep lol. A good Kid, but I listened to me
Fortunately you made a good decision!. But on another point did you have a project in mind when you where setting up your hive and rising star account ?
Hmm , I'll have to tell a bit of a story here if that's ok
sure, go, we love it.
I met Jux before Hive and Rising Star. I was simply looking for something new to get involved with, music wise, and I stumbled onto Atom Collector Records. I knew nothing about the discord, blockchain or anything related. I got to know a bunch of really great People there. I've made some really good Friends. From there I had planned a 3 week visit to the UK and had it all paid for, but of course, that thing happened. The Hive Fork was a great thing.. So glad for that. So, when Rising Star was being born, I just naturally fell in love with that to.. I play every day Jux lol.
That's as condensed as I could make it lol.
I should mention.. Atom Collector Records was Jux's first music project.
Really very interesting, the ties formed in this community and all the people linked to Juxta are beautiful and very impressive, I am a witness to that.
Yeah.. Its pretty amazing
In relation to your current musical project, can you explain what it is based on?
I'm involved with SimonDE ... Twice As High Records. Which is super cool.. He's putting an album together with a bunch of the Rising Star gang.. I'll let him tell you all about that though. Me, on my own,,, I'm just a guy that loves to write songs about the things I deem important.. I don't really have "a project" going, but I will never stop doing it, so I guess we will see what happens

Black Eye butterfly is a very peculiar name, and I bet it has a very special story or meaning that we need to know, so you have all the space to tell us!
It certainly does lol. I've had it so long that I forget about it. Back in ,I think, 2004 I recorded Oh ME Oh My with an old Friend Darin Courtney.. He needed to save the file. He's like "What will I call it ?/" I happened to be wearing a black shirt so he said "I'll Call it Black Ivy.. My nic name was Ivy lol. The butterfly came about later. My oldest Daughter was born a premie. Her Great Grandmother wanted to see her. I let her be the first Person to touch her. Even before myself. Her Great Grandmother, who was honored by this, and was Fisrt Nation Native American gave her the "Indian Name" Meming guas, which is Little Butterfly.
My Daughter sang with me in the early days, so of course, she was the Butterfly. Then, life happened and I just kept the name because it grew on me.
Bro, would you like to share with us the image of your little butterfly when it was born in those days, we would like to see the reason for your pride and wonderful idea
Oh boy. Those pics arn't online. I can show you a pic of her identical younger Sister with her dad having an ice cream cone.
I'll see if I can find a baby pic while we are chatting.
This one is Little BEB.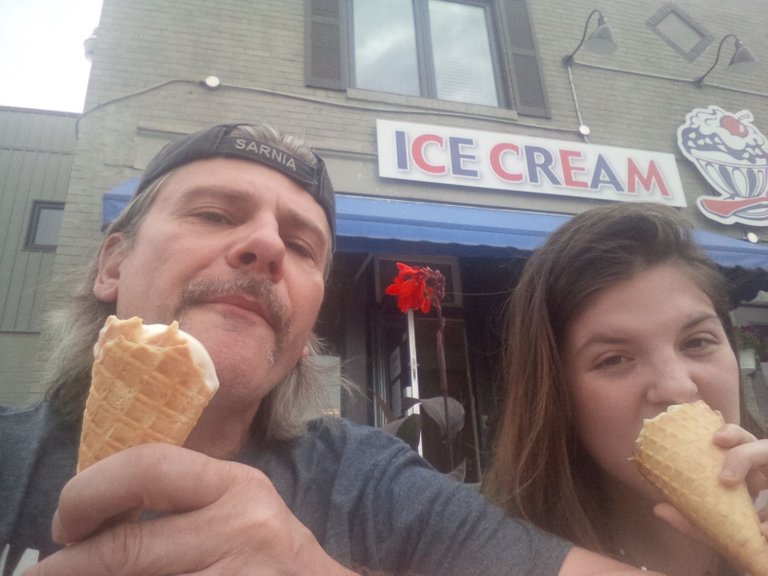 Cool. You mentioned that your inspiration in the beginning was the Beatles, do you currently follow an artist who inspires you as a role model?. We would like you to explain your reasons for doing so.
To be honest.. I listen to the Rising Star gang. To name a few.. The Turtle Project, wink, nakedverse, skaarl, Billy Korg, Simon DE, Jux, and a bunch more.. These People inspire every time I hear a "new one" to step up my game, to be a better writer.
It is important to support the clan, especially because they are people who do a job that from my point of view is unknown by many people, but who are promoters of music, we are putting all our effort to change that, and we all enjoy a Hive more pleasant hand in hand with our lives.
And I am soo grateful that we have People like you to do that
Buuut, What does it feel like to be a musician grandfather? What comments does your family make to you now, after so much has happened and so much road traveled?
I'm not a grampa yet lol .. Let's not rush things, I think they are starting to realize that, "hey. This guy is doing what he loves to do and is actually getting out there. Its hard for People to see a vision if they don't have the same one.And anyone who has met me, knows I don't care if they don't approve haha.
hahahaha meoooooowww !.
Well, when the policies that you have do not work, you have to start doing things differently, to obtain different results, don't you think?
Well, the way I look at it, I know who and where I want to be, and if the policies arn't working, I would just change the policy.. There's always a way to be who you want to be.

We arrived at the pointless moment of the interview! , if I say the phrase "my grandmother is a bicycle", what is the first thing that comes to mind?
Tell us something random about yourself
hmm.. When I show up to a new job... half the People say Yay!!. The other half do not say yay hahaha.
What is the topic or issue that interests you the most in these moments of your life and to which you want to pay attention?
oh boy.. Well, how about our freedom?? That's a pretty important thing right now.. I believe we are not only losing it but are giving it away.. That's a hot topic and something I think about every day. People are taking to the streets all over the World right now to rise against oppression
What do you dislike the most and how do you handle that situation if, for example, some follower knows it and uses it against you?
I hate lies the most... Nobody can use anything against me because I am who I am. haha They have tried.. lol
If you could change something in the world of music, what would you do?
I would definitely want to help musicians be able to make an honest living doing what they love.
Which politician would you like to see singing?
haha None of them.. And I'd like them to all stop talking as well

haha.Have you ever made a musical instrument, made by your own hands, or has that idea crossed your mind?
hmm I've used my hands to make some dove sounds. And blow through blades of grass.
Have you ever thought about having your own token to market your music? How about the BEBT (black eye butterfly token)?
haha I'm not sure haha.. I'm not sure that would be a good idea hahaha
Apart from the links that you have already commented, do you have a blog or website where followers can catch up with everything you do?
Good.Any chance of a competition or giveaway for the free readers ?
I think that for listening to me talk, I need to give away a rare card. How about an R18 Toadie ??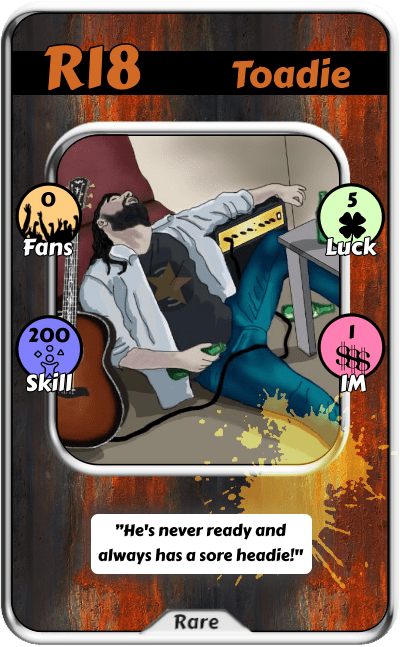 Great, so do you want me to do the drawing, select the winner and then you send him the NFT 7 days after I receive the payment for this publication?
Perfect thank you, so before we finish up is there anything you would to add or say to the readers ?
Well, first of all, that was a ton of fun! Thanks for the interview.To everyone out there I say... You are part of a really great community.. Have fun . work hard . make Friends . and be a Friend. Thanks for reading the interview and all the very best to everyone.
What does it feel like to be a legendary Rising Star, to be represented in a valuable card, and what message do you give to those who are starting out on this musical journey and in the game?
Its pretty cool. Considering the game is only a year old, and where it is going, I'm quite proud to be a founding member. There have been sites that have come and are now gone.. Quite a few.. This bunch has been around since day 1 and are just getting started. So to also be legendary is to be twice blessed.
To those just starting, its a fun process to get through the game and very addicting .
I play every single day. Oh! And watch the show on Sundays !! Its a blast ube
Radio Evolved on Youtube:
https://www.youtube.com/channel/UCRphC5tZvR3lalzJEm9sGkw
Discord Atom Collector Records:
https://discord.gg/Cy3qzy8Saa
Great, I hope I can talk with you later to put the community about your projects and the things you are doing.
Thank you very much for taking the time to answer these questions and I hope you enjoyed it as much as I did.
I had a blast. Thanks for doing this.. Its great for everyone
END OF INTERVIEW

Bonus Interview tracks :
Black Eye Butterfly Writing a Song at the beach

I bought that guitar with my last bit of money many years ago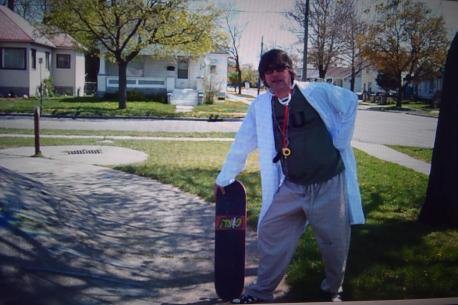 This pic was taken in the making of The ABCDE's of Dr. D Rex It has a bit of a cult following. Its the best I have.. I'm more of a writer than a performer, but you've made it clear that I need some more pics lol
hahaha, well you realize that, so you have now to think on take more pics for your life bro
haha yeahh.. I have tons of great pics with the Kids and I, just nothing on stage.. The Kids were too young to hit the pubs with me when I was playing out.. They are old enough now though
weird, life is weird on many ways man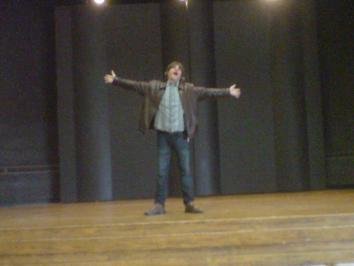 That's me on the stage at the Stratford Festival.. Only myself and my Lady were there though at the time haha.. I was performing for her though hahaha. The Stratfort Festival is a World renowned William Shakespear Theatre
awesome bro, your intervied is scheduled maybe for the next week, wednesday maybe, i will let you know, i am busy as hell, too many comment to answer, and too many daily shores, i wish i will be living on a lake, like you, for relax time lol
I wo'nt bug you then.. Stay healthy Brother

So remember, there is a R18 Toadie NFT waiting for you in this post, thanks to Black Eye Butterfly , show your appreciation for his work in the comments and you will have a chance to get a very cool Rare nft!.
I hope you enjoyed this interview as much as I did, if you liked it, follow me, and stay tuned because more interviews are on the way that are already in development !.
Together as a community we will vibrate all the instruments of these great musicals, and I invite you to be a music promoter like me!
Meooooooowwww! for all those great musicians who make life on Rising Star and Hive.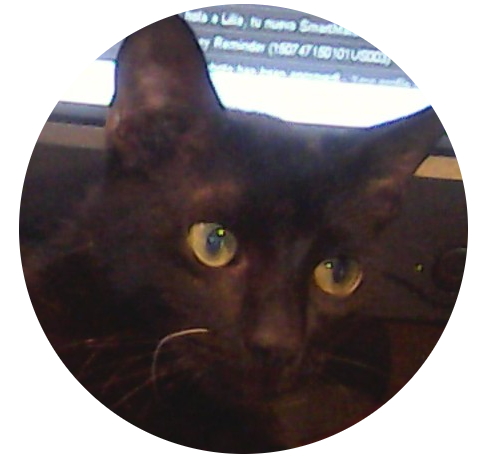 ---
---