SAVING VS INVESTMENT
Let me take it slow to start with because from the topic, it might quite look confusing to many people.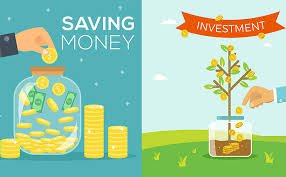 First of all what is saving?
A reduction in cost or expenditure or money set aside for the future.
Then what is investment?
Investment is A placement of capital in expectation of deriving income or profit from its use or appreciation.
If you noticed one major difference between the two is when it comes to saving, there is no expectation of income or profit while it is much more involved or deals manly about the profit in investment.
I have seen many people trying to say saving is investment. When I save I am investing. Actually that can be true to an extent but that's not Definetely true.
When you save, your money might not yield profit or income which is against the major law backing the rules of investment.
Now many people save and consider it investment and let say after many years, they come back to check on their saving. They are disappointed of it not yielding profit or income for them or as they expect which is what is expected.
But you seen the other person placing his bet on investment and his main thinking and expectation is that after many months or years to come, that will yield profit for him. That's what is called investment.
I will say not all saving are investment as many people keep misinterpreting it but
Every investment is a saving in disguise (If it yeild positive investment) as many people didn't understand.
Or what do you think.
What is the difference between Saving and investment??
I will be waiting for your contribution in the comment section below....
Thank you for stopping by to read my article.
If you actually like what you see😃😄😉,watch📷📺📸 and read📖📋 I would equally be grateful for an upvote♥️⚡ a very cool comment under my comment box or a reblog 🌀😏 for everyone to see ... and perhaps maybe you would like to follow me for more of my Post to show on your own feeds. Don't miss any of my Post.🔝. Special thanks to all who put big smiles on my face with Auto Upvote for always being supportive to me 💞💯.
---
---