CORSAIR BOSUN - An amazing reach attacker with Cleanse & Reflection shield ability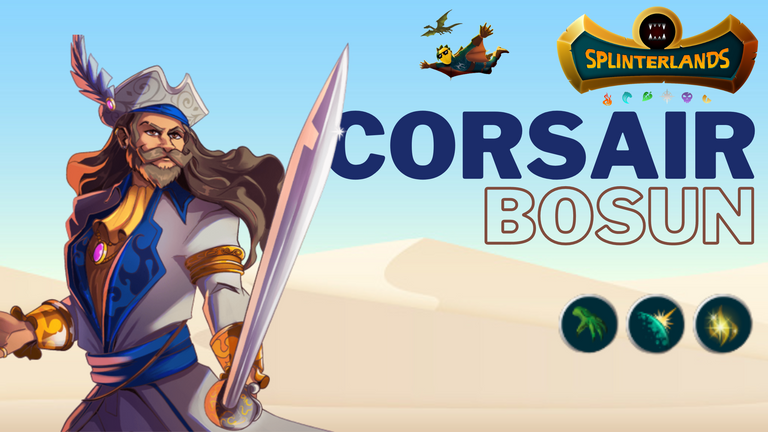 What's up my fellow Splinterlands warriors!
I hope all of you are doing well in your life and also enjoying this awesome game in meantime and started collecting those lucrative chests as the new season has already started and less than 12 days remains for this one to end. For me, I am still fighting in Gold I but collected total 8 focus chests for today as I got one of my favourite focus rule today, Flying. But for the season chests, I have inly collected 3 so far and with a low ECR rate, the SP per ranked win is also lower. So, I will leave playing until the next day.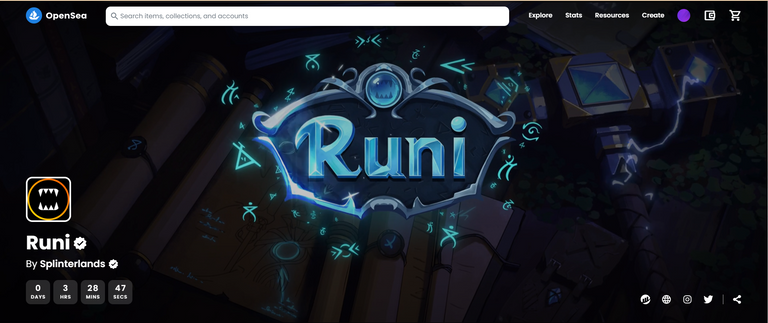 On the other hand, the public sale of the the upcoming Runi card will go live in opensea in next 3 hours and it will be the first splinterlands card minted in ETH chain. For every mint, one have to pay 0.38 ETH + gas fees and total 6500 Runis will be available for sale in the public sale and there will be no max purchase limit for anyone. I missed my chance of getting a Runi at cheaper rate during the pre-sale but this time I am well prepared with enough ETH in my wallet😅. I really liked the fact about Runis that each of the Runi ever minted will be perfectly unique than every other, as there will be 2 billion combinations after creating every Runi. So, each of our Runis will look different and this uniqueness is attracting many players to buy this amazing show off asset. As for the stats, I liked the combo of it's opportunity ability + 1 little armour that will soak 1 melee and range attack and obviously, the new self resurrecting ability.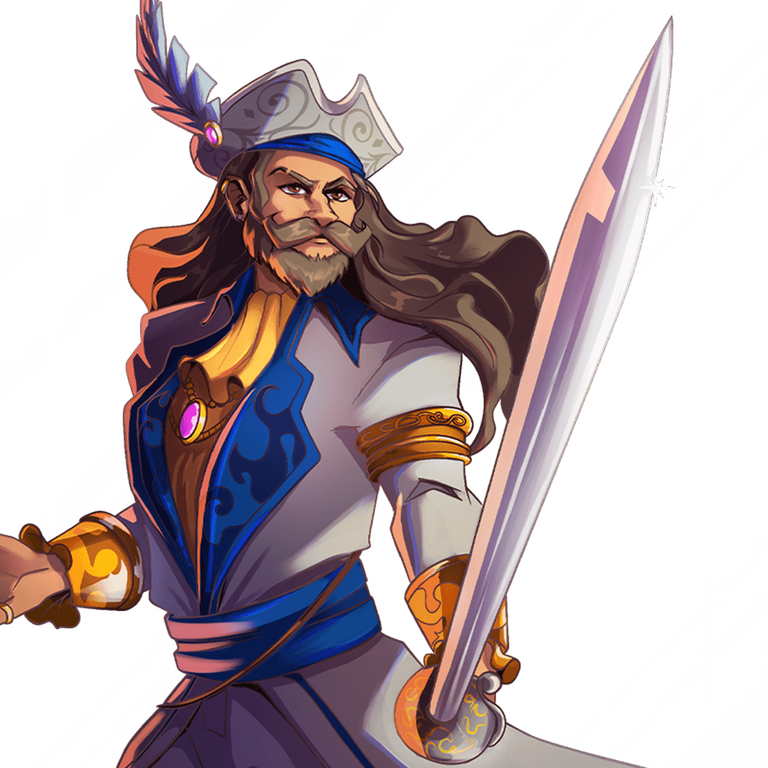 CORSAIR BOSUN
Ok now, let us now move forward to the main theme of this post as today, I am going to showcase another awesome Riftwatchers card, CORSAIR BOSUN with you all. Everyone knows that how important it has become now to have those cards in order to battle in high tiers. Some of them are literally ruling the high mana limit matches while some with their attack powers or ability combos finishing the opponent lineup within a blink. This Corsair card is one of them jewels of Rift set and today, we will take a deep look into this card.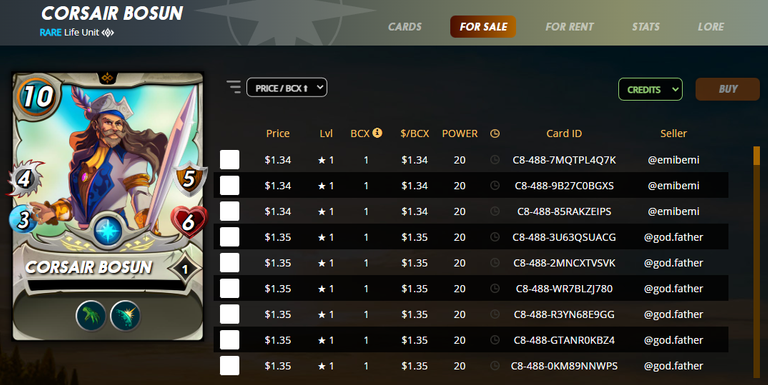 This newly launched splinterlands cards belongs to the new Riftwatchers set. It is a Rare edition card that cones from the Life Splinter. it costs 10 mana to be used in battles and at max kevel, this card posses 6 melee attack at 3 speed, 5 armour and 9 health along with Reach, Reflection Shield and Cleanse.
Bronze
At level 2, this card gets 4 melee attack at 3 speed with 5 armour and 7 health along with 2 abilities - Reach and Reflection Shield. Even T bronze tier, this monster displays enough armour + health combo to defence against multiple attacks.
Silver
When it gets upgraded to level 4, this card possesses 5 melee attack at 3 speed with 5 armour and 8 health along with those 2 abilities that I mentioned above. The increased stat in it's melee attack and health makes it more stronger in silver tier.
Gold
This monster possesses 5 melee attack at 3 speed with 5 armour and 8 health when being upgraded to Gold tier and along with it's old 2 abilities, it also gets another new ability - cleanse. Now it can remove all the negative status effects from the front defence card, making it live longer against enemy attacks.
Diamond / Champ
At the max level, this card gets even more jacked up with 6 melee attack at 3 speed with 5 armour and 9 health while possessing all those 3 abilities that I mentioned above.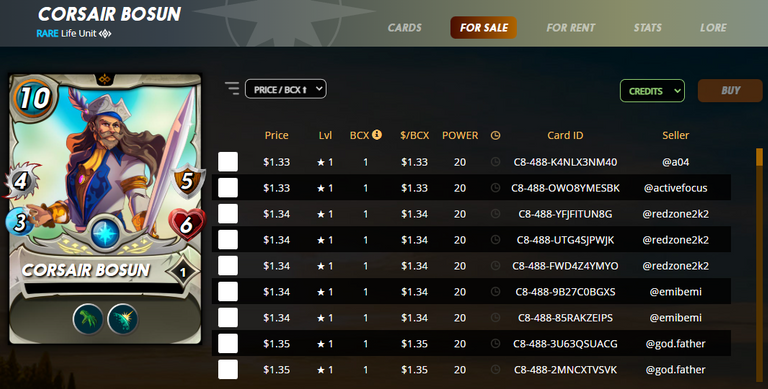 Market Stat
---
After getting launched into the battles, This card has gained popularity way faster among all Rift cards and the price is justifying that clearly as a single BCX of this card is selling in the current market starting from 1.34$, which will cost you about 1344 DEC. Surprisingly, right now only single BCXs of this card is available and not a single match or even high level.
---
Battle Stat
---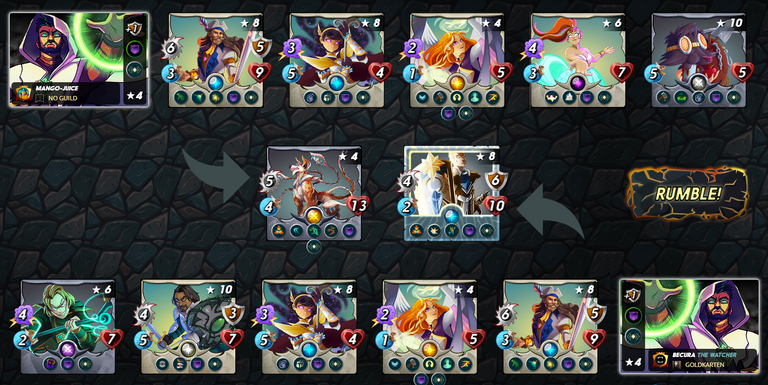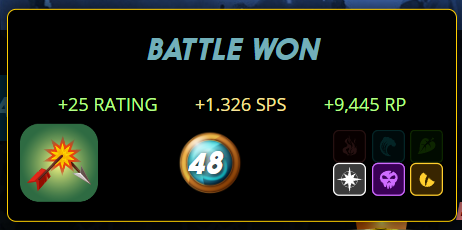 ---
mana Cap: 48
Splinters allowed: Life, Death and Dragon.
Ruleset:
No Range - No ranged attack monsters can be used in this match.
---
---
Battle Lineup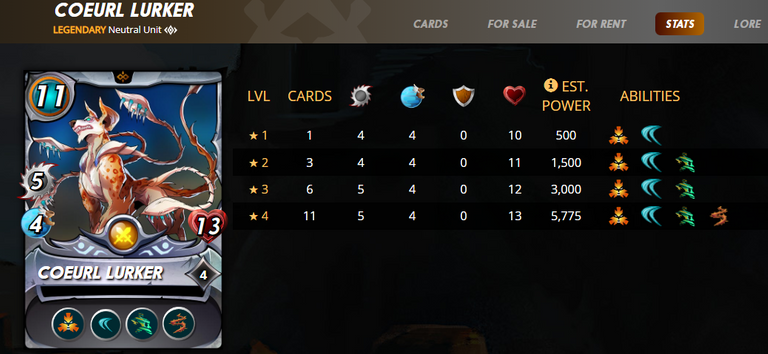 COEURL LURKER
The first monster and the main defence that I chose for my lineup is the Mighty Coeurl Lurker at the first position of my lineup. I used a level 4 of this legendary card here and it has 5 melee attack at 4 speed with 13 health along with 4 abilities - Taunt, Evade, Phase and Thorns. With it's high speed evade combo, I hope to dodge some crucial enemy melee or magic attacks by this card while protecting my other friendly monsters.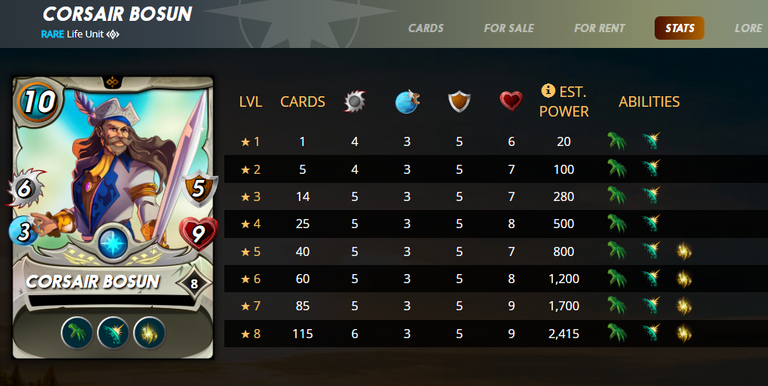 CORSAIR BOSUN
I chose the Corsair Bosun at the second position so that it can use it's reach ability to attack. I used a level 8 here and it has 6 melee attack at 3 speed with 5 armour and 9 health along with 3 abilities - Reach, Reflection Shield and Cleanse.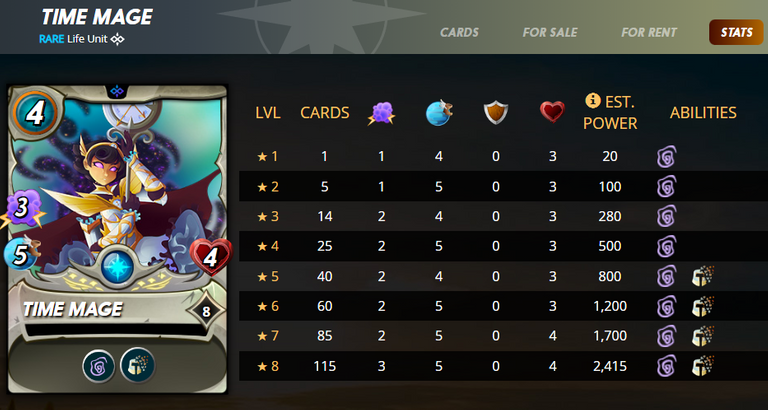 TIME MAGE
For the third place in my lineup, I chose the magic attacker Time Mage mainly to decrease my enemy monster shields. I am using a level 8 here and it possesses 3 magic attack at 5 speed with 4 health along with 2 abilities - Slow and Rust.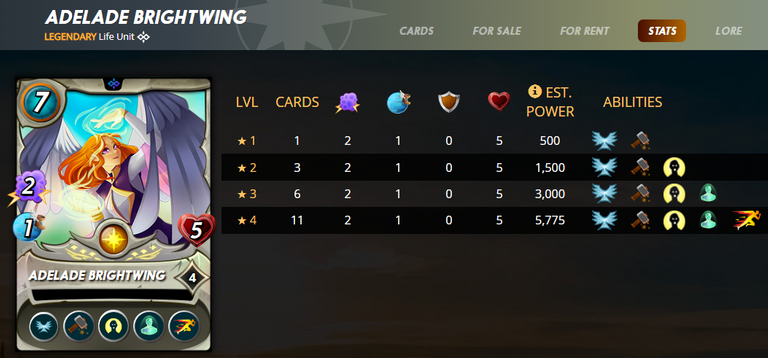 ADELADE BRIGHTWING
I chose another magic attacker Adelade at the fourth place of my lineup mainly because of it's amazing ability combo. I am using a level 4 in here and it has 2 magic attack at 1 speed with 5 health and 5 abilities in it's max level - Flying, Repair, Resurrect, Immune and Swift.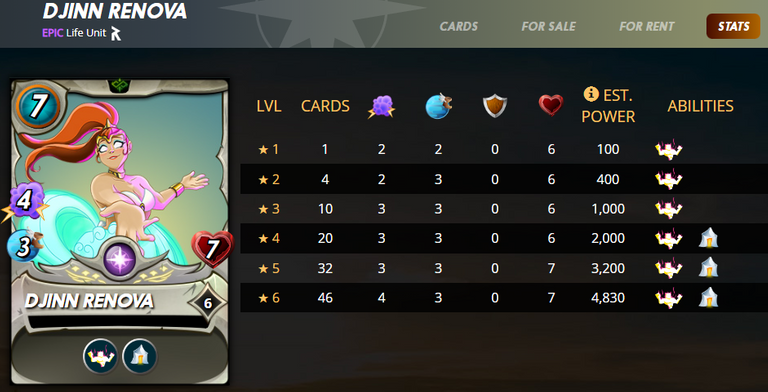 DJINN RENOVA
At the fifth position of my lineup, I chose the Djinn Renova mainly because of it's Triage ability. I am using a level 6 in here and it possesses 4 magic attack at 3 speed with 7 health along with 2 abilities - Strengthen and Triage.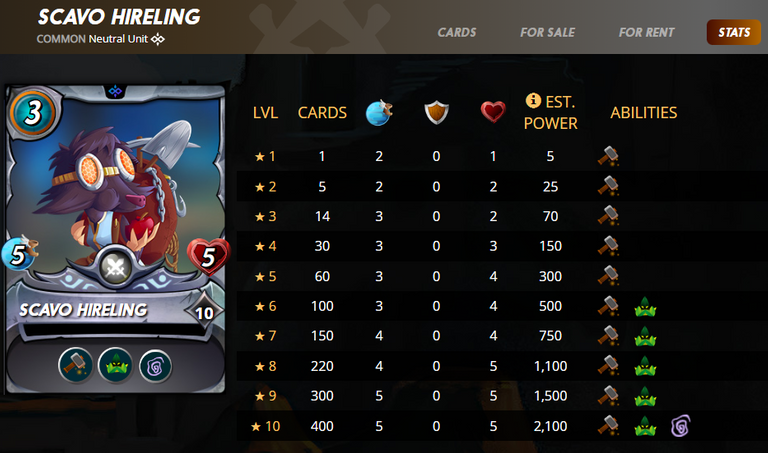 SCAVO HIRELING
I chose the attack less monster Scavo Hireling at the last position of my lineup mainly because of it's repair and slow ability. I am using a level 10 here and it has 5 speed and 5 health along with 3 abilities - Repair, Camouflage and Slow.
Battle Starts..
Round 1
---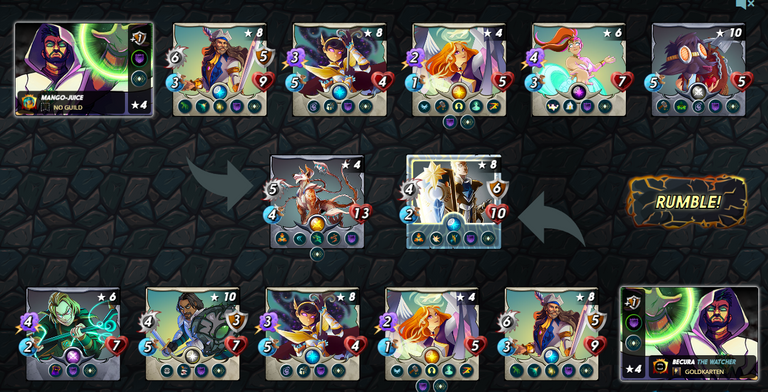 As the match lineup got got revealed, I found out that my opponent also used the legendary Life Chaos summoner Grandmaster Rathe and also chose the Shieldbearer at his front followed by a Corsair. As the match started, at first round, my Time mage launched the first attack and reduced some armour from the Shieldbeaerer, followed by the enemy Time Mage which damaged my Coeurl's health down to 11. Next, my Coeurl attacked and broke down the armour from the shieldbearer but then the enemy Dumacke attacked and almost killed down my Coeurl with it's Fury ability. As the match continues, my Coeurl got died by the enemy Corsair but got resurrected back by the adelade and the enemy Shieldbearer also left alive with only 2 armour and 1 shield.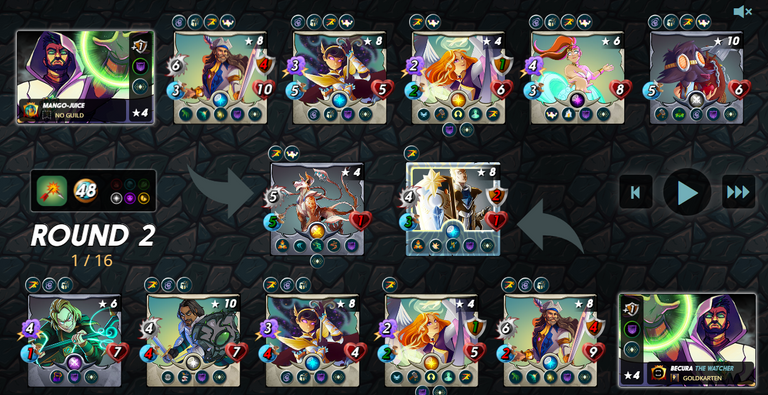 Round 2
As the second round begins, both my Time mage and Coeurl attacked together attacked and Killed down the Shieldbearer, but the enemy Adelade also resurrected it back with 7 armour and 1 health. My Hireling them repaired a little armour back upon the coeurl and it helped it to consume the deadly attack from the enemy Dumacke without losing life. In this round as well, no monster got dead but both of our front defence was just 1 attack away from being dead and both of adelade also used their resurrection ability.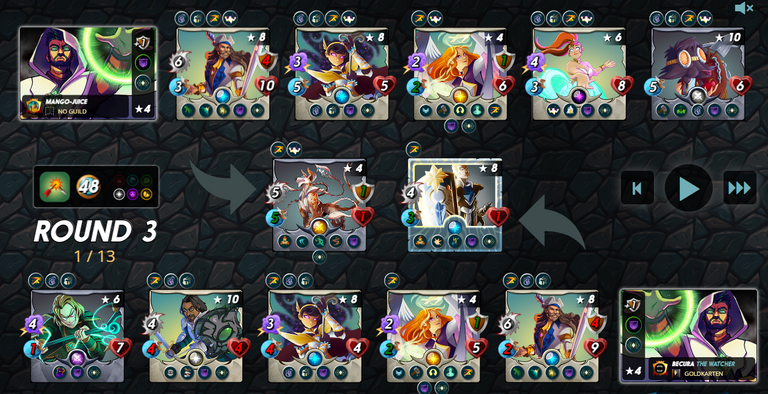 Round 3
As the third round begins, first my Time mage attacked and finally killed down the enemy shieldbearer, followed by my coeurl which attacked and took away the fat armour from the enemy corsair. Then, both the enemy Time Mage and Dumacke attacked my Coeurl but missed their chance and thus gave me a good advantage. After that, both my Renova and Corsair attacked and together killed enemy Corsair. My Coeurl then dodged last 2 attacks and the round ended here.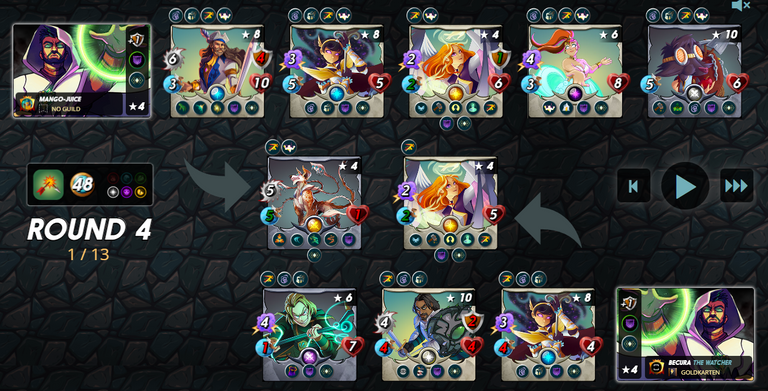 Round 4
At round 4, both my Coeurl and Time Mage attacked together and killed the enemy Adelade, followed by my Renova's attack which took down the enemy Time Mage quickly and by the end of the round, my Coeurl still lived by evading the attacks once again.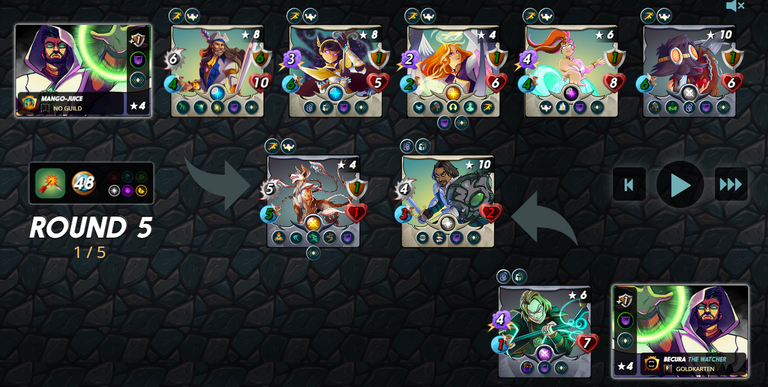 Round 5
At the begin of round 5, first my Time Mage attacked and killed the wounded Dumacke and thus, the Magi of Chaos is the only left alive monster in the opponent's lineup. But shortly after, it also got taken care off by my Coeurl and Renova and I win this ranked match at the fifth round.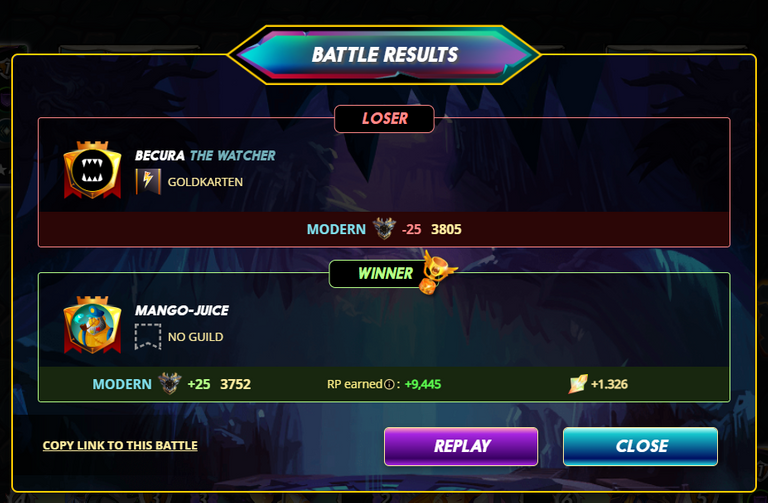 Well, it is clear from this battle that this new Rift card Corsair is very useful in medium to high limit mana matches. I like the Cleanse ability of this card very much because in long matches, it is very important to protect your front defence. Upon that, because if it's reach ability, it can also attack from second position along with your front attacker. And last but not the least, the Reflection Shield protects it from all type of blast and return attacks. So overall, it's a good choice for those gigantic battles. Let me know about your feelings in the comment below and I will be seeing you all in my next post!
---
---
Wish you all good luck on all of your future Splinterlands matches.
Thanks for visiting my post. Please come again!
Stay well and keep playing Splinterlands.
Want to start playing splinterlands? Click here
---
---
Posted using Splintertalk
---
---