Crypto Market watch | Staking Leo & Splinterlands activities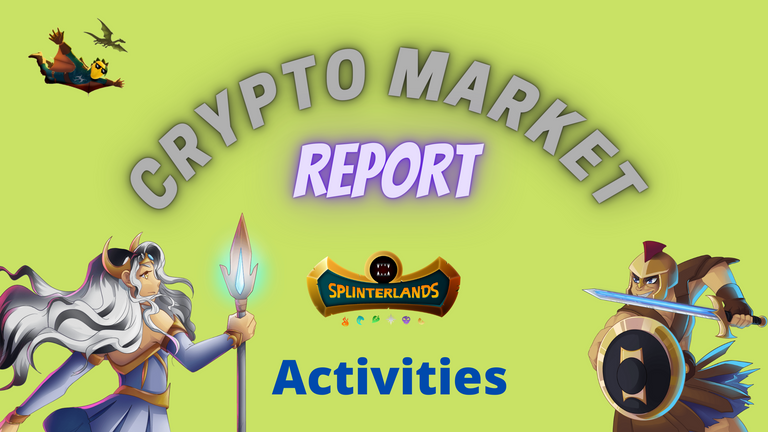 ---
Hi friends,
I hope all of you are well and also enjoying the game on a daily basis. We have already came down at middle of this season and only 6 days and 16 hours left for this current one to end. So we better get hurry and secure as many season chests as possible while also taking care of those daily focus chests.
market watch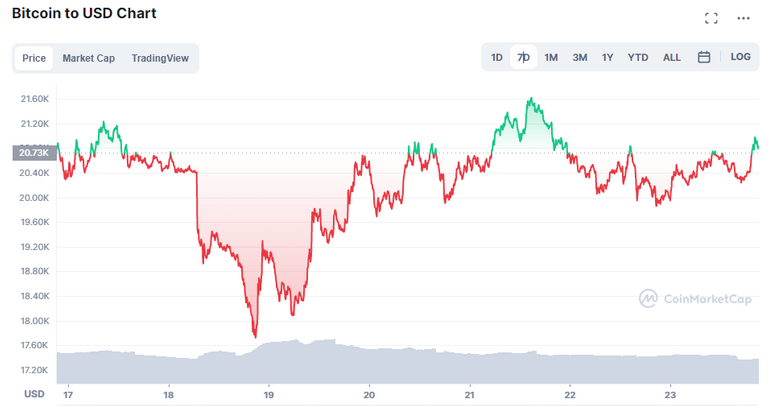 Now, first let us take a quick look at the current crypto market and get updated with the price. The main dominator BTC has successfully pulled itself up from it's recent low 18,150$ and now roaming between 20-21k$ with a current price of 20,843$, with a growth of +34% in last 24 hours. The other giant ETH is also following the uptrend with a +5.6% price change in last 24 hours and currently being traded for 1,127$. Our beloved token Hive making a stable position around 0.4$ with a current price of 0.391$ per unit with a +0.3% growth in last 24 hours.
Leo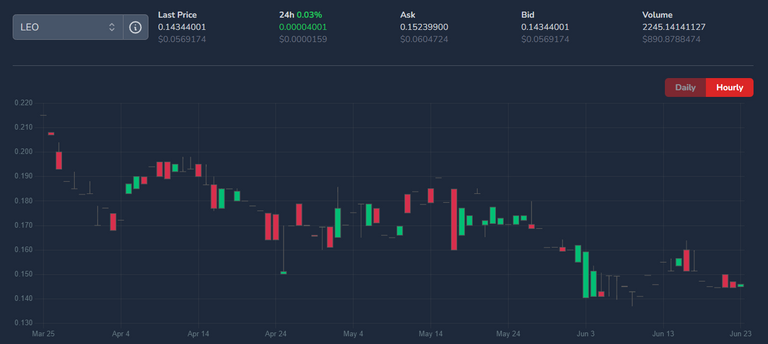 Now, taking a look at the leofinance token, it is currently being sold for 0.0569$ per unit with a slight growth of +0.03% in past 24 hours. Leo price is quite stable at this place and I was staking all the Leo tokens that I was getting from posts. Today, I bought some leo and made 100+ leo staked. I am also thinking to buy a little amount every week till the dip stays with us. There is also a leo curation service by @india-united where you can delegate your staked leo tokens and earn liquid leo for it.. and I am thinking to delegate them to generate a little but stable passive leo income.
---
---
SL Rewards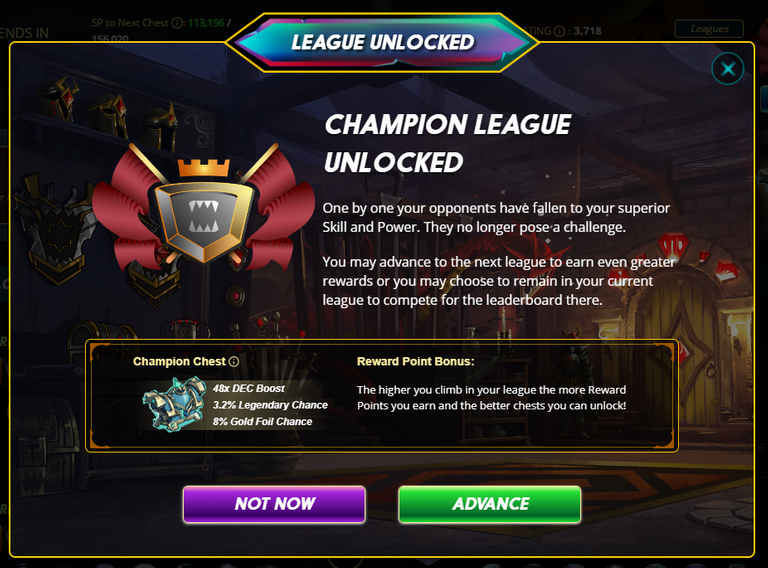 Now. let's talk about the new updated Splinterlands rank reward system to be honest I am really enjoying the bigger rewards now in form of DEC and cards, but it surely requires a lot more time to collect rewards than before. Someday I go for collecting a good number of cheats but then my ECR goes deadly low and I have to wait for a day or 2 to revive it back, and for those days, I only collect 3-5 chests.
---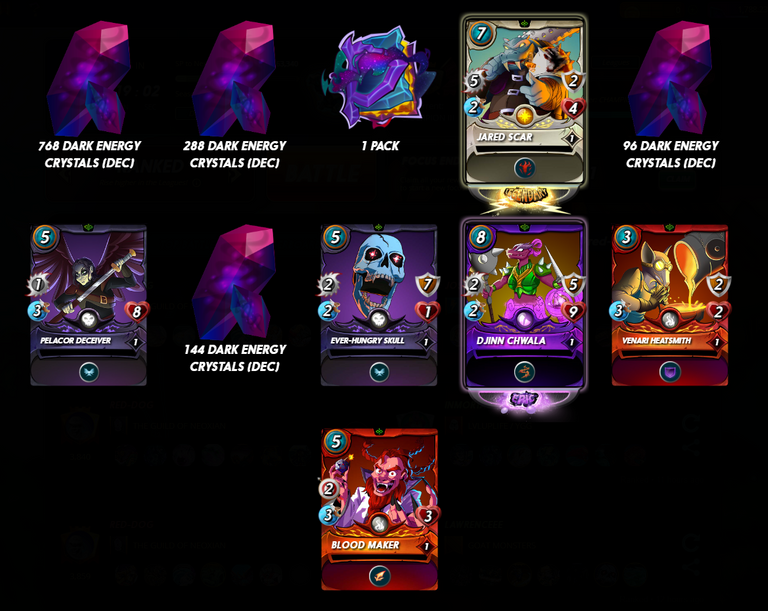 ---
Yesterday I went wild after the daily forecast changed and decided to acquire as many Focus just as possible before the time limit could end. After hours of playing I successfully got 11 focus just for the day before the time in dead and opened them right away and below is the screenshot of what I got from those 11 focus chests.
As you can see, I have got one legendary card, one epic, over a thousand DEC and some common cards as well. As I got into the champions league, I was getting more DEC boost and chances of getting legendary and gold foil cards because of the new ruleset, and I think that's what got me so many sweet loots at once. No doubt that team splinterlands made it lucrative so much to win those chests that you will end up using your ECR every time you focus on getting more chest and hence lower RP points for your next battles.
On the other hand, I have a decent SL card collection but I didn't have any GFL in it. So, after saving some dec, I bought my first GFL card, a Djinn Oshannus for only 50$.
Last Brawl Scorecard
---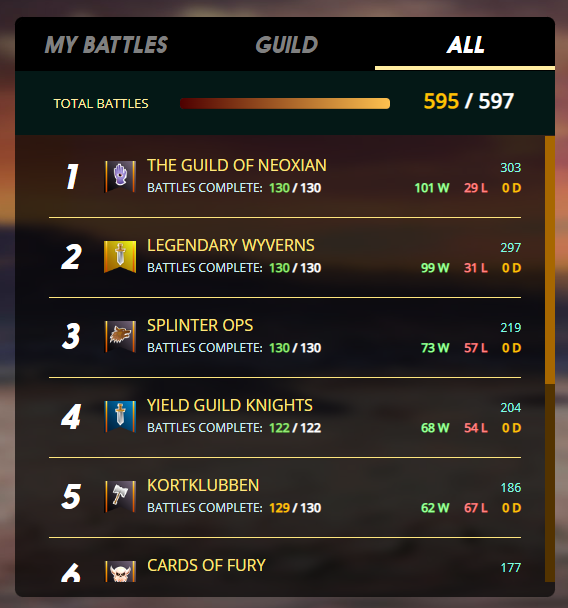 ---
Now, talking about brawls, we, the warriors of Neoxian City has again claimed the first place in our latest brawl. But this time, the difference between us and the runner-up was just 6 points, so definitely it was a very close win. Thanks to Neoxian sir, Xawi and all of my fellow brawlers who hive their best every time. This time, our clan got rewarded with a total of 77 crowns and each of us participants who submitted all of their frays got rewarded with 4,813 merit points each.
---
Wish you all good luck on all of your future Splinterlands matches.
Thanks for visiting my post.
Stay well and keep playing Splinterlands.
Want to start playing splinterlands? Click here
Posted Using LeoFinance Beta
---
---