Getting closer to the Champ tier | 7 Focus Chest opening at D2 | Crypto Market Watch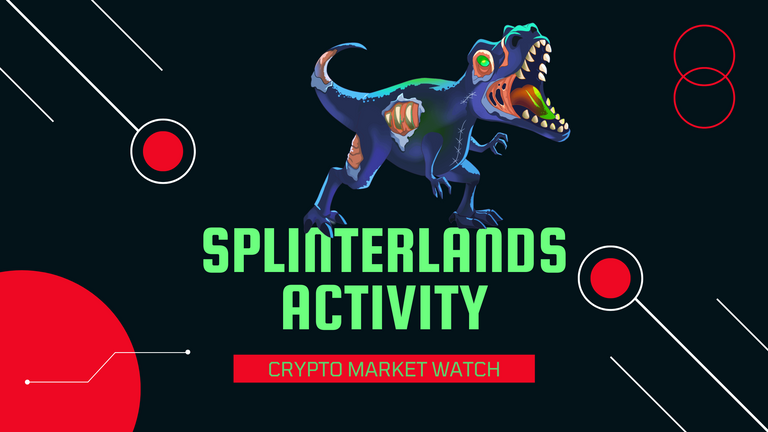 What's up my fellow Splinternerds!
I hope all of are enjoying the day with your loved ones and in the meantime, also enjoying this awesome game as well. The time is passing by as we are already at the middle of this current season and only 8 days left in our hands to fill that Season Chest bar with as many as possible. For me, I am enjoying my Diamond days with a current trophy count of 3,199 and only about 200 trophies away from reaching Diamond I. I think it will take another couple of days to reach the Champ tier as I have to keep an eye on ECR as well which is currently sitting at 71.67% after I stopped playing for today.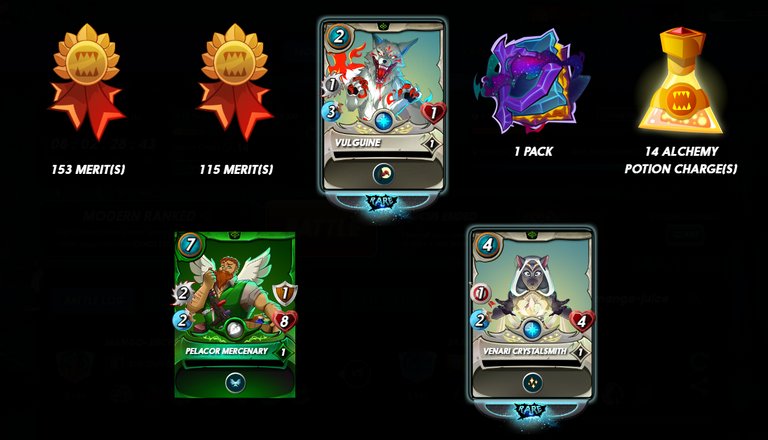 I have shared my today's focus mission performance above and As you can see, I got the Death Splinter as my Daily Focus rule again and have collected 7 chests so far before the tome ran out. And today was my lucky day as I got 1 Chaos pack from one of those chests along with 2 rares and 1 common card and some merits & potions. For Season chests, after today's playing, I have earned total 14 season chests for this season and having only 8 days in hand, I think I can only gather about 15-20 more. But if I successfully reach into the Champ tier some days before the season end, I can get more points per ranked wins and hence More chests, so let's see how that goes. 😄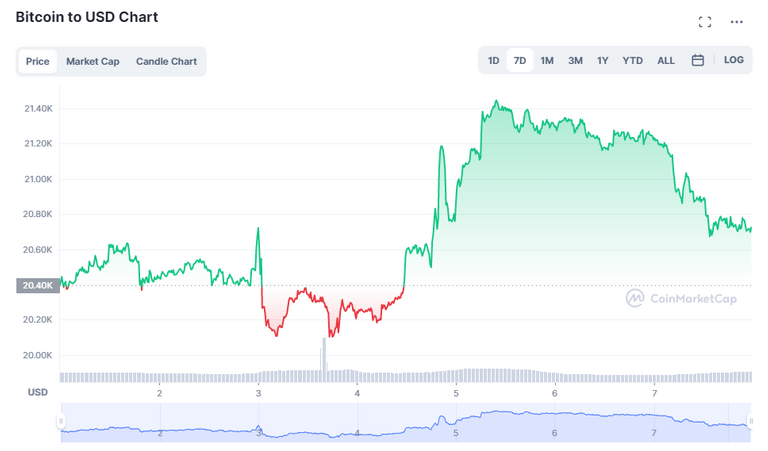 Now, let us look into the Crypto market to find out the current situation. First, looking at the main dominator BTC, it is currently getting pulled back from it's weekly high of 21.4k$ and currently it is being traded for 20,701$ per unit with a -2.48% price dip within the last day. Other other giant ETH has also come down from 1600$ and currently being sold for 1,587$ per unit with a -1.41% change in price within last 24 hours. After Elon Musk acquired, the price of Doge coin also gone way up to 0.16$ but now it is declining back fast with a current price of only 0.1147$ per unit with -10.85% dip in price within last week.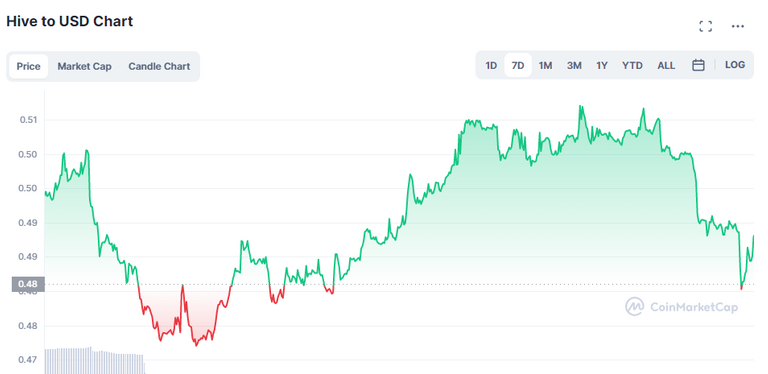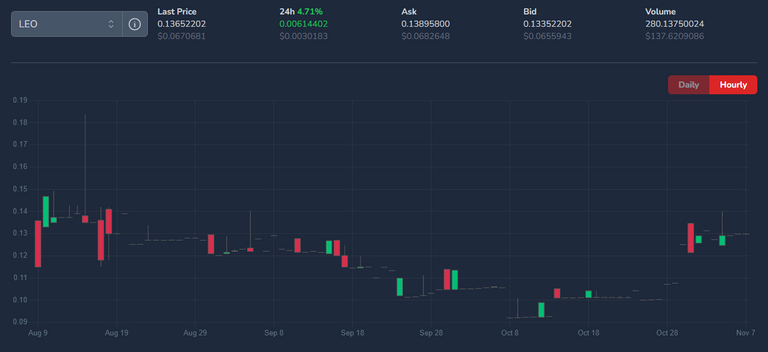 Now, moving on into the Hive Universe, first looking at our hive token, it is well balancing it's spot range between 0.48$ to 0.51$ this whole week and it is currently being traded for 0.488$ per unit with a -2.35% price decrease within last day. On the other hand, the HBD is also maintaining it's pegged 1$ value well and currently being traded for 0.981$ per unit with a slight loss in value. The LEO aka Leofinance token is also getting pumped up well during the last couple of days and from it's long steady position around 0.05$ per unit, it is now being sold at 0.067$ per unit with a +4.71% price increase within last day.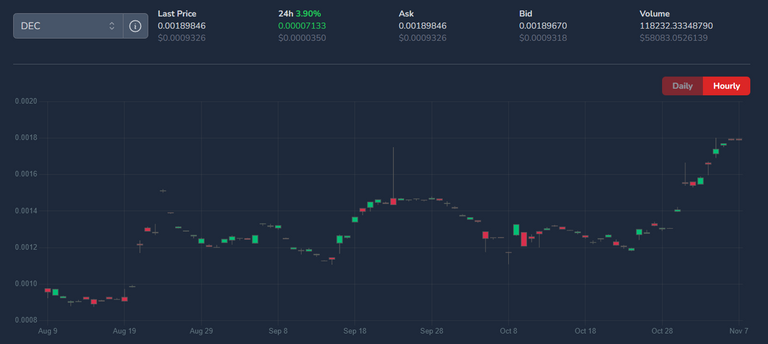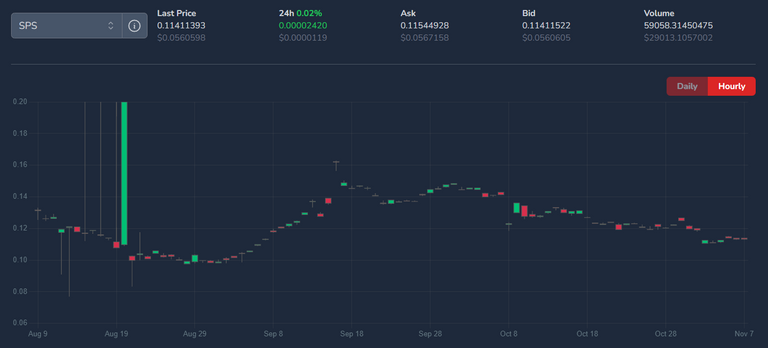 Now, moving on towards the Splinter verse let's watch various splinterlands tokens and assets prices on Hive-Engine. First, the DEC has finally get it's long awaited pump and looks like it is going to catch it's pegged price soon as it is currently being sold for 0.000932$ per unit or 0.932$ per 1k dec. On the other hand, SPS aka Splintershards is still struggling to get any pump or getting back to 0.06$ as it is still trading around 0.056$ per unit with a negligible change in price within the last day. Now, looking at packs, first the chaos pack has seen significant increase in it's price die to the recent chaos pack burn proposal and with a slight -0.37% change in price within last 24 hours, it is now selling for 2.627$ per pack on Hive Engine. Rift packs has no mood to decrease it's price as it is currently selling at 4.54$ per pack with a good +2.9% change in price within last day. Lastly, the Tower defence Nightmare packs are currently losing value and with a -3.28% price dip within last day, it is currently being sold for only 2.89$ per pack if anyone reading is interested.
I hope you enjoyed my SL activity and crypto chart post. Please Let me know your thoughts about SL and the current market in the comments below and I will be seeing you all in my next post!
---
---
Wish all of you good luck on all of your Splinterlands journey.
Thanks for visiting my post. Please do visit again!
Stay well and keep playing Splinterlands.
Want to start playing splinterlands? Click here
Posted Using LeoFinance Beta
---
---