Today's Splinterlands Focus Rewards | Crypto market watch | Brawl results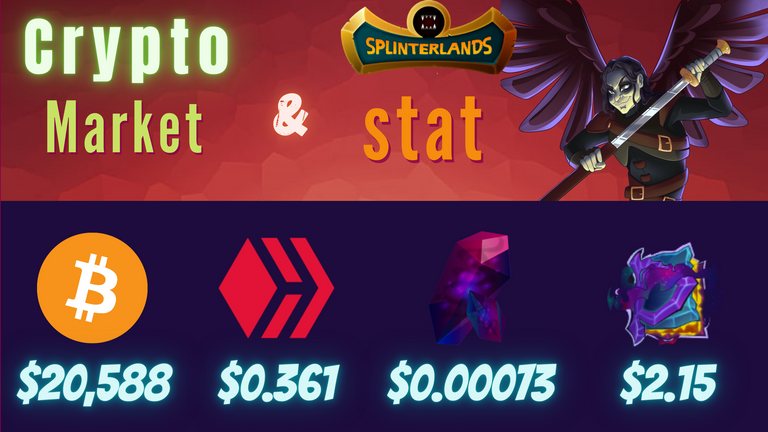 What's up my fellow Splinter warriors!
I hope all of you are doing fine and enjoying your life. The last splinterlands season ended only 2 days ago and most of the players are talking about their awesome reward pulls from the season loot chests. Well, it was the worst season end since the splinterlands team lunched the new reward system for ranked play and the update seems to have won many player's heart.
---

---
No doubt, it is harder than before to get good amount of Season loot chests. Unlike before, where you just had to reach a certain league to unlock that level's rewards, now you have to focus on collecting season points as well to get more and more chests. This season, I got able to collect only 72 season chests. But I was literally in a Jaw Dropping State to see the insane amount of Dec chunks and cards that I get from rewards. I shared The screenshots of my season reward chest opening in my last post if you want to take a look. However the new season has already started and only 12 1/2 days left for this current 1 to end so you better make a strategy and get to work to collect those focus and season points.
---

---
My ECR was In a very bad state in the whole last season and those I was getting less and less points for rent win so this season I thought to take care of my ECR and don't go wild after daily focus chests. It's really lucrative to win all those 30 chests But in meantime it really hurts your ECR And I took this pain in the last season. Anyways, Today I got the Earth as my daily focus And it was only some hours left when I started playing but I choose to just collect four chests and keep my ECR healthy for the next morning. I have shared the rewards that I got from those 4 loot chests above and as you can, splinterlands made me happy again with a Gold Foil common and 480 dec. My next focus is Water so let's see how many Focus Chests I can acquire within next day (I have already collected 2 :).
---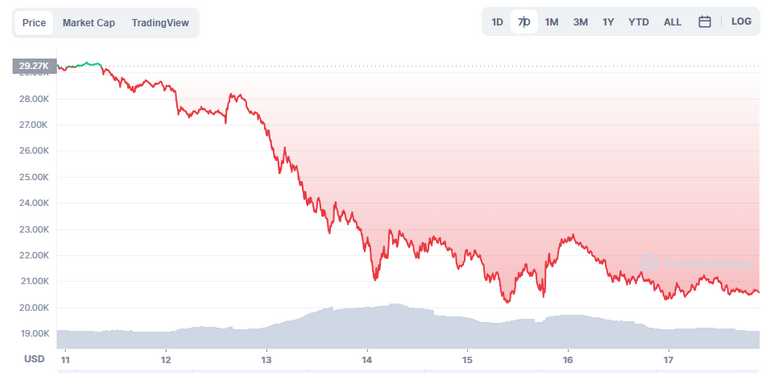 ---
Now, taking a look at the current crypto market status, the main dominator BTC is currently being traded for 20,555$ per unit And look like the downtrend will be here for sometime. The splinterlands market tokens also got affected by this harsh dip and as you can see from above, DEC is currently being sold for only $0.00073 per unit, while SPS is also lost its value by a bit And currently being traded for $0.0562 per unit. The splinterlands Chaos packs on HE market are also available for only $2.157 per piece currently, which is a unbelievable discount then it's 4 dollar per unit original price, thanks to this dip. So, if anyone wants to gather some packs, it may be the best time to buy them off HE market.
---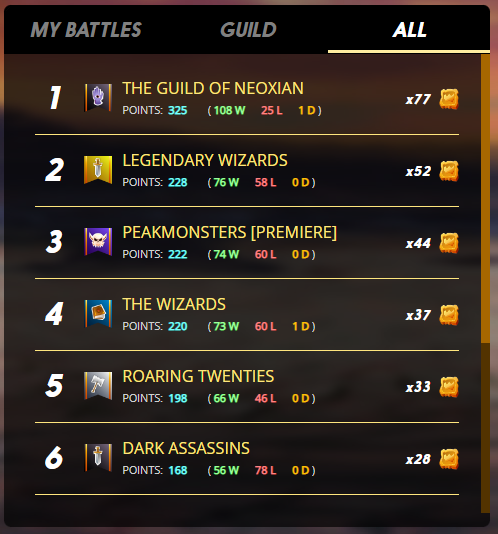 ---
Well, the Guild of Neoxian has finished playing another brawl just now and gladly, we have again won the first place. I am very happy to see that we are maintaining a good winning streak, thanks to Neoxian sir, Xawi and all my fellow teammates for their tireless effort and unmatchable splinter-skills. This time our guild got rewarded with 77 crowns in this brawl and also each member of our guild who participated and submitted all of their Frays got awarded with 4,813 merit points each. I just opened eight Gladius packs yesterday (shared in my last post) with all the merits that I had saved from last couple of rolls so I will again continue saving from this one and open again when I have a chunk of merits.
---
Wish you all good luck on all of your future Splinterlands matches.
Thanks for visiting my post.
Stay well and keep playing Splinterlands.
Want to start playing splinterlands? Click here
Posted Using LeoFinance Beta
---
---