1K Missions!!!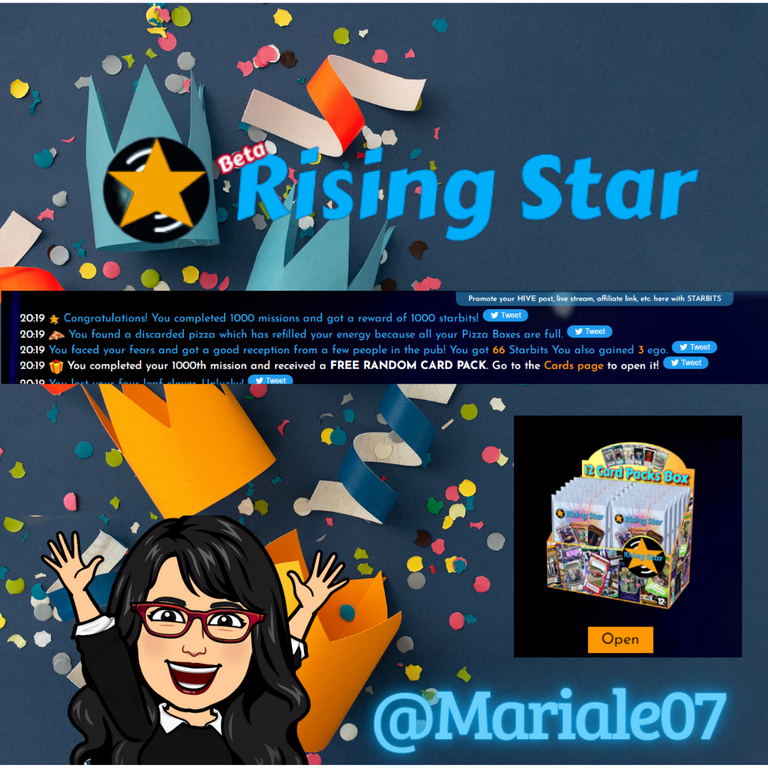 Lo logré, pensé que sería imposible o que este día nunca llegaría, pero por fin lo conseguí, ¡alcance las 1000 misiones en Rising Star!
Siempre he pensado en este juego como un proceso de metas, ellos mismos lo estructuraron así, conseguir premios o incentivos según el avance que logremos. La última vez que obtuve un premio fue en las 500 misiones, no recuerdo qué fue pero estaba muy pendiente de que en la meta de los 1000 tendría una pack de cartas de regalo, así que aunque soy un poco holgazana jugando, hay días que se me olvida totalmente hacer misiones, cuando ya estaba los las 900 misiones me puse las pilas y en poco días las complete.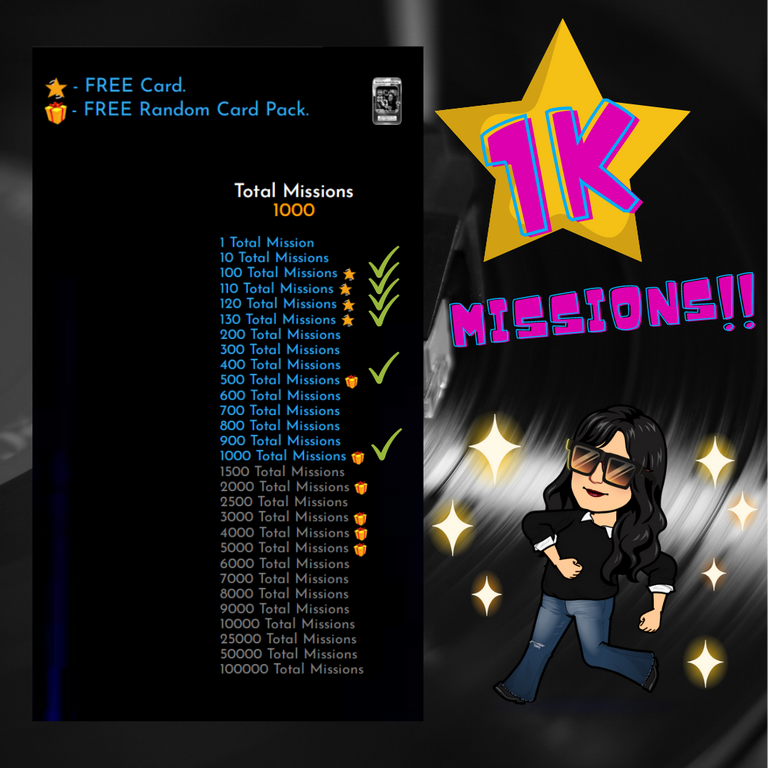 Recibí mi pack de regalo y vino así: la primera es una carta común del tipo persona 85 Kelly que viene con 10 fans, la segunda es del tipo instrumento musical i80 triangle con 5 luck. Y para mejorar las cosas, la tercera es una carta rara R184 Pascal que parece ser un chef jajaj. viene con 50 fans, 150 skill, 4 luck y 2 IM.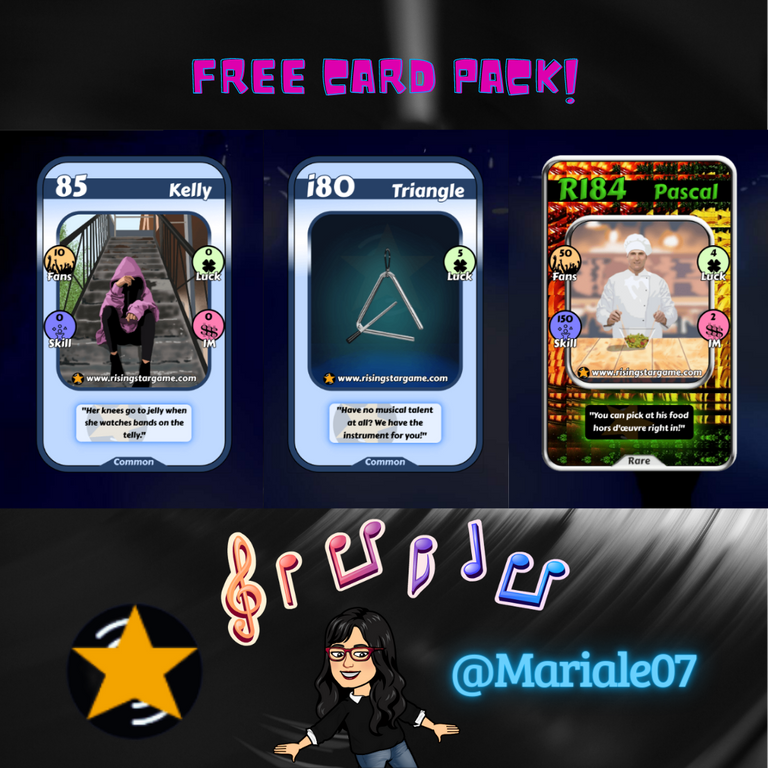 Aunque las cartas comunes que me dieron tienen poco valor, no puedo quejarme porque fue un regalo, así que estoy contenta con lo recibido.
Y seguimos trabajando fuertemente en las misiones Acoustic Tent combinadas con Lecciones de música, esto para equilibrar el ego, ya que al hacer varias misiones acoustic tent seguidas el ego sube muchísimo y se gana muy poco, mi meta es que al dia haga al menos 5000 starbits, pero casi nunca lo logro, asi que debo esforzarme más.
Por otra parte, he estado pensando en que la baja en los precios de las cryptos es una buena oportunidad para comprar starbits, y llegar a holdear el millón, que no he podido reunir haciendo misiones pues siempre que tengo algo acumulado se me ocurre gastarlo, pero bueno eso es normal. Así que estoy planteándome la posibilidad de gastarme unos Hives en starbits y conseguir el millón y por supuesto la carta millonaria. Les contaré más adelante si lo hago.

1K Missions!
I made it, I thought it would be impossible or that this day would never come, but I finally made it, I reached 1000 missions in Rising Star!
I've always thought of this game as a process of goals, they structured it that way, get awards or incentives according to the progress we achieve. The last time I got a prize was in the 500 missions, I do not remember what it was but I was very aware that in the goal of the 1000 I would have a pack of gift cards, so although I'm a little lazy playing, there are days that I totally forget to do missions, when I was already the 900 missions I put the batteries and in a few days I completed them.
I received my gift pack and it came like this: the first one is a common card of the type person 85 Kelly that comes with 10 fans, the second one is of the type musical instrument i80 triangle with 5 luck. And to make things better, the third one is a rare card R184 Pascal that seems to be a chef hahahah. it comes with 50 fans, 150 skill, 4 luck and 2 IM.
Although the common cards I got are of little value, I can't complain it was a gift, so I'm happy with what I received.
And we continue working hard on the Acoustic Tent missions combined with Music Lessons, this to balance the ego, because when you do several acoustic tent missions in a row the ego goes up a lot and you earn very little, my goal is to make at least 5000 starbits a day, but I almost never achieve it, so I have to try harder.
On the other hand, I have been thinking that the low prices of cryptos is a good opportunity to buy starbits, and reach the million, which I have not been able to collect doing missions because whenever I have something accumulated I always think of spending it, but that's normal. So I am considering the possibility of spending some Hives in starbits and get the million and of course the millionaire card. I will tell you later if I do it.
---
---