Level up!! Level 45 has arrived / El nivel 45 llegó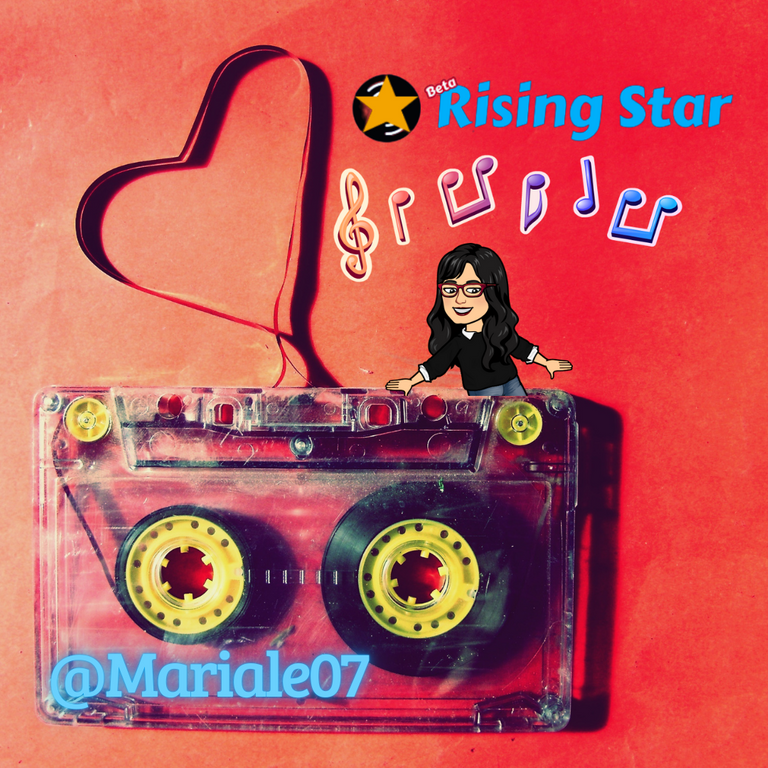 level up! Level 45 has arrived
Hello friends, I am happy and I bring you good news.
Finally the longed level 45 arrived, although I feel it was quite fast, I can't complain, because in fact the secret is to be constant doing the missions, following the plan is achieved.
In this last period I haven't done anything extraordinary, the truth is I didn't want to buy cards or spend my starbits because I had planned to save for the most important goal which is to reach the million and all that, but some setbacks arose and in the end I spent everything I had. But still it's never too late to start saving again and sooner or later you reach it.
I was reviewing the cards I have, and I noticed that I have a vehicle card that I had not seen, I am not clear how I got it, if it was a gift, raffle or something like that really, I know I did not buy it or that I got it in a pack because I would remember it, so just in case I forget to thank, here I say that whoever sent me a thousand thanks, it is a tremendous card has a great value, see that is around 50k so it is a tremendous gift.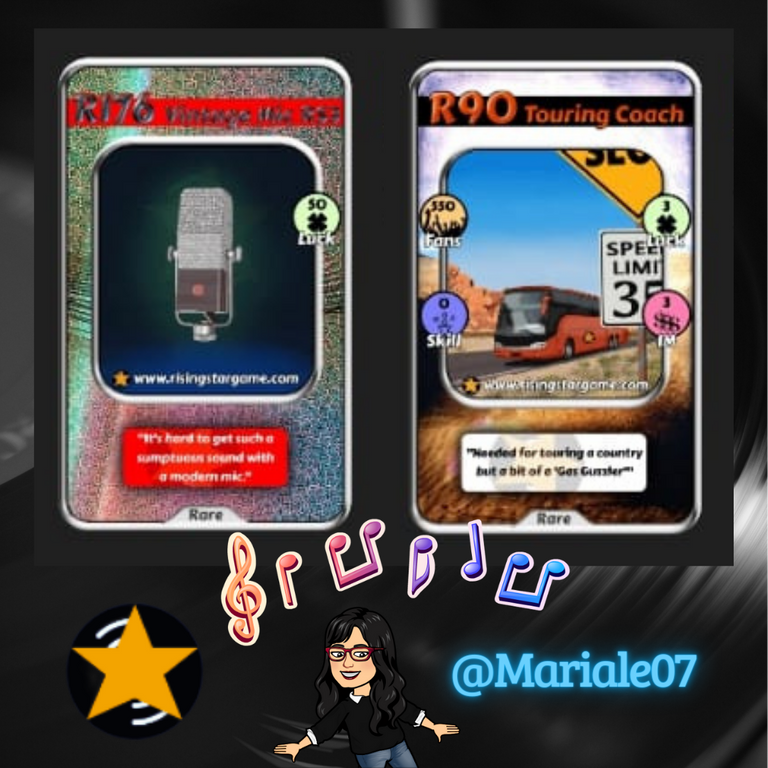 And as my collection of instruments is guitars, I have a microphone that I will put it for sale, or if someone is interested we can make an equivalent exchange, I send the microphone and for a guitar that has more or less the same value.
So well, for now that's the update, I'm already doing my level 45 missions that unlocked me, the Acustic Tent that lasts 250 minutes, about 4 hours, can give between 500 and 1800 starbits and the XP is giving me 133 so let's give a lot to the start button to earn a lot and keep advancing!
Happy week!!!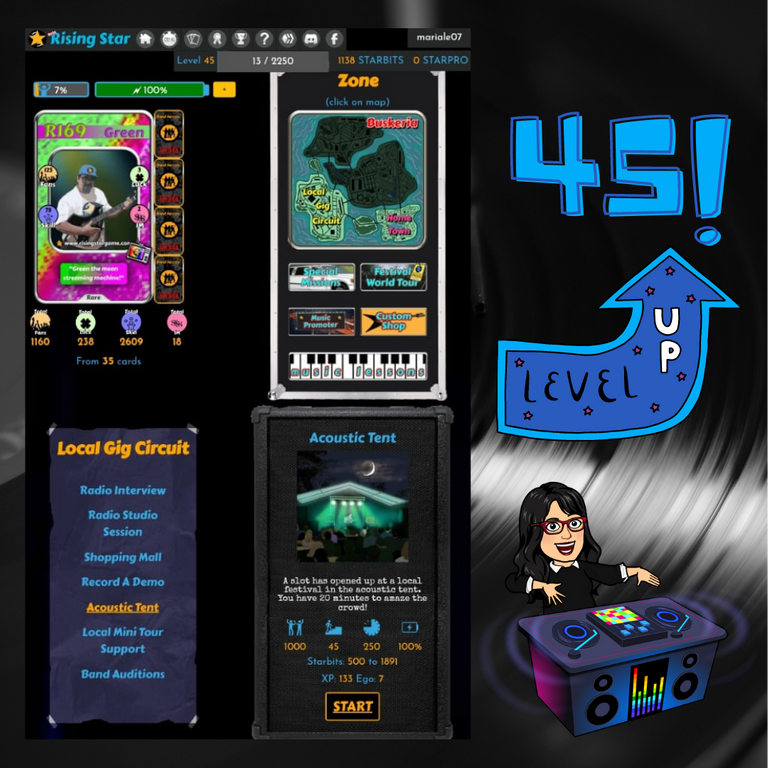 Level up!! El nivel 45 llegó
Hola amigos, estoy feliz y les traigo buenas noticias.
Por fin el anhelado nivel 45 llegó, aunque siento que fue bastante rápido, no me puedo quejar, porque en realidad el secreto es ser constante haciendo las misiones, siguiendo el plan se logra.
En este último periodo no he hecho nada extraordinario, la verdad no había querido comprar cartas ni gastar mis starbits porque tenía pensado ahorrar para la meta más importante que es llegar al millón y todo eso, pero surgieron algunos contratiempos y al final gasté todo lo que tenía. Pero aun así nunca es tarde para volver a iniciar el ahorro y tarde o temprano se alcanza.
Estaba revisando las cartas que tengo, y me fije que tengo una carta vehículo que no había visto, no tengo claro cómo la obtuve, si fue un regalo, sorteo o algo asi de verdad, se que no la compre ni que me llegó en un pack por que la recordaría, así que por si acaso olvide agradecer, aquí digo que a quien me la haya enviado mil gracias, es tremenda carta tiene un gran valor, consulte que está en torno de los 50k así que es tremendo regalo.
Y como mi colección de instrumentos es de guitarras, tengo un micrófono que lo pondré en venta, o si alguien le interesa podemos hacer un intercambio equivalente, yo le envio el micrófono y por una guitarra que tenga más o menos el mismo valor.
Así que bueno, por ahora esa es la actualización, ya estoy haciendo mis misiones del nivel 45 que me desbloquearon, la Acustic Tent que dura 250 minutos, unas 4 horas, puede dar entre 500 y 1800 starbits y el XP me esta dando 133 así que vamos a darle mucho al botón de start para ganar mucho y seguir avanzando!
¡¡Feliz semana!!
Imagenes editadas en CanvaPro
---
---