Arteterapia: Mariposa multicolor paso a paso [ESP/ENG]

---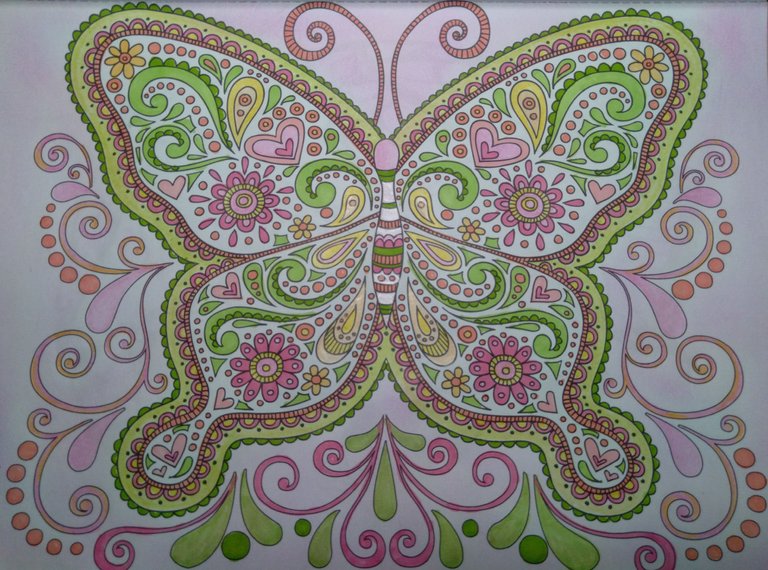 ¡Hola queridos amigos de la comunidad Hive Diy!
Hoy vengo por aquí a compartir mi más reciente obra de arte, si, para mi es una gran obra por que estoy super feliz con el resultado de este dibujo que coloree. Se trata de una hermosa mariposa, que desde hace tiempo me guiña el ojo cada vez que estoy hojeando mi libro de Arteterapia Voos da Imaginaçao.
Este es un dibujo grande, ocupa toda una página, y tienen muchísimos detalles, al principio tuve dudas de por dónde comenzar, pero como siempre, cuando tienes una paleta de colores en mente, más o menos uno se va guiando y todo acontece naturalmente. en el video que les comparto aquí pueden ver el paso a paso, acompañado de un excelente fondo musical, dinámico y alegre tal y como me sentía mientras coloreaba.
Comencé eligiendo mi paleta de colores, en marcadores de tinta gel escogí tres tonos de verde desde el más claro al más oscuro, un color naranja pastel, rosa pastel, y fucsia. Tambien inclui un tono de amarillo. Tenia a la mano tambien unos lapices de colores en tonos pastel, los equivalentes a los colores de los marcadores, y de mi caja de colores super soft escogí dos verdes claros, rosado, fucsia y dos tonos de amarillo. En fin tenía una gran selección de colores, de los cuales use la mayoría y algunos no los necesite como se ve en el video.
En esencia quería lograr algo brillante, colorido y alegre, creo que lo conseguí, pues me quedo muy bonito, mientras coloreaba, entre grabaciones, escuche música dinámica que se reflejo en mis decisiones a la hora de colorear, predominando el color rosado, fucsia, naranja y por supuesto el verde, espontáneamente todo quedó equilibrado, siento que no hubo exceso de ninguno de los colores.
Por tener tantos detalles, hice un ejercicio de atención coloreando sin detenerme a cada patrón que estaba enfocada, por ejemplo, verán que el dibujo tiene en cada ala de la mariposa el diseño repetido al estilo espejo, así comenzaba en una ala, y avanzaba a la siguiente sin detenerme, y fue un verdadero ejercicio de atención, pues muchas veces suelo distraerme,revisando alguna notificación que me llegue en el teléfono o buscando alguna música para seguir y pueden pasar algunos minutos antes de avanzar, eso me quita mucho la concentracion, asi que con este dibujo aplique la arteterapia ejercitando el autocontrol y la atención en la realización de una tareas, me gusto mucho y siento que luego de terminar el dibujo, la satisfacción fue mayor.
Para finalizar el dibujo, hice un sombreado en todo alrededor de la mariposa y los diseños que la acompañan, usando maquillaje sombra de ojos color fucsia y lo aplique con las yemas de los dedos para darle el efecto de nube o sombreado, ese toque fue definitivo para hacer que el dibujo quedará hermosisimo.
En total fueron más de 29 minutos de grabación, comencé la noche de ayer y termine durante el día de hoy, en la edición reduje el tiempo del video a 7 minutos, agregando tres músicas dinámicas y alegres que espero les gusten y puedan percibir esa energía positiva que transmite este dibujo, me gusto tanto que estoy muy convencida de que montare este dibujo en un cuadro, para adornar mi nueva casa la próxima semana cuando nos mudemos.
Todas las imágenes y vídeos son de mi propiedad, tomadas y grabadas con la cámara de mi teléfono Samsung A01, el vídeo editado en la App CapCut, y la portada editada en CanvaPro.
Música: Snake on the beach y Sunny travel de Nico Staf , y Meet & Face de Ofshane de la Biblioteca de audio de Youtube Studio de uso comercial gratuito.

Hello dear friends of the Hive Diy community!
Today I come here to share my most recent work of art, yes, for me it is a great work because I am super happy with the result of this drawing that I colored. It is a beautiful butterfly, which has been winking at me for a long time every time I am browsing through my Arteterapia Voos da Imaginaçao book.
This is a big drawing, it occupies a whole page, and has a lot of details, at first I had doubts about where to start, but as always, when you have a color palette in mind, more or less one is guided and everything happens naturally. In the video that I share here you can see the step by step, accompanied by an excellent musical background, dynamic and cheerful as I felt while I was coloring.
I started by choosing my color palette, in gel ink markers I chose three shades of green from the lightest to the darkest, a pastel orange, pastel pink, and fuchsia. I also included a shade of yellow. I also had some pastel colored pencils on hand, the equivalent of the marker colors, and from my box of super soft colors I chose two light greens, pink, fuchsia and two shades of yellow. I had a large selection of colors, most of which I used and some of which I didn't need as you can see in the video.
In essence I wanted to achieve something bright, colorful and cheerful, I think I got it, because it was very nice, while coloring, between recordings, I listened to dynamic music that was reflected in my decisions when coloring, predominantly pink, fuchsia, orange and of course green, spontaneously everything was balanced, I feel that there was no excess of any of the colors.
For example, you will see that the drawing has in each wing of the butterfly the design repeated in a mirror style, so I started in a wing, and moved on to the next without stopping, and it was a real exercise of attention, because many times I tend to get distracted, I often get distracted, checking some notification that comes on my phone or looking for some music to follow and it can take a few minutes before moving forward, that takes away my concentration, so with this drawing I applied art therapy exercising self-control and attention in the completion of a task, I really liked it and I feel that after finishing the drawing, the satisfaction was greater.
To finish the drawing, I did a shading all around the butterfly and the designs that accompany it, using fuchsia eyeshadow makeup and applied it with the fingertips to give the effect of cloud or shading, that touch was definitive to make the drawing will be beautiful.
In total there were more than 29 minutes of recording, I started last night and I finished today, in the editing I reduced the time of the video to 7 minutes, adding three dynamic and cheerful music that I hope you like and can perceive that positive energy that transmits this drawing, I liked it so much that I am very convinced that I will mount this drawing in a picture, to decorate my new house next week when we move.
All images and videos are my own, taken and recorded with the camera of my Samsung A01 phone, the video edited in the CapCut App, and the cover edited in CanvaPro.
Music: Snake on the beach and Sunny travel by Nico Staf , and Meet & Face by Ofshane from the Youtube Studio Audio Library for free commercial use.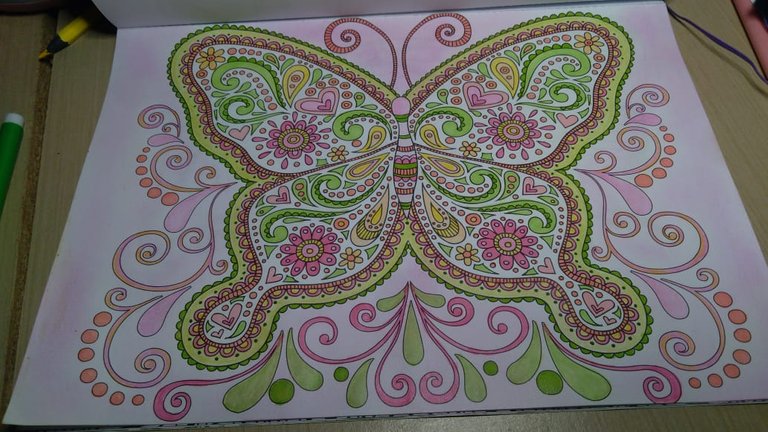 ---
▶️ 3Speak
---
---