El sonido de las olas y la tranquilidad del mar me relaja// The sound of the waves and the tranquility of the sea relaxes me.

Hola mi hermosa comunidad de @aliento un fuerte abrazo enorme y caluroso para todos ustedes espero se encuentren muy bien y llenos de mucha alegría y entusiasmo y por supuesto mucha energía para empezar este día tan hermoso, porque si empezamos el día con una sonrisa 😃🤗 conseguiremos sentirnos mucho mejor y sacar el máximo provecho a cada hora ⏰⌛, tener una buena actitud no significa que no tenemos problemas, más bien se trata de seguir adelante a pesar de cualquier adversidad que se nos pueda presentar, el día de hoy quiero hablarles de un gran día que tuve de mucha relajacion
Hello my beautiful community of @aliento a big and warm hug for all of you I hope you are very well and full of joy and enthusiasm and of course a lot of energy to start this beautiful day, because if we start the day with a smile 😃🤗 we will feel much better and make the most of every hour ⏰⌛, having a good attitude does not mean that we have no problems, rather it is about moving forward despite any adversity that may arise, today I want to talk about a great day I had of much relaxation.
---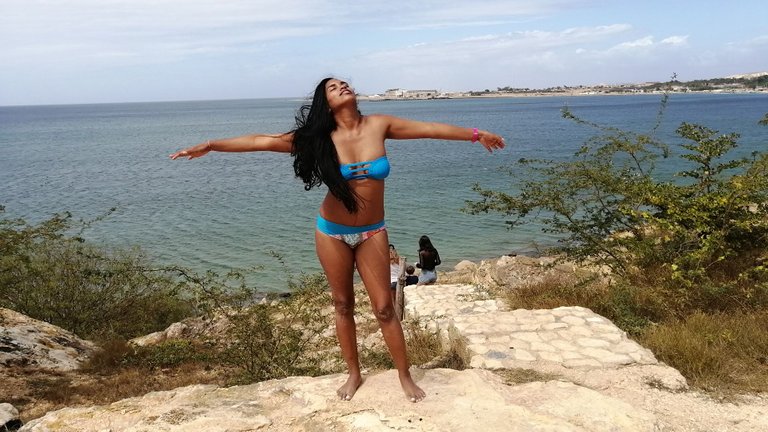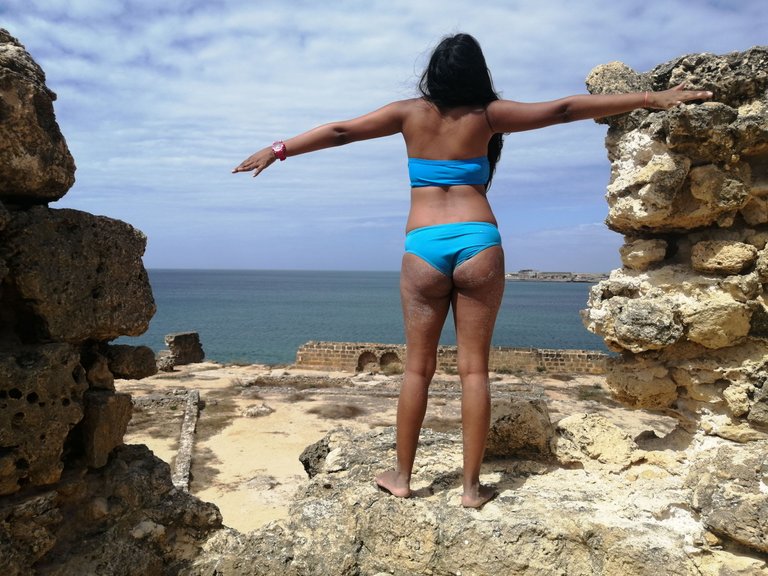 Yo al levantarme siempre doy gracias a Dios por un nuevo amanecer 🌞🌅 y luego de esto me levanto con mis pilas bien puestas y la mejor energía para realizar mi rutina de ejercicios 💪🏾💪🏾🏋🏾‍♀️ y así empezar mi día con la mejor actitud 🌅🌞, porque mis amigos siempre es bueno relajarse antes de pensar en todo lo que debemos de realizar en el día .
When I wake up I always thank God for a new dawn 🌞🌅 and after this I get up with my batteries well put and the best energy to perform my exercise routine 💪🏾💪🏾🏋🏾♀️ and thus start my day with the best attitude 🌅🌞, because my friends it is always good to relax before thinking about everything we have to do in the day.
---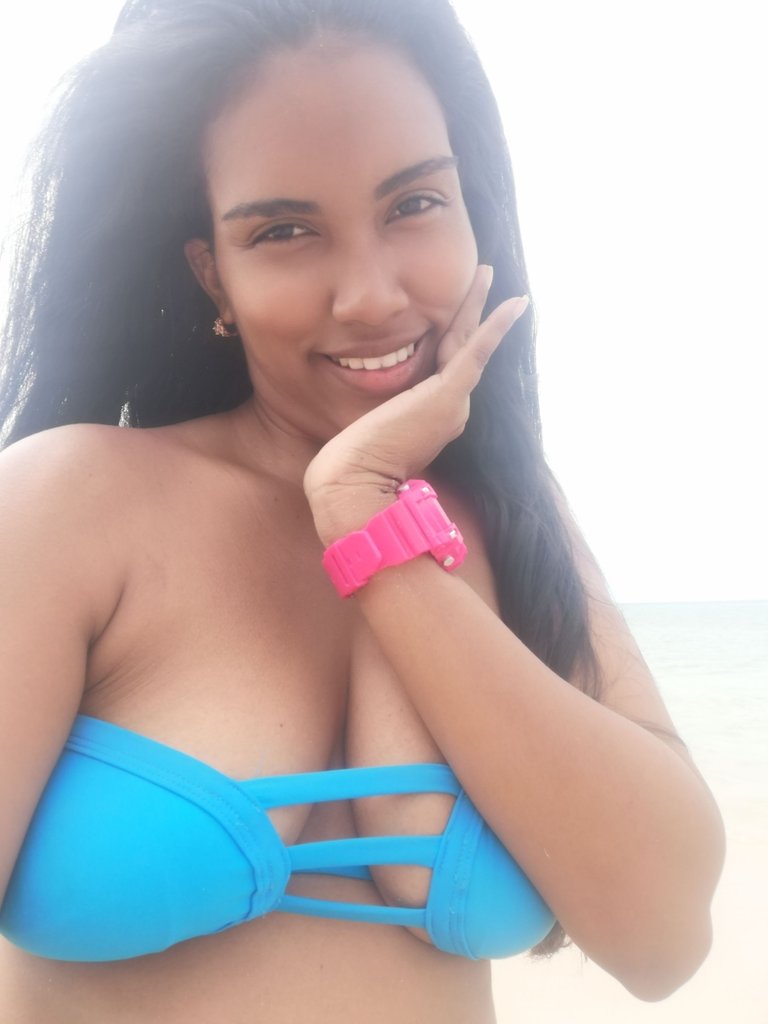 Hace días me llene de mucha energía y actitud y me fui un día de playa ⛱️🏖️🏊el cual me fue estupendo para relajarme porque de verdad que a mí la naturaleza me encanta y me da una paz que no podría explicar, el sonido de las olas 🌊 la tranquilidad del mar 🏖️ me relaja muchísimo y me hace sentir muy bien tanto físicamente como emocional, siempre nuestra mente tiene planeada las tareas que tenemos que realizar a diario sin embargo ese día dije no haré nada y dedicaré este día con mi familia a disfrutar de la naturaleza y de todo lo hermoso que nos puede regalar porque la playa me da bienestar, salud y mucha paz, por eso decidí dedicar ese día para relajarme y tener esa felicidad desde temprana horas de la mañana.
Days ago I filled myself with a lot of energy and attitude and I went to the beach ⛱️🏖️🏊which was great for me to relax because I really love nature and it gives me a peace that I could not explain, the sound of the waves 🌊 the tranquility of the sea 🏖️ relaxes me a lot and makes me feel very well both physically and emotionally, always our mind has planned the tasks we have to do every day, however that day I said I will do nothing and dedicate this day with my family to enjoy nature and all the beautiful things it can give us because the beach gives me wellness, health and peace, so I decided to dedicate that day to relax and have that happiness from early morning hours.
---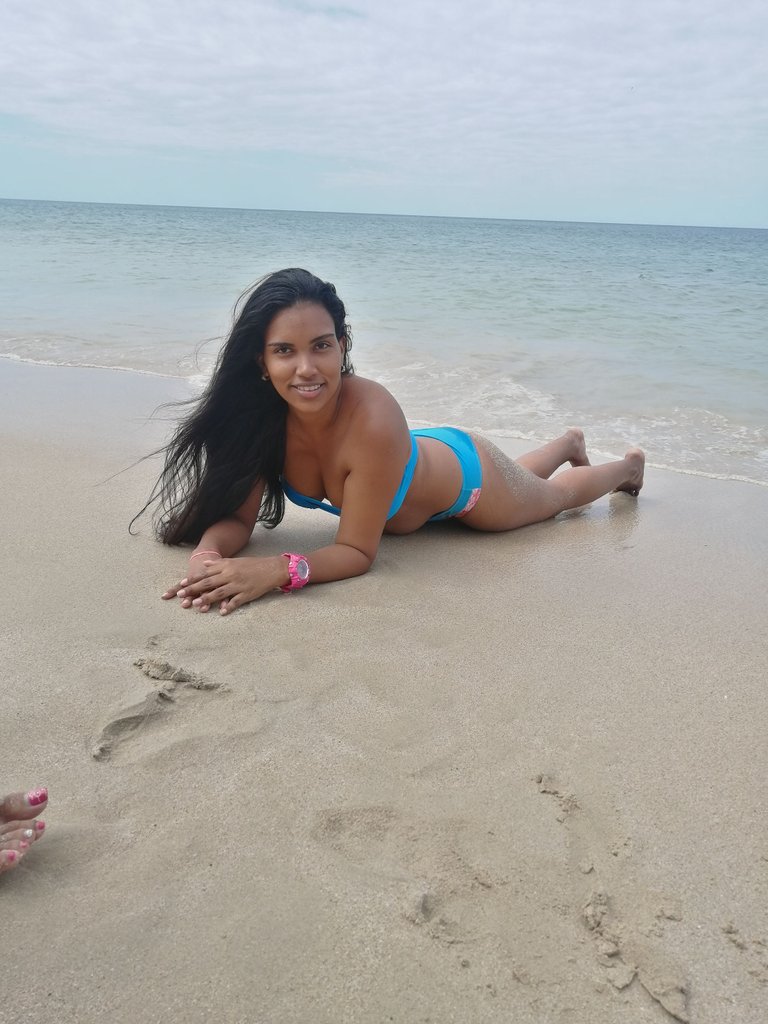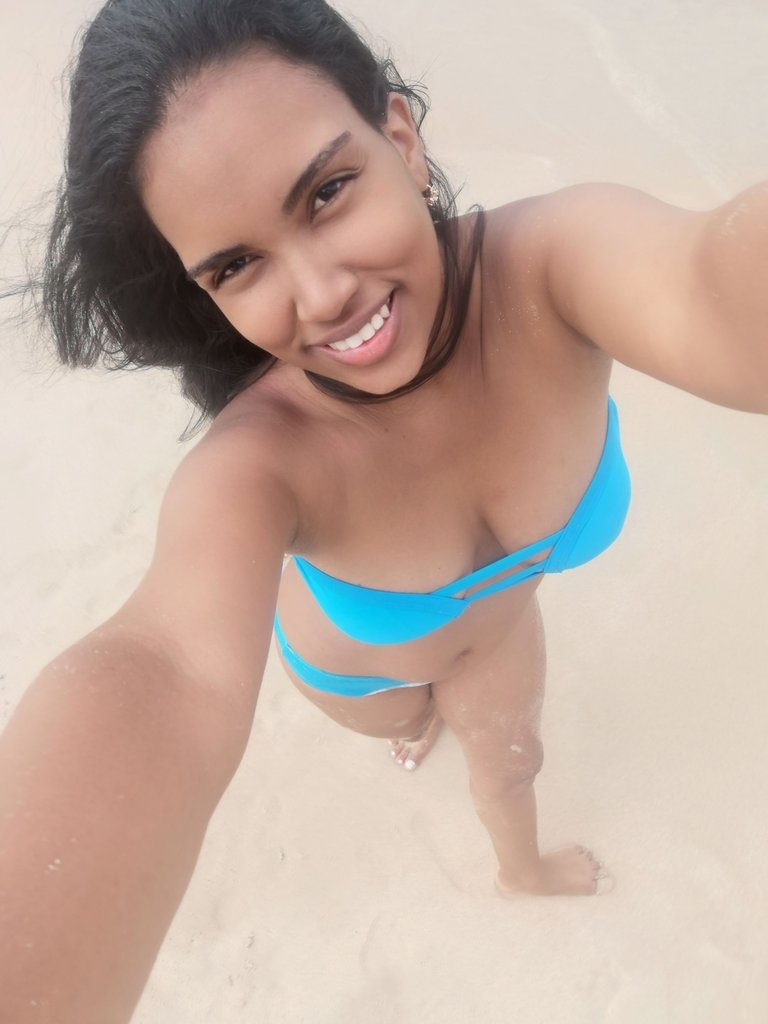 Me encantó jugar en la arena con mis hijos y mi sobrino, compartir con mi esposo , disfrutar de la compañía de mis padres y suegro, realmente pasamos unas horas agradable donde reímos muchisiiiimo , en dónde nos dimos cuenta que habíamos pasado tiempo sin pasar un rato diferente en familia y bueno lo mejor de toda esta salida es que pudimos salir de la rutina que a veces nos encontramos y cuesta mucho trabajo salir de ella.
I loved playing in the sand with my children and my nephew, sharing with my husband, enjoying the company of my parents and father-in-law, we really spent a few pleasant hours where we laughed a lot, where we realized that we had spent time without spending a different time with our family and the best thing about this whole outing is that we could get out of the routine that sometimes we find it hard to get out of it.
---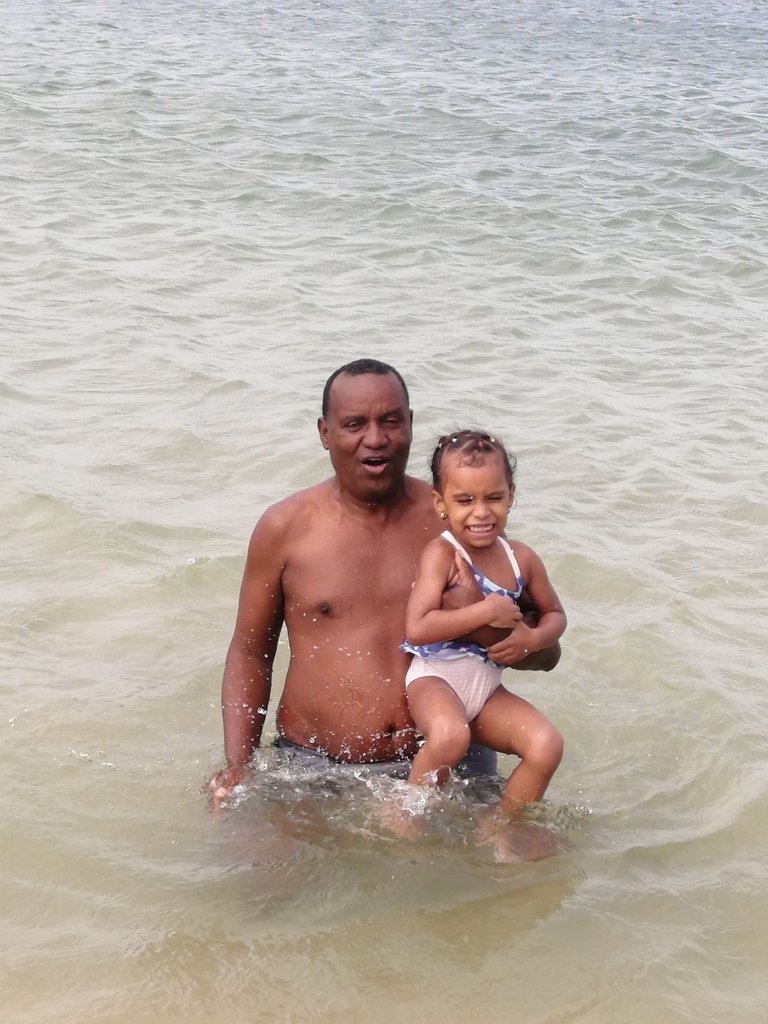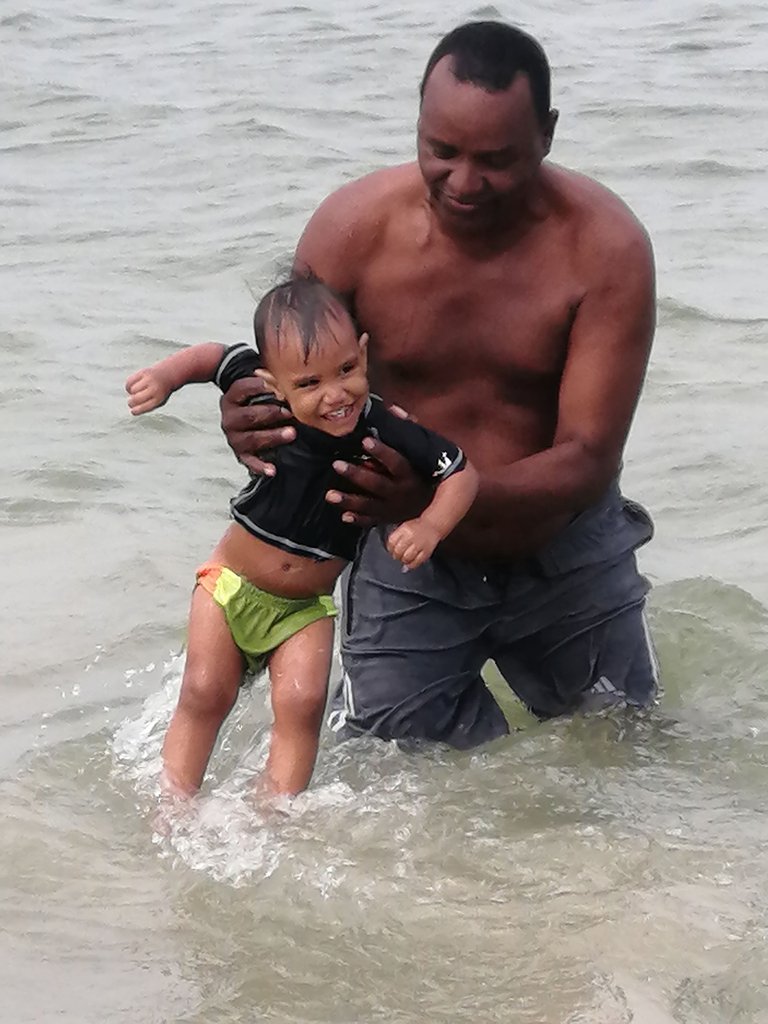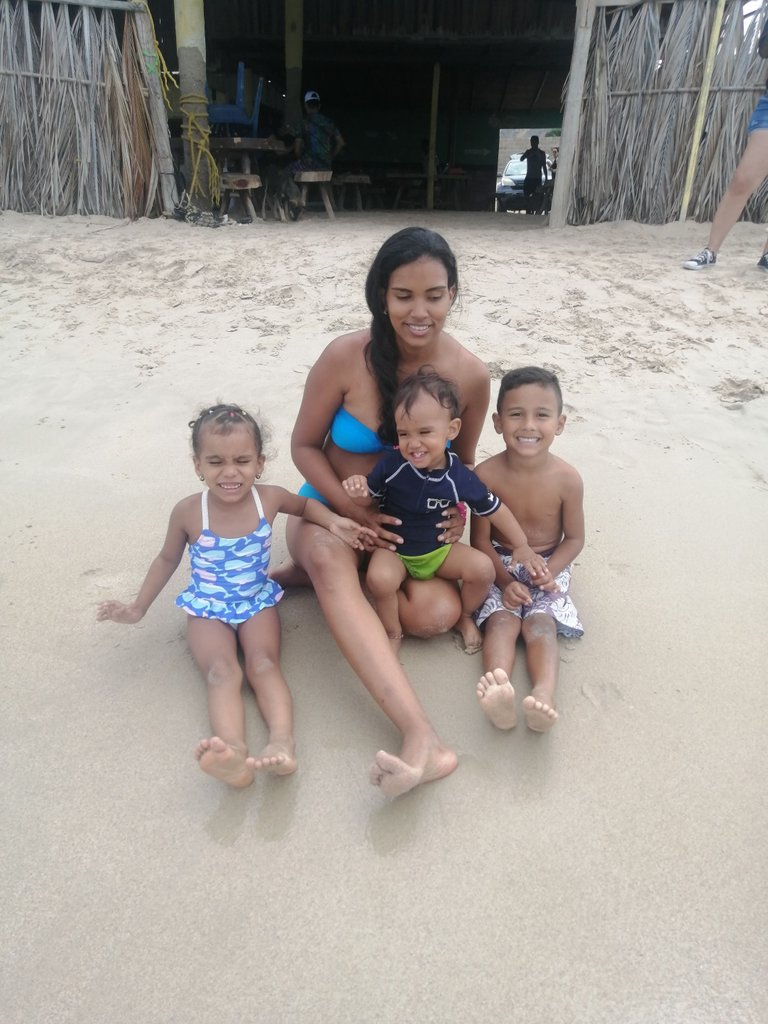 En la playa tomé un tiempo sentada en la arena, donde inhale y exhale ese aire puro de la naturaleza el cual tiene grandes beneficios porque a parte de sentir que estamos vivos, aumenta mi oxigenación de la sangre y aunque no lo crean aumenta mi digestión porque mi estómago recibe mayor cantidad de oxígeno y el funcionamiento se vuelve más eficaz, para mí está salida a la playa me hizo sentir muy saludable porque empecé mi día con muchísima más energía y más vitalidad que me ayudaran a ser una persona más exitosa, feliz y productiva.
At the beach I took some time sitting on the sand, where I inhaled and exhaled that pure air of nature which has great benefits because besides feeling that we are alive, it increases my blood oxygenation and believe it or not it increases my digestion because my stomach receives more oxygen and the functioning becomes more efficient, for me this trip to the beach made me feel very healthy because I started my day with much more energy and more vitality that will help me to be a more successful, happy and productive person.
---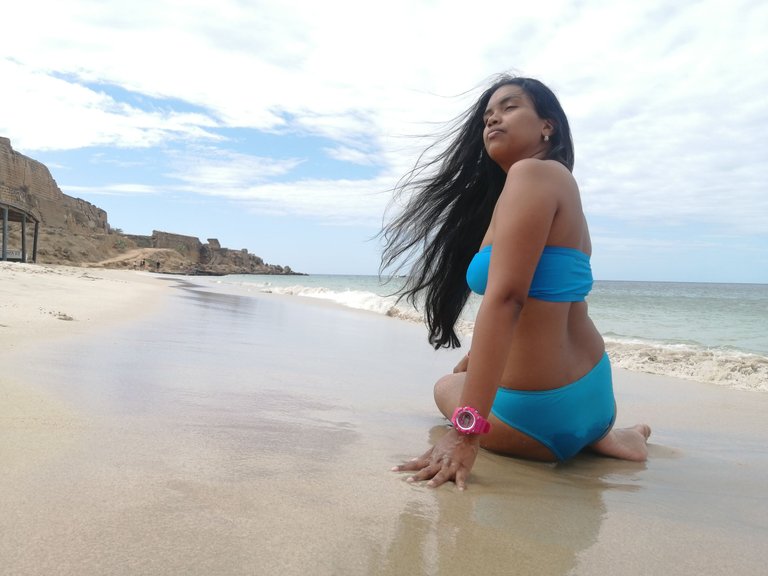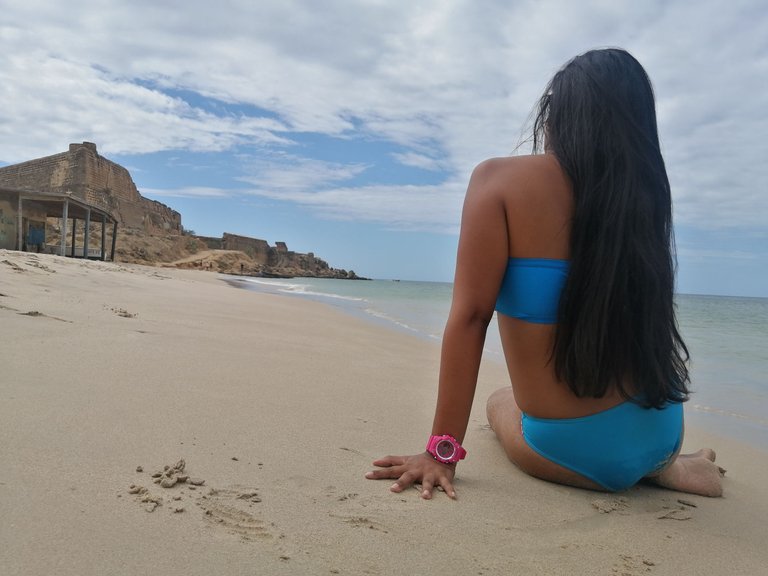 Con solo ver el hermoso regalo de tan hermosa naturaleza soy feliz 😚😚, me encantó salir de la rutina de casa 🏡 el ajetreo de la ciudad 🌇 y estoy feliz que pude relajarme completamente, esta playa estaba llena de magia y relajación donde de verdad no sentí que me faltará algo más, solo contemplar tan hermoso mar en su inmensidad y belleza de la arena definitivamente en la playa somos más felices y si no me crees te invito a que te dediques un día para disfrutar de tan hermoso regalo que nos brinda la naturaleza y estoy segura mis queridos amigos que con tan solo el sonido y el aroma de la playa te harán sentir fenomenal de inmediato ,te hara sentir mucho más contento y relajado en cuestión de segundos pues en la playa todo es más placentero.
Ahora me toca despedirme mis queridos amigos espero que sea de su agrado está publicación y recuerden darme un me gusta y compartir mi publicación para que muchas personas puedan llegar a leerme les envío un gran abrazo enorme y no olviden dedicarse un día de playa ⛱️ para relajarse 😚🤗😃
Just by seeing the beautiful gift of such beautiful nature I am happy 😚😚, I loved to leave the routine of home 🏡 the hustle and bustle of the city 🌇 and I am happy that I could relax completely, this beach was full of magic and relaxation where I really did not feel that I was missing something else, just contemplating such a beautiful sea in its immensity and beauty of the sand definitely on the beach we are happier and if you do not believe me I invite you to dedicate a day to enjoy such a beautiful gift that nature gives us and I am sure my dear friends that just the sound and aroma of the beach will make you feel great immediately, it will make you feel much happier and relaxed in a matter of seconds because everything is more pleasant on the beach.
Now it's my turn to say goodbye my dear friends I hope you like this publication and remember to give me a like and share my publication so that many people can get to read me I send you a big hug and do not forget to dedicate a day at the beach ⛱️ to relax 😚🤗😃
---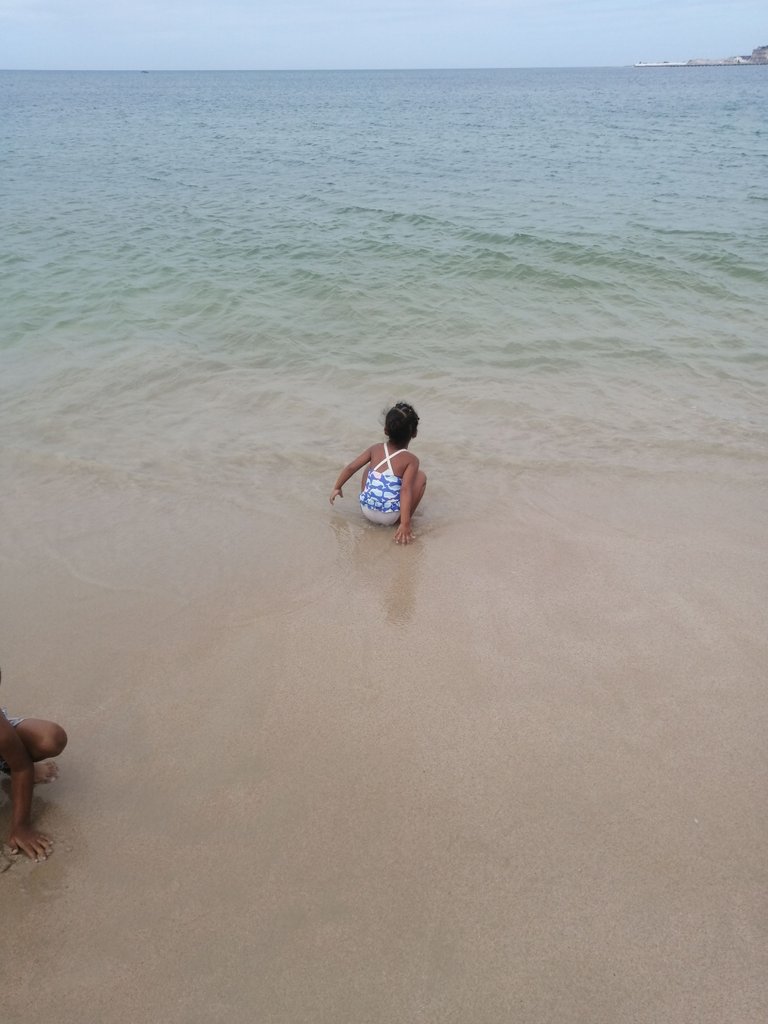 Todo el contenido que se encuentra en esta publicación es amplia-mente original del autor, cualquier duda y recopilación del mismo, deben hacer mención de mi persona.
All the content found in this publication is largely original by the author, any doubt and compilation thereof, must make mention of me.
---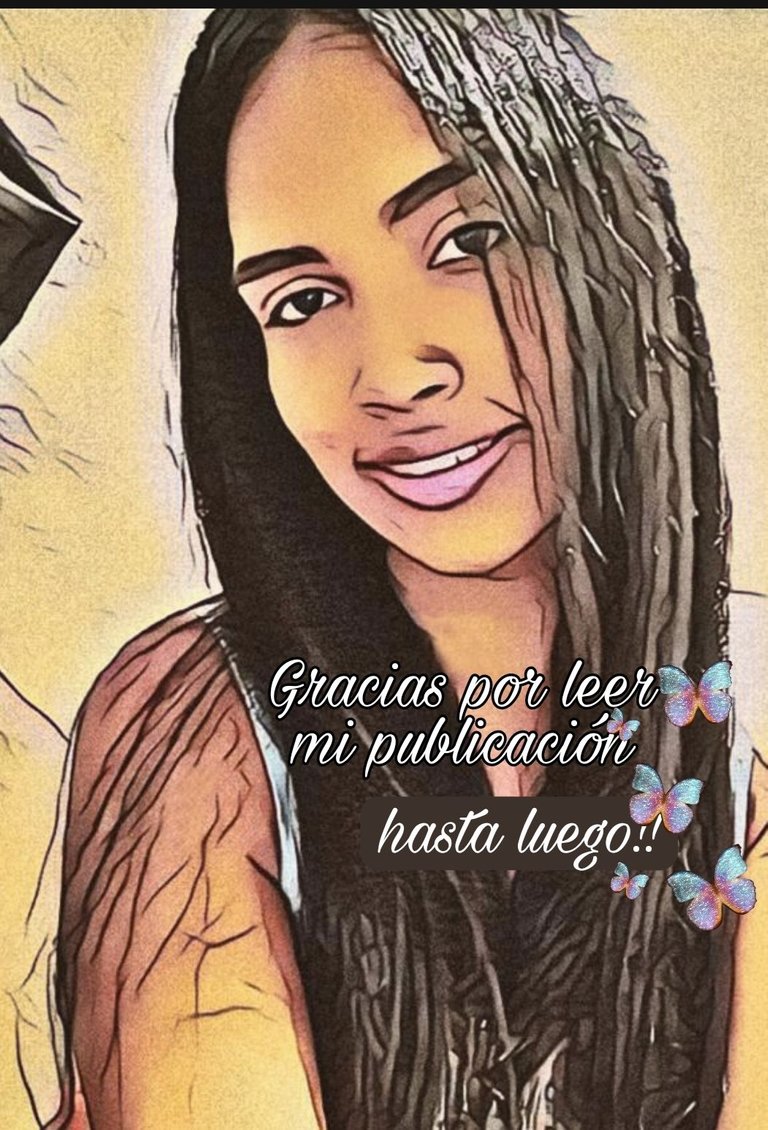 ---
---