One single photo: Weekend - Engagement WEEK 151

Hello my dear friends and readers. Once again I am participating in this interesting challenge sponsored by my friend
@galenkp
. I decided on a very interesting theme. The theme I selected was: "one single photo". Where
@galenkp
invites us
@galenkp
to take a single photo in your city/town/village/town/location of something you think is beautiful and you might think we will too. Explain what it is and why you think it's beautiful.
The photograph I show you below is one of my favorites, the one I like, the one that identifies me as a Venezuelan. I took it at the beginning of April, because I wanted to keep it and save it since it has a great meaning for me as a Venezuelan. The photograph shows a beautiful flowering tree called Araguaney. It represents one of the natural symbols of my country along with the orchid and the turpial. It is a much honored tree. It is dressed in yellow color, where its flowers stand out of a very intense and brilliant yellow. There are so many flowers that it looks like a yellow carpet or rug when they fall on the ground. It does not last long dressed with its flowers, approximately 4 days.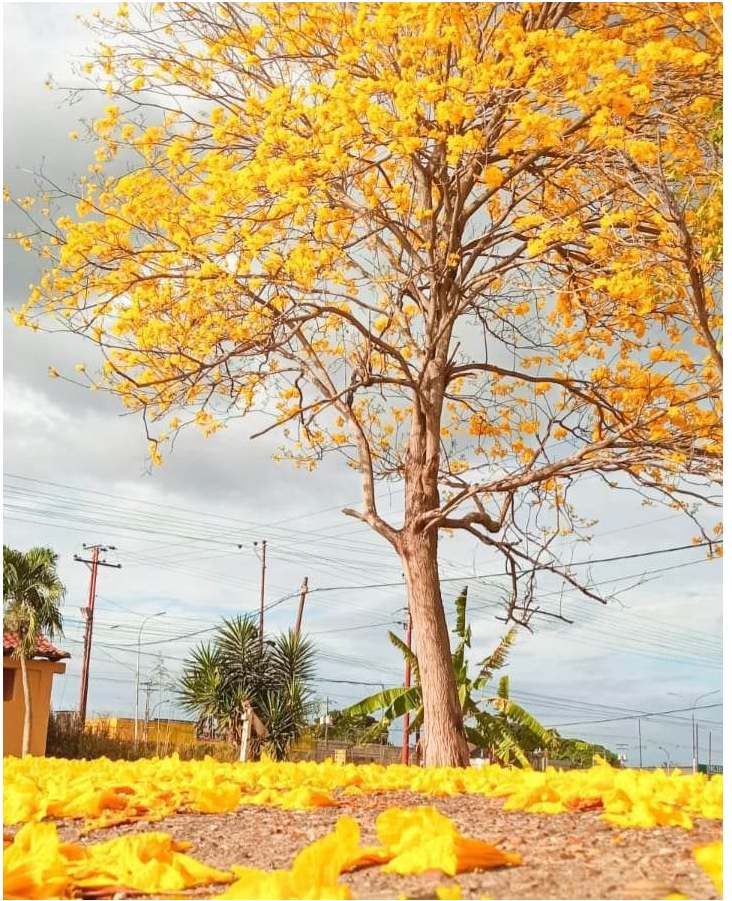 This tree is located at the entrance of the urbanization where I live in the city of Cumaná, in the northeastern region of Venezuela. This beautiful tree is adorned and represents in my country the month of spring. Where it exalts us as the National Tree of Venezuela. I like that people from other countries know the culture of my country. What identifies us, what makes us Venezuelans and that tree is part of our culture. These goodness of nature is what makes me love it. And what better than a photograph to treasure memories of all it has to offer. That is why this photograph has a great value for me because I can show one of the natural symbols of my country.
I took this picture of this emblematic tree because it begins its flowering in the dry season. And just when I took the picture it was in that season. Since in Venezuela the first months of the year is the dry season. I chose this photograph because I like to share the culture of my country and make it known. The Araguaney its name is of indigenous origin. During its flowering the process of pollination takes place where many bees go in search of the nectar of the flowers to carry out this process. As well as many birds feed on this nectar.
I would like to read your comment about my photograph and what it represents for me..
Translator used Deepl, 100% original content by @mariela53, Photo by me.
Thank you for reading
---
---