[GER/ENG] My Hive & Play2Earn Financial Report July - August 2023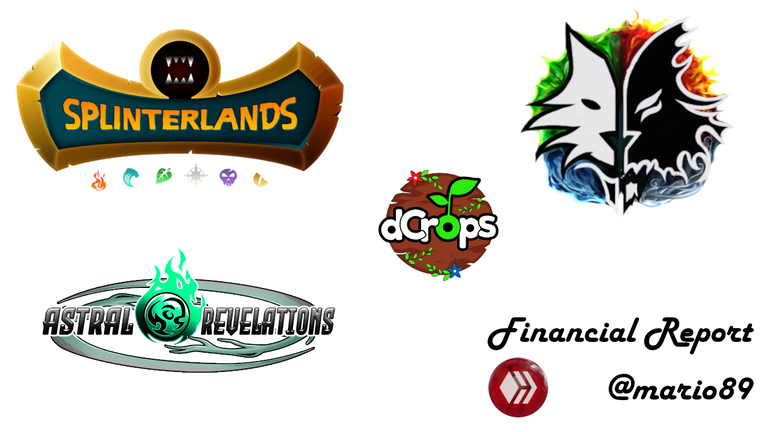 Intro
Einen wunderschönen guten Morgen wünsche ich dir 🙂. In den beiden Monaten habe ich sehr viel gearbeitet und war dementsprechend sehr wenig hier, so gab es auch kaum Beiträge von mir. Heute reiche ich den "monatlichen" Finanzreport zu meinen Hive- und Play2Earn-Investitionen nach.
A beautiful good morning I wish you 🙂. In the two months I have worked very much and was accordingly very little here, so there were also hardly contributions from me. Today I am submitting the "monthly" financial report on my Hive and Play2Earn investments.
---
---
My Portfolio - July 2023

Ende Juli war ich noch mit knapp 4% im Plus.
At the end of July, I was still up just under 4%.
---
My Portfolio - August 2023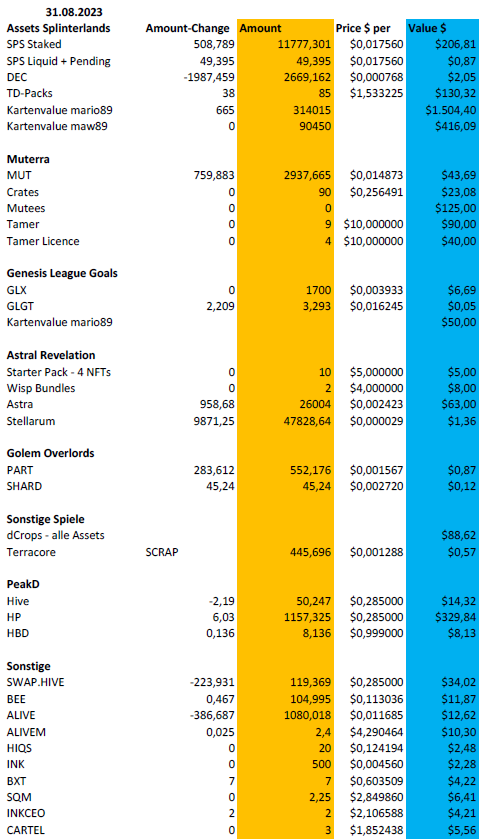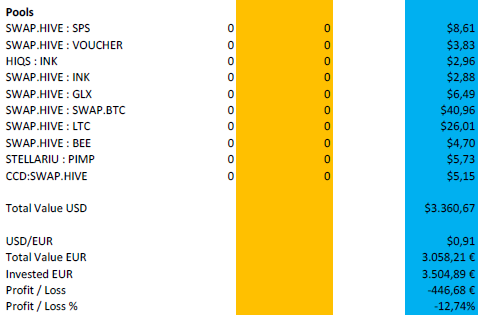 Ende August sah es dann mit fast -13% etwas schlechter aus.
At the end of August, things looked a bit worse with almost -13%.
---
---
Biggest Changes
Die größten Veränderungen gab es bei den Nightmare-Packs. Hier habe ich um 38 auf 85 Stück aufgestockt. Ansonsten ging auf Grund meiner oben schon angesprochenen Inaktivität nicht viel. Ich spielte (bis auf paar wenige Ausnahmen) meine Brawls in Splinterlands und klickte mich täglich durch Golem Overlords, Terracore und Muterra und bestellte meine Felder in dCrops.

Beim nächsten Mal mache ich in der Tabelle auch aus dem Deutsch-Englisch-Mix "Kartenvalue" auch ein card value 🤣.
The biggest changes were in the Nightmare Packs. Here I have increased by 38 to 85 pieces. Otherwise, not much happened due to my inactivity mentioned above. I played my Brawls in Splinterlands (with a few exceptions) and clicked through Golem Overlords, Terracore and Muterra every day and cultivated my fields in dCrops.


Next time I'll make the German-English mix "Kartenvalue" also a card value in the table
---
---
---
Du kannst mich unterstützen, indem du nachfolgende Referal-Links verwendest für den Splinterlands-Rentalservice Splexx, das Spiel Splinterlands und dCrops. Muterra ist kein Referral-Link, dort muss der Werber aktuell noch manuell eingegeben werden.
You can support me by using the following referral links for the Splinterlands rentalservice Splexx, the game Splinterlands and dCrops. Muterra is not a referral link, there you have to enter the advertiser manually.
---
Splinterlands
Splexx
Muterra
dCrops
---
Ich bekomme dadurch jeweils einen kleinen Bonus und für dich entstehen dadurch keine Nachteile. Melde dich danach gerne bei mir und du bekommst von mir Unterstützung bei deinen ersten Schritten im Spiel.
I get a small bonus and there are no disadvantages for you. Feel free to contact me afterwards and you will get support from me for your first steps in the game.
---
---
---
---
Mostly translated with www.DeepL.com/Translator (free version)

---
---