Splinterlands Update - brawls & account progress #4 [GER/ENG]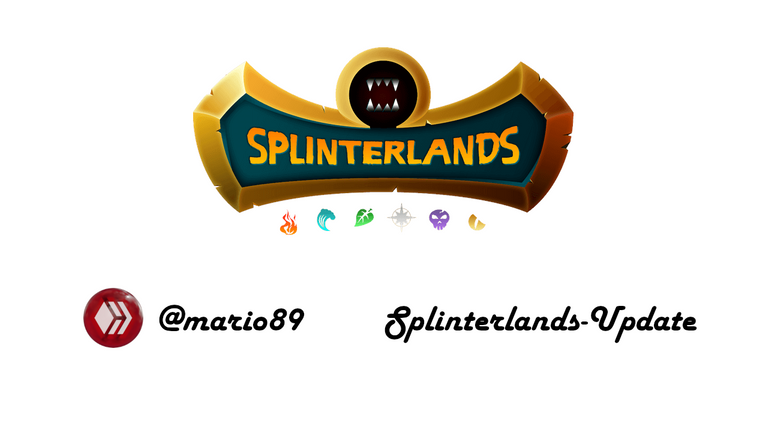 Intro
Seit meinem letzten Update vor 19 Tagen und dem Season-Report hat sich einiges getan, weshalb ich kurz auf den letzten Brawl meinen Accountfortschritt eingehen möchte.
Since my last update 19 days ago and the Season Report, a lot has happened, which is why I would like to briefly discuss my account progress in the last Brawl.

Brawls
Overview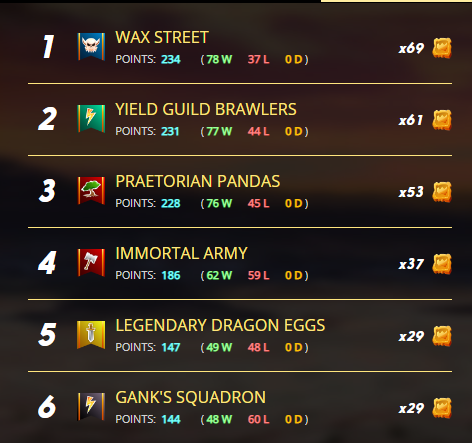 Wir spielten zum ersten Mal einen Tier 2 Brawl und landeten bei unserer Premiere im Mittelfeld. Das kann sich doch sehen lassen 🙂. Aktuell läuft gerade der nächste Brawl. Ich bin gespannt, wie wir dieses Mal abschließen werden.
We played a Tier 2 Brawl for the first time and ended up in the midfield for our premiere. That's something to be proud of 🙂. Currently the next Brawl is running. I am curious how we will finish this time.
---
Matches

Ich spielte in Fray 10 (Silber U, D, C). Zu dem Zeitpunkt waren ein paar Summoner noch auf Bronzeniveau (dazu später mehr) und trotzdem konnte ich 5 Spiele gewinnen, 3x musste ich mich geschlagen geben.
I played in Fray 10 (Silver U, D, C). At that time a few summoners were still on bronze level (more about that later) and still I could win 5 games, 3x I had to admit defeat.
---
Battle 1
Battle 2
Battle 3
Battle 4 = Opponent Fled
Battle 5
Battle 6
Battle 7
Battle 8
---
Kampf 1-3 habe ich recht gut aufgestellt und gewonnen. Im vierten Kampf ist mein Gegner geflohen. Im fünften Kampf musste ich gegen Yodin ran und hatte mit meiner Aufstellung keinerlei Chance. Auch der sechste Kampf war aussichtslos, mein Gegner stellte Llama, Quora und Kron auf... ich glaube das sagt alles, leider besitze ich alle drei nicht. Kampf 7 war ähnlich, Llama + Quora = nächste Niederlage. Den letzten Kampf konnte ich dann wieder für mich entscheiden. Ich trat mit Quix gegen Owster an.
I set up fights 1-3 quite well and won. In the fourth fight my opponent fled. In the fifth fight I had to fight Yodin and had no chance with my line-up. Also the sixth fight was hopeless, my opponent put up Llama, Quora and Kron... I think that says it all, unfortunately I don't have all three. Fight 7 was similar, Llama + Quora = next defeat. The last fight I was able to win again. I competed with Quix against Owster.
---
My Fraycompleteness

Wie ihr oben sehen könnt, ist meine Vollständigkeit für Fray 10 eigentlich gar nicht so gut. Trotzdem konnte ich mich in meinem ersten Versuch dort ganz gut schlagen und den aktuellen Brawl spiele ich auch wieder in 10.
As you can see above, my completeness for Fray 10 is actually not that good. Still, I did pretty well in my first attempt there and I'm playing the current Brawl in 10 again.
---
My Deck and new Cards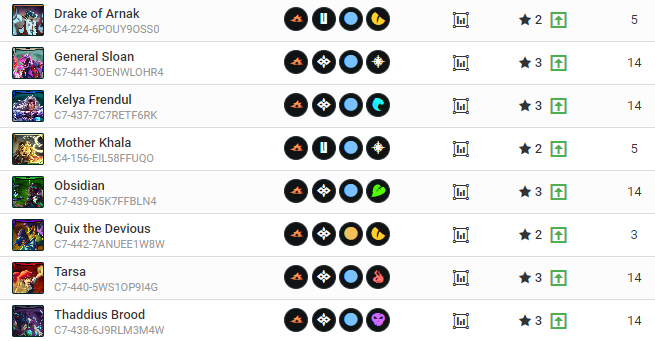 Ich habe in den vergangenen Tagen die letzten beiden Summoner, Tarsa und Obsidian, auf Level 3 gebracht. Auf Silber max. habe ich aktuell nur Quix.
I have brought the last two summoners, Tarsa and Obsidian, to level 3 in the past few days. I currently only have Quix on silver max.

Beim Airdrop habe ich mit 566 Packs glücklicherweise 2x Grandmaster Rathe bekommen, somit fehlt mir noch ein BCX um ihn auf Level 2 und damit auch Silber max. zu bringen 🙂.

Zu den Summonern habe ich mein Deck auch auf Monsterebene weiter ausgebaut. Unter anderem habe ich Celestial Harpy, Time Mage, Portal Spinner, Chaos Knight, Venari Crystalsmith, Vulguine, Goblin Psychic gekauft und weiter auf bzw. Richtung Silber max. gelevelt.

Meine aktuelle Deckstärke:
At the airdrop I luckily got 2x Grandmaster Rathe with 566 packs, so I'm still missing a BCX to bring him to level 2 and thus also silver max 🙂.



In addition to the Summoners, I have also expanded my deck on the monster level. Among others I bought Celestial Harpy, Time Mage, Portal Spinner, Chaos Knight, Venari Crystalsmith, Vulguine, Goblin Psychic and leveled up to or towards silver max.


My current deck strength:
---
CP mario89: 70,200
CP maw89: 2,155

---
Beneficiaries

Du spielst noch kein Splinterlands? - Mit dem folgenden Link kannst du das Spiel kostenlos ausprobieren:
https://splinterlands.com?ref=mario89
Falls du Spaß am Spiel findest und das Spellbook kaufst, bekomme ich einen kleinen Betrag von Splinterlands als Belohnung. Für dich entstehen dadurch keine Nachteile. Melde dich danach bei mir und du bekommst von mir Unterstützung bei deinen ersten Schritten im Spiel.
You don't play Splinterlands yet? - With the following link you can try the game for free:
https://splinterlands.com?ref=mario89
If you enjoy the game and buy the Spellbook, I will get a small amount from Splinterlands as a reward. There will be no disadvantages for you. Contact me afterwards and you will get support from me for your first steps in the game.
---
Alle Bilder in diesem Blog mit Spielinhalten sind von splinterlands.com und peakmonsters.com

Keine Anlageberatung!
All pictures with gaming content in this blog are from splinterlands.com and peakmonsters.com

No financial advise!

Mostly translated with www.DeepL.com/Translator (free version)
---
---