[ESP-ENG] Duelos picantes nos deja el sorteo de la competición más importante a nivel de clubes ⚽ Spicy duels in the draw for the most important competition at club level
Buenas amigos de hive y @fulldeportes, en esta ocasión vengo a darle un breve análisis de lo que nos deja el polémico sorteo de los octavos de final de la UEFA Champions League que se llevo a cabo este lunes 13 de diciembre del 2021 en Nyon, Suiza sede de la UEFA.
Good friends of hive and @fulldeportes, this time I come to give you a brief analysis of what leaves us the controversial draw for the round of 16 of the UEFA Champions League that took place this Monday, December 13, 2021 in Nyon, Switzerland, headquarters of UEFA.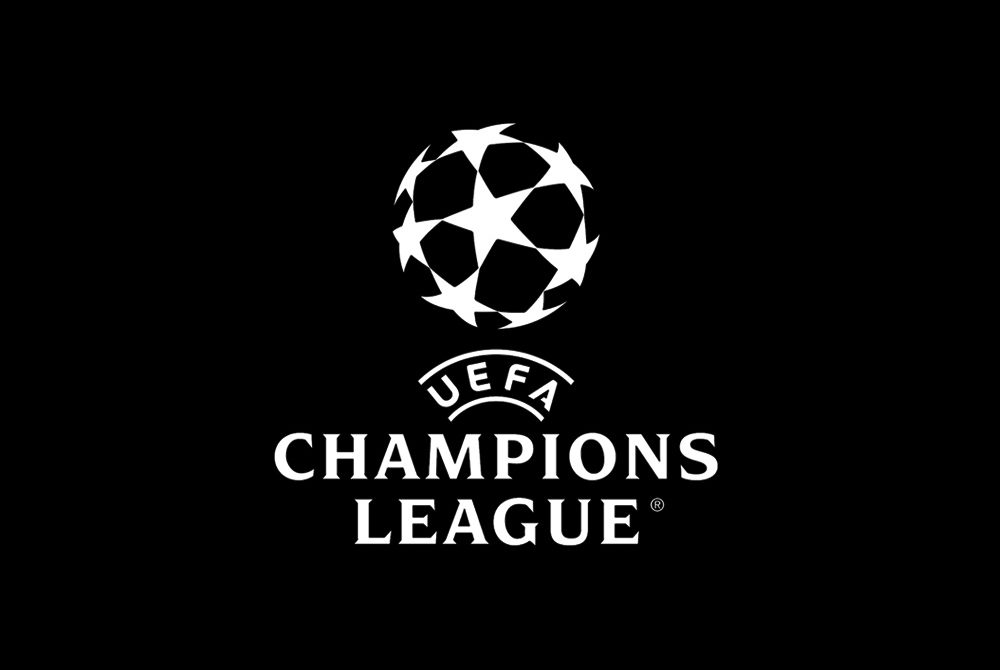 Fuente
---
Este sorteo pasará a la historia por el problema que hubo al sacar las bolas de los bombos para los cruces, según parece que el problema fue por culpa de un técnico con el software de servicios externos que contribuye a los árbitros sobre que equipos son elegibles, debido a esto el sorteo ya hecho se tuvo que repetir llegando a perjudicar a algunos equipos, el Manchester United se enfrentaba al PSG; este duelo iba ser la atracción de los octavos, pues se volvían a ver las caras Messi y Cristiano, mientras el Atlético de Madrid se mediría contra el Bayern de Múnich, enfrentamiento durísimo para ambos equipos por su estilo de juego.
En primera instancia el equipo de Ancelotti le tocaba el Benfica y se veía cómodo en la serie, Liverpool estaba súper favorito contra el Red Bull Salzburg. Le había sonreído el sorteo, Inter de Milán vs Ajax, creo que este era el más parejo de todos, luego Chelsea vs Lille Olympique Sporting Club, el actual campeón, con altas posibilidades de pasar y por último Villarreal vs Manchester City, a mi punto de vista la tenía cuesta arriba el submarino amarillo.
This draw will go down in history because of the problem that occurred when drawing the balls for the crossings, it seems that the problem was due to a technician with the software of external services that contributes to the referees about which teams are eligible, because of this the draw already made had to be repeated to the detriment of some teams, Manchester United faced PSG; this duel was going to be the attraction of the round of 16, as Messi and Cristiano met again, while Atletico Madrid would face Bayern Munich, a very tough match for both teams due to their style of play.
In the first instance, Ancelotti's team was drawn against Benfica and looked comfortable in the series, Liverpool was super favorite against Red Bull Salzburg. The draw had smiled on them, Inter Milan vs Ajax, I think this was the most even of all, then Chelsea vs Lille Olympique Sporting Club, the current champion, with high chances of going through and finally Villarreal vs Manchester City, in my point of view the yellow submarine had an uphill struggle.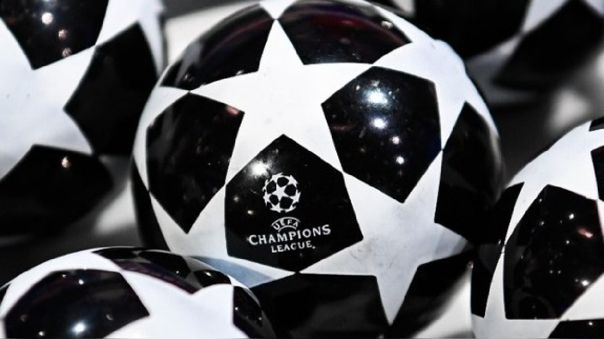 Fuente
---
A las 15:00 horas se repitió el sorteo. Unos estaba bien, otros se quejaron, pero a la final volverían a sortear los duelos donde algunos equipos salieron perjudicados y ya no estaban tan cómodos como al principio como el Liverpool, Real Madrid, Inter de Milán, y otros, quedando en una posición más cómoda como Bayern de Múnich, Ajax, Chelsea y el Manchester City, que quedó igual. El atlético de Madrid y el Real Madrid han puesto su reclamo a la UEFA, a mi criterio se debía repetir para evitar especulaciones por la falta cometida fue la mejor decisión.
At 15:00 hours the draw was repeated. Some were fine, others complained, but in the end they would redraw the duels where some teams were disadvantaged and were no longer as comfortable as at the beginning as Liverpool, Real Madrid, Inter Milan, and others, being in a more comfortable position as Bayern Munich, Ajax, Chelsea and Manchester City, which remained the same. Atletico Madrid and Real Madrid have put their claim to UEFA, in my opinion it should be repeated to avoid speculation about the foul committed was the best decision.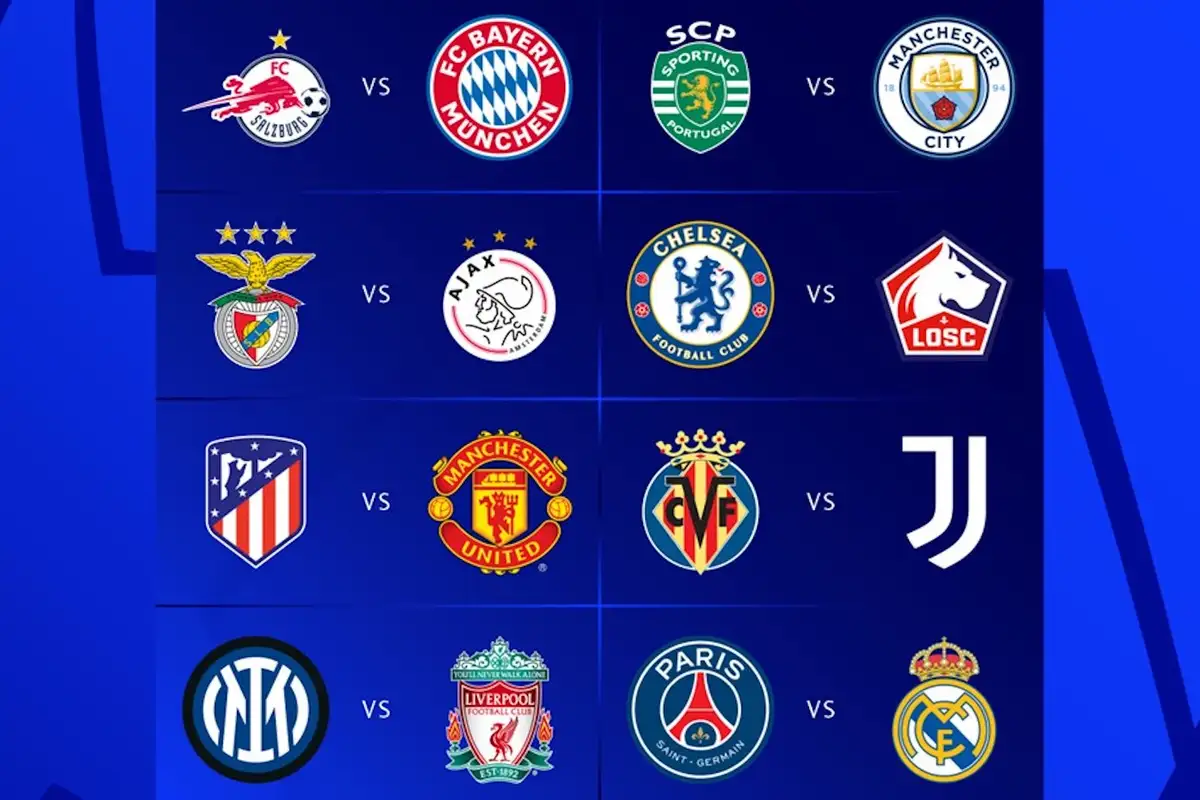 Fuente
---
El primer partido y uno de lo más atractivo es el equipo merengue que salió perjudicado en al repetir el sorteo, paso de enfrentar al Benfica a medirse con uno de los equipos más fuerte en Europa, actualmente el PSG, que se jugará el 15 de febrero del 2022 y la vuelta el 9 de marzo, el equipo de Messi, Neymar y Kylian Mbappé buscan vengarse de la ultima vez que se enfrentaron en octavos de Champions, donde el equipo parisino cayó por 5-2 ante el rey de copas.
Ese mismo día el Sporting de Lisboa se enfrenta Manchester City, creo que el Sporting la tiene difícil, pues los dirigidos por Pep vienen de pasar de primeros de grupo por encima del PSG; eso habla muy bien de ellos.
Ahora tenemos el enfrentamiento tenemos al Bayern de Múnich vs Red Bull Salzburg que se jugará el 16 de febrero del 2022 y la vuelta sería el 8 de marzo, creo que en lo personal salió bastante beneficiado el Bayer para conseguir el pase a cuartos, ya que el conjunto bávaro lo ha vencido con facilidad la veces que lo ha enfrentado.
A la misma hora y el mismo día se juega Inter vs Liverpool. En lo personal, creo que los dos equipos salieron perjudicado en el sorteo, los de klopp son favoritos en la serie, lindo enfrentamiento de dos grandes de Europa.
Luego, tenemos al actual campeón, que siendo segundo de grupo le tocó un equipo accesible como el Lille Olympique Sporting Club, creo que tiene un 80% de posibilidades de pasar a cuartos de final. El partido se llevará a cabo el 22 de febrero del 2022.
Este partido entre el submarino amarillo y la Juve, lo veo con mucha posibilidad de que el equipo español le haga daño y de la sorpresa ante los italianos. Esperemos lo que pasara ese 22 febrero del 2022.
El siguiente día 23 quedan los últimos dos encuentros, Atlético de Madrid contra Manchester United. Creo que todos queremos ver como CR7 vuelve a enfrentar una de sus víctimas favorita; el astro portugués le ha marcado 25 goles 7 de ellos en Champions en 10 partidos. Que partido se nos viene señores.
Y el compromiso, que para mi es el más parejo, Benfica vs Ajax, pero siempre poniéndole un plus al equipo de los Países Bajos por su historia en esta competición y dejar fuera al equipo de Eerling Halaan el Borussia Dortmund. Por otro lado, el Benfica, que tienes sus méritos por dejar fuera al Barcelona, que no está pasando un buen momento y que jugara Europa League que hace 20 años que no jugaba esa competición.
The first match and one of the most attractive is the Merengue team that was disadvantaged in repeating the draw, from facing Benfica to face one of the strongest teams in Europe, currently PSG, which will be played on February 15, 2022 and the return on March 9, the team of Messi, Neymar and Kylian Mbappé seek revenge for the last time they faced each other in the Champions League round of 16, where the Parisian team fell 5-2 to the King of Cups.
On the same day, Sporting Lisbon faces Manchester City, I think Sporting has a hard time, as Pep's team has just finished first in the group over PSG; that speaks very well of them.
Now we have the clash between Bayern Munich vs Red Bull Salzburg to be played on February 16, 2022 and the second leg on March 8, I personally think that Bayer has benefited a lot to get the pass to the quarterfinals, as the Bavarian team has beaten them with ease the times they have faced them.
Inter vs Liverpool will play at the same time and on the same day. Personally, I think that both teams were disadvantaged in the draw, Klopp's team are favorites in the series, a nice clash of two European giants.
Then, we have the current champion, who being second in the group got an accessible team like Lille Olympique Sporting Club, I think they have an 80% chance of reaching the quarterfinals. The match will take place on February 22, 2022.
This match between the Yellow Submarine and Juve, I see it with a lot of possibility that the Spanish team will hurt them and surprise the Italians. Let's wait and see what happens on February 22, 2022.
The following day 23 are the last two games, Atletico Madrid vs Manchester United. I think we all want to see how CR7 returns to face one of his favorite victims; the Portuguese star has scored 25 goals, 7 of them in the Champions League in 10 games. What a game we have coming up gentlemen.
And the match, which for me is the most even, Benfica vs Ajax, but always giving a plus to the team from the Netherlands for its history in this competition and leaving out the team of Eerling Halaan, Borussia Dortmund. On the other hand, Benfica, which has its merits for leaving out Barcelona, which is not going through a good moment and will play Europa League, which has not played this competition for 20 years.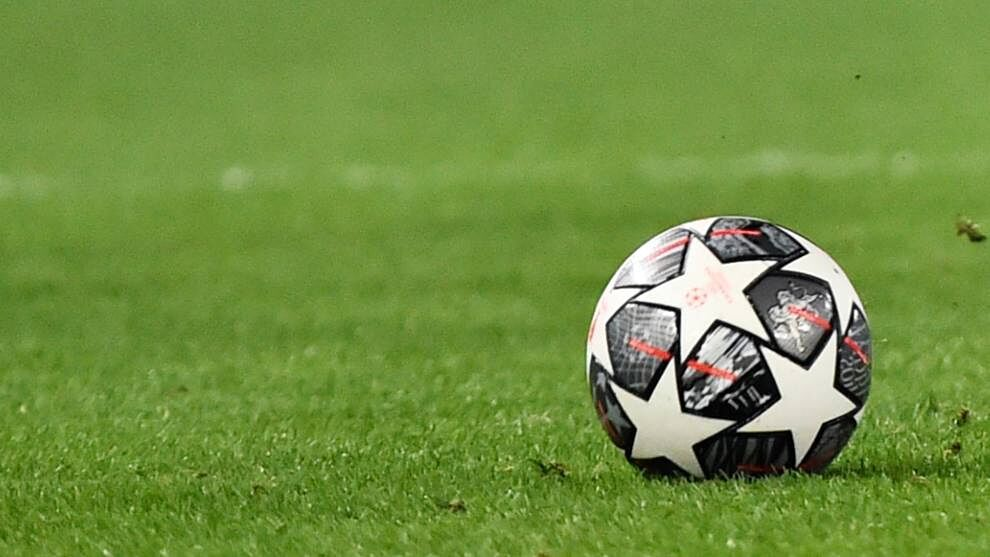 Fuente
---
El camino continúa rumbo a la final que será disputada el 28 de mayo del 2022 en el estadio de Krestovski en san Petersburgo, en Rusia.
16 Equipos luchando por ser el más grande de Europa y conquistar la tan anhelada orejona. La mesa está servida y tenemos partidos espectaculares, solo quedan los mejores en busca de la gloria, solo me queda decirle que esperemos esos días que el espectáculo estará increíble.
The road continues towards the final that will be played on May 28, 2022 at the Krestovsky stadium in St. Petersburg, Russia.
16 teams fighting to be the biggest in Europe and conquer the longed-for crown. The table is set and we have spectacular matches, only the best are left in search of glory, I can only tell you to wait for those days that the show will be amazing.
---
---