Why We Have To Understand What We Need And Want Before Chasing The Money Bag
Life is a series of challenges for most people. Money is a challenge that most people face in this journey. No one chooses to be poor, yet many are. Most people understand the value of money and how to make money, but many don't understand the importance of having a fair share of their hard-earned money. Failing to understand this makes it easy to make poor decisions with money, causing trouble and hardship for oneself and others.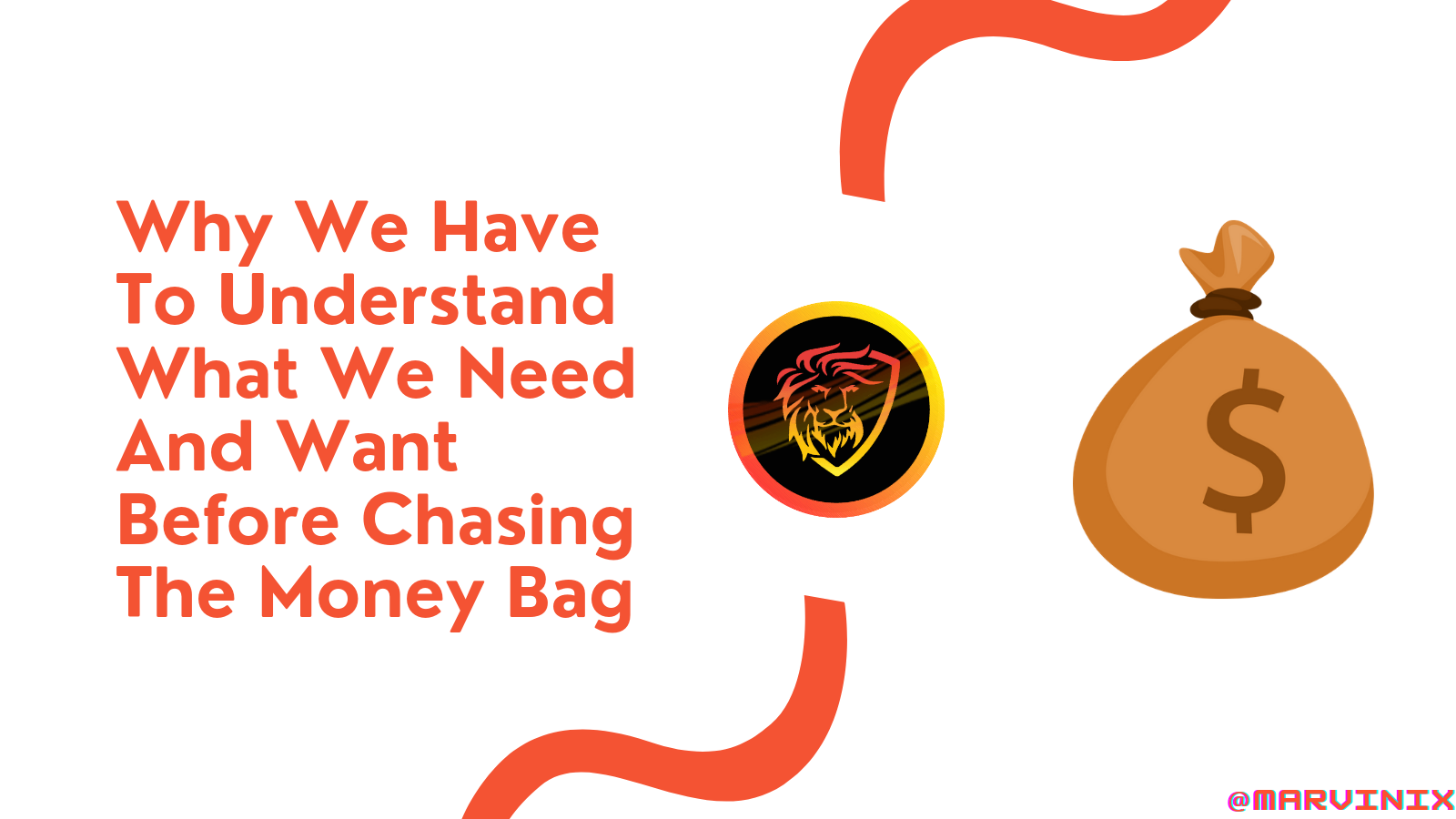 Made using canva
Your mental and physical health depends on knowing your needs and wants. A healthy mind leads to better decisions with your money. You need to understand what you want before you can find what you need. In doing so, you can focus on finding a way to obtain what you want without breaking the bank. Many people don't know what they want until they see it or hear it. This includes celebrities who famously have personal assistants arrange gifts for them at specific stores or online retailers that sell that item. Doing this limits their choices by forcing them to buy something they don't need or want instead of purchasing something they do need or want but can afford less easily.
Our need for money must be understood to find the money we want. Money is only a problem when we chase after it for the wrong reasons such as greed or materialism. Greed causes us stress when we have more than we can comfortably use or spend irresponsibly. At this point, we become dissatisfied with our progress, leading us towards compulsive behavior like gambling, drinking, or extra-marital affairs to temporarily ease our pain and lift our spirits again at someone else's expense until we lose all our hard-earned cash at the next misfortune event, again and again. To avoid this, we need to learn from our mistakes and stop doing things that cause us grief, instead of repeating our mistakes like an endless loop on an old record player only louder with each round until we break under the strain one day from overuse.


Everything lead towards solutions rather than problems as long as we know what we want in life first. Wanting things doesn't make us greedy if we know how to get what we want without breaking the bank. We can achieve this by setting realistic goals early in life so that achieving them doesn't ruin us financially later on since no one wants to fail financially with no hope at all. Instead, by planning early enough, our dreams can easily become reality without us worrying about how we will afford all that we want since we already know how to do what is required first before proceeding with our plans.
Many people misunderstand how important understanding their needs and wants are when dealing with their finances since they fail to clearly define either before chasing after something they desire but don't necessarily need or understand. However, once these concerns are clearly defined, taking appropriate action becomes much easier since doing so will lead to solutions rather than problems. This will allow everyone a greater opportunity for success in life and avoid potential financial hardships that arise from not properly understanding both mental and physical needs before acting upon desires towards obtaining needed resources such as money.
Thanks For Reading
.
Posted Using LeoFinance Beta
---
---