[ESP] | [ENG] — 3 cosas que hago cuando estoy sin Internet || 3 things I do when I am without Internet.

¡Hola, Terrícolas!
De nuevo yo por acá uniéndome a una iniciativa creada por @littlegremlin. Esta vez fue mi amiga @iamsaray quien me invitó a participar y les cuento que cuando leí el título de la iniciativa me causó cierta gracia, pero no en mal sentido…es que la verdad es algo tan común para nosotros los Venezolanos que nuestra conexión a Internet sea tan terrible, y esta es una situación tan triste como frustrante.
Hello, Earthlings!
I'm here again joining an initiative created by @littlegremlin. This time it was my friend @iamsaray who invited me to participate and I tell you that when I read the title of the initiative it made me laugh, but not in a bad way...it's just that it's so common for us Venezuelans that our Internet connection is so terrible, and this is a sad and frustrating situation.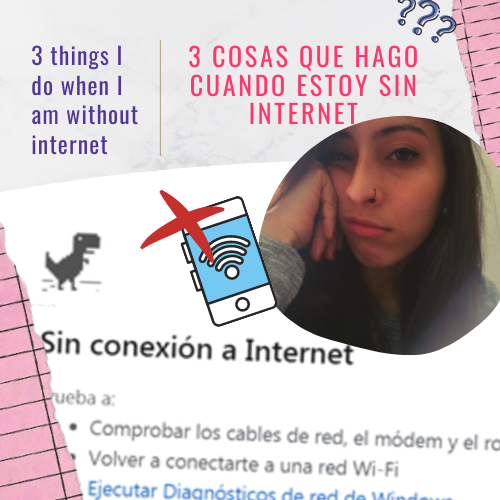 Afortunadamente mi Internet siempre ha funcionado bastante bien, no es excesivamente lento y tampoco presenta fallas tan seguido. Aunque sí hay veces que decide volverse un poco inestable, pero la verdad es muy raro cuando esto ocurre y también es bastante raro cuando decide irse y dejarme en el completo abandono, pero esto último no suele ocurrir por un lapso de tiempo tan grande…si mi memoria no me falla lo máximo que he llegado a estar sin Internet ha sido por casi día y medio. Sin embargo, durante esos lapsos de tiempo en el que el Internet no colabora realizo otras actividades para distraerme y no frustrarme ante el hecho de que la conexión a Internet apesta. Afortunadamente soy una persona que no se aburre tan rápido y siempre encuentro alguna actividad con la cual pueda entretenerme, así que a continuación te cuento las 3 cosas que hago cuando estoy sin Internet.
Fortunately my Internet has always worked pretty well, it's not excessively slow and it doesn't crash that often either. Although there are times when it decides to become a little unstable, but the truth is very rare when this happens and it is also quite rare when it decides to go away and leave me in complete abandonment, but the latter does not usually happen for such a long period of time... if my memory serves me correctly the most I have ever been without Internet has been for almost a day and a half. However, during those lapses of time when the Internet is not cooperating I do other activities to distract myself and not get frustrated with the fact that the Internet connection sucks. Fortunately I'm a person who doesn't get bored that quickly and I always find something to entertain myself with, so here are 3 things I do when I'm without Internet.

Elaborar collages
Making collages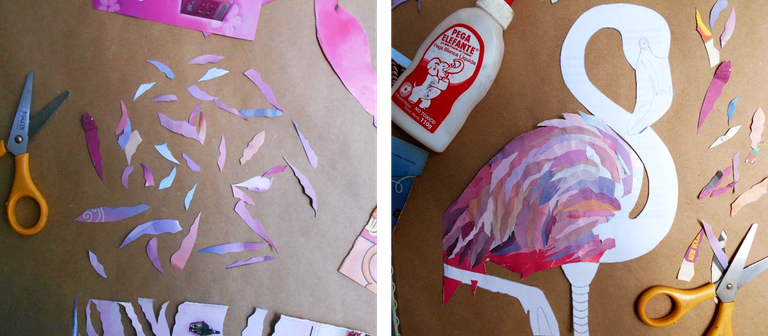 Pues bien, una de mis actividades predilectas para entretenerme cuando no tengo Internet es hacer collages (esto ya lo he comentado con anterioridad aquí en mi Blog). Esta actividad me relaja bastante y simplemente me hace perder la noción del tiempo. A veces simplemente no me doy cuenta y termino pasando horas rasgando y pegando trocitos de papel hasta llegar a realizar una linda obra…y si estoy demasiado inspirada puedo llegar a realizar hasta incluso dos obras consecutivas.
Antes no sólo me dedicaba a los collages, también realizaba dibujos con colores y marcadores…pero esto sí lo dejé a un lado porque los marcadores y colores fueron llegando a su fin y no me he dedicado a reponerlos. Pero en general, los trabajos manuales me gustan bastante y tengo cierta habilidad para ellos.
Well, one of my favorite activities to entertain myself when I don't have Internet is to make collages (I have already mentioned this here in my Blog). This activity relaxes me a lot and simply makes me lose track of time. Sometimes I just don't realize it and I end up spending hours tearing and gluing little pieces of paper until I get to make a nice piece...and if I'm too inspired I can even make two consecutive pieces.
I used to do not only collages, I also used to make drawings with colors and markers...but I put this aside because the markers and colors were coming to an end and I have not dedicated myself to replenish them. But in general, I quite like handicrafts and I have a certain ability for them.
---
Ver series y películas
Watch series and movies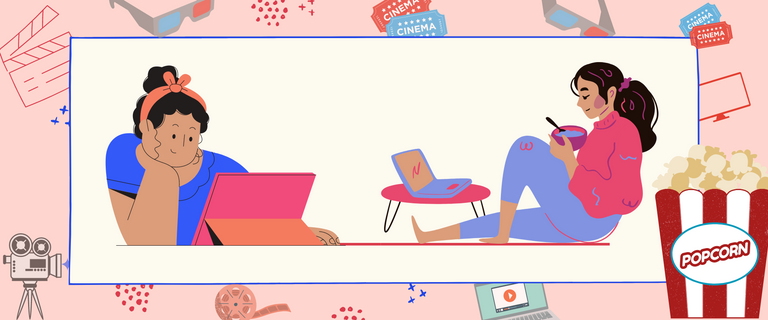 Me encanta ver series y películas, aunque últimamente he estado bastante enganchada más con las primeras. De hecho tengo una larga lista de series por ver, así que desde hace tiempo comencé a tomar previsiones en caso de que el Internet fallara: poseo una mini laptop un poco vieja que de hecho no le sirve ni el teclado ni algunos otros componentes así que desde ahí descargué varias temporadas completas de algunas series, de esta manera tengo material de sobra con el cual entretenerme si de verdad el Internet decide no cooperar. Cada que puedo voy depurando la laptop: borro capítulos que ya vi y descargo nuevos y básicamente así voy…porque como ya sabrán: mujer prevenida vale por dos.
I love watching series and movies, although lately I've been more hooked on the former. In fact I have a long list of series to watch, so some time ago I started to take precautions in case the Internet fails: I have an old mini laptop that doesn't even have a keyboard and some other components, so from there I downloaded several complete seasons of some series, this way I have some material to keep me entertained if the Internet decides not to cooperate. Whenever I can I purge the laptop: I delete chapters I already watched and download new ones and basically that's how I go...because as you may already know: a cautious woman is worth two.
---
Leer
Read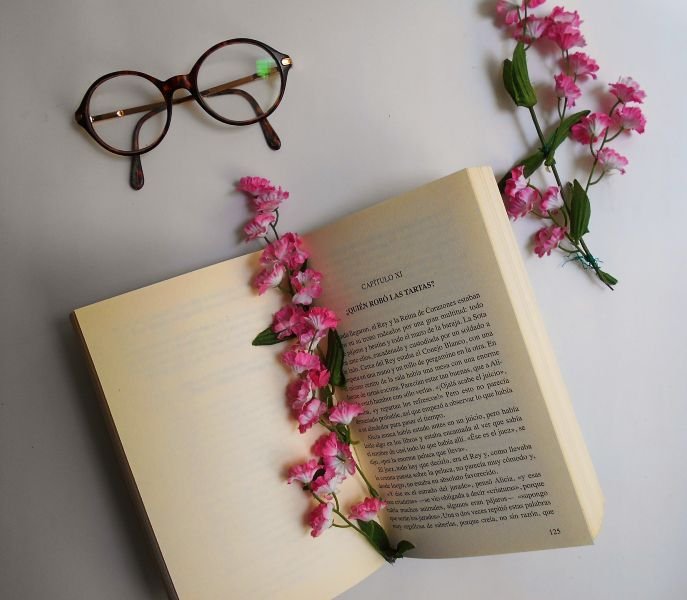 Al igual que con los collages, el tiempo transcurre increíblemente rápido cuando me encuentro ante un buen libro. Aunque sinceramente soy más de ese tipo de personas que les gusta tener los libros en físico y no en su formato digital, siento que así me disfruto mucho más la lectura y mi vista no sufre tanto. Sin embargo, sea de forma digital o a la "vieja escuela" la lectura siempre será una buena forma de entretenimiento para mí mientras tenga o no conexión a internet y aunque este hábito lo había dejado un poco en el abandono, con la cuarentena lo volví a retomar con más fuerza aun y ahora tengo una amplia galería de libros en PDF guardados en mi laptop en caso de que el Internet decida irse y no regresar.
As with collages, time goes by incredibly fast when I find myself in front of a good book. Although honestly I'm more of that kind of person who likes to have books in physical and not in their digital format, I feel that way I enjoy reading much more and my eyesight doesn't suffer so much. However, whether it is digital or "old school" reading will always be a good form of entertainment for me while I have or not internet connection and although I had left this habit a bit abandoned, with my forties I took it up again with even more strength and now I have a wide gallery of books in PDF saved on my laptop in case the Internet decides to go away and not come back.

Algo gracioso es que mientras estaba redactando esta publicación, el Internet comenzó a fallar un poco…qué curioso, ¿no? bueno, ¡cosas de la vida!
A funny thing is that while I was writing this post, the Internet started to fail a little bit...funny, isn't it? well, things of life!
---
Gracias por leer esta publicación. ¡Hasta la próxima!
Thanks for reading this post. See you next time!

---
📷 Fotografía por | Photography by: @maryed, Nikon Coolpix S2800.
✎ Edición de imágenes por | Image editing by: @maryed, Pixlr Photo Editor & Canva.com
✂ Separador | Separator: cryptosharon
Translated with www.DeepL.com/Translator (free version)


---
---