[ESP] | [ENG] — Bowl de Desayuno || Breakfast Bowl.
¡Hola, Amantes de la Comida!
El post de hoy no se trata de una receta de comida en particular, más bien he querido mostrarles como he armado mi desayuno de ayer. Además de que me pareció una buena idea dar algunos Tips que yo suelo aplicar a la hora de preparar mis desayunos.
Siempre suelo preparar postres saludables, es decir, postres libres de azúcares y harinas refinadas. Sin embargo, estos postres saludables que preparo me gusta consumirlos sobretodo en las mañanas como desayuno, básicamente por dos razones.
Razón #1: Me encantan los desayunos dulces y eso es algo a mi favor, porque si consumo alimentos dulces en la mañana a medida que va transcurriendo el día ya no siento esos típicos antojos que suelen llegar luego de la hora del almuerzo.
Razón #2: Por más saludable que pueda ser un postre eso no quiere decir que no posea una cierta cantidad de calorías y es por esto que prefiero consumir estas calorías en la primera comida del día, pues es donde requerimos una mayor cantidad de energía para la larga jornada que tendremos durante el día.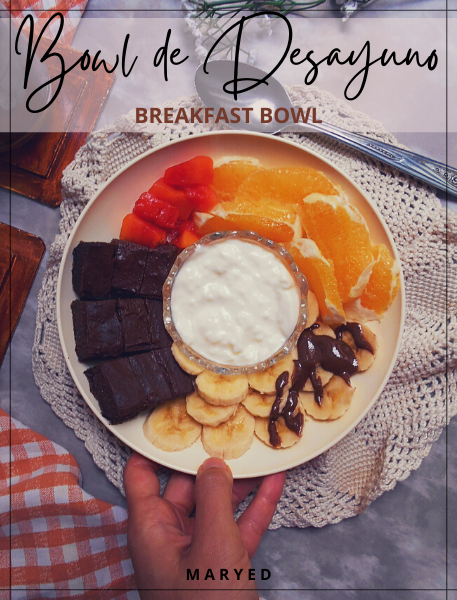 Hello, Food Lovers!
Today's post is not about a particular food recipe, rather I wanted to show you how I put together my breakfast yesterday. Besides that I thought it was a good idea to give you some tips that I usually apply when preparing my breakfasts.
I always prepare healthy desserts, that is, desserts free of sugars and refined flours. However, these healthy desserts that I prepare I like to eat them mostly in the mornings as breakfast, basically for two reasons.
Reason #1: I love sweet breakfasts and that's something in my favor, because if I eat sweet foods in the morning as the day goes on I don't feel those typical cravings that usually come after lunchtime.
Reason #2: As healthy as a dessert may be, it does not mean that it does not have a certain amount of calories and that is why I prefer to consume these calories in the first meal of the day, because it is where we require a greater amount of energy for the long day we will have during the day.

Bowl de Desayuno
Breakfast Bowl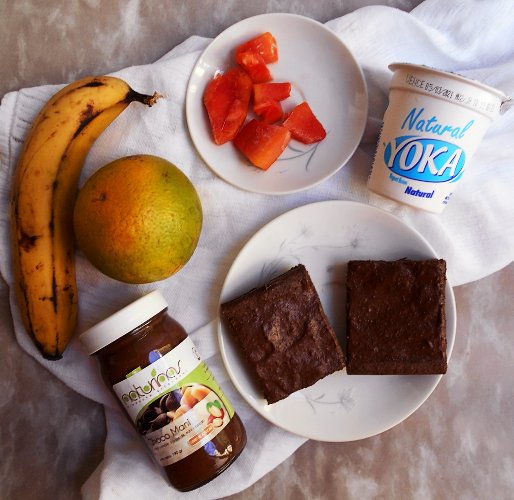 Entonces, lo que suelo hacer es armar un gran tazón donde incluyo unas cuantas porciones del postre saludable que haya preparado y agrego otros alimentos (como frutas, lácteos, semillas o frutos secos) para elaborar un desayuno más completo.
Como hace algunos días había preparado un Brownie Saludable, de las ocho porciones que resultaron sólo tomé dos para mi desayuno de ayer. Este Brownie está elaborado a base de huevos y cacao en polvo sin azúcar y sólo contiene dos cucharadas de avena. Y ahora quizás te estés preguntando: ¿qué más incorporé a este enorme tazón de desayuno?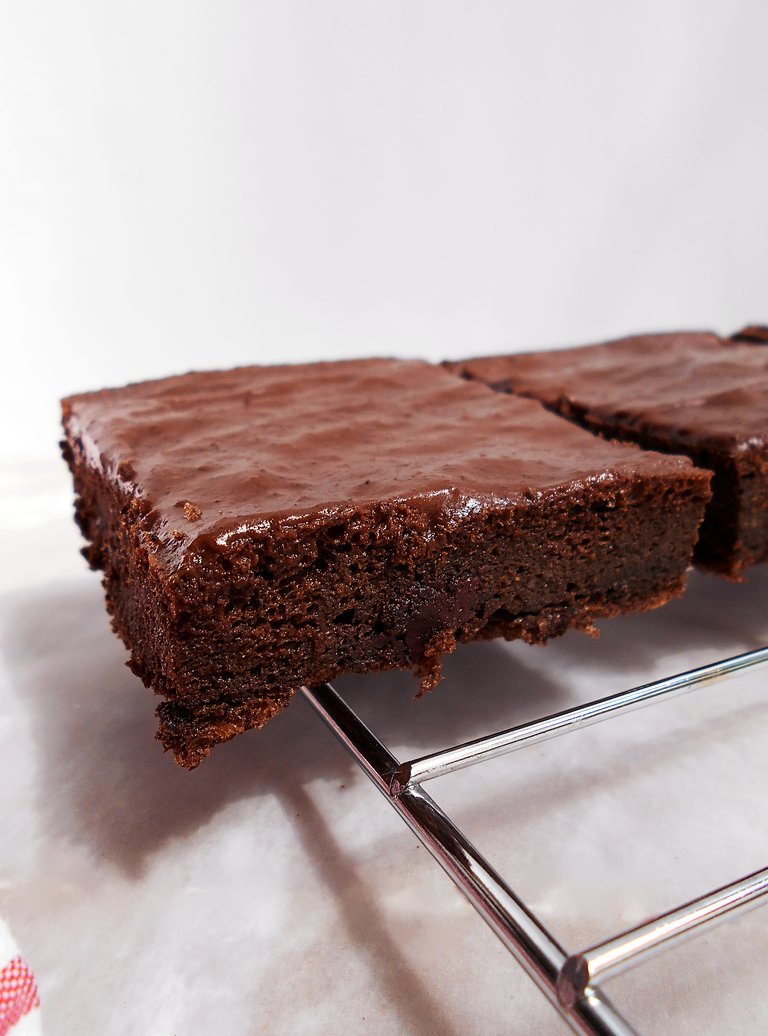 ▪▪▪
So, what I usually do is put together a big bowl where I include a few servings of the healthy dessert I have prepared and add other foods (such as fruits, dairy, seeds or nuts) to make a more complete breakfast.
Since I had prepared a Healthy Brownie a few days ago, out of the eight servings that resulted I only had two for my breakfast yesterday. This Brownie is made with eggs and unsweetened cocoa powder and contains only two tablespoons of oatmeal. And now you may be wondering: _what else did I incorporate into this huge breakfast bowl?
---
Los complementos
The complements
Pues bueno, comencemos por las frutas: agregué la mitad de una naranja, una banana picada en rodajas muy delgadas y trozos de papaya. Siempre me gusta consumir una buena cantidad de al menos dos frutas distintas en el desayuno. La banana es una de mis frutas favoritas, además es la que se puede conseguir con más facilidad en los mercados locales, así que sin lugar a dudas esta es una de las frutas que nunca falta en mis desayunos.
También incorporé a este tazón tres cucharadas soperas de yogur natural sin azúcar. El yogur es delicioso, además de que le aporta grandes beneficios a nuestro organismo.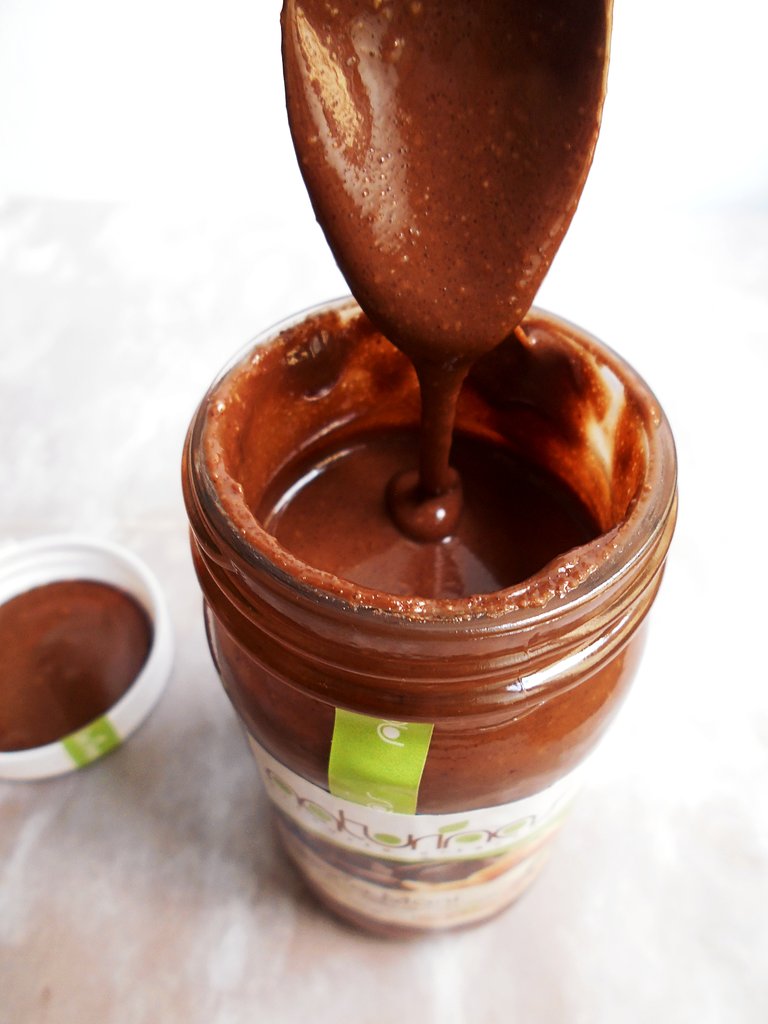 Como toque final, me gusta añadir un poco de crema de chocolate y maní endulzada con estevia. Es realmente deliciosa y me gusta utilizarla para decorar y que el plato se vea mucho más agradable visualmente. Claro está que en esta oportunidad no tuve mucho control al adicionarla, quería hacer una especie de líneas lindas y sutiles, pero como podrán apreciar, no lo logré esta vez.
▪▪▪
Well, let's start with fruit: I added half an orange, a banana sliced very thinly and papaya chunks. I always like to have a good amount of at least two different fruits for breakfast. Banana is one of my favorite fruits, plus it is the most readily available in the local markets, so this is definitely one of the fruits that I never miss in my breakfasts.
I also incorporated three tablespoons of plain unsweetened yogurt into this bowl. Yogurt is delicious, plus it brings great benefits to our body.
As a finishing touch, I like to add some chocolate peanut butter sweetened with stevia. It is really delicious and I like to use it to decorate and make the dish look much more visually pleasing. Of course, this time I didn't have much control when adding it, I wanted to make a kind of nice and subtle lines, but as you can see, I didn't succeed this time.
---
Y finalmente...
And finally...
Y ahora, finalmente, el lindo y colorido resultado es el siguiente:
And now, finally, the nice and colorful result is as follows: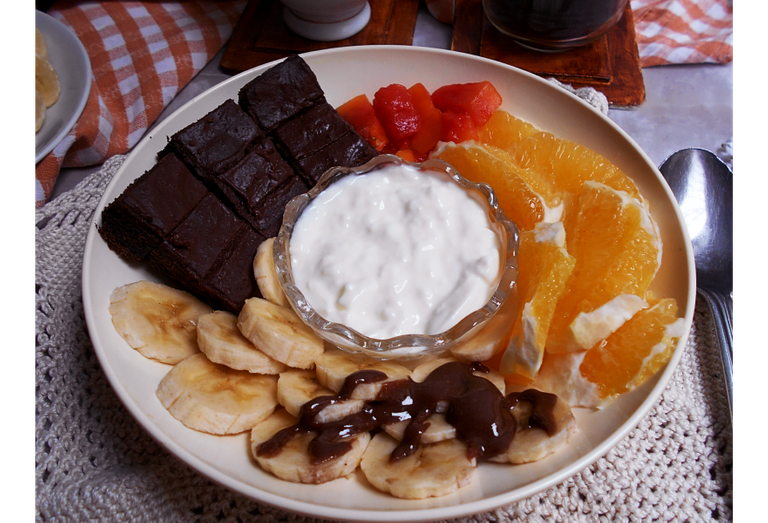 Hay días en que logró armar un plato perfecto, donde todas las piezas de fruta adoptan formas lindas y encajan como piezas de rompecabezas, pero hay veces que tengo días no tan buenos y no logro cumplir con este propósito. Aun así, me encantan ver alimentos coloridos en mis comidas, incluso jugar con las formas y elaborar un plato visiblemente agradable es algo que me hace iniciar mis mañanas con un muy buen ánimo. Suena extraño, lo sé, pero te invito a que lo intentes y estoy segura de que experimentarás esa misma sensación de felicidad que yo experimento.
▪▪▪
There are days when I manage to put together a perfect dish, where all the pieces of fruit take on pretty shapes and fit together like puzzle pieces, but there are times when I have not so good days and I don't manage to accomplish this purpose. Still, I love to see colorful foods in my meals, even playing with shapes and making a visibly pleasing dish is something that makes me start my mornings in a very good mood. It sounds strange, I know, but I invite you to try it and I am sure you will experience that same feeling of happiness that I experience.

Es genial comer postres en el desayuno, pero es mucho más genial ir un poco más allá y elaborar platos como este. Creo que queda demostrado que a partir de ingredientes sencillos podemos elaborar una gran comida, bastante completa y nutritiva. Y si a eso le añadimos un poco de creatividad a la hora de armar nuestro plato, ¡tendremos un desayuno increíble!
It's great to eat desserts for breakfast, but it's much cooler to go a little further and make dishes like this one. I think it goes to show that from simple ingredients we can make a great meal, quite complete and nutritious. And if we add to that a little creativity when it comes to putting together our plate, we'll have an amazing breakfast!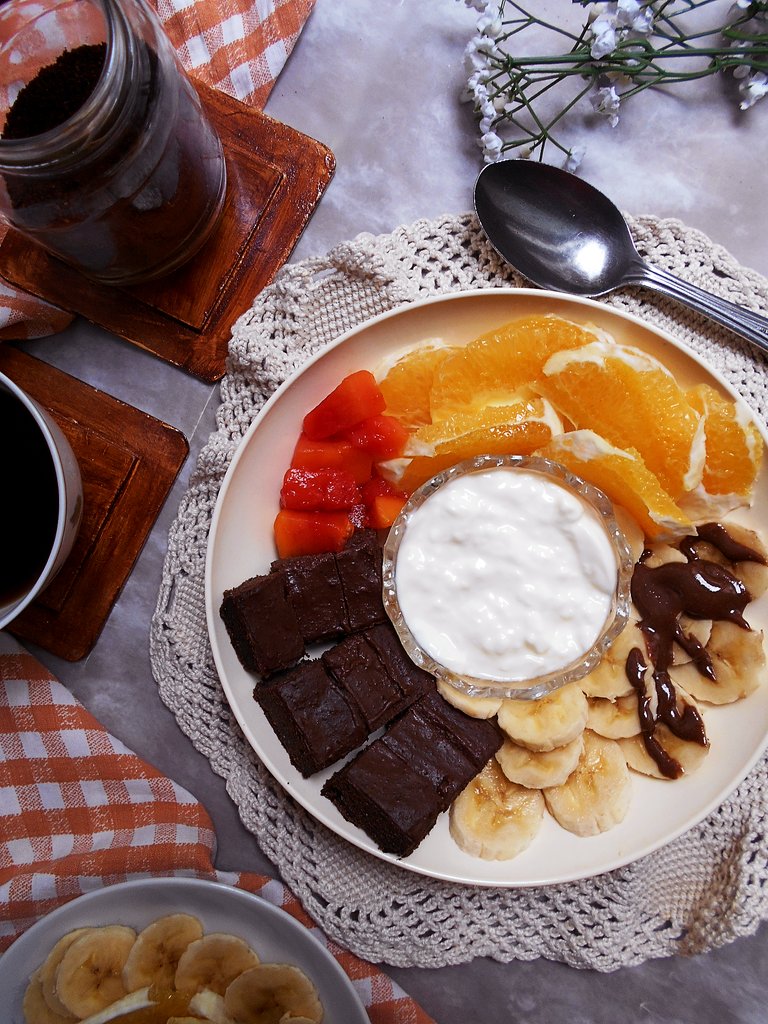 ---
Gracias por leer esta publicación. ¡Hasta la próxima, FoodLovers!
Thanks for reading this post. See you next time, FoodLovers!

---
📷 Fotografía por | Photography by: @maryed, Nikon Coolpix S2800.
✎ Edición por | Edition by: @maryed, Pixlr Photo Editor.
✂ Separador | Separator: cryptosharon
Translated with www.DeepL.com/Translator (free version)


---
---