Brazilian soccer follows the trend of token fans - EN / Futebol brasileiro segue tendência das fãs tokens - PT
EN
Brazilian soccer team, Sport Club Corinthians Paulista, is preparing to enter the blockchain universe.
Corinthians and the platform Socios announce the release of the $SCCP Fan Token on twitter: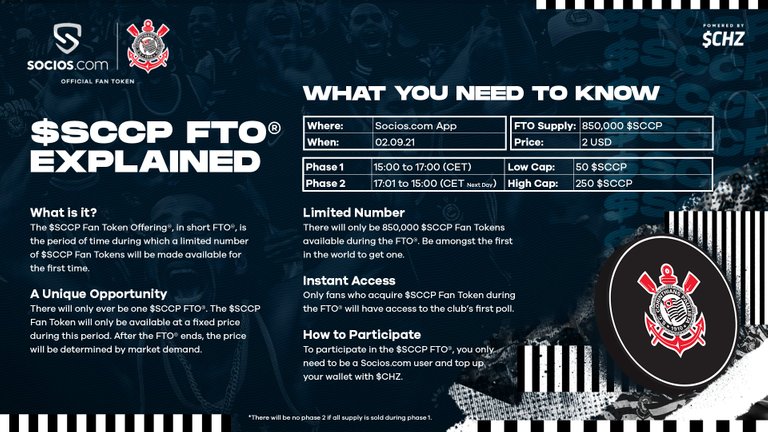 Source:
https://twitter.com/socios/status/1430969927289262081
Announced as public offerings of tokens for fans, Corinthians' proposal is aimed at expanding its marketing plans, which is essential for the team to deal with the economic crisis it is facing.
To acquire tokens it is necessary to register on the Socios.com platform, purchase $CHZ and exchange for $SCCP.
There will still be new uses for fans tokens, which can give access to NFT's, exclusive benefits, and some even participate in important decisions of the club.
More information with the article Corinthians and Socios.com announce the launch date of the official $SCCP cryptocurrency in the Cointelegraph, specialized media said it also promises to check the tokens that will give more profits to its investors.
Another brazilian team following the trend of Atlético Mineiro, Cruzeiro and Vasco da Gama. What's next?
---
PT
Mais um time do futebol brasileiro se prepara para ingressar no universo das blockchain's.
Sport Club Corinthians Paulista e a plataforma Socios anunciam o lançamento do Fã Token $SCCP no twitter:
https://twitter.com/socios/status/1430980768201912321
Anunciado como ofertas públicas do tokens para torcedores, a proposta do Corinthians visa ampliação dos planos de marketing, fundamental para o time lidar com crise econômica que enfrenta.
Para adquirir tokens é necessário cadastro na plataforma Socios.com, adquirir $CHZ e trocar pelo $SCCP.
Ainda vai sair novas utilidades dos fãs tokens, podendo dar acesso a NFT's, benefícios exclusivos, e alguns até participação em decisões importantes do clube.
Mais informações com a reportagem Corinthians e Socios.com anunciam data para lançamento de criptomoeda oficial $SCCP no Cointelegraph, mídia especializada disse que também promete conferir os tokens que dará mais lucros aos seus investidores.
Corinthians segue a tendência do Atlético Mineiro, Cruzeiro e Vasco da Gama. Qual vai ser o próximo?
---
---