Every TE Surfer needs a Website...

That's where #TopSurfer comes into 'The Game'. As a Traffic Exchange I consider TS as useless (to be blunt) as HitsConnect 'Tells Me' (and in LeadsLeaps Tracker it's the very same) I get next to ZERO Visitors from over there!
BUT next to everything is worth a second look.
Here's what I wrote in the SFI Guru Group (members only) on Facebook: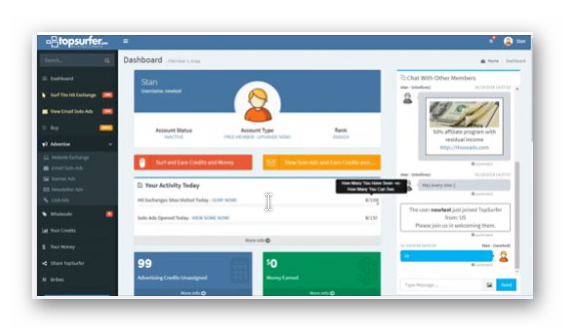 Click The Pic for the Video
As I told 'that often' I consider Traffic Exchanges close to useless, didn't I?
That said we come to ONE special (which is completely useless as TE) and it is #TopSurfer.
So what's so special with 'em??? They have the WholeSeller Option giving you an #WordPress Site you can do with whatever you >want. But that's (by far) not all...

it's US$ 10,- a month.
#PLR eBooks included and (most important)
they give you a 100% commission (nope I'm neither drunk nor nuts) on every sale...
Watch the (entire) Video and come to a WISE decision.
The entire Clip is on **Odysee ** in my SFI Guru Channel. Feel Free to follow me over there.
WebHosting for 38 Cent a day???
What the heck can you loose in that Game (as long as you have a Backup Copy every time)???
---
---