Splinterlands - Chaos In Demand?

With the crypto market prices falling I would have thought Splinterlands cards may drop in value. I was wrong and over the past 24 hours it has only increased. A lot of lowest price Chaos cards are 1 bcx therefore I am assuming higher level and max level cards at lowest price per bcx is being snatched up swiftly.
I Added Chaos Rewards
I decided to look at second best options of cards and saw Chaos rewards had some cards I yet to max. I added the following.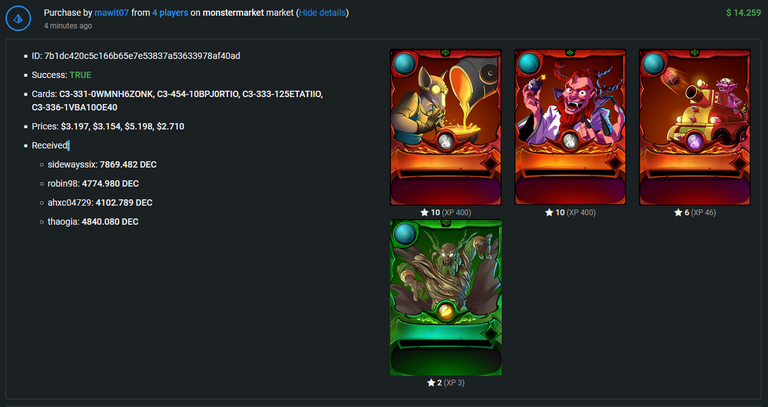 Oddly out of coincidence most my purchases for the day were fire splinter cards. It is not to say I wanted this but I saw what appear to be reasonable in price compare to what is currently out in the markets so decided to add them.
Splinterlands in Demand
I have been focusing on Chaos card prices a lot lately but the reality is all Splinterlands cards are on the rise. This is noticeable due to not many are selling and a lot of single bcx in the markets rather than higher levels. To me that means long term players and serious investors have been amassing plenty of higher level cards.
I will continue watching and waiting for reasonable offers and hopefully can add more to my collection, but until then I will have to make due with adding reward cards here and there.
Until next time thanks for reading!!!
https://images.ecency.com/p/HNWT6DgoBc1692QWn5trsLBYecSp3jKD1kzdmSDR4FGzPSXomkgLtisN5TzrwHTsD1D4ocqDPHpFztKzeH4ibh1vQVU3d3dSaB6VYJ1U3RdsSDi5spmdafX25ph.webp?format=webp&mode=fit
If you want to play splinterlands then SignUp Here
I have plenty of other cards for rent! Just go on peakmonsters and check out the market place and if you are curious what I offer here is a link:
If You have yet to take part in playing this great game called Splinterlands please click on my referral link. It is free but in order to earn real assets such as cards and token you would have to invest in a starter deck or purchase game cards. Join the discord to learn more. Good luck!

THANKS FOR READING! CONTINUE TO PLAY SPLINTERLANDS!

---
---