Splinterlands - Chaos Reward Cards Prices As Of 1/27/23
In less than a week from today Chaos Reward cards will stop printing. Over the past week those reward cards have sore in prices. Now remaining above its highs I am wondering if I should purchase remaining cards I have yet to max in this set?
All the reward cards are higher than their burn rate since I last reviewed them about a month ago. Boy how times can change for prices.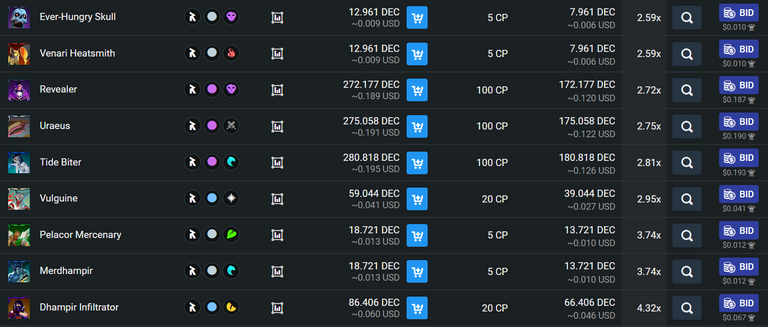 Not to my surprise reward cards that I really want to max are currently most expensive in the set. From Ever-Hungry Skull, Revealer, and Tide Biter they are all close to 3x burn rate.
Distribution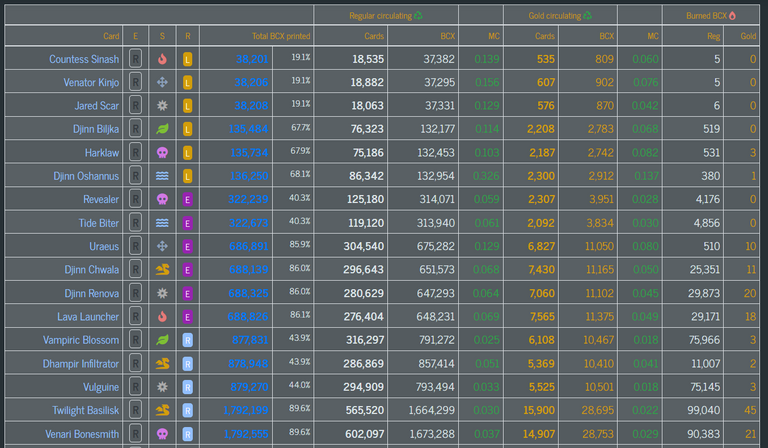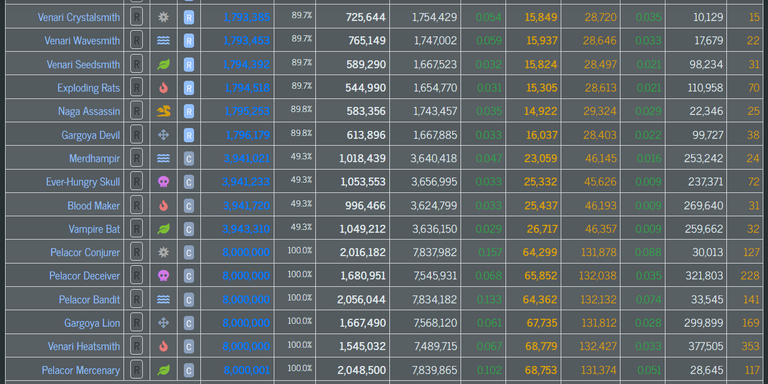 Interesting to note is that all though the reward cards will stop printing soon the current amount of cards in circulation is already in excess twice or more in quantities than previous reward sets. On one hand there are more players so it makes sense to have more cards. In addition there are a handful of cards that have already maxed out in printing which comes out to be around 48 million cards just cards that maxed out in printing. Wow.
A quick calc results in about 120k max cards possible if no reward cards are burned. That are some impressive numbers. In my opinion after seeing how many rewards cards have currently been printed it does make sense to end printing more even though it didn't hit 100%. There are plenty of reward cards earned in this cycle.
Conclusions
Cards that I still need to max out for this Chaos rewards set:
Pelacor Conjurer
Ever-Hungry Skull
Tide Biter
Revealer
Djinn Biljka
Jared Scar
Venator Kinjo
Countess Sinash
As can be seen there are a lot of cards I have not maxed yet and with less than a week away from any of them ever again be printed I may not have enough time to save up and purchase all these cards. My plan is to continue to save DEC and see where prices for these cards will be once the new reward cards are in place.
Until next time thanks for reading!!!
https://images.ecency.com/p/HNWT6DgoBc1692QWn5trsLBYecSp3jKD1kzdmSDR4FGzPSXomkgLtisN5TzrwHTsD1D4ocqDPHpFztKzeH4ibh1vQVU3d3dSaB6VYJ1U3RdsSDi5spmdafX25ph.webp?format=webp&mode=fit
If you want to play splinterlands then SignUp Here
I have plenty of other cards for rent! Just go on peakmonsters and check out the market place and if you are curious what I offer here is a link:
If You have yet to take part in playing this great game called Splinterlands please click on my referral link. It is free but in order to earn real assets such as cards and token you would have to invest in a starter deck or purchase game cards. Join the discord to learn more. Good luck!

THANKS FOR READING! CONTINUE TO PLAY SPLINTERLANDS!

---
---