Splinterlands - Dragons Dragons Dragons (Weekly Battle Post)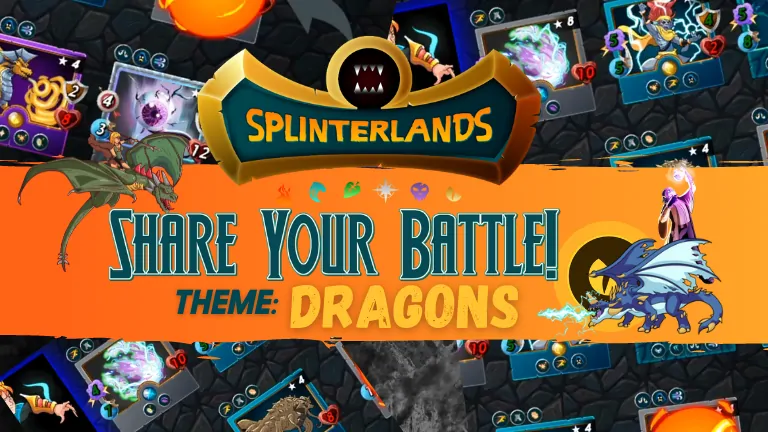 There is only one splinter I like more than water and that is Dragon. The splinter with the most legendaries cards and has some of the strongest summoners in the game it is easily many's favorite splinter too.
Today we will look at a battle where I use dragon splinter mixed with one of the five other splinters to win.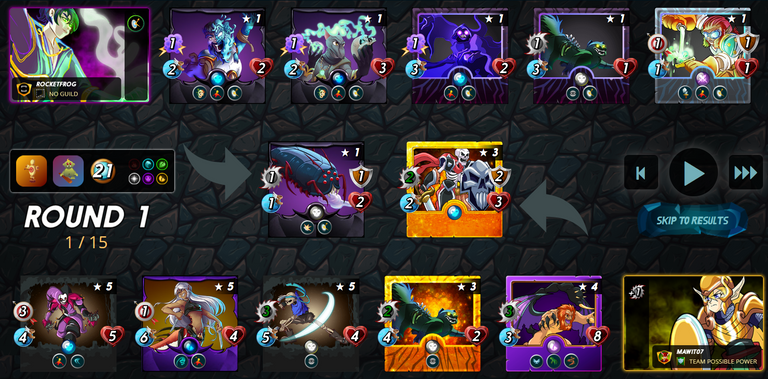 Formations
The match is limited to 21 manas and two rule sets. The rule sets were Target Practice and Little Leagues. The splinters were all allowed except for Fire. With the limited mana I decided to go with Dragon splinter mixed with Death. I had learned through this season what Death cards can to at low mana matches and wanted to try it out with a mix of Dragon monsters. It would turn out to be an interesting outcome.
My formation started off with Dragonscale Daria Summoner followed up with the following monster formation. The lead off was Skeleton Warrior, Manticore, Undead Badger, Skeleton Assassin, Naga Assassin and ending with Twisted Jester. I had not realized until now I can go back to back with Assassins with Death. In my mind I always saw it with Silvershield Assassin.
My opponent went straight with Death splinter and lead off with Crypt Beetle, Life Sapper, Venari Bonesmith, Death Elemental, Undead Badger and ending with Half Alchemist.
First glance between formations it looked as evenly match where it was six against six even with the low mana of 21. Look a bit more carefully it is clear I had the advantage since my opponents' monsters were all level 1 while all my monsters were at least level 3 or higher. In a coincidence both formations had the same quantities of rarity cards, (3) rare, (2) commons and (1) epic.
Round 1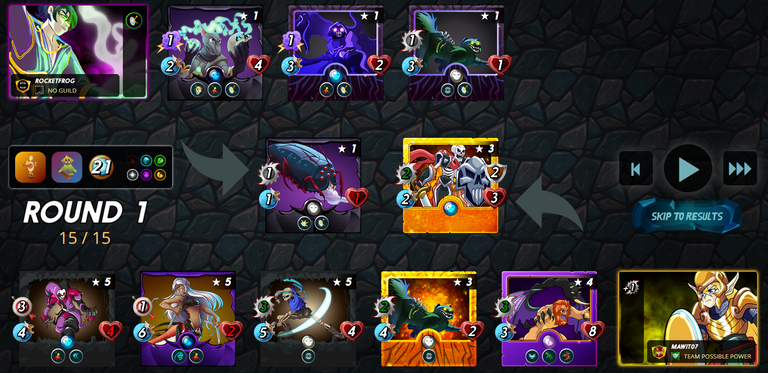 It certainly pays to have higher level monsters as the first round we see my opponent's Life Sapper and Half Alchemist get knocked out while my formation still have all six monsters. I had the upper hand with six against four.
Round 2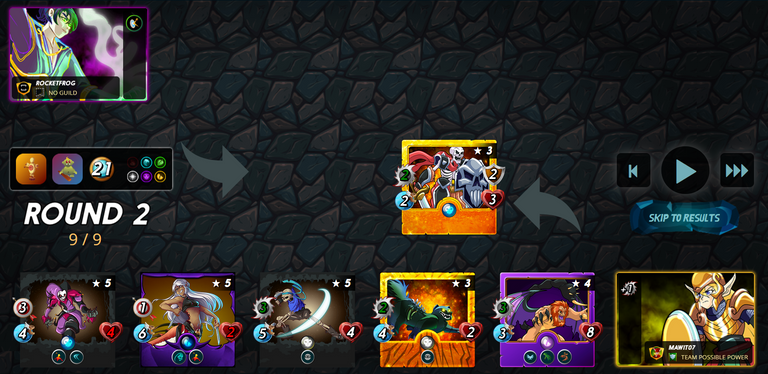 What would be a good word to describe round 2. Demolition? I quickly took out the remaining opponent monsters and ended the match at the completion of second round. It was a total annihilation of my opponent as they were over matched by my monsters' higher levels.
Conclusions

The formation I used was really focused around Death splinter and it was clearly advantageous to do so throughout the battle. I did not go with any magic attack which nullified my opponent's summoner. On top of that my monsters were attacking at stats higher than one against my opponents' monsters leading to an easy path to victory.
For low mana matches and the limited 4 mana cards it was good that the strong Dragon splinter was still able to come out with some decent cards. Whether it was the summoner Daria or the monster Manticore the dragons have some very good low mana cards.
The combo between Naga Assassin and Twisted Jester for range attacks was good enough to snipe and knock out opponent's monsters. On top of that the melee monsters in Undead Badger and Skeleton Assassin was good enough to put a nail in the coffin on my opponent's formation.
Until next time thanks for reading!!!
If you are interested to learn more about Splinterlands please go through some of my other posts. Order is from newest to oldest posts:
Splinterlands - Securing Your Cards From Hackers
All You Want To Know About Reward Chests
Helpful Links for New and Veteran Players
I have plenty of other cards for rent! Just go on peakmonsters and check out the market place and if you are curious what I offer here is a link:
If You have yet to take part in playing this great game called Splinterlands please click on my referral link. It is free but in order to earn real assets such as cards and token you would have to invest in a starter deck or purchase game cards. Join the discord to learn more. Good luck!

THANKS FOR READING! CONTINUE TO PLAY SPLINTERLANDS!

---
---