Splinterlands - End of Season Strategies To Earning More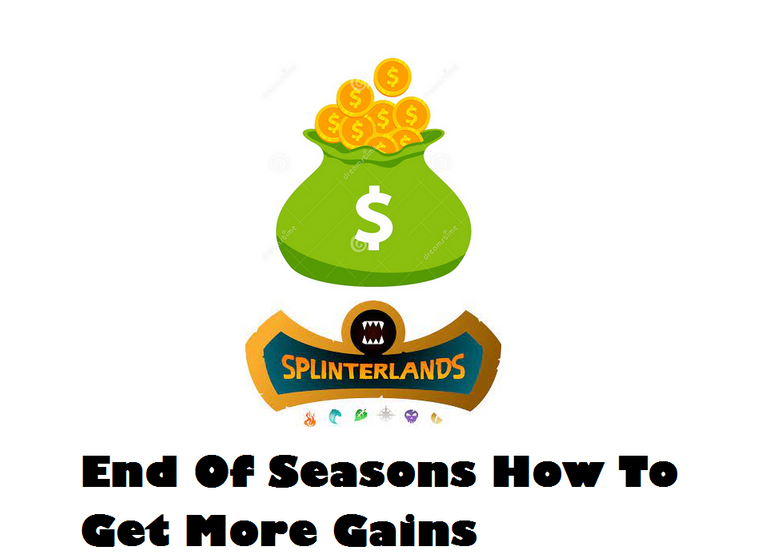 As a low rank player my opinions are my perspective alone. Higher ranked players may have their own thoughts as to earning more DECs. In any case this is not investment advice but for entertainment purposes only.
Lets look at some ways to earn more during end of season. Here are my experiences and what I do near the end of the season.
Push More Ranked Matches

This one is simple enough to do but will take time. Each day the Energy Capture Rate (ECR) bar recovers 25% therefore a player wants to play a minimum 25 matches per a day to use their ECR bar effectively.
However during end of seasons there is more reasons to play more matches. Between the end of seasons and up to three days before I always experience most rank battle matches within my league is easier to get out with a win. I would get longer win streaks near the end of the season. My logical explanation of this is that during the end of season players have finally started moving toward their respective leagues. Therefore players with higher level cards tend to be away from the lower leagues leading to players with lower level cards competing in their respective leagues. Moral of the story here is play more matches near end of the season.
Increase Collection Power
Along the way of playing more rank battles the players can only achieve higher league rankings by having enough collection power. The goal of playing more matches near the end of the season is not only to win more DEC but also to end the season at the highest league possible.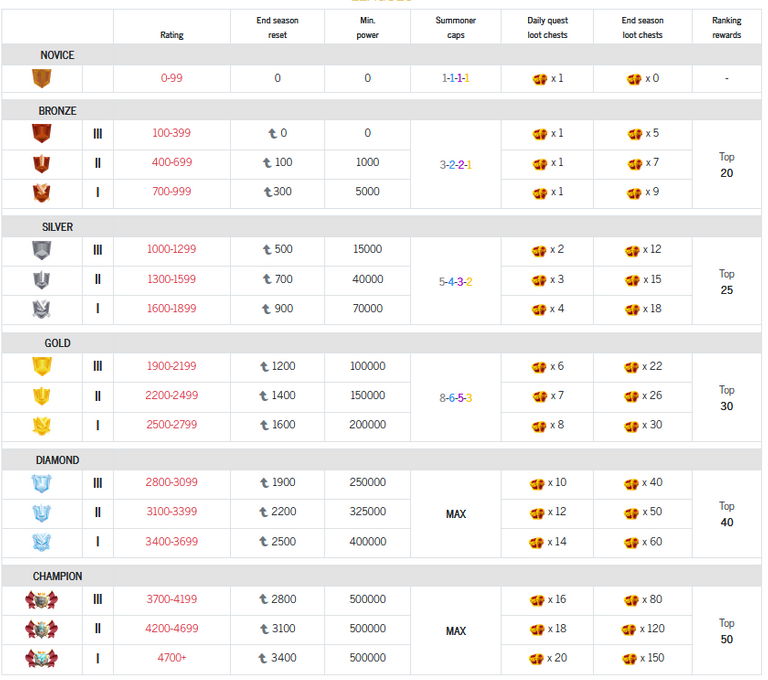 Chart above straight out of https://splintercards.com/leagues.html for those curious to look further.
The thought here is that in order to reach a certain league not only does the player need to be higher rating but also have a lot of collection power (CP). For instance a league gold II will require at minimum 150k of CP while a league gold I will require 200k of CP. Why would it matter near end of season to push higher leagues? It is because end of seasons higher leagues players earn more. Between league gold II of 26 chests versus league gold I of 30 chests that is four more chests at end of season. Or put in in a different perspective four more days of effort to win daily quest at one league rank lower.
One maybe wondering where they can get more CP near end of season. They would either have to purchase more cards or rent more cards. Rental will cost less however the CP will only be within the duration of the rent. A key pointer is that rentals can be cancelled by the lender at any time. To avoid losing CP right before end of season it is recommended to rent cards when end of season is less than 24 hours from finishing.

The rentals once executed will go for 24 hours. If it gets canceled any time before than the rental will still be held by the renter until the 24 hours expire. This means when end of seasons is under 24 hours and I rented a card to gain enough CP I would have just before end of season and earn more rewards that way.
Renting and Leasing Cards
I have many low level cards therefore earn more lending out my cards than playing them. Near end of season there are days where the price of rental cards spike. This is due to demand of collecting enough CP to earn the most end of season rewards.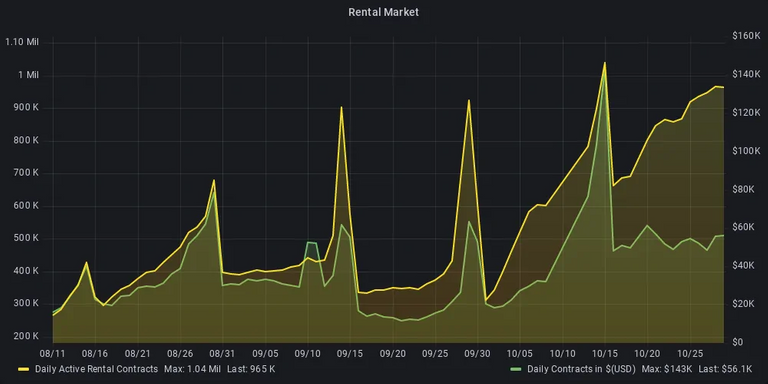 As chart above is showing every time when there is a spike it is near end of season. Players who do not have enough CP is willing to spend a lot for the sake of earning more chests and hoping when the chests are open more valuable assets are won. On the other side as a lender I would earn more than the daily rentals.
Conclusions
To all the veterans out there playing these steps recommended are done on near end of the season often that it is repetitive. To those who started playing or is trying to figure out how to earn more I have made some options. What is important here to note is that near end of season there is always a lot of activity. Just have to follow where the activities are to earn more.
Until next time thanks for reading!!!
If you are interested to learn more about Splinterlands please go through some of my other posts. Order is from newest to oldest posts:
All You Want To Know About Reward Chests
Helpful Links for New and Veteran Players
Splinterlands Good Cards To Own
Splinterlands Rentals from a Lender Perspective
I have plenty of other cards for rent! Just go on peakmonsters and check out the market place and if you are curious what I offer here is a link:
If You have yet to take part in playing this great game called Splinterlands please click on my referral link. It is free but in order to earn real assets such as cards and token you would have to invest in a starter deck or purchase game cards. Join the discord to learn more. Good luck!

THANKS FOR READING! CONTINUE TO PLAY SPLINTERLANDS!

---
---