Splinterlands - Getting Chaotic With Ways to Purchasing Chaos Packs?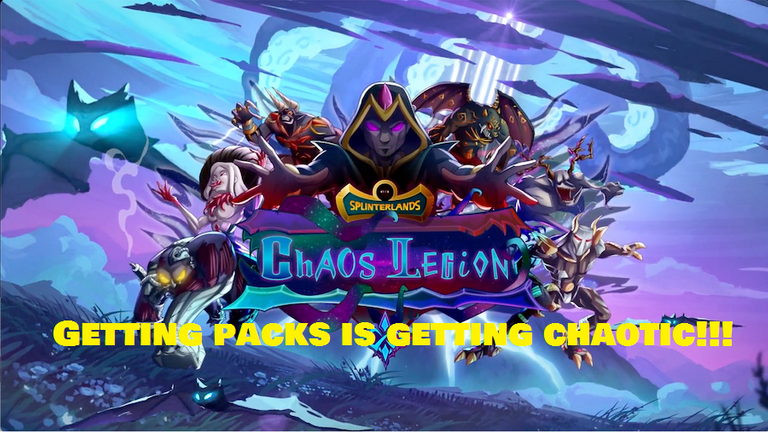 With a little over 3 days left before presales ends there has been a wave of options coming in as to best purchase some chaos packs. As of now the closest players have to obtaining these packs is by having in game tokens that represents chao packs. Beyond that only on and after December 8th 2021 will players be able to open those packs and see what cards they pulled. Before then here are the multiple ways of getting Chaos packs and I will be clear this not an all encompassing post on the options but at the least what I have seen and heard.
Hive-Engine Chaos Packs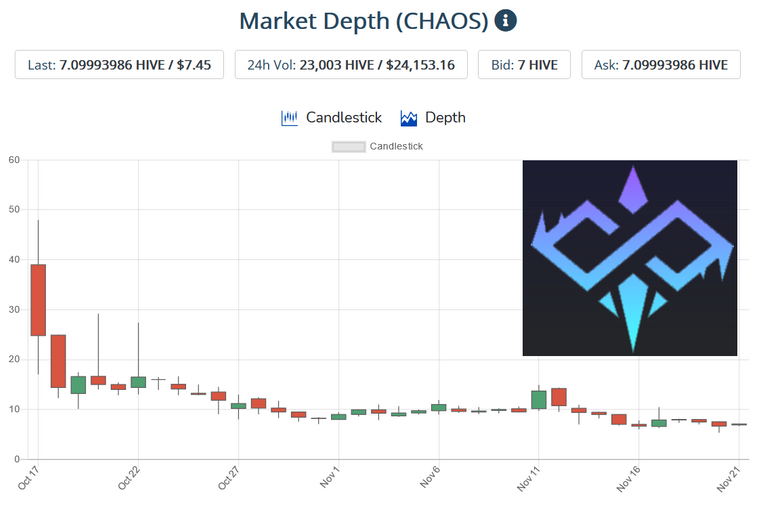 The current lowest cost to obtain a Chaos pack is through Hive-engine with the token being traded "CHAOS". Currently each token is trading around 7 Hive which is approximately $7.45 per pack. Note it went as low as $6.40 a pack and it remains to be seen if it can go even lower?
By purchasing a CHAOS token the player has the opportunity to open the pack on or after December 8th. Face value of the pack is $4 so buyers are paying close to twice the retail value per pack.
Presale Chaos Pack Purchase
The current and only way to purchase a Chaos pack directly in game is through the presale. Presale started almost a month ago and in around 3 days it will be over. Over the course of the month the game has distributed Vouchers to players who weighted amount of staked sps over the total amount of sps staked. A total of 1 million vouchers were distributed and has now ended.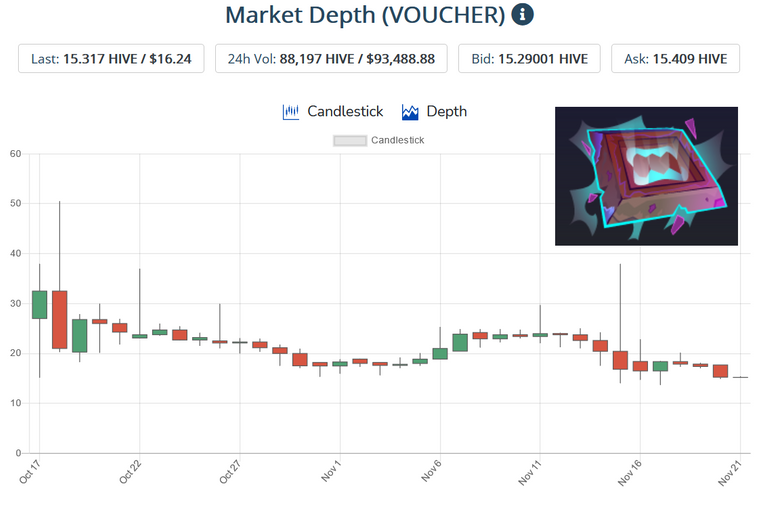 Now in order to obtain a Voucher players need to go through Hive-Engine. Currently Vouchers are selling a little over $16 each but come the next three days the price may continue to fluctuate. The reason a voucher is costing more than the Chaos pack itself is because in game there is a promotional offer being given to players.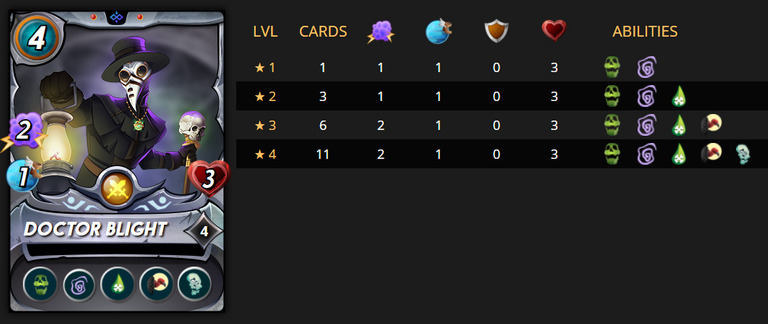 The first Chaos Legion air drop will be the card Doctor Blight. This card will only be printed during the pre-sale and will never be printed any other way. Players who purchase 1,000 packs during pre-sale will earn a goil foil version of it, a max level 11 of it, a chao legion title, and additional packs of 20% bonus.

As of now a little over 650k vouchers has been used and the top six running in presale purchases will also earn a place to develop future Splinterlands cards. (Just to be clear during pre-sale not only does the buyer need to have a voucher per a pack but in addition pay $4 in value for the pack. There is a 10% discount for use of SPS.)
Chaos Packs After Pre-sale Next 2 million packs (Phase 2)
After pre-sale if there are remaining packs unsold the developer will likely keep them in storage for future promotional use. Then after the presale with not an exact date or time yet will begin the second phase of Chaos pack sales. Players who wish to purchase packs at lower prices may be possible during this phase. Here is why?
In phase 2 there will be 2 million packs to be offered. However in order to purchase players have to have again vouchers. There will be double the amount of daily vouchers distributed compared to the presale. With more numbers to sell this in turn will likely lead to more sales. Furthermore in phase 2 there are no promo cards to be offered. However again on top of use of a voucher there is $4 per a pack.
Chaos Packs (Phase 3)
The final phase of sale if chaos packs is where packs 3 million to 15 million are offer to the public at $4 each and no vouchers required. This is the point where the lowest cost per a pack can be obtained through in game. If players can be patient enough they have the potential of buying in phase 3 with spending the least.
Chaos Third Party Pools
The two largest pre-sales pools that are going on to purchasing pre-sale packs is held by @coronavirus and @marcuswahl both have setup pools that can be reach out to via discord channels respectively. The focus of these pools is to buy as many packs as possible through the use of smaller purchases from players in order to obtain the most rewards. The rewards are then distributed in some form of discount or additional assets sent to participants of the pool.
To explain a little more as to why these pools are created you can read @marcuswahl post here. A short summary is by participating in the pools players with small pack purchases automatically get the best discount they can get as if they purchased the packs directly from in game at large quantities. This saves participants a decent amount which in turn potentially allow them to purchase more Splinterlands assets or save equity to be use else where.
Pools After Pre-Sale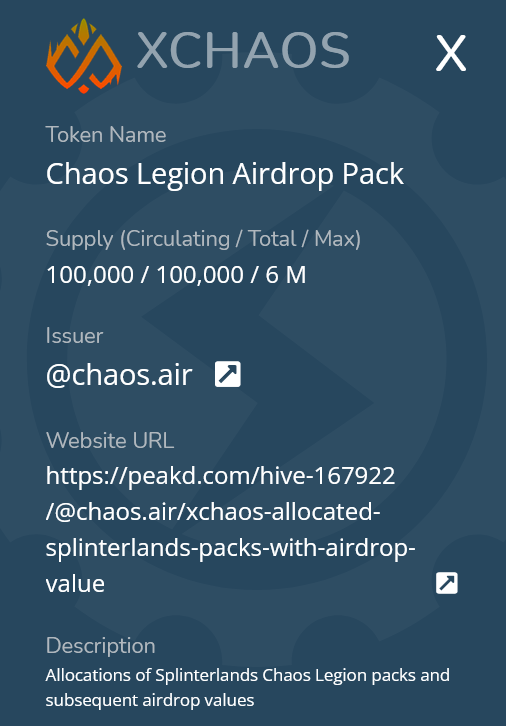 Link to XCHAOS pool here for more info.
For those seeking best bang for their bucks in purchasing Chaos packs equal to be bought in game but not during the pre-sale or second phase is the XCHAOS route. On Hive-Engine there is a token for sale called XCHAOS which is offer to people as a Chaos pack sold during phase 3. To be clear if you hold one of these tokens you are not going to receive a pack until all the first three million packs have been sold. In other words only until phase 2 is completed will phase 3 begin and players with XCHAOS receive their packs.
The big difference of participating in this pool is that players pay for the opportunity of earning additional DEC on top of having a Chaos pack. The air drops that will potentially earn buyers of packs more cards and buying in bulk provides discounts it will all lead to additional assets beyond the Chaos packs purchased. The additional assets will then be sold on the market therefore converted to DEC that will in turn be distributed among all holders of XCHAOS depending on their weighted amount of XCHAOS.
An additional reason behind this XCHAOS pool existence is the fear that all the packs that do not need a voucher may sell out very quickly. To purchase the packs in bulk the developers will allow these buyers to purchase first. A "white gloves" service to those who spend the most. Therefore with the pool players who make small purchases of the token can expect that they will get a pack in phase 3 for certain.
Conclusions
The hype around the new Chaos Legions packs is understandable since currently there are a little over 11.5 million cards in circulation.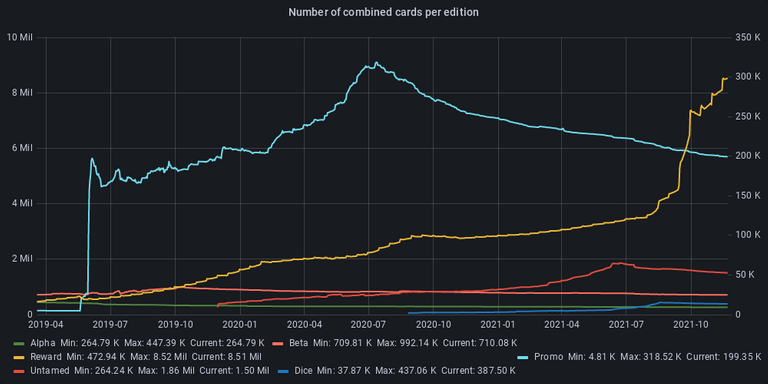 Chaos packs in total will add a potential 15 x 5 = 60 million cards into circulation, but expect it to reduce dramatically since players will be leveling up cards. All the while over 400k active players playing the game it equates to still not a lot of cards for players. While developers have eyes set on 1 million active players by end of year. The reality is even if each player out of the 1 million active were to get the same amount of packs each will have 15 packs or 45 cards. That is not much to play.
Whether or not there will be a fast sale for the remaining Chaos packs after the presale it is clear there are people getting ready for the sales. It would be wise to look at their options if you have not done any pre-sale purchases. Having some sort of safety belt in participating in a pool or purchasing the packs directly through Hive-engine will secure your Chaos packs.
Until next time thanks for reading!!!
If you are interested to learn more about Splinterlands please go through some of my other posts. Order is from newest to oldest posts:
Splinterlands - Securing Your Cards From Hackers
All You Want To Know About Reward Chests
Helpful Links for New and Veteran Players
I have plenty of other cards for rent! Just go on peakmonsters and check out the market place and if you are curious what I offer here is a link:
If You have yet to take part in playing this great game called Splinterlands please click on my referral link. It is free but in order to earn real assets such as cards and token you would have to invest in a starter deck or purchase game cards. Join the discord to learn more. Good luck!

THANKS FOR READING! CONTINUE TO PLAY SPLINTERLANDS!

---
---