Splinterlands - One Chaos Summoner At a Time...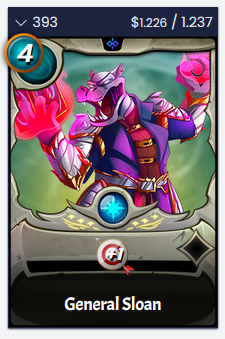 My Chaos summoners have been lacking but as I had mentioned in past posts I am pushing myself to add to my collection those specific Chaos summoners. So my first max summoner is the General Sloan.

Why Max Summoner?
Most often multiple bcx cards will have lower cost per bcx. Also not often do we see max level cards for sale and considering how popular the game is now than let say two years ago it definitely is a good investment to go max. One final reason to go max level if possible is to know I am not limited on my monster uses. I have some max level life monster cards and having a max level summoner gives me the opportunity to use the monsters cards to its fullest.
A decent investment for a rare max summoner at $140. It is averaging as the least costly max chaos summoner but I will have to start with that. My plan is to gradually add chaos cards where I can and where I see are decent discounts.

Four more to go and there are also the new legendaries and upcoming legendaries summoners.
Conclusions
On the monster cards front I am removing more cards off the rental market so I can have it at play. Getting more cards as options will allow me hopefully to be more competitive in the final stretch of this season.
Until next time thanks for reading!!!
https://images.ecency.com/p/HNWT6DgoBc1692QWn5trsLBYecSp3jKD1kzdmSDR4FGzPSXomkgLtisN5TzrwHTsD1D4ocqDPHpFztKzeH4ibh1vQVU3d3dSaB6VYJ1U3RdsSDi5spmdafX25ph.webp?format=webp&mode=fit
If you want to play splinterlands then SignUp Here
I have plenty of other cards for rent! Just go on peakmonsters and check out the market place and if you are curious what I offer here is a link:
If You have yet to take part in playing this great game called Splinterlands please click on my referral link. It is free but in order to earn real assets such as cards and token you would have to invest in a starter deck or purchase game cards. Join the discord to learn more. Good luck!

THANKS FOR READING! CONTINUE TO PLAY SPLINTERLANDS!

---
---