Splinterlands - Splintershards SPS Down But Is It a Buy?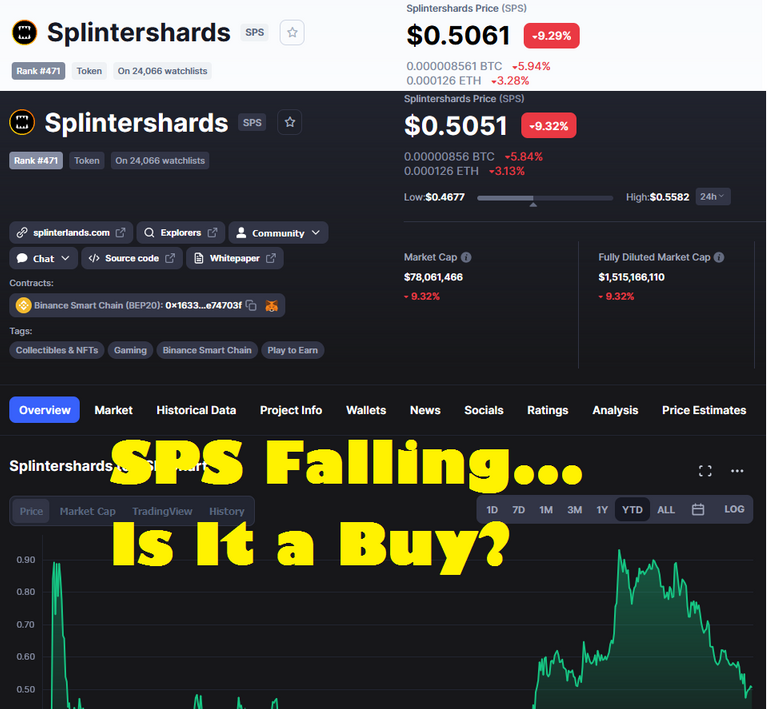 SPS Price Decreases
Recently SPS has been falling in price like many other cryptocurrencies. SPS is even more so compared to other tradable Splinterlands tokens such as DEC, Vouchers, and token packs. It simply seemed SPS is falling at a faster rate than the rest.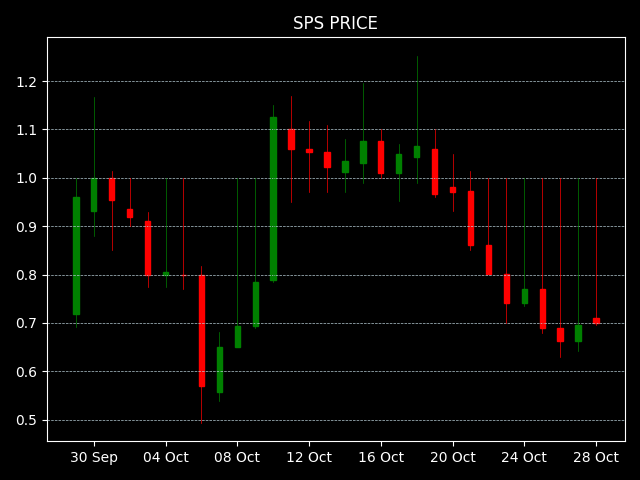 A lot of upside down wick candles in the past week in regards to SPS. This is hinting on the premise that SPS is being bought all the way up to 1.0 hive each even as the overall SPS price is closer to 0.7 hive. Over the past two days it appears the price has made a higher low with respect to HIVE : SPS pair trade.
Over at pancakeswap it appears CAKE : SPS pair trade has been shrinking volume of SPS while prices has also followed. However the past couple of days the liquidity in the pool has stabilized.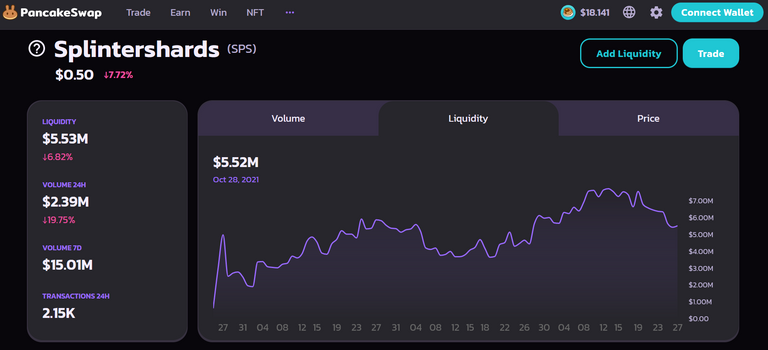 If SPS liquidity remains about the same we may have potential to reverse course of its price drop from here.
SPS Supply and Demand
With coinmarketcap listing 240 million SPS currently in circulation it would seems odd that SPS prices would drop when not many are in circulation. However within Splinterlands in game SPS page there is an accurate listing of current SPS in circulation.

Snapshot taken as of writing this post and it is clear more than half of all SPS tokens are staked. This comes down to about 150 million that can be traded in all open secondary markets. This would include pancakeswaps, hiveswaps, hive-engine, and other third party exchanges. All in all there is not much liquidity traded as current price of $0.50ish would equate to $75 million liquid market cap.
What maybe holding back SPS value is the understanding that by the end of its distribution there will be forever a total of 3 billion SPS ever created. That is a large sum and potential liquidity that can go on the open market. However SPS has multiple utilities for the foreseeable future in Splinterlands.
SPS Future Utilities
For those who have been following SPS would be aware that it is intended to be a governance token to Splinterlands. In simple terms the players who stake the most SPS in Splinterlands will have the highest voting power when voting for in game activities. For instance:

More info here: https://sps.splinterlands.com/in-game-governance
In addition currently there requires a specific amount of SPS staked in order to compete in tournaments.

For instance in order to partake in event tournament such as the wealth gambit, which has a total pot winning of over $86k, one needs at least 98,100 SPS staked as one of a few requirements to enter into event.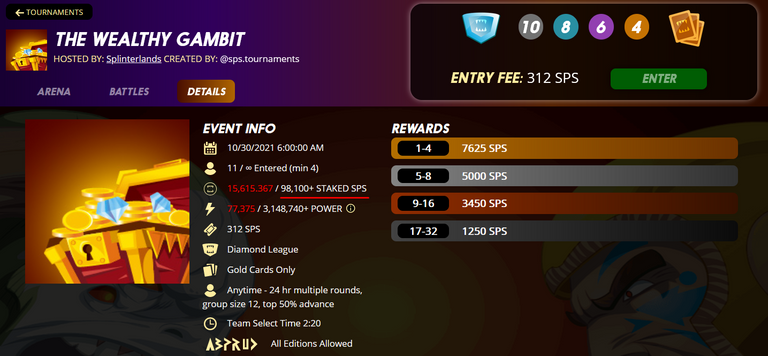 Conclusions
The price charts are showing some hint of a bottoming or at least temporary stabilization of price in SPS. This is bullish.
The supply side of SPS continues to grow daily but the actual amount of SPS available to trade appears to be dwindling. This may play out like a supply and demand issue. The supply continue to fall while more players playing Splinterlands would soon lead toward investing and buying what ever few left of SPS in open markets. This is also bullish.
There is a lot of utilities down the road for SPS. For now if one is investing in SPS they are investing for the potential SPS has in future of Splinterlands. SPS by design is focusing on being a governance token. While as the game continuously updates it brings in other uses of SPS. One such user case is staking SPS in order to participate in event tournaments. This is also bullish.
All signs lead to a bullish thesis for SPS. We shall see down the road how far SPS have come in a year or two from now.
Until next time thanks for reading!!!
If you are interested to learn more about Splinterlands please go through some of my other posts. Order is from newest to oldest posts:
All You Want To Know About Reward Chests
Helpful Links for New and Veteran Players
Splinterlands Good Cards To Own
Splinterlands Rentals from a Lender Perspective
I have plenty of other cards for rent! Just go on peakmonsters and check out the market place and if you are curious what I offer here is a link:
If You have yet to take part in playing this great game called Splinterlands please click on my referral link. It is free but in order to earn real assets such as cards and token you would have to invest in a starter deck or purchase game cards. Join the discord to learn more. Good luck!

THANKS FOR READING! CONTINUE TO PLAY SPLINTERLANDS!

---
---