Splinterlands - SPS Airdrop Over, Now What?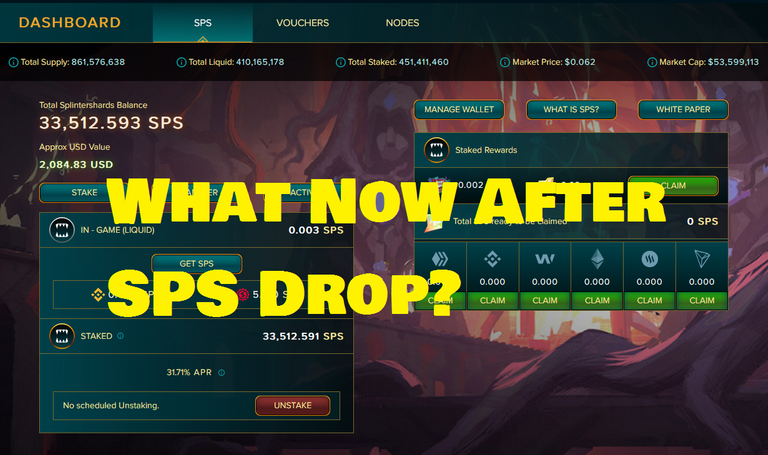 Gee how fast a year goes by. SPS air drop ended a few days ago but now I am having to rethink of my current Splinterlands holdings in order to optimize my returns.
The goal of this post is to list what I am seeing and my potential opportunities in shifting my Splinterlands assets in order to increase my yields.
DEC Stash
Over the course of several weeks I have amassed a little under 300k DEC. In the daily SPS air drop I was able to benefit earning more SPS due to me just holding the DEC. Yet now as DEC price has fallen off parity I am rethinking on what I can do with my DEC instead of just holding it in my account without yielding anything.
I can stake my DEC with another liquid asset to earn daily yields. Essentially I would be participating in providing liquidity in pools.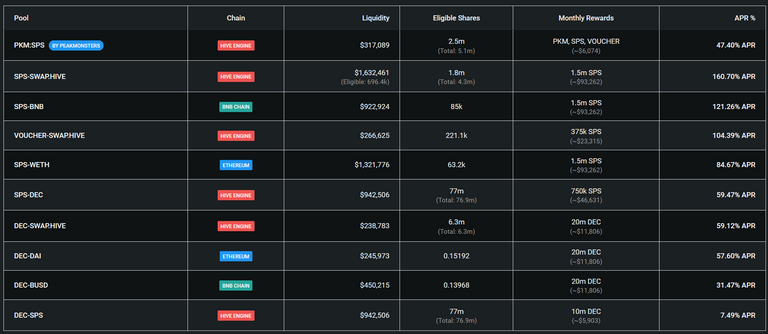 Currently through Peakmonsters I can check the latest yield to multiple associated Splinterlands assets. Whether its SPS to Vouchers the reward pools seems very lucrative. For instance the SPS:DEC pair is yielding close to 60%. Same goes for other coin pairs that appears to have some banking support.
Buying Spree?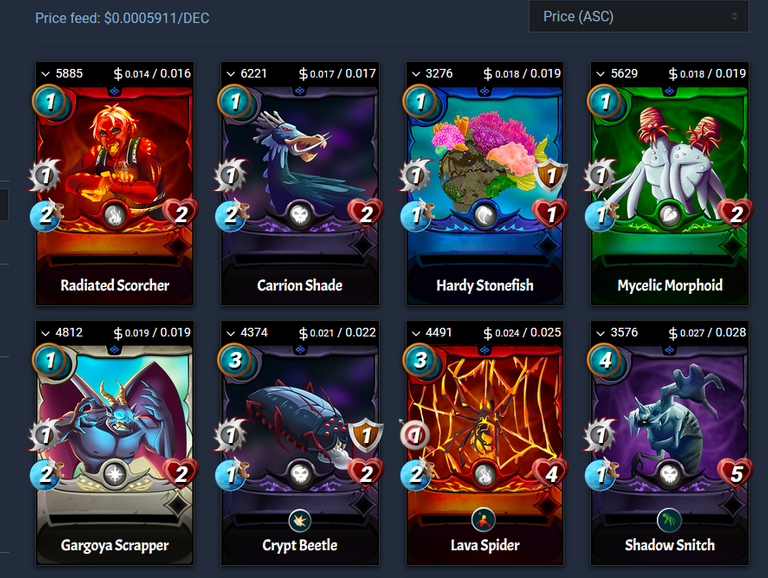 Another option is to spend my saved DEC and what ever DEC I earn on purchasing Chaos packs. At 4000 DEC each it is cheaper than paying $4 a pack. DEC price out of parity and that there are more DEC earned in battles I seems to lead toward needing versus wanting.
Exchange Splinterlands Assets For Other Coins/Tokens
The simplest option is to sell the Splinterland assets for something that peaks interest. Like for instance spending DEC to buy individual cards. Or to trade the DEC into Hive or other tokens. This option will diversify investment into Splinterlands a.
Conclusions
It is difficult to say what will be next for holding DEC and other Splinterlands assets. With DEC falling out of parity and the ever increasing supply of DEC daily there is just a lot of head winds facing Splinteralnds assets.
For now I will partake in providing liquidity with my collection of SPS and DEC. That way I have flexibility to remove my assets and spend it when I need it while also earning interest for having the holding points.
Until next time thanks for reading!!!
https://images.ecency.com/p/HNWT6DgoBc1692QWn5trsLBYecSp3jKD1kzdmSDR4FGzPSXomkgLtisN5TzrwHTsD1D4ocqDPHpFztKzeH4ibh1vQVU3d3dSaB6VYJ1U3RdsSDi5spmdafX25ph.webp?format=webp&mode=fit
If you want to play splinterlands then SignUp Here
I have plenty of other cards for rent! Just go on peakmonsters and check out the market place and if you are curious what I offer here is a link:
If You have yet to take part in playing this great game called Splinterlands please click on my referral link. It is free but in order to earn real assets such as cards and token you would have to invest in a starter deck or purchase game cards. Join the discord to learn more. Good luck!

THANKS FOR READING! CONTINUE TO PLAY SPLINTERLANDS!

---
---