Splinterlands - Status of the Rental Market?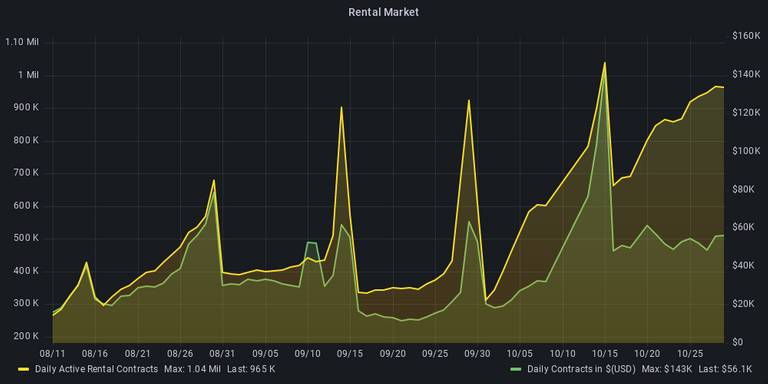 With less than two days left until season ends I wanted to reset some of my rentals to see if I can capture significant DEC earnings through lending cards at end of season. The past three end of seasons have drawn spikes in rental prices and with that I would assume this would remain the same for upcoming season.
Rentals By The Numbers
Active Rentals: 965,925 / $56,648 daily amount
Per current Splinterlands numbers nearly 1 million cards being rented daily at an amount close to $57k in DEC.
Personal Rental Numbers
Since I have plenty of duplicates and I lack the skills to push higher in ranks I have mostly rented out cards. In fact I currently have about 85% of all my cards set to be able to rent out.


Total of my rentals


Total overall of my collection
With that said I am currently earning slightly under 6,000 DEC with all the cards I have rented out. My max is set at around 6,400 DEC so more than 90% of all my cards have been rented. Again with less than two days to remain I hope I will reach max 100% by tomorrow.
Another added info of interest is that my largest sum of cards is in the rewards section with over 650k DEC burn rate and close to 560k DEC burn rate of cards are being rented out. This is most of where my rental income is originated from at close to 3,200 DEC.
The most bank for rental income has to be the alphas cards as I am renting close to 120k DEC burn rate for close to 1,700 DEC. That is over half of what I get renting out rewards but only 1/5 of the DEC burn rate of cards. This is partly the reason why alpha cards are so expensive in the markets.
Conclusions
While my rental income will rise near the end of the season it will not be as high as the past few seasons. This may partly be due to the increase in new reward cards being distributed hence players drop some demand for rental cards. Still I have the potential of earning more as the seasonality of rental prices shifts upward.
Looking forward to end of season rental earnings at the same time season ending reward chests. I am currently in silver I and hoping to end the season at gold III which provides 22 chests.
Until next time thanks for reading!!!
If you are interested to learn more about Splinterlands please go through some of my other posts. Order is from newest to oldest posts:
All You Want To Know About Reward Chests
Helpful Links for New and Veteran Players
Splinterlands Good Cards To Own
Splinterlands Rentals from a Lender Perspective
I have plenty of other cards for rent! Just go on peakmonsters and check out the market place and if you are curious what I offer here is a link:
If You have yet to take part in playing this great game called Splinterlands please click on my referral link. It is free but in order to earn real assets such as cards and token you would have to invest in a starter deck or purchase game cards. Join the discord to learn more. Good luck!

THANKS FOR READING! CONTINUE TO PLAY SPLINTERLANDS!

---
---