Splinterlands - Tools to Help Find Card Deals on Open Markets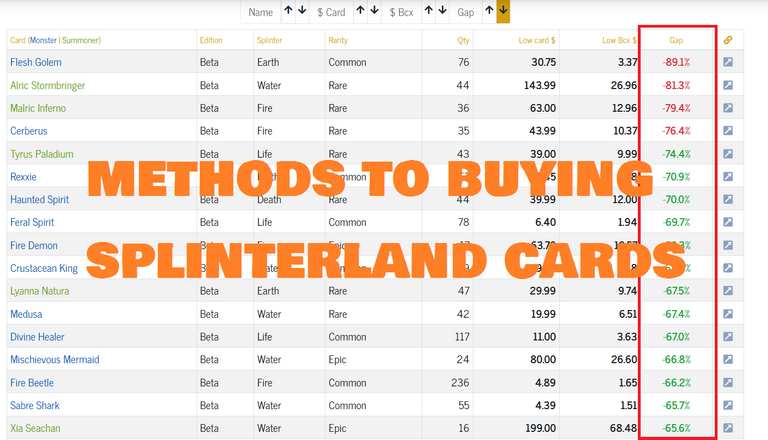 My normal 8 to 5 job takes up a lot of my time from being able to watch for card deals that can come up during the day. In addition even after work I have family responsibilities therefore do not have the time to sit through the markets at my own convenience. Yet I have found ways for even gamers like me who lack the time to devout to buying cards but still be able to get cards without buyer remorse. Here are some of the ways I approach to purchasing cards with spending less time waiting for the perfect deals.
Peakmonster's Bot Bidding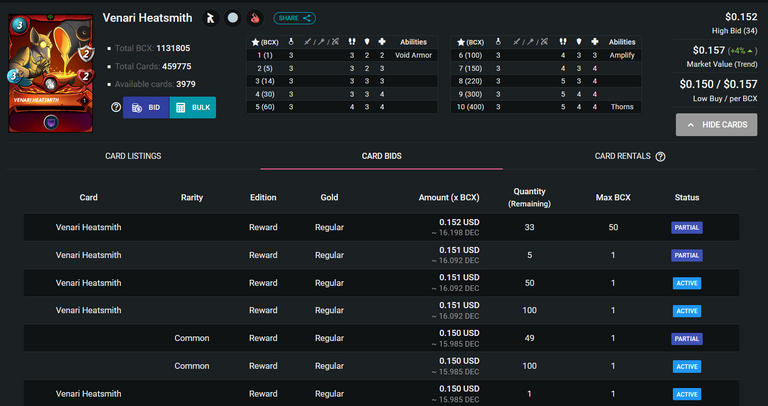 By far the most used tool I have right now in helping me snag cards are lowest prices is Peakmonster's Bidding. I won't go in too deep but state that within the site players can look up at any card and place a specific amount of DEC bidding for a card. There are two card parameters to set beside the bid price and they are how many cards and highest level card willing to purchase. With those set Peakmonster will automatically be waiting for when a card hits the price or lower than your bid and automatically help you make the purchase.


Snapshot example above is about a week ago I set a bid price for a legendary Djinn Oshannus and it was successfully purchased without me having to be sitting in front of the computer when the sale took place. Essentially at the time I set a bid for 1 bcx at $47. Then I went doing something else meanwhile Peakmonster's bot was essentially looking through the markets and awaiting for when a Djinn Oshannus was sale at or below $47. When it happened, a seller offering the card at $46.9, and since I had the highest bid at the time, the purchase of the card was made. Peakmonsters deducted the DEC from my account and automatically purchased the Djinn Oshannus for me.
Key elements to remember is in order to have the best chance of making a card purchase in the bids is to have the highest bid on the list. In order to be at the front of the line for Peakmonster's bot to help make the purchase I have to be making the largest bid at the time of the sale. On the flip side if the seller was selling their card way below my bid price it will still automatically execute and if I am at the front of the bid the bot will make the purchase for me at the price of the seller. In that case I actually saved more than what I was willing to pay for it. You now know why sometimes when your in the market and you try purchasing a card at the lowest price and simply have a fail transaction. It is because there are bots like Peakmonsters looking at all the current cards on the market and once it sees price below its bidder it automatically purchases the card. Leaving manual buyers sometimes an empty purchase.
Discord's Cards Sales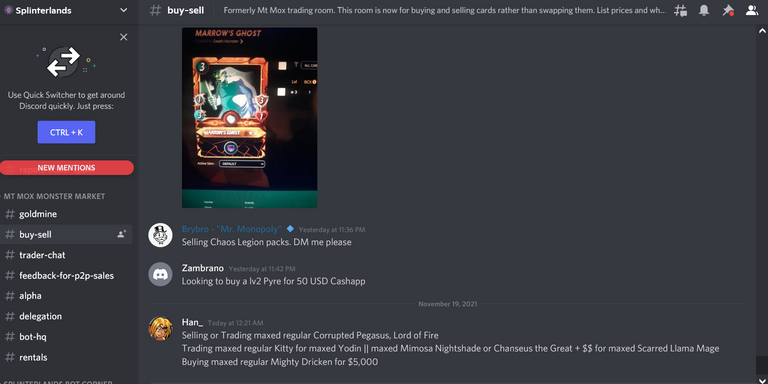 The official Splinterland's Discord Channel Here Link. Has several rooms where players discuss sales and buys between each other. From gold foil cards, alpha cards, and even token assets anything related to Splinterlands can bee offered in those rooms and seen by all participants. Often bulk sales or account sales happen through the use of the discord channel. A drawback doing these kinds of transactions there are no medium parties involved. Buyers and sellers would need to find a middle man on their own if needed.
I have in the past done a few of these bulk purchases through discord and use a Maverick as my middle man. I have not encounter any issues as of yet and highly recommend going there if the intent is to look for bulk purchases.
Splintercard's Low Card and Low BCX Price Gap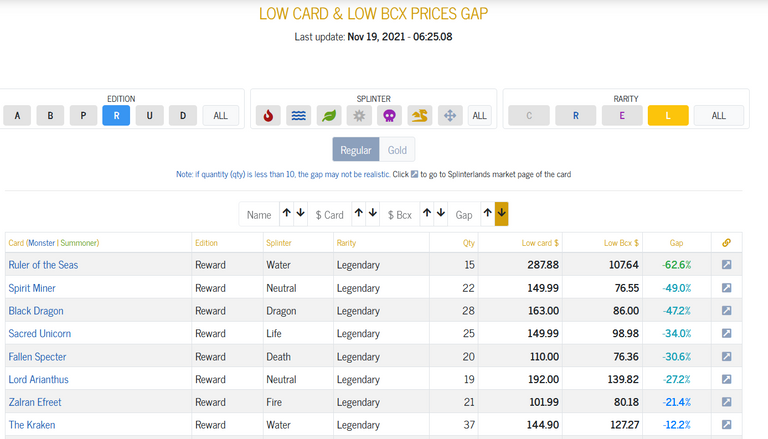 https://splintercards.com/tool-card-bcx.html?ed=1
Recently I learned to go through Splintercard's filter to finding best price gaps between the least expensive 1 bcx to the least expensive card per bcx. This is good for buying higher level cards and comparing it to current market prices as to how less I am paying per a bcx if buying high level cards.
Snap shot above for instance shows currently in Rewards legendaries the Ruler of The Sea has the widest margin between the lowest 1 bcx card and the cheapest price per bcx by over 60%.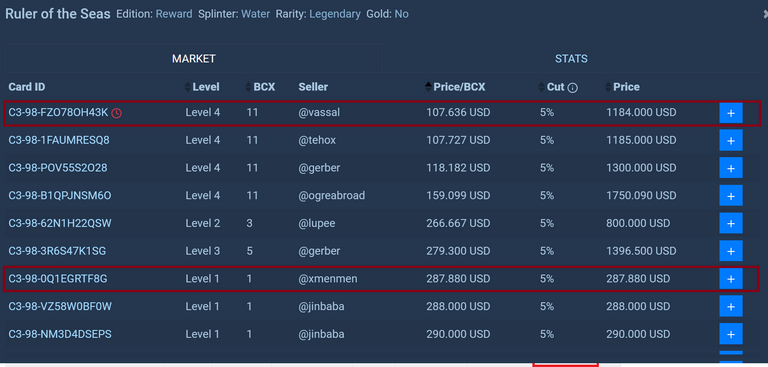 If I go into the market and see the current Ruler of The Sea at market I can confirm that a 11bcx card has each bcx priced at $107.636 while the lowest 1 bcx priced at $287. If I had a total of $1,184 to spend I would definitely purchase the 11bcx card because it is over 60% cheaper per bcx then the current actual 1 bcx price in the market.
Although it is worth noting few cards offer for specific monster may mean the margin difference between 1 bcx and cheapest per bcx might be really wide but does not mean its still a cheap card to purchase. I use it to help guide me on which cards are consider in high demand at low levels and which ones at higher levels. Splintercards allows searching through the market much quicker with its filter tool than going directly in the market and manually looking for price differences.
Conclusions
In summary using Peakmonster's bid bot, any free time I can get to be on Splinterland's official discord channel, and use of Splintercard's card filters, I am able to quickly and effectively look a current market prices. It is very effective for me since I can not sit around all day waiting for a deal to pop up. I rely on these tools to help me get cards that I want and at the price I can afford. Hopefully you guys find this helpful and can do something similar if you too have multiple things to do besides just shopping around for Splinterlands cards ;)
Until next time thanks for reading!!!
If you are interested to learn more about Splinterlands please go through some of my other posts. Order is from newest to oldest posts:
Splinterlands - Securing Your Cards From Hackers
All You Want To Know About Reward Chests
Helpful Links for New and Veteran Players
I have plenty of other cards for rent! Just go on peakmonsters and check out the market place and if you are curious what I offer here is a link:
If You have yet to take part in playing this great game called Splinterlands please click on my referral link. It is free but in order to earn real assets such as cards and token you would have to invest in a starter deck or purchase game cards. Join the discord to learn more. Good luck!

THANKS FOR READING! CONTINUE TO PLAY SPLINTERLANDS!

---
---