Splinterlands - Top Dapp? Getting Attention?


I have at random parts of time in my experience playing Splinterlands taken a snapshot of where the popularity of the game was. For example here about two years ago when Splinterlands was called Steemmonsters and it was most popular dapp on Steem blockchain. Ever since the fork Splinterlands has bee the most popular app on the Hive blockchain.
A slightly more recent snapshot of Splinterlands popularity, 5 months ago, link here shows Splinterlands in the top 10 compare to other dapps. It was not the most popular dapp game either.
As of yesterday when I checked again on the rankings since @aggroed twitted the news, Splinterlands has achieve the #1 dapp spot relative to all current active dapps on the famous dappradar.com:

As the game gets enough activity the next goal I see it can reach is getting its transactions activities higher. Such as trading NFTS with WAX. Currently on the cryptoslam.io platform Splinterlands is ranked at 104th in NFTs transaction.

It is worth noting that in game the total daily transaction of cards tracked by Splinterlands is closer to $150k!

With this number it is reasonable to say Splinterlands NFTs activities is more likely ranked around 40th overall on cryptoslam.io. With top dapp on cryptoslam.io Axie Infinity trading over $13 million in assets a day it should not be of a surprise if Splinterlands can reach that far down the road.
It maybe an ambitious prediction to see Splinterlands trading activity could reach this high but if it can be the most popular dapp based on dappradar I would not count out Splinterland's chances of getting higher in transactions down the road.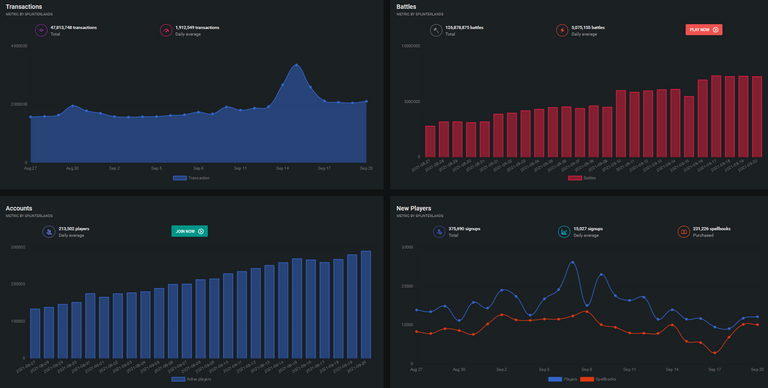 Data directly from peakmonsters has been showing steady use of the game after its recent parabolic move. This to me appears to be a consolidation phase and could potentially be another leg up in Splinterlands. I will check back a few months on this.
Until next time thanks for reading!!!
If you are interested to learn more about Splinterlands please go through some of my other posts. Order is from newest to oldest posts:
All You Want To Know About Reward Chests
Helpful Links for New and Veteran Players
Splinterlands Good Cards To Own
Splinterlands Rentals from a Lender Perspective
I have plenty of other cards for rent! Just go on peakmonsters and check out the market place and if you are curious what I offer here is a link:
If You have yet to take part in playing this great game called Splinterlands please click on my referral link. It is free but in order to earn real assets such as cards and token you would have to invest in a starter deck or purchase game cards. Join the discord to learn more. Good luck!

THANKS FOR READING! CONTINUE TO PLAY SPLINTERLANDS!

---
---