Splinterlands - Top Holders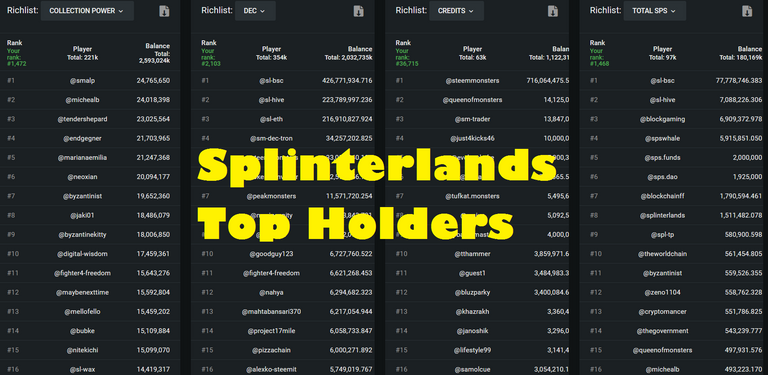 Recently about a couple weeks ago a new feature for searching top holders in Splinterlands assets was developed. Currently on peakmonsters.com you can search this through the "explorer" tab and then "top holder" button link.

A new page loads up with several Splinterlands assets to look up in a drop down menu. There are 25 assets to filter for ranking but some really good ones to look for are Collection Power, Staked SPS and Total SPS.

I also like how peakmonsters.com lists top 200 per each asset filter and lists my ranking relative to those top 200. For example my collection power relative to the top 200: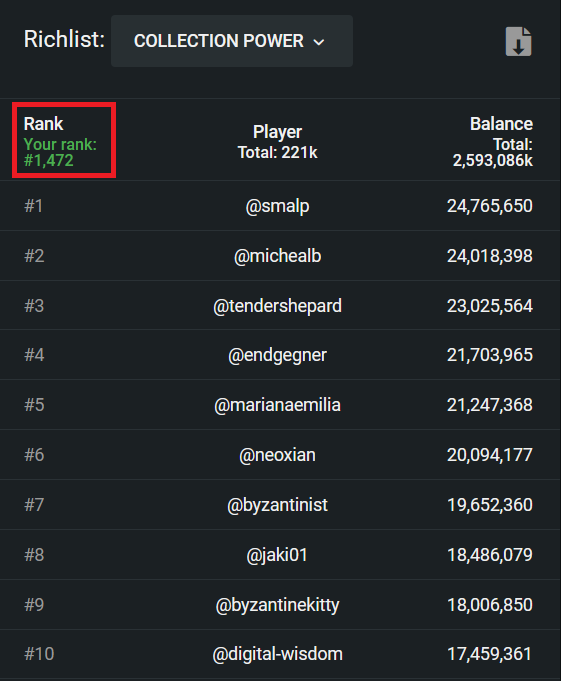 My rank is slightly above 1,500 and considering there are over 200,000 players this is consider better than decent.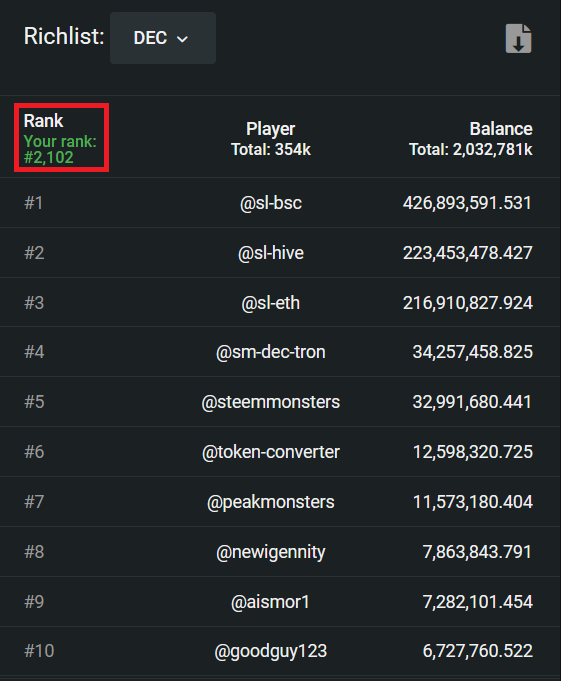 My DEC stacking over the past few weeks has help me rank nearly at the top 2,000 in DEC holdings.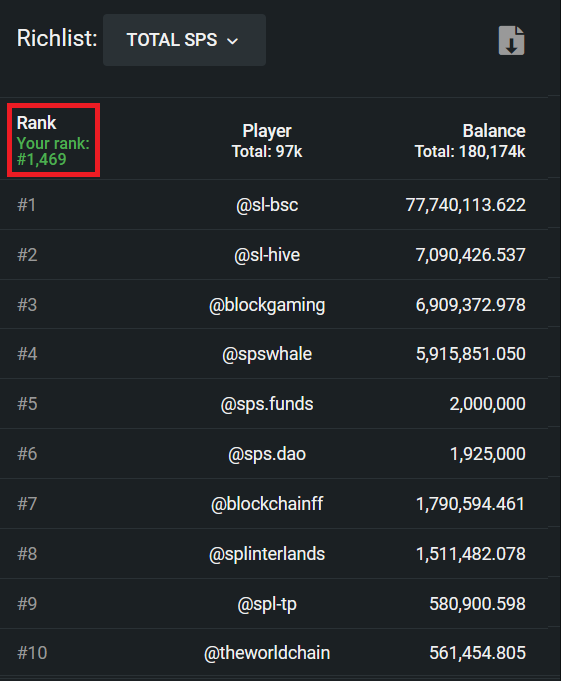 My total SPS is also above top 1,500 rank out of almost 100,000 players.
Conclusions
The top holders ranking is very helpful in measuring my progress and seeing how much top players are earning. Success comes when we see progress and with these rankings now visible it is a great tool to measure progress.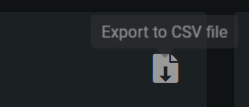 There is also a feature for players to export the rankings into .CSV files to be incorporated into spreadsheets. That means players can actually create graphs/charts and analyze the data if they choose to do so.
So if you have not checked out your rankings you can do so now on peakmonsters.
Until next time thanks for reading!!!
If you are interested to learn more about Splinterlands please go through some of my other posts. Order is from newest to oldest posts:
All You Want To Know About Reward Chests
Helpful Links for New and Veteran Players
Splinterlands Good Cards To Own
Splinterlands Rentals from a Lender Perspective
I have plenty of other cards for rent! Just go on peakmonsters and check out the market place and if you are curious what I offer here is a link:
If You have yet to take part in playing this great game called Splinterlands please click on my referral link. It is free but in order to earn real assets such as cards and token you would have to invest in a starter deck or purchase game cards. Join the discord to learn more. Good luck!

THANKS FOR READING! CONTINUE TO PLAY SPLINTERLANDS!

---
---