Splinterlands - Wave Runner (Weekly Battle Post)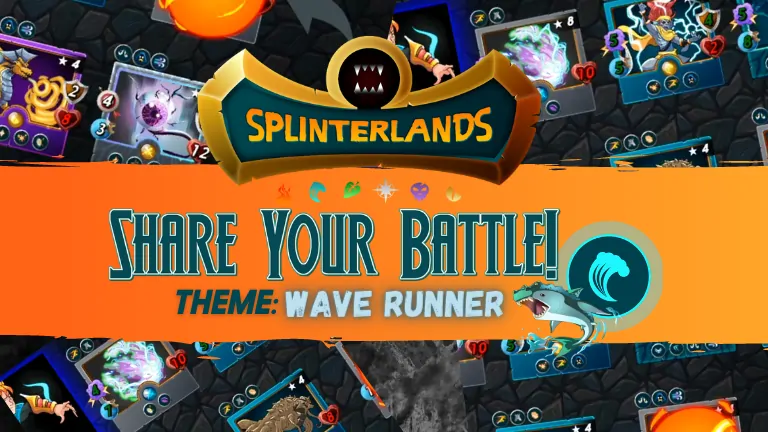 One of the unsung abilities that is use often is the reach ability. It allows monsters that are place right behind the leading monster to be able to attack on the first turn. Wave Runner is one card that has the reach ability by default at level 1. Today I will show a battle I use the monster and how it turned out.
Battle Formations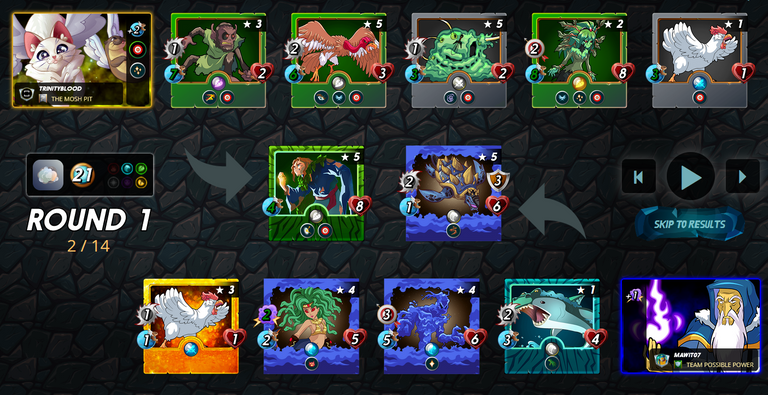 My formation starts off with Spineback Turtle and then followed up with Wave Runner, Water Elemental, Medusa, and end with Furious Chicken. I accidentally put Water Elemental ahead of Medusa when they should have been the other way around. Range attack will not work at the front position so if my Water Elemental becomes lead it will no longer be able to attack. It should have been at the end of my formation.
My opponent starts off with Failed Summoner followed up with Brownie, Screeching Vulture, Creeping Ooze, Spirit of the Forest and end with Furious Chicken. The standout here is my opponent's summoner which is none other than legendary Byzantine Kitty.
For rule sets the the battle had fog of war so sneak ability was out and the mana was a low 21. The low mana would limit us to how many strong monsters we could put in our formations. I was surprise my opponent went with a high mana summoner which took away a lot of choices of monsters to use. However the summoner's stats are high and very supportive to what ever my opponent would put out.
Round 1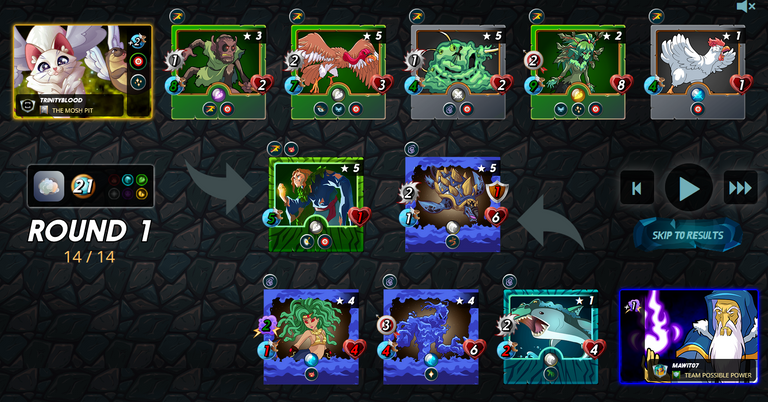 At the end of the first round my monsters were reduced in speed and on top my opponent's had swiftness. However my Spineback Turtle was good enough to hold off my opponent. Still my Furious Chicken is removed from battle.
Round 2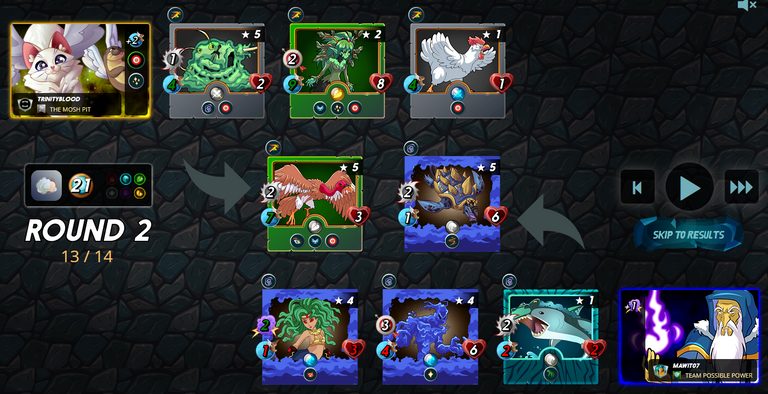 In round 2 I pulled an equalizer by knocking out Brownie and and Failed Summoner. This lead to removal of swiftness from Brownie, but my opponent still had speed due to Kitty. The key now is to knock out Spirit of the Forest as its the strongest monster in my opponent's formation.
Also worth to mention in the first two rounds it was my Water Elemental and Medusa who did the most damage and kills rather than my first two monsters. Likely this is because they had range and magic attack that is very effective against my opponent.
Round 3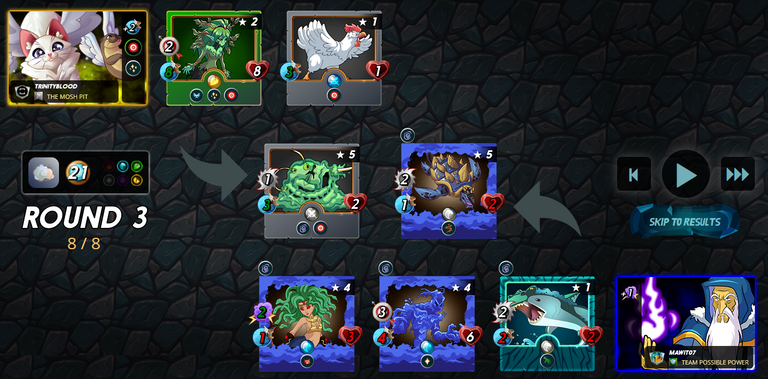 Screeching Vulture is removed in round 3 and now I had the upper hand with a four to three monster advantage. What was not so good is that both my Turtle and Wave Runner was low on health and likely would lose in the next round.
Round 4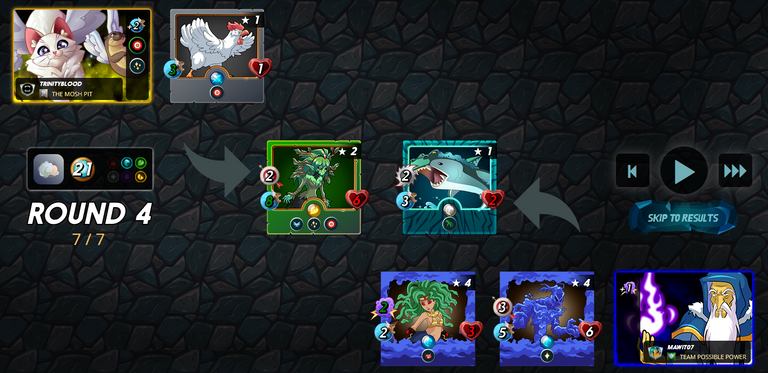 We exchanged range attack blows and my opponent loses Ooze while I lose Turtle. What is good from here is the Spirit of the Forest can not attack as its now at the front position with range attack. This basically is the end of my opponent's formation and battle since they have no chance to attack back. Not even Furious Chicken has any attacks.
Round 5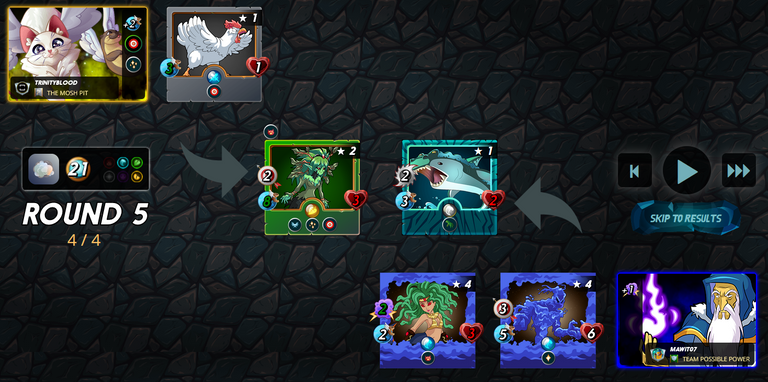 I could not finish off Forest in the fifth round but reduced its health to 3. It will take another round for the final knockout.
Round 6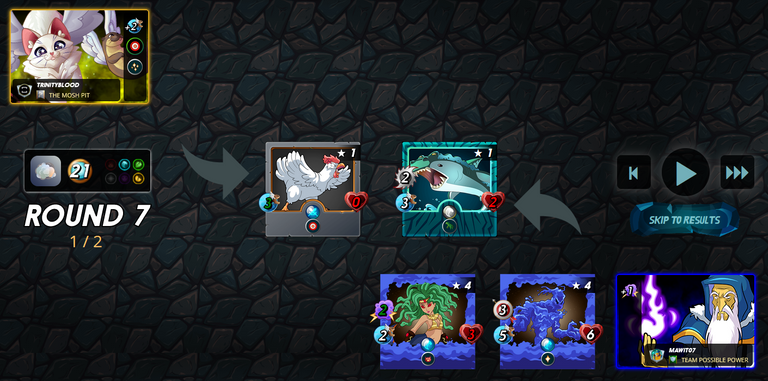 At the end of round 6 it was only the Furious Chicken left. In no time my Wave Runner knocked out Furious Chicken in round 7 and the match was over.
Conclusion
As expected Wave Runner was able to be a assist in attacking my opponent. The monster may not have been strong enough at level 1 to make kills but it was enough to help reduce my opponent's monster health. What took my by surprise is that due to Wave Runners slower speed of two it was often missing attacks which did not help. This taught me a good lesson in that lower speed will potentially increase the chances of a miss attack. My Medusa with magic attack was still able to land more attacks than my Wave Runner even with a slower speed. Another point to make is the magic attack is superior to that of melee in that it attacks quicker and can be used in any position in the formation.
The real hero in my formation I would have to say is my Water Elemental. The quick 3 range attack was enough to contain my opponent and its heal allow it to stay alive much longer than it could. In fact it stayed intact through out the battle with a health of 6 from start of battle and stayed at 6 at end of battle.
Although Wave Runner did not stand out in this battle it did perform well enough to get my team a victory. Had I leveled up my Wave Runner it may have factor into the match much better. All my monsters were level 4 and above except Wave Runner was a meager level 1. I will look into leveling up the monster soon.
If you are interested in watching the battle Link Here.
Until next time thanks for reading!!!
If you are interested to learn more about Splinterlands please go through some of my other posts. Order is from newest to oldest posts:
All You Want To Know About Reward Chests
Helpful Links for New and Veteran Players
Splinterlands Good Cards To Own
Splinterlands Rentals from a Lender Perspective
I have plenty of other cards for rent! Just go on peakmonsters and check out the market place and if you are curious what I offer here is a link:
If You have yet to take part in playing this great game called Splinterlands please click on my referral link. It is free but in order to earn real assets such as cards and token you would have to invest in a starter deck or purchase game cards. Join the discord to learn more. Good luck!

THANKS FOR READING! CONTINUE TO PLAY SPLINTERLANDS!

---
---