Splinterlands - Crypto Game with Fast Transactions and Zero Transaction FEEs!!!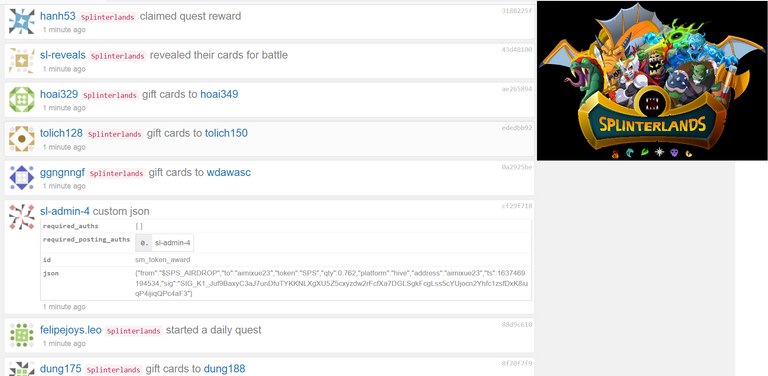 How are Splinterlands' Transaction Costs Zero?
The near explosion in popularity of Splinterlands over the past few months have continue quite steadily. We can confirm by looking at the daily transactions through a chart from Peakmonsters.com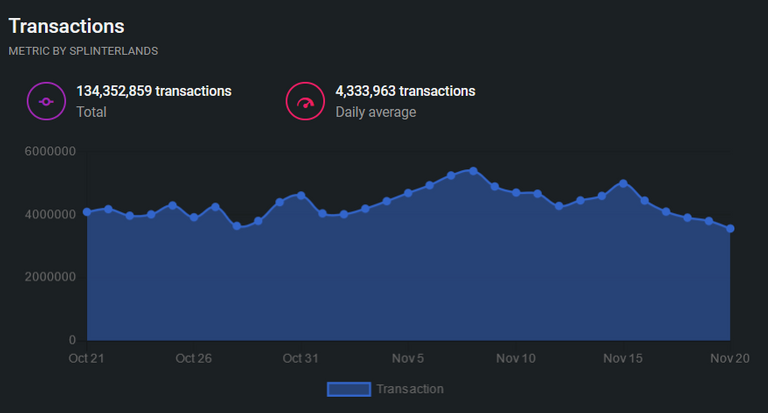 For any Hive users who is still on the fence with crypto gaming or crypto investors still undecided whether to invest in Splinterlands there is something that is being overlooked when it comes to how the game operates. Splinterlands transactions have NO FEES!!!
Let me be clear here. For those who are playing and say buying / selling cards in market results in a 5% fee charged to seller this is only implemented by the Splinterlands developers. Beyond the cards selling in markets there is no other fees with the game itself. Whether it is trading cards, tokens, or executing battles and entering tournaments nothing in the game has a fee associated to it.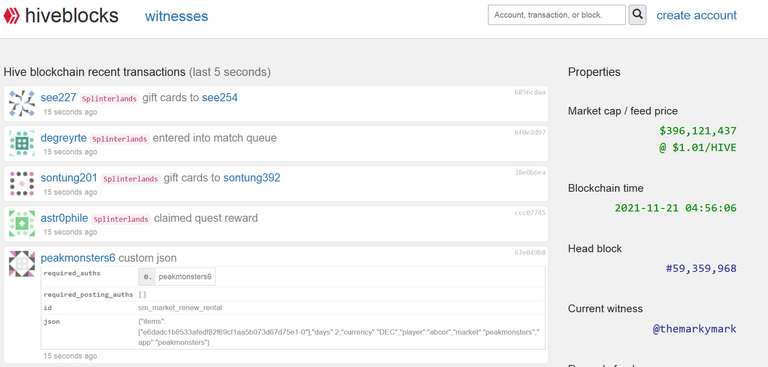 On www.hiveblocks.com you can instantly see the latest hive blockchain transactions. Majority of the daily transactions are related to splinterlands. The hive blockchain by the way it operates does not incur fees when performing a transaction. Instead it uses something call resource credits (RC) to perform its activities. This would include transactions within the game Splinterlands.
Peakd.com made a post defining resource credits (RC)
As a Splinterlands player it is important to make sure your hive account has enough RC in order to perform many transactions. Recommendation is to keep 15 hive power in your account in order to have Splinterlands transactions run smoothly. Without enough hive power there will not be enough RC to perform transactions.

Players without enough hive power will likely encounter messages like the one above when performing transactions in Splinterlands. Transactions can be setting up for battles, trading card, trading in game tokens, and so on.
Zero Transaction Fees Will Result in Mass Adoption
One of the difficulties with crypto gaming comes in the form of cost per transactions. Many current most popular crypto games operate on multiple blockchains. But why? Many of these games operate in blockchains such as ETH or BSC and so forth requires some form of fees in transactions. Therefore games built on or around these blockchains tend to have side chains incorporated to reduce or eliminate transactions fees. Why make gaming so complicated for players with the need to learn multiple blockchains just so to play a game.
In Splinterlands all there is for operations goes through hive blockchain. Developers of the game has extended its reach to multiple blockchains merely to have other crypto platforms have access to Splinterlands. All transactions of game play remain on the hive blockchain. (It is worth noting prior to Hive there was Steem blockchain where the game Splinterlands originally started. However after Hive forked from Steem in a matter of a few months the game also transferred over to be directly on the hive blockchain.)
Transactions Speeds and Scaling
In addition that many crypto games currently at the top of the most actively played having multiple blockchains to work with there are other hurdles besides transaction fees. They are transaction speeds limitations and how many transactions per a day limitations.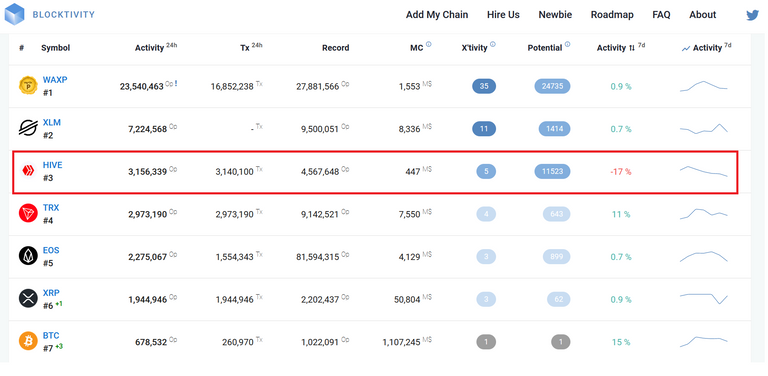 Currently from https://blocktivity.info/ shows Hive blockchain runs at #3 overall in activities. Not bad considering it is a transaction free and fast blockchain. It even beats out its predecessor EOS, the same creator of Steem, which Hive was forked from. The conclusion here is having Splinterlands running on Hive proves the game not only can run smoothly it can also perform many transactions per a day.
Conclusions
I know I did not get into the technical sides to Hive blockchain nor how all the things work within Splinterlands in relation to Hive. However I have listed here elements that many maybe overlooking when playing or planning to play Splinterlands.
The facts are Splinterlands has on average over 4.3 million transactions per a day. It is a fee less game in performing the transactions. It is fast as it ranks #3 as the most active daily blockchain that is current operating. What more can I say. If you are still wondering if Splinterlands is good to try wait no more. I have my referral link down below.
Until next time thanks for reading!!!
If you are interested to learn more about Splinterlands please go through some of my other posts. Order is from newest to oldest posts:
Splinterlands - Securing Your Cards From Hackers
All You Want To Know About Reward Chests
Helpful Links for New and Veteran Players
I have plenty of other cards for rent! Just go on peakmonsters and check out the market place and if you are curious what I offer here is a link:
If You have yet to take part in playing this great game called Splinterlands please click on my referral link. It is free but in order to earn real assets such as cards and token you would have to invest in a starter deck or purchase game cards. Join the discord to learn more. Good luck!

THANKS FOR READING! CONTINUE TO PLAY SPLINTERLANDS!

---
---