Así despedí el año #2022 y comencé mi #2023 ✨ // This is how I said goodbye to the year #2022 and started my #2023 ✨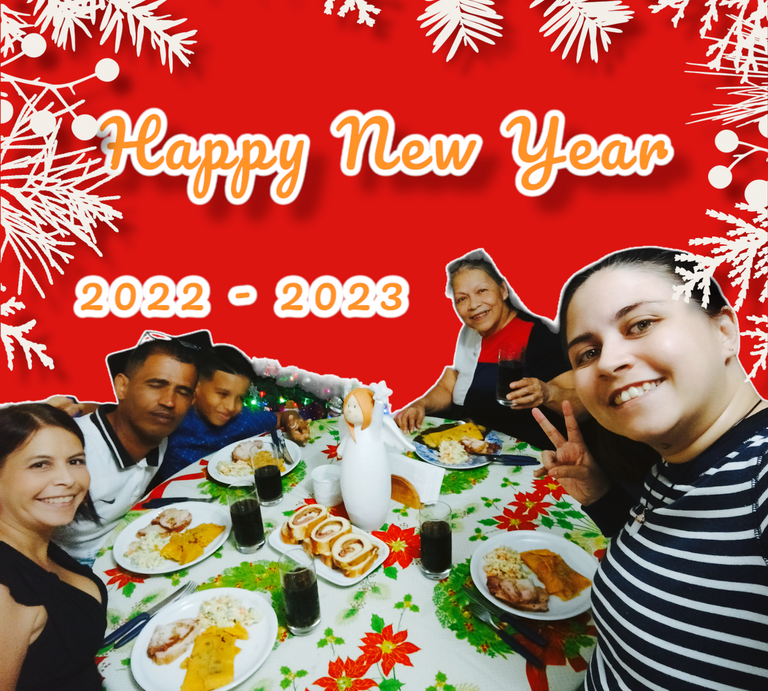 Imagen editada en la app PhotoRoom

Hola mis amores, muy buenas tardes para todos, por aquí les vengo a contar como fue la despedida de año 2022 jejejeje ya que ayer fue un día de descanso absoluto.
El 31 de Diciembre fue un día donde no quise trabajar en lo que hago ya que me quise dar el día como descanso, ese día ayude en casa para todos los preparativos, lo que tiene que ver con la comida y los arreglos de la casa.
Mi mamá desde el día anterior habia aderezado el pernil y el sábado en horas de la mañana lo puso a cocinar en el horno, le preparó sus respectivas salsas ya en la noche solo quedaba picarlo para cuando fuesemos a comer.

Hello my loves, very good afternoon to all, here I come to tell you how was the farewell of the year 2022 hehehehehehe since yesterday was a day of absolute rest.
December 31 was a day where I did not want to work on what I do because I wanted to give myself the day as a rest, that day I helped at home for all the preparations, what has to do with the food and the arrangements of the house.
My mom had prepared the pork leg the day before and on Saturday morning she put it in the oven to cook, she prepared the respective sauces and at night it was only left to chop it for when we were going to eat.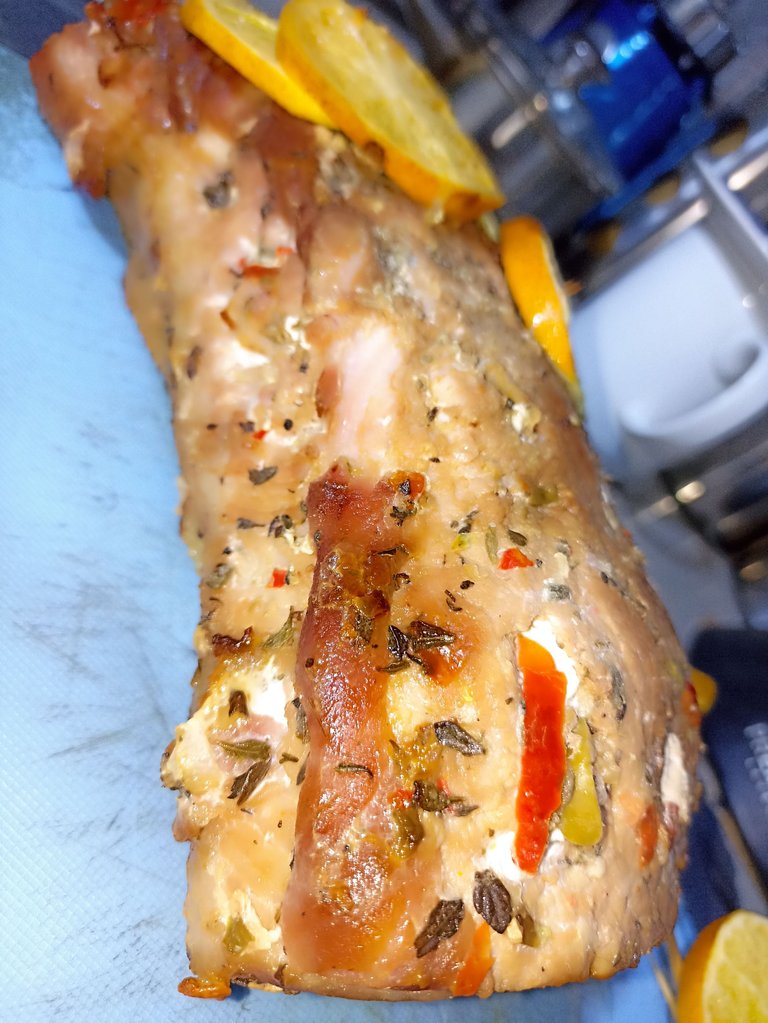 Yo me vesti con los estrenos como a las 8pm y me comencé a tomar fotos en el árbol de navidad junto con mi familia.
I got dressed with the premieres at about 8pm and I started taking pictures on the Christmas tree with my family.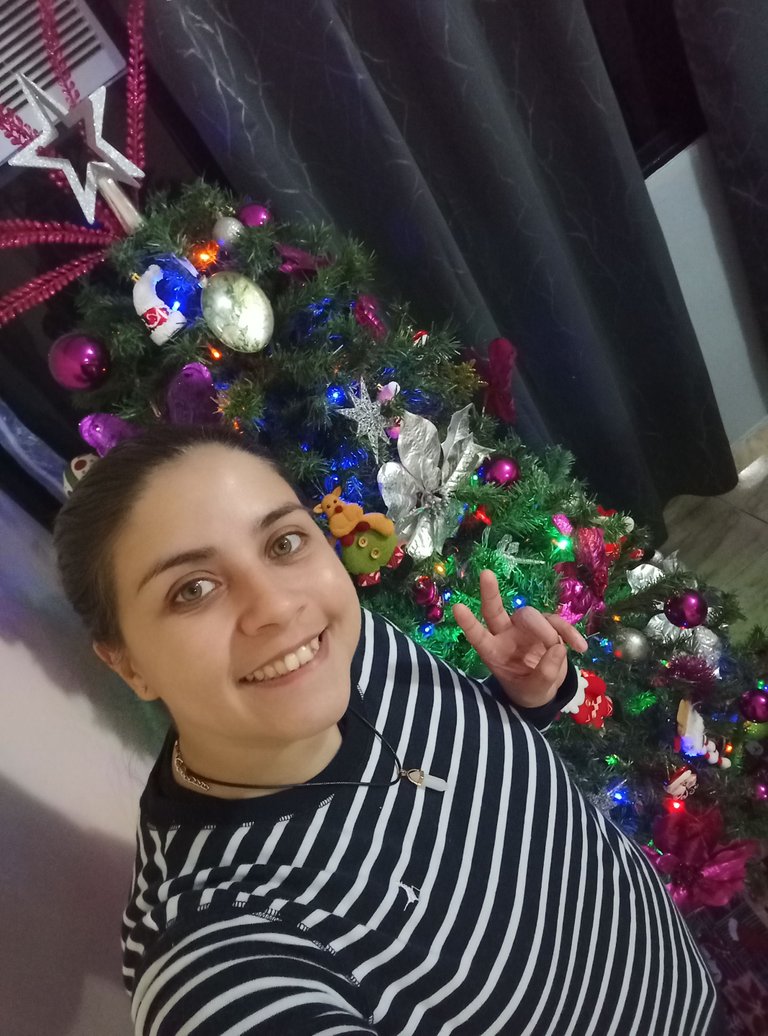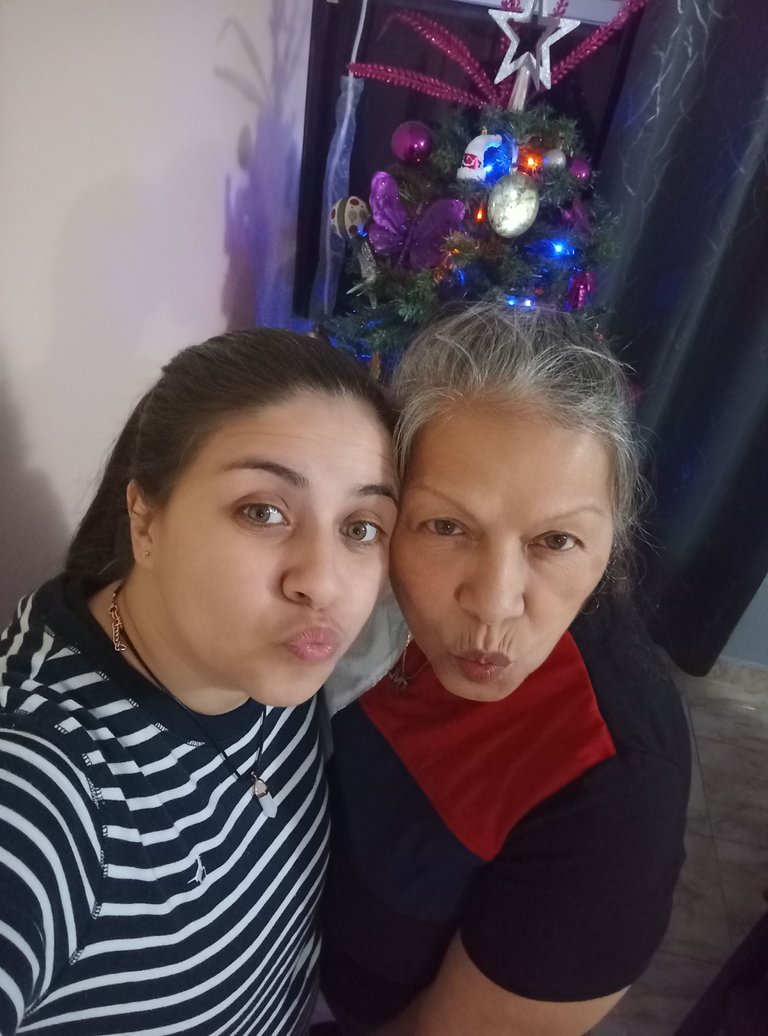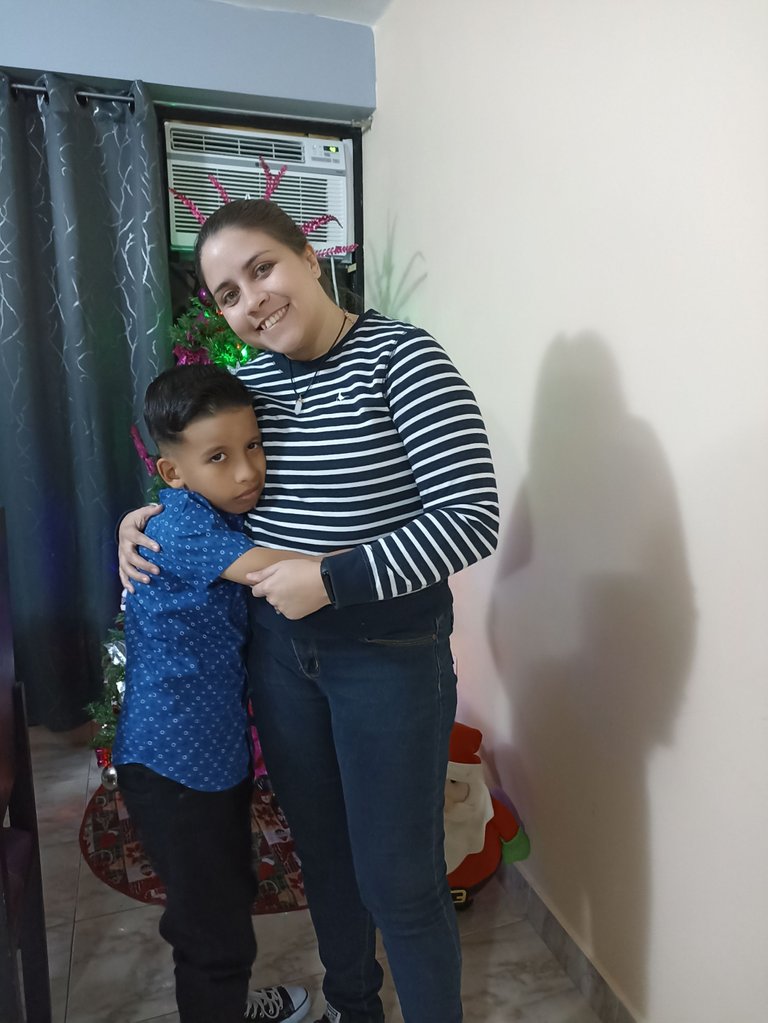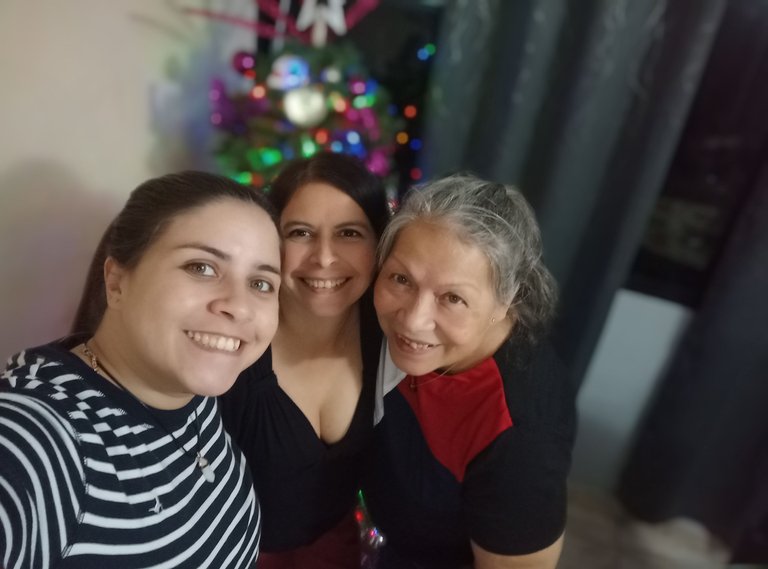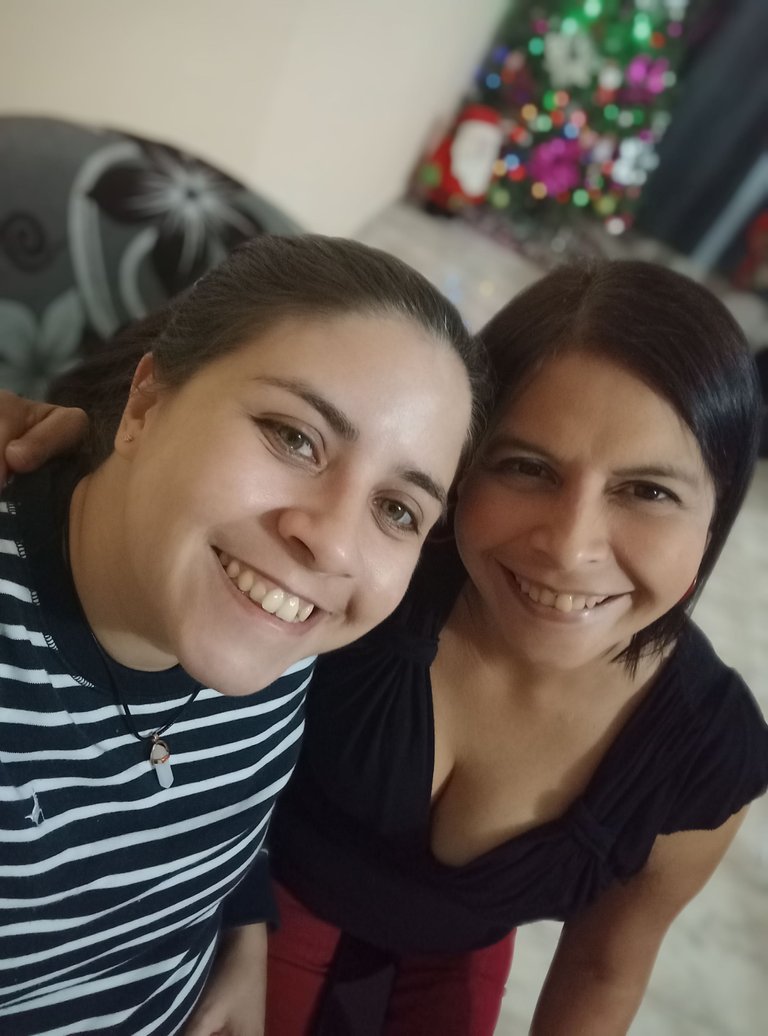 Cenamos a eso de las 8:30pm y el platillo era:
Hallaca
Pernil
Ensalada de Pollo
Pan de Jamón
Refresco Coca-Cola
We had dinner at about 8:30pm and the dish was:
Hallaca
Pernil
Chicken Salad
Ham Bread
Coca-Cola soft drink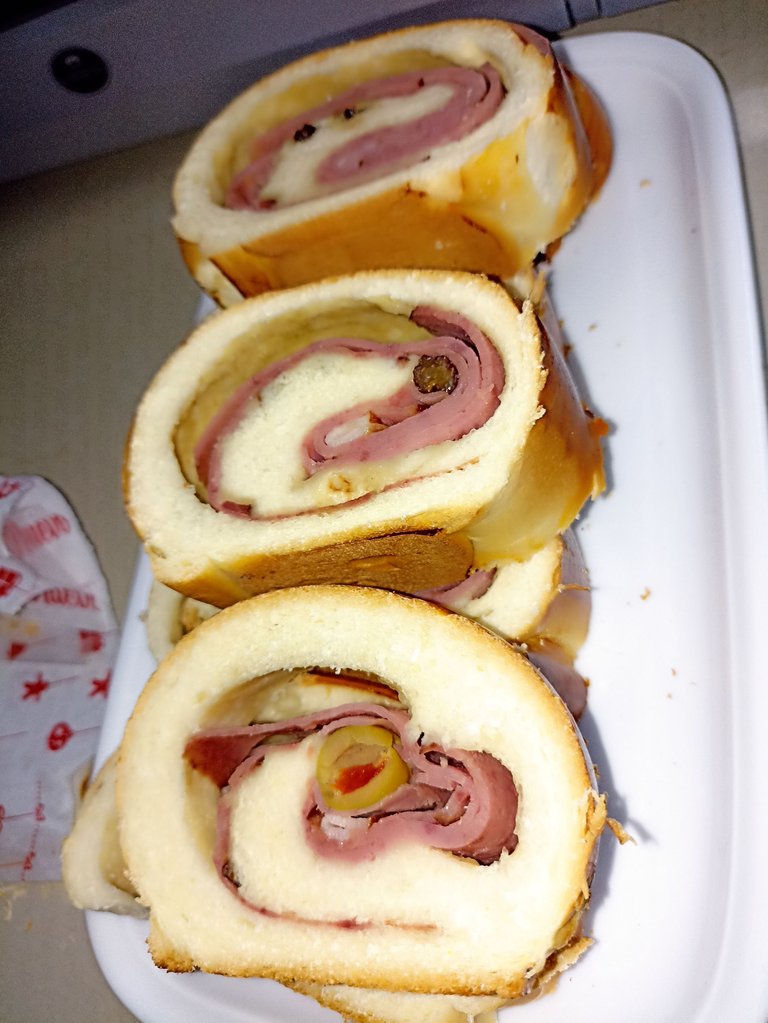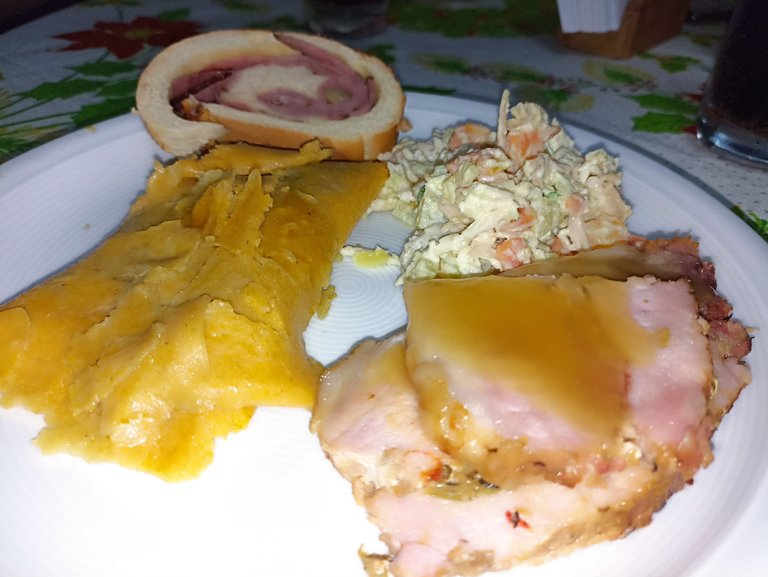 Hicimos un brindis por la comida que teníamos en nuestra mesa y por encontrarnos juntos en dicha noche.
We made a toast to the food on our table and to being together on this night.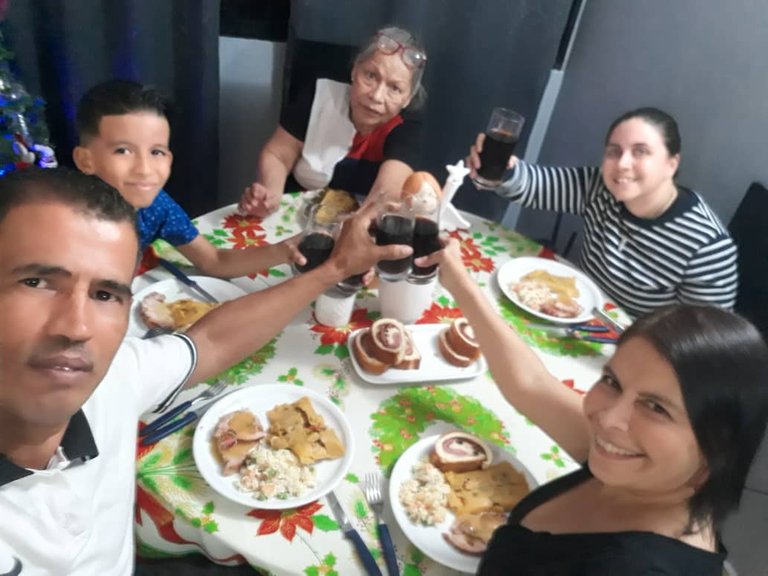 Al rato comenzamos a beber jejejeje el trago de la noche era whisky en las rocas, es decir, Whisky con hielo 🥃🧊.
After a while we started drinking hehehehehehe the drink of the night was whiskey on the rocks, that is, whiskey on the rocks 🥃🧊.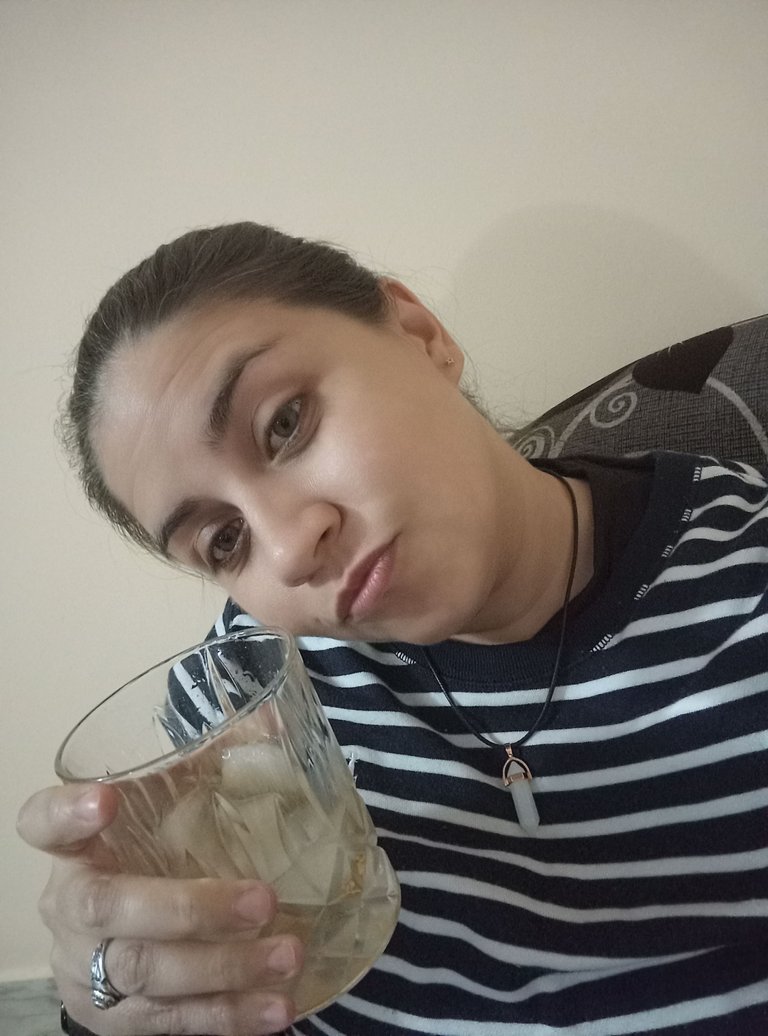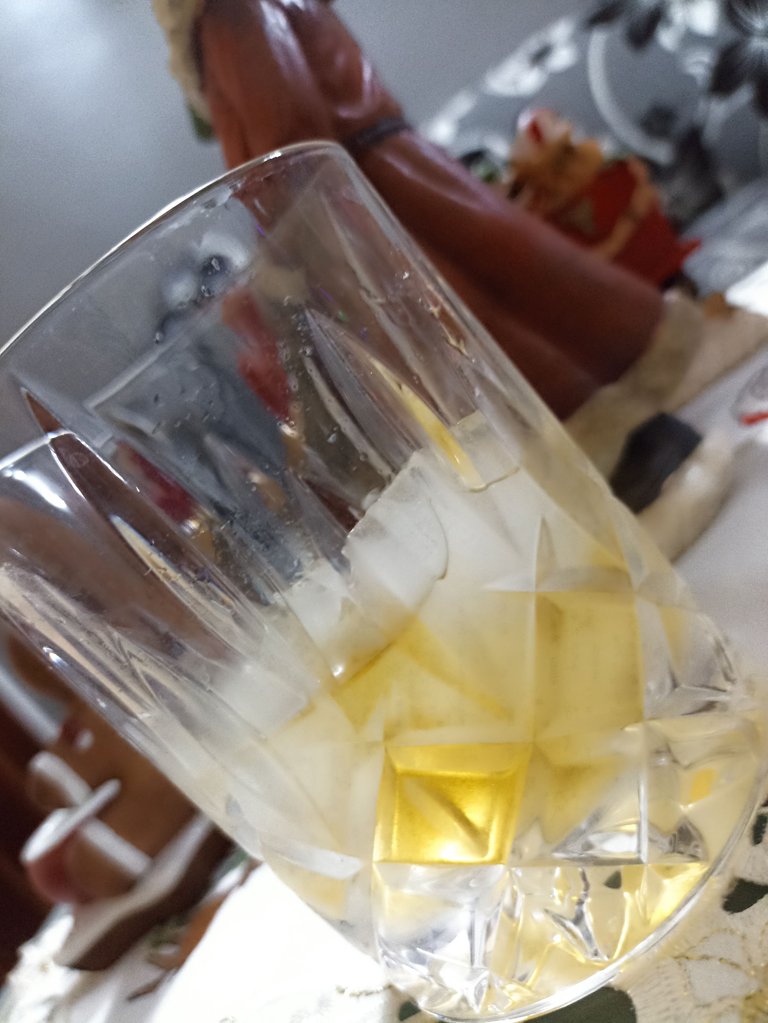 Cuando ya eran las 11pm mi hermana @elaynevil nos hizo una videollamada ya que ella se encuentra en Argentina y ya habían revisado el año nuevo, hablamos por muchas horas, tanto así que recibimos el año nuevo con ellas en la videollamada 😍😍😍 y así acortamos la distancia.
When it was already 11pm my sister @elaynevil made us a video call since she is in Argentina and they had already reviewed the new year, we talked for many hours, so much so that we received the new year with them in the video call 😍😍😍😍 and so we shortened the distance.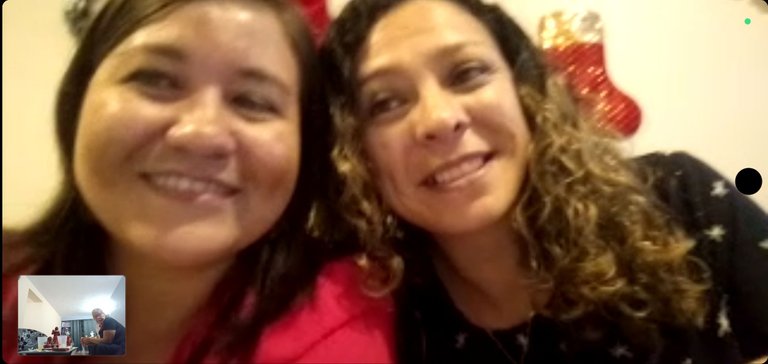 Brindamos por el año nuevo y seguimos en esa videollamada con mi hermana.
We toasted to the new year and continued on that video call with my sister.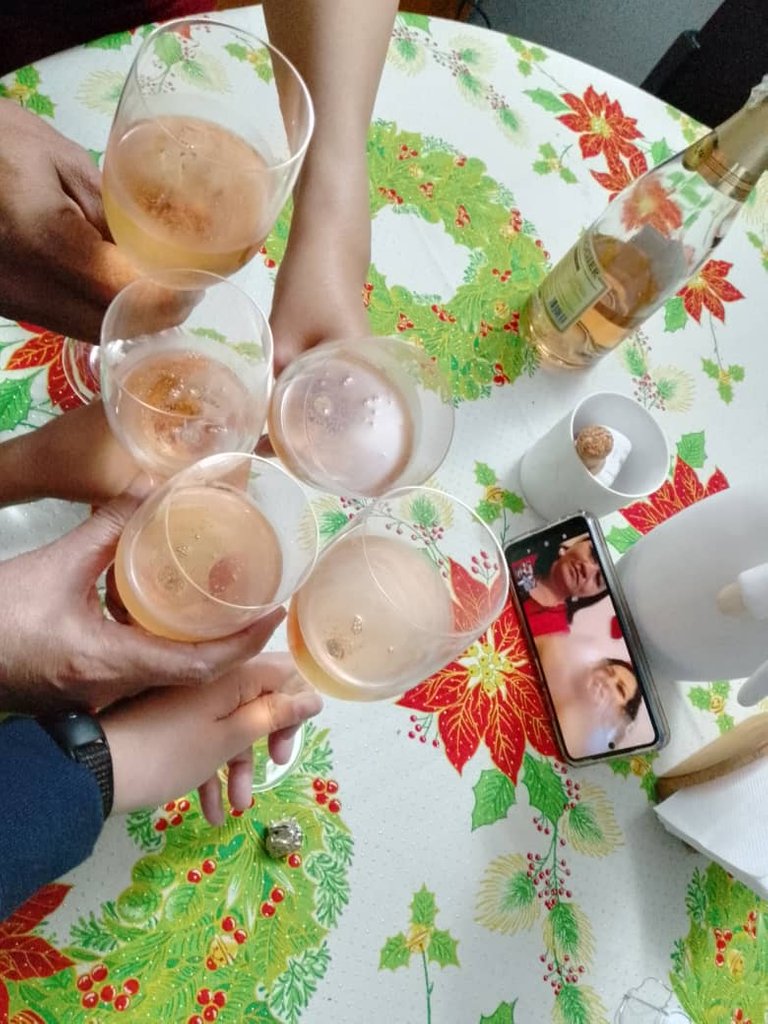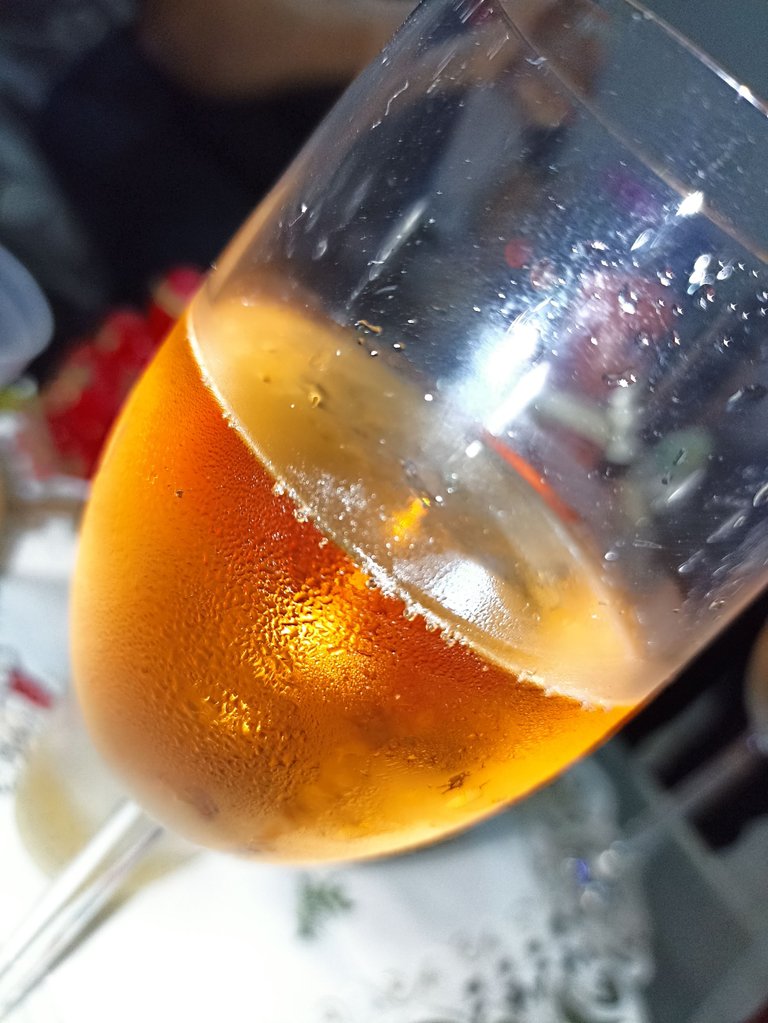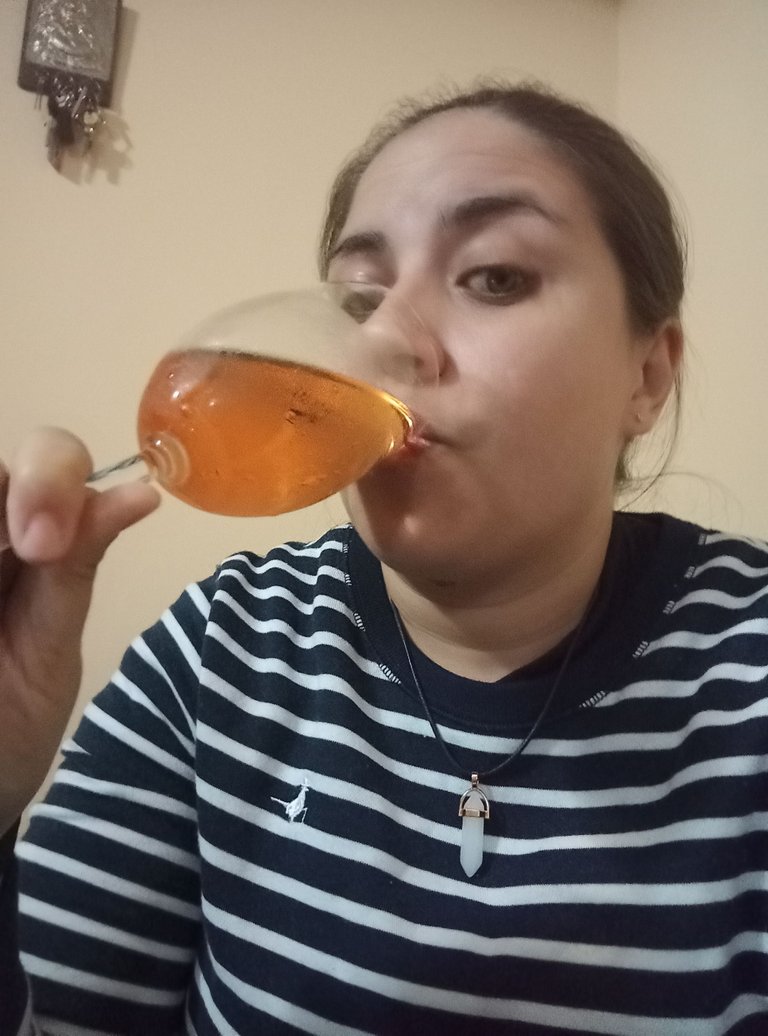 Mi hermosa novia me hizo una videollamada, hablé con ella y sus familiares, nos hicimos unas captura de pantalla jejejeje porque ellos estaban en una llamada con uno de sus primos y mi pareja tenía una videollamada conmigo, entonces como pueden ver estamos todos unidos por la tecnología 🤭🤭🤭🤭 cosa que para mí estuvo súper genial ✨👏👏👏.
My beautiful girlfriend video called me, I talked to her and her relatives, we took some screenshots hehehehehe because they were on a call with one of their cousins and my partner had a video call with me, so as you can see we are all united by technology 🤭🤭🤭🤭 thing that for me was super cool ✨👏👏👏👏👏.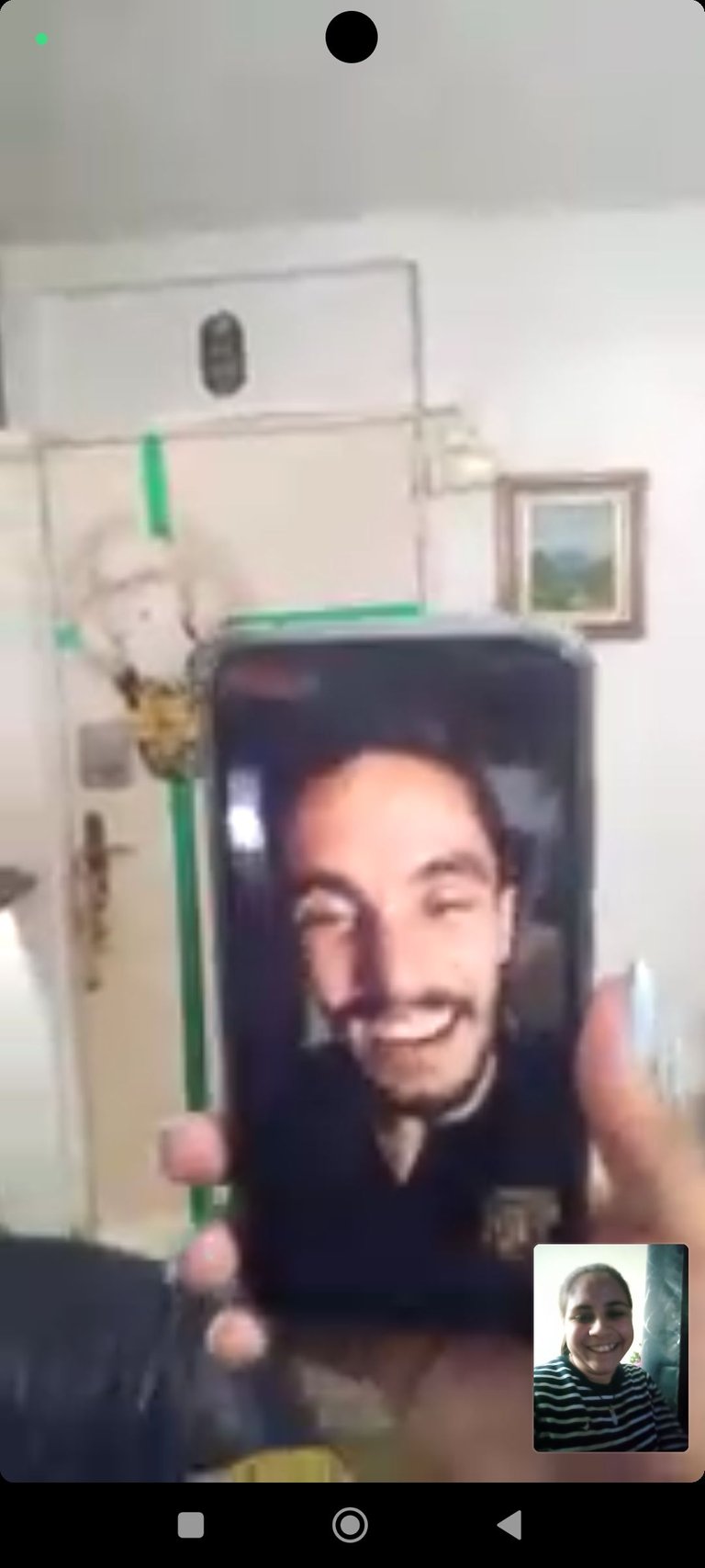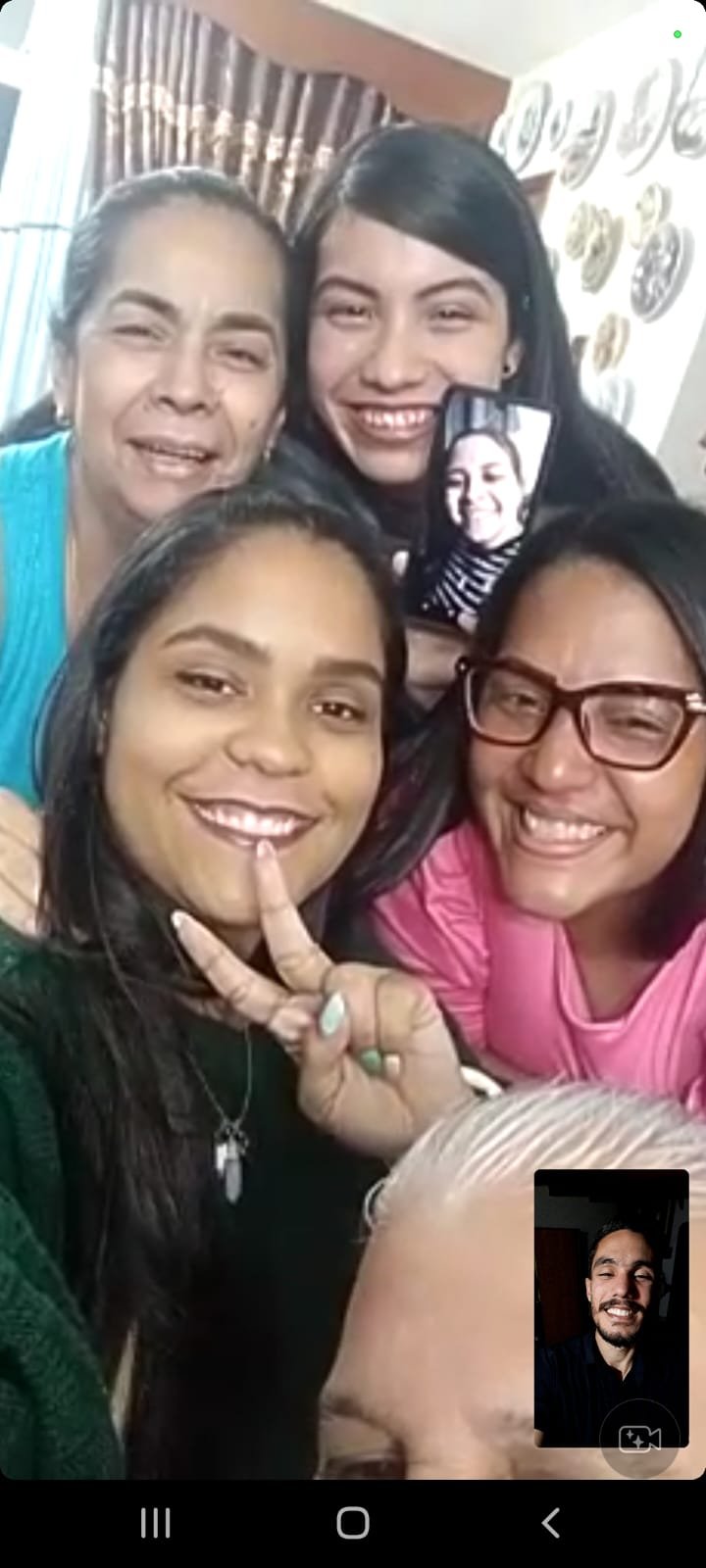 Ya después nos quedamos en la sala conversando y bebiendo mientras nos pasaban las horas, escuchábamos música, bailamos 😁😁😁 (bueno baile una canción con mi hermana @malhy y otra canción con mi sobrino y más nada 😁😁🤣🤣).
Ya a eso de las 2:30 AM yo me fue a dormir porque el sueño me estaba ganando jejejejeje, mi hermana se quedó con mi mamá hasta un poco más tarde.
Y así fue toda nuestra celebración, me encantaría saber cómo la pasaron ustedes, que hicieron, si tienen alguna tradición para despedir el año.
Afterwards we stayed in the living room talking and drinking while the hours passed, we listened to music, we danced 😁😁😁😁 (well I danced a song with my sister @malhy and another song with my nephew and nothing else 😁😁🤣🤣🤣).
Already at about 2:30 AM I went to sleep because sleep was winning me hehehehehehehehe, my sister stayed with my mom until a little later.
And that's how our celebration went, I would love to know how you guys spent it, what you did, if you have any tradition to say goodbye to the year.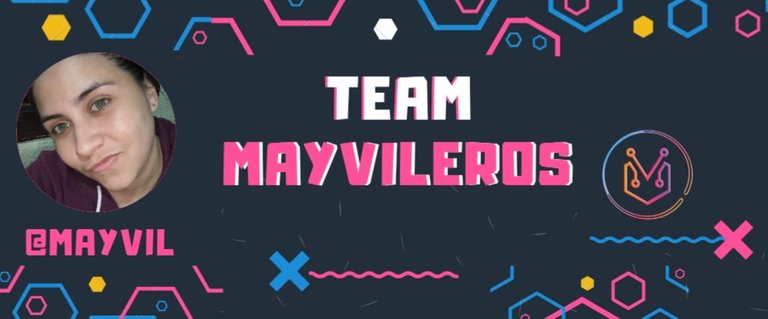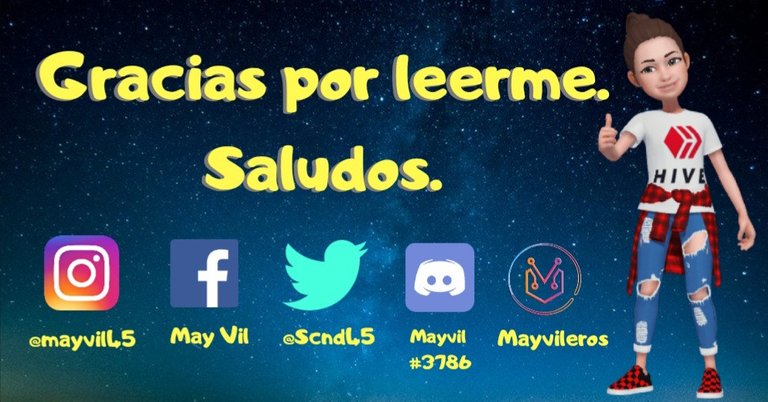 ---
---