My Live Stream Schedule Problems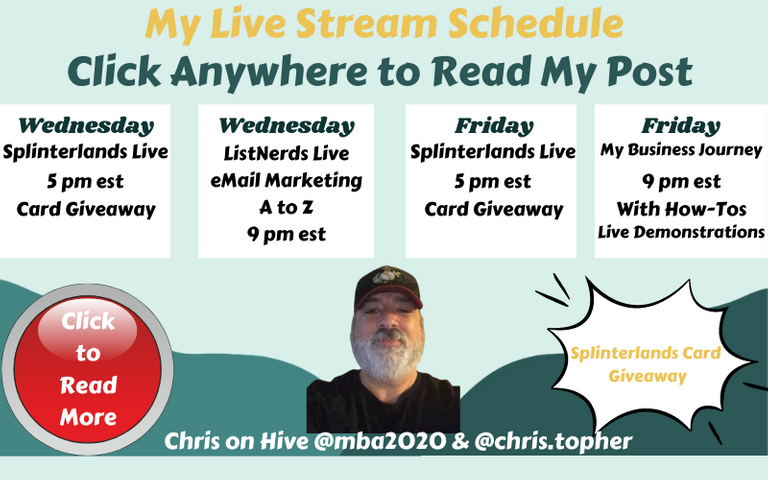 Click to Subscribe
What I am Doing to Move Life Out of The Way
I have found that live streaming video can be very rewarding in many ways. I am not just talking about financially. When building a brand you need to be recognized as much as possible. There is nothing that will draw people to you quite like live video. I know for many including myself live video is a no-go.
I have made quite a few live streaming disasters, things happen unexpectedly especially when your camera and microphone are on. I always had a stigma of not being on video at all for all of the usual reasons. I have said this before being comfortable is a great way to murder the life out of your business.
My Problem Specifically
These upcoming weeks I have some medical appointments and family obligations that can not be moved or rescheduled. This has happened in the past and has gotten so complicated that I threw up my hands in desperation and had long periods of time with no online activity.
Building a business is very challenging, and can really be frustrating to the point of tears. On top of that the stress of the many ways a business can fail, with a little hardship and health instability, and whamo the perfect recipe for quitting.
My Solution
Quitting never solved anything, in fact, it normally complicates an already over-complicated situation. The first thing I need to do is remember my why for starting the business. This is a useful practice to beat down the depression and anxiety attacking your business. The next best thing to do is work the business.
I started my business because I wanted earning money to be fun, and done on my schedule. This is the thing that hampers us. We know business building takes time, and people love seeing us on a regular schedule. If the reason for the business to be is so you may have your schedule be your own, then the schedule needs to be flexible. I have a pretty deep work ethic, and when I am not working I tend to feel guilty. This is something I need to get over.
The New Schedule
I have managed to close off two days of the week Wednesdays and Fridays. I will follow the same pattern as before. At 2 pm eastern time I will stream Splinterlands and at 9 pm eastern time I will stream about my business journey.
That being said this is my contact info:
Discord: mba2020#9194
Telegram: chriss70 and Alpha Team Channel Click Me to Goto My Alpha Team Telegram
WOWApp: Click Here To Join and Find Me on WOWApp This messaging app pays.
This is my LiveStream Schedule: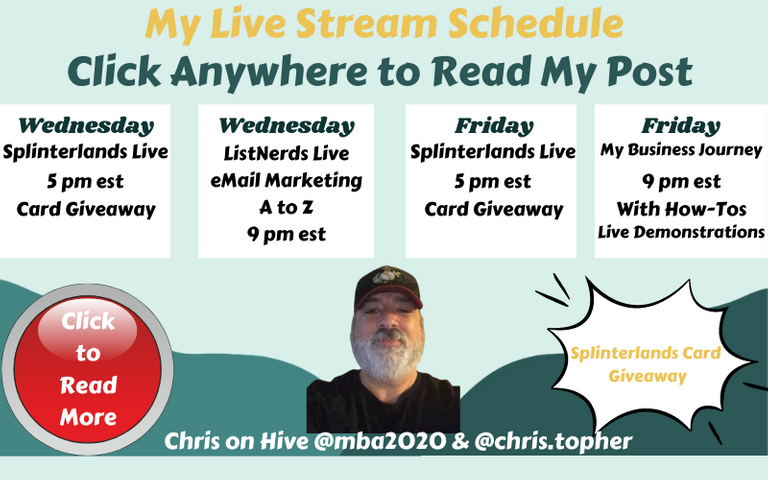 Click to Subscribe
I Am Also Doing A Giveaway
Would You Like to Win $25, $50, or $100 in Hive?
All you need to do is join ListNerds using my link, and be active to be entered in the drawing. There are ways to get multiple entries, but three lucky members will one of the three prizes mentioned above.
Please Click Here For GiveAway Details
Click The Banner Below To Join Now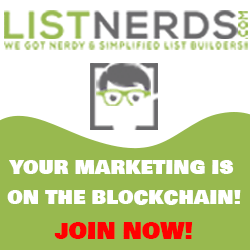 Click to Join ListNerds
Thank you so very much!!

Media Tenor GIF
---
---