Why Am I A Reseller?
Back In My Day…
Every since I was a small child I have been in love with American popular culture. The television shows, movies, plays, books, magazines all of it. The colors, sounds, and themes make one's head spin. My life revolved around the television schedule until I became old enough to work.
Growing up in Michigan during the 70s and 80s I never knew what I wanted to be, or even what my passion is. We had guidance counselors telling us to follow our hearts through academic work to find our ideal careers. She was always kind of off, but we all respected her.
Reselling Is So Easy
Really reselling is easy. I do not have to worry about an SEO score, or advertising, the platform does all of that. Now that I have figured out how to invest 10% of my reselling income into Hive, HBD, and Hive Engine Tokens, it has simplified funding for my crypto-ventures simpler.
All of that time soaking up Television, Movies, Trade Paperbacks, and Comic Books from the 50s through the 80s (highly collectible decades) pay off to the point that reselling is my full-time job.
Bitcoin = Money || Comic Books = Money
Everyone reading this article can agree that Bitcoin is money, no argument. Comic books are also money. Some comic books are even worth more than 1 bitcoin. Action #1 is just off the top of my head. From the aspect of a comic book lover being able to buy, sell, and trade comic books with other people for profit is the dream.
I have other interests in books, collectibles, and art, all of which I buy and resell on platforms like eBay. Sometimes I sell certain things that are too expensive to ship pick-up only. I get to have great conversations with the people that buy from me. Some local resellers also use me occasionally as a source.
The Simplicity or Reselling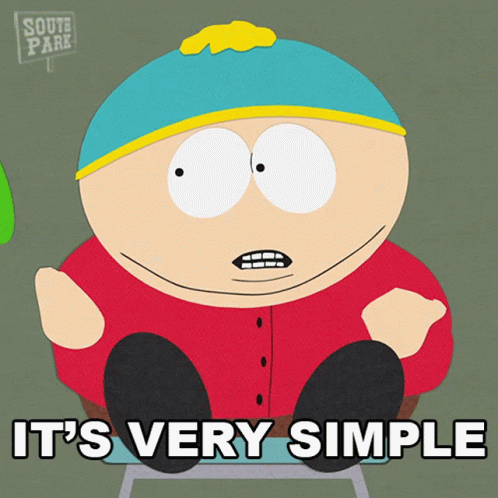 It is really this simple. Get an eBay Seller account it is free, but they do perform a Know Your Customer because money is being exchanged. Go through your house and find some things that you like they are in decent condition and you enjoy shopping for them. Try to find about 5 things.
Whip out your camera phone and start taking pictures of each item from different angles, about 5 images per item 7 would be best but some items like pillar candles will not do this without being redundant.
Write a detailed description of the item, things you would want to know like color, size, weight, features, etc…
Be sure to know how much everything weighs the size of the box it will ship in and how you are going to ship them.
Then post the items on eBay it is straightforward to just fill in the blanks and click the pull-down menus.
eBay Does Everything Else
Once everything is posted you just wait for things to start selling and they will. You may have to answer some questions and yes some of them will be very obvious because not everyone reads the description they just look at the picture and make the decision to either buy or pass.
Once you make some money with items around your home and you get the feel for what you would like to sell. It is time to hit the garage sales and estate sales. Both of them have huge bargains and a lot of opportunities for big profit margins.
I could actually write pages and pages on reselling but for now it is how I pay for everything.
What is your passion?
That being said this is my contact info:
Discord: mba2020#9194
Telegram: @chriss70 and Alpha Team Channel Click Me to Goto My Alpha Team Telegram
WOWApp: Click Here To Join and Find Me on WOWApp This messaging app pays.
This is my LiveStream Schedule: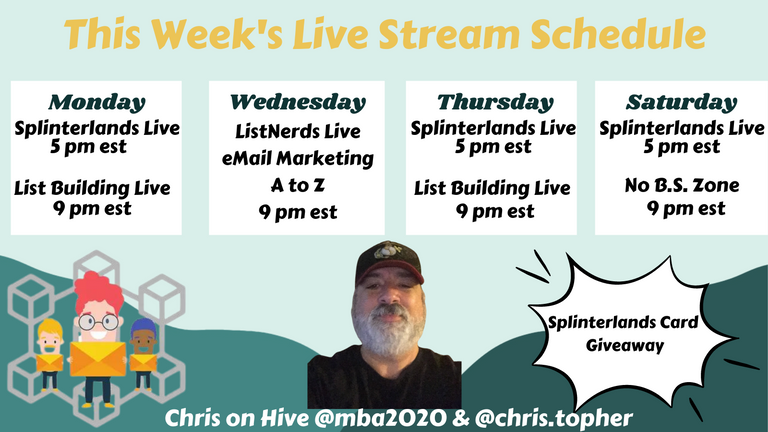 Click to Subscribe
I Am Also Doing A Giveaway
Would You Like to Win $25, $50, or $100 in Hive?
All you need to do is join ListNerds using my link, and be active to be entered in the drawing. There are ways to get multiple entries, but three lucky members will one of the three prizes mentioned above.
Please Click Here For GiveAway Details
Click The Banner Below To Join Now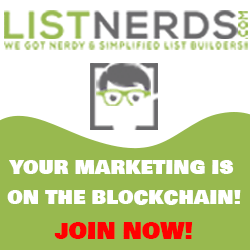 Click to Join ListNerds
Thank you so very much!!

Media Tenor GIF
---
---