NFT art || Monster fish attack || OnChainArt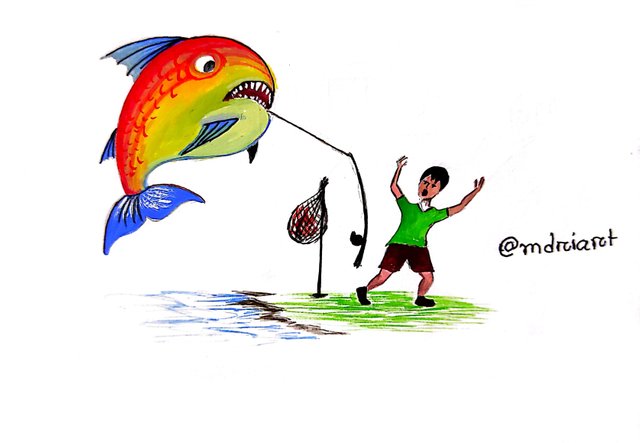 Hi all my dear friends. How are you.? I hope fine. I'm also fine by the grace of Almighty. As you all know that I'm an artist. I like to draw any kind of drawing or painting. Most of the time I like to draw a meaningful painting and drawing. Today I have come to share another nft art to show you all.
About the art.
Today I have come to show another nft art. At the day I draw the nft art of the monster fish attacking on the boy. It's another meaningful art . I made it so colourful using different colour. . I draw the art by acrylic colour on the art paper. I took about an hour to draw this art.
My feelings.
I feel really well to share this art with you all. Drawing is my most favourite hobby. When I sit to draw unique something I get so much pleasure. Today it's not different. I'm so much happy to share this art.
Drawing instruments.
art paper
drawing brush
colour mixing plate
acrylic colour shade
drawing board
water
graphite pencil
Step by step drawing process.
Step : 01
At first I draw the shape of the cat by graphite pencil on the art paper.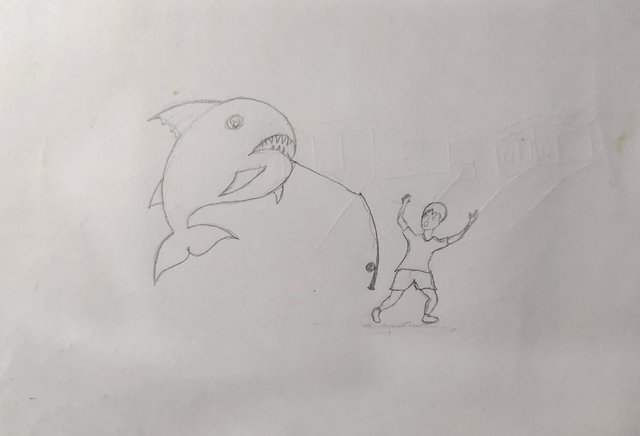 Step : 02
Then I used red, orange and blue colour to draw the body of the big monster fish.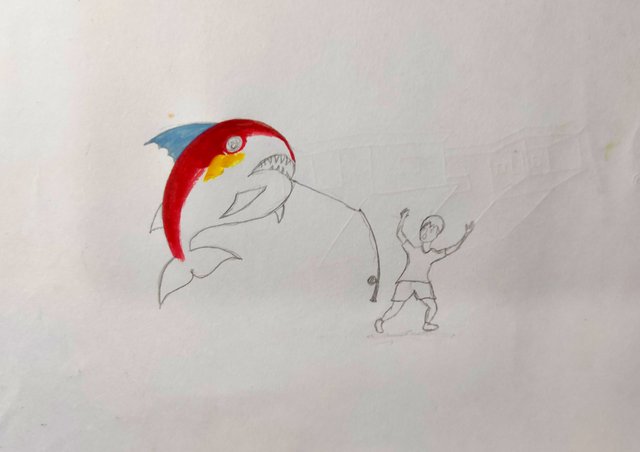 Step : 03
Then I took some yellow colour to draw the bottom side of the fishes body.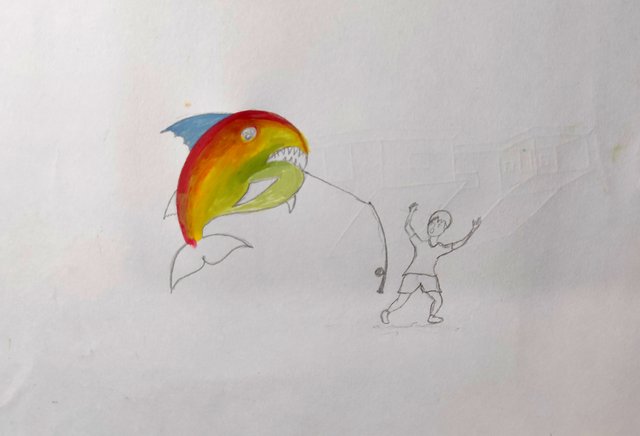 Step : 04
Then I draw the tail of the fish by blue colour and I also draw the t-shirt of the by by green colour.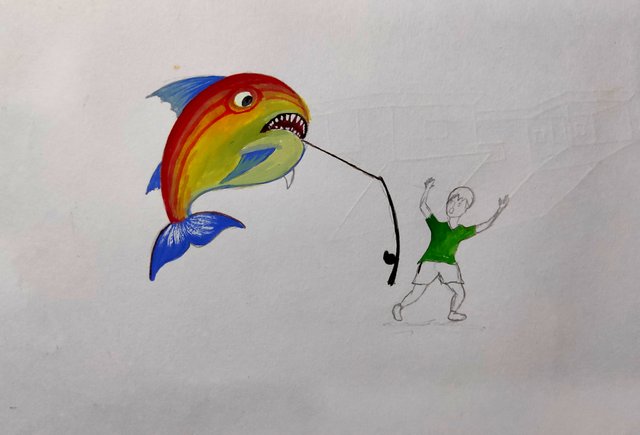 Step : 05
Then I draw the pant of the boy using black colour.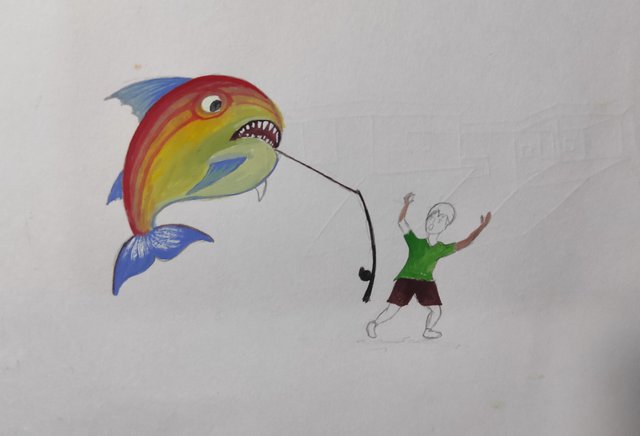 Step : 06
Then I draw the hands and legs by skin colour. I used a details brush here.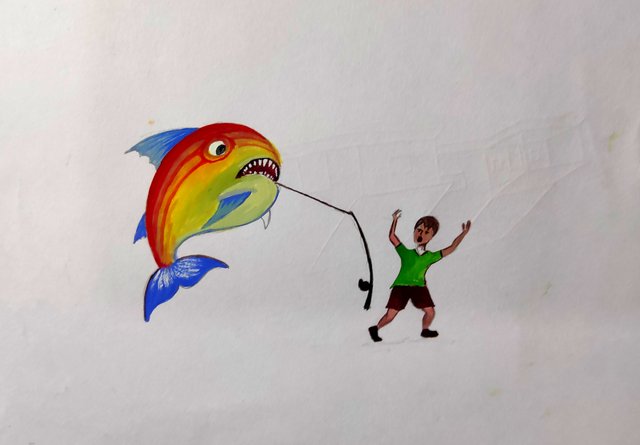 Step : 07
Then I draw the ground by green colour and I also draw the bag fulled of fishes.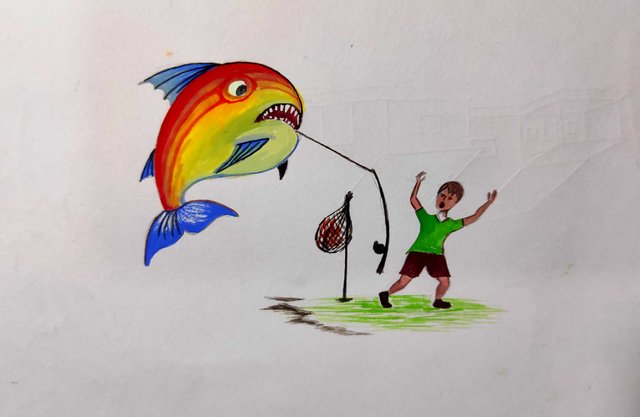 Step : 08
And at the last stape I draw the water by blue colour and by the details brush.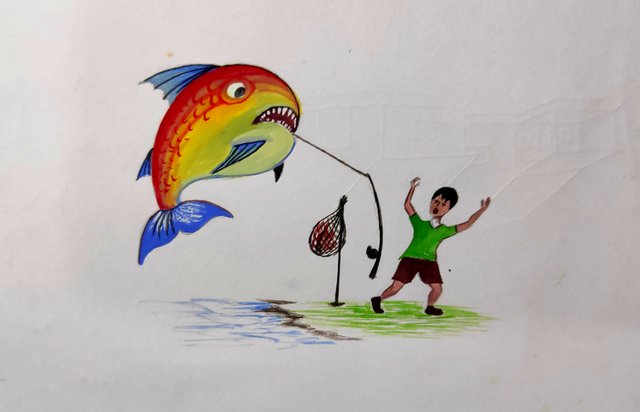 Final output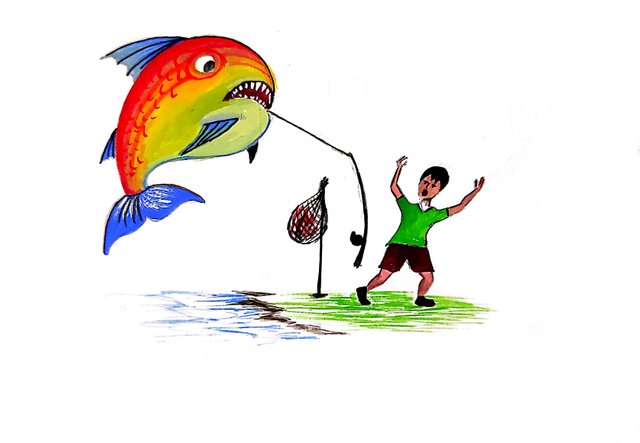 concept of the art
Today I did a new meaningful NFT art. Here I have given a realistic picture of a story. Where a boy was sitting fishing, and even after his bag was full of fish he was expecting more and bigger fish. But at one point it was noticed that a very large giant fish got stuck in its spear and the fish started chasing the boy. Then the boy fled from there. From this we understand that we cannot be coveted. You just have to be more discriminating with the help you render toward other people.
I minted this art in the largest nft market place OPENSEA, recently.
https://opensea.io/assets/matic/0x2953399124f0cbb46d2cbacd8a89cf0599974963/20023465072169362056309417709497668136320776874716080784628987274193318969345/
| A | B |
| --- | --- |
| Categories | nft art |
| Artist | @mdriart |
| Device | poco x2 |
| Location | Khulna |
| Scanned by | pixamotion |
Thanks all for visiting my post.
---
---