MEME Token and MemeHive Tribe Status Update

by @holovision
More time has passed than probably should have for an update. Sorry about that. The fact of the matter is that there hasn't been anything worth updating and there probably won't be for awhile.
MEME is one of the two Steem Engine tokens that I carried over to Hive Engine after moving to the Hive platform. This was back in early 2020. Since I had just gotten certified as an assistive technology specialist through CSUDH my original plan was to put some money I would get after getting a job into things such as Hive Power for @memehive when the MemeHive tribe got off the ground. Unfortunately like so many after the current global pandemic started getting worse than anyone had expected my plans for 2020 were derailed.
I still plan to launch the MemeHive tribe sometime in the future. The best case scenario would be later this year but the way things look right now realistically there probably won't be any further updates until sometime in 2022.
The MEME token is not yet set up to reward any tags used in posts. No MEME tokens have been issued since the STEEM Engine MEME to Hive Engine MEME trade-in ended and that commitment will continue to stand until the MemeHive tribe is launched.
When the MemeHive tribe is ready to be launched there will be at least one contest and possibly a giveaway of some MEME tokens to users who reply to a post within a certain period of time. Until then the only way to get MEME tokens is through a user who already has some to sell on Hive-Engine.com.
According to the Hive Engine Richlist for MEME at the time of this posting the users with non-zero MEME balances are:
Thank you to everyone who has supported the MemeHive tribe. Hopefully sooner rather than later I will be able to post another update with more exciting news.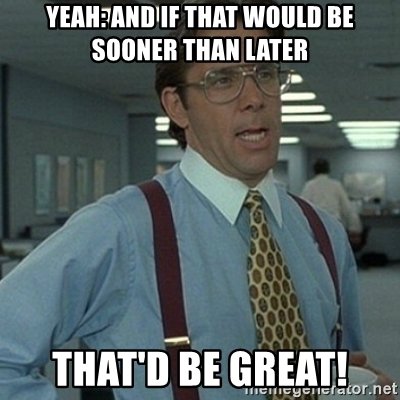 Image Source: memegenerator.net
---
---