Hive Dapp list and explanation
1, Splinterlands
A game where you can use card to play and earn a lot of reward
How Does Splinterlands Work?
Splinterlands provides a platform for card lovers to play, trade and earn in-game rewards from their desktop and mobile phones. The game currently offers 283+ cards which players can combine to increase their character abilities and become stronger.
There are seven stats that define how good a player is: speed, armour, mana cost and different types of attack, including ranged, magic and melee. Splinterlands has different "factions" also known as "Splinters." Every card belongs to a certain faction: Fire, Earth, Dragon, Death, Life, Water and Neutral (mercenaries). To gain an advantage over other players in Splinterlands, there are several Rarities and Abilities.
Splinterlands offers a variety of in-game activities for players to participate in and earn rewards daily. There are several forms of gameplay including quests, ranked play and tournaments.
Players participate in the game on many different levels to earn card packs, rarity, magic potions and the most unique item which is Dark Energy (digital currency which is used to buy items from the in-game shop). Players in Splinterlands can combine cards to upgrade their levels, rent cards to other players or convert their cards to various cryptocurrencies.
How Is Splinterlands Unique?
Unlike most NFT games on the market, Splinterlands offers the feature of cross-compatibility with other blockchains including Tron, Ethereum and WAX. Another unique point of Splinterlands is that the game has its own blockchain, which provides in-game stability and frequent upgrades to the card trading game.
6 Gaming Tips For Splinterlands Players
For new players, Splinterlands can prove to be a challenging experience. Here are some tips that'll help anyone looking to excel quickly in this trading card game.
Setting a Game Plan
There can be different goals for every player in the Splinterlands game. It can be making money, reaching the Champion (I) league, gathering resources or just playing for fun.
Since there are multiple ways to play Splinterlands, it's helpful to have a clear concept of your objectives and priorities early on. It will also benefit you in this area if you have a decent notion of how much money you want to spend in Splinterlands. For example, with your daily prizes and a modest expenditure, you can most likely create a Silver-level deck.
If you want to play in the elite leagues, on the other hand, you'll almost certainly have to invest a substantial amount of time and money to guarantee that your deck is competent for the challenges you may face in advanced leagues. You may also use decks that have been made by others to help you get started.
In the end, it doesn't matter how you choose to play as long as you're having a good time!
Knowing the Buying Options
Improving your cards will put you in a better position to compete in any league you choose. When it comes to purchasing brand new cards, you have a few options.
The simplest method is to use the Splinterlands In-Game Market, which can be found directly on the Splinterlands website. You'll either require credits or dark energy crystals (DEC) to buy the cards from the website. There are a couple of wonderful cards that you can get cheaply that can aid you in the bronze/silver leagues, so search around and see what you can find!
Peakmonsters is another excellent resource for identifying possible card bargains. You may also rent cards at a low fee from this location.
Take Part in Tournaments
Tournaments are another enjoyable method to improve your Splinterlands abilities, while also earning DEC. Every league has active tournaments going on all the time, so you'll be able to pick one that suits your skill/deck level.
Keep an Eye Out for Critical Updates
Splinterlands is continually evolving, and fresh information regarding the game's development is released on a near-weekly basis. It's critical to stay up to date with the latest news, especially with significant features being added on a constant basis. Use a variety of resources that are scattered on the internet and follow official Splinterlands social channels to avoid missing any critical updates.
Keep the DEC Capture Rate Below 100%
You'll see a percent statistic called "Capture Rate" on your DEC balance if you hover over it. The greater this number, the more DEC you'll earn from rated matchups — while the capture rate lowers with each match you win. It refills at a rate of approximately 25% each day (presumably). Always play enough battles to maintain your capture rate below 100%, since this will allow you to maximize your DEC per fight.
Research Other Players' Decks to Identify Playing Strategies
On the "Leaderboard" page, filter by the league to view your own rating as well as the rankings of other players in your domain. Looking at other players' cards and fights to see how they play Splinterlands will prove to be highly beneficial. Although you may find your opponents to have better or unique cards, their experiences may frequently provide insight into how you should construct your deck.
What Are Splintershards (SPS)?
Splintershards (SPS) is a cryptocurrency governance token that works as the primary currency in the Splinterlands card trading game. The main purposes of SPS include decision-making ability and control over stakeholders, asset owners and player-base.
Source


All donation will go to powerup @memess.curator account
2,Exodegame
There is a 10$ entry fee didn't enter in the game currently so don't know if its
profitable
3,Listnerds
What is listnerds
With a new concept that will change the way traditional online marketing works by combining the trusted methods tested for years in Affiliate marketing space with adding elements to verify them and becoming more effective - Proof-of-mail
Get free upvote Here
4,dcity.io
Dcity is mathematical and trading game based on non fungible tokens available on Hive-Engine. Players build their own cities with tokens representing buildings, citizens, technologies, and earn income in the form of hive (based on ranking) and SIM token (based on city income).


All donation will go to powerup @memess.curator account
5,cryptobrewmaster
What is CryptoBrewMaster?
Cryptobrewmaster is a beer brewing game from and for craft beer scene enthusiasts. Brew beer from different ingredients, trade, upgrade your brewery with collectible cards, evolve the character, Earn the CBM token, and buy a beer in the real-world by exchanging it on a cryptocurrency exchange [Cryptex24] or via direct token transfer at our partner's online stores. The key idea behind the game is studying people about beer production, using the brewing equipment, and even study to brew their own beer at home. As well as our aim is to connect real-world breweries and industry supply producers \ equipment producers with potential customers all over the world!
Source
6,risingstargame
Best free2play game
Get free upvote Here
7,apemining
What is Ape Mining Club?
Ape Mining Club is an idle simulation game that incorporates it's own APE token. You can use APE to purchase mining equipment to increase your share of the daily emission created by each pool.
Each pool has a set daily rate that represents how many APE tokens it issues daily. The community can work together to boost the pool to double the daily emission of a pool.
You can get a share of that daily emission buy purchasing equipment in each pool. When equipment is purchased, rewards are split between current pool owner, APE token holders, and dev team with most of the rewards being burned.
Buying Equipment
You can buy equipment in each pool to allow you to take part in the daily payout in APE tokens. Every time equipment is purchase, the APE used is split 10% to owner, 10% to all APE token holders, 10% to devs, and 70% is burned.
Stealing Ownership
Every pool can be owned by one user. The owner of the pool earns 10% of all APE spent on equipment in that pool. You can steal ownership by burning STEM tokens, the price starts at 1 STEM and will double every time someone steals ownership. At the end of the day the price will be cut in half potentially making it more attractive to other users.
Holding APE
You can earn APE in three ways, by stealing ownership of a pool, owning stake in a pool, and by holding APE tokens in your wallet. A portion of all APE spent to purchase equipment is shared with all APE holders. If you have tokens on the market, they will not count when rewards are equipment is purchased.
Boosting
Every pool can be boosted to increased the effectiveness of the equipment. Filling the boost pool is a community effort and if the threshold is reached before the end of the day, the payout for that day will double. At the end of the day the pool will be reduced by 50%. All STEM used to boost a pool is burned.
Pools
There are currently four pools at launch, with another being introduced in the near future. Each pool has it's own dedicated equipment required to join the pool and it's own boost meter and owner.
Pool Emission
Each day at midnight UTC rewards are calculated and added to your pending claims. If a pool has reached boost status (APE Mode!) the pool will issue 200% the daily emission.
Payout
After pool emission has been calculated and distributed as pending rewards to all users, all pending rewards are paid out on the Hive blockchain immediately after.
Tokenomics
A small portion of APE tokens will be on the market shortly after this post for an initial price of $1 to kick start the game. There is a max supply of 2,500,000 tokens, depending on how the game plays out, this should last around 4 years. If the pools are boosted frequently it could be a little less.
Currently, APE only has use in APE Mining Club but may have a unique integration into future games.
Rules
You can find the list of rules here. You will need a Hive account to participate and there are no transaction fees to play.
Technology
Ape Mining Club is using modern technology to allow for complete real-time experience. No need to hit F5 to refresh or wait for updates. Every aspect of the game is updated in real time (after processed by blockchain).
8,dcrops
What Is dCrops?
Built on the HIVE blockchain, dCrops is a cryptocollectible game where you are put in the shoes of a farmer. You have complete control of your farm where you can grow various crops. Will you be upto the task?
Climb the leaderboard and get rewarded with CROP tokens.
Hodl your assets and increase your CROP power to get daily hive rewards. Complete quests to earn mystery seeds and other items!
Source
9,dublup
Earn crypto for voting on the futur of crypto
10,kryptogamers
The only hive casino i know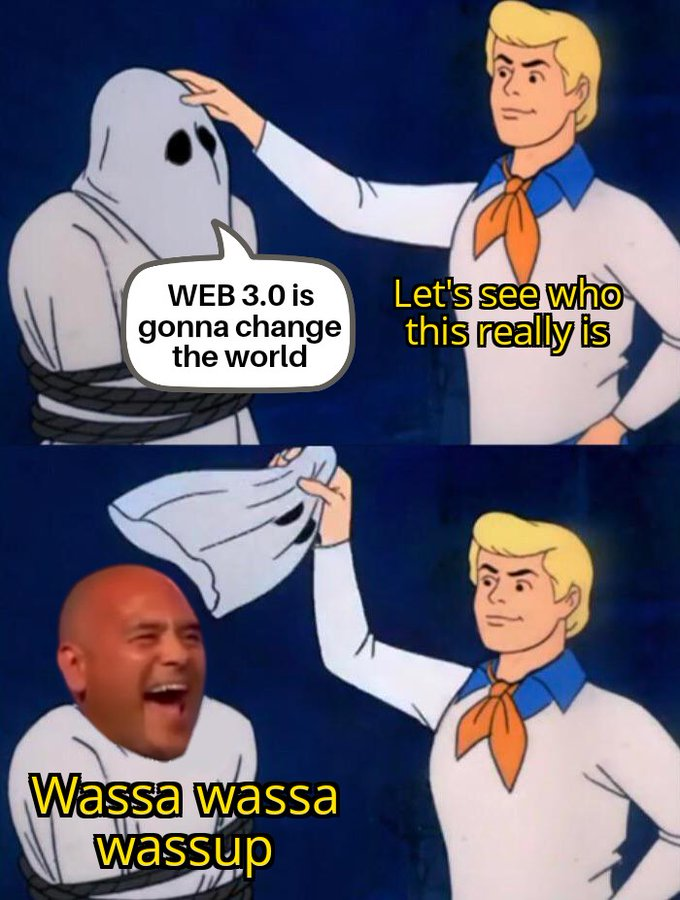 MemeSource
Last Post (Free upvote trail news)
Tags (randome ) 💥 : #alive #AliveAndThriving #meme #ecency #hive #fun #hivememe #bitcoin #dump #lol #meme
Tags (cartel) 💥 : #oneup #splinterlands #leofinance #ctp #palnet #proofofbrain #vyb #neoxian #hive-engine #creativecoin #meme #ATF
---
---