Learn and Earn Contest (What I Learnt This Week)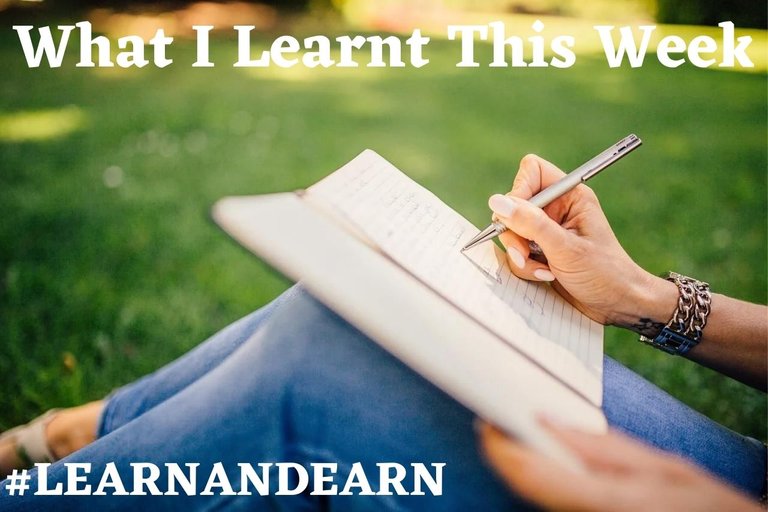 Image source edited using Canva app
It's a another day to share all I have learnt through the week and I am always excited to write for this contest because I get to share my knowledge with my fellow Hivers. Here are my new knowledge from this week.
The Chances We Did Not Take Post link
What did you do with the chances you meet? Do you ask yourself negative questions even before making a decision that might change your life? @dwixer advice that we should not take chances for granted. Leave your comfort zone and take the risk, it's worth it.
We may all have our own definitions of fear but I think you should check out a new definition of fear shared by @zellypearl She advice that we discover our fears, fight our fears and shine bright for others to do the same. This post really inspired me and I learnt something about confidence from it as well.
Becoming a Mom: What It Felt Like Post link
I didn't know much about being a mom until I read this post. @projectmamabg taught me the feeling of a mom even before I could become a mom. What if felt like? A superwoman who is happy even when without makeup, stylish hairstyle or going to a bar or a fancy place.
Beauty In The Broken Post link
This post taught me a lot, I learnt new words like "Kintsugi" and it's meaning is new to me as well. @kemmyb made me understand from her post that one should embrace the Kintsugi way of life shinning light to others by being a lacquer (another new word).
Make Your Post Easier To Read. Get More Upvotes Post link
As a Newbie, I find this post most helpful and I am happy to see that good Hivers try to make things easier by sharing their knowledge. @brutalisti taught me how to format my post to beautiful by using nice images, headings, separators, format texts, using codes and even emojis. I thought I knew a lot until I learnt these new stuffs.
All these posts mentioned are really helpful, you should take some minutes to check them out one after the other and see why I said so.
I will like to invite @blezyn and @glotokens to participate in the #LEARNANDEARN contest t and share what they learnt through the week. You can click Herefor instructions.
Thanks for reading, stay tuned for more of my blogs
All images used were taken from the mentioned posts.
---
---