My Appreciation contest at hive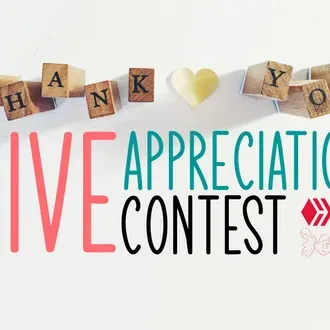 First and foremost I want to appreciate the organizers of this contest for this wonderful opportunity for everyone to appreciate some personalities who have been of great help since their journey in hive started. This is apt, trust me, may God bless you all.
I've been on hive since January 2018 and the journey so far has been amazing. My stay in hive has actually been smooth because of two great personalities that have helped me. I know they will be surprised to see this but this is me saying a very big "Thank you" to them for their selfless efforts since 2018 till now. Infact, I love you both 💖.
I met @ tomlee, he was the one who introduced me to hive and steem, at that time I was in school I was a fresher and I didn't want anything to distract me from concentrating. He practically sang it as a song for me to come join hive and steem, he told me how it will help me with not just the monetary aspect. I felt so reluctant to join and I bluntly refused. But he didn't stop, he continued saying it and then I decided to give it a try.
I accepted and he opened the account and did everything for me but you know what, I plagiarized and the account was doomed. He opened another and still the same thing, he was the one who called me, sat me down and made me see reasons why I shouldn't plagiarize. He opened this particular one I'm using and I've been using it since then till now.
@tomless, I want to use this medium to appreciate your words of encouragement and support and help you've rendered since I started this journey. I can recall those times you use to say these words to me.
You see laziness and unseriousness? It doesn't take anyone anywhere, Nobody succeeds in life by trying, Success comes by doing, committment, seriousness, devotion. Develop the habit of consistency, be success oriented and make the most of Opportunities now, life after school is hard o, No work in Nigeria, take advantage of whatever opportunity you have now. All these talks is to push you and motivate you to be put efforts towards being financially independent.
Thank you so much @tomlee, may God bless and reward you for me.
The 2nd person I really want to appreciate is @maxwellmarcusart. I met him last year during the lockdown period, there was a contest post I participated and then he commented, that's how we became friends and he has really been amazing. This personality has also been of help with his motivational talks to me. He use to tell me that God has given me everything and that the key is in my hands to do what I want to do. He said I should stop procrastinating and be serious by being consistent. He even made me draw out my plan for the year; this is something I have not done before, he encouraged me to always strive hard and be success oriented.
There are many things I'd love to write about them but I'll do that some other time. These two have made my journey on hive smooth and easy and this is me saying thank you @tomlee and @maxwellmarcusart from the deepest part in my heart. God bless you both and give you beautiful wives to marry😉😉.
---
---