Legion Token - Increasing By 0.1 Hive Next Month, Are You Still Stacking Up?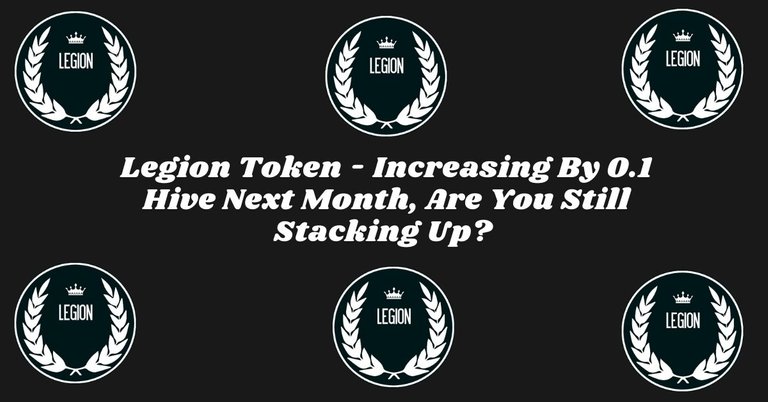 While there could be some persons who would not want this increase to happen in three days time as they are yet to start stacking up enough, there are a lot of persons who are desiring to see the increase as it comes as they've been actively stacking up ever since the token launch. Many missed the time to stack Bro (some are still buying and that is good) so it is best that one takes advantage of this token as it is still way super low compared to Bro.
The two tokens are under same owners and I have the believe that Legion Token will also have more shine than it does now in the future. A reason that is making me stack as much as I can. Just a few hours ago, I sold off a token I won from a giveaway to buy some Legion Token, it was like I won a Legion giveaway lol.
I've been able to hold a total of 180 Legion as of now but within the remaining three days, I've got a big plan to double or even triple the prize before the increase and I think it's a cool move. Of course, anything could happen and I could lose out as we are dealing with crypto here but I can bet for myself that it is worth the risk.
I'm even more glad to have friends on the blockchain who believe in the token like myself and we are encouraging each other to buy as much as we can, I've come this far thanks to their concern and guidance on how to buy and why or when to buy. I started buying the token when it was 1.1 even though the token started to sell at 0.8 when it was launched but I've gathered a good amount within those times, would have to take advantage of it's price now.
I also read a few minutes ago that the 0.1 Hive increase will only last for sometime and then, it will begin to increase or decrease at anytime and any day which would both favour and not favour it's holders. What's important is to be in the moving train right now. Imagine buying up to 1000 Legion Tokens when it was 1.3 Hive and by the end of 7 months, Legion goes up to 2 Hive, do you see your profit?
It's a cool investment and another amazing opportunity to take advantage of is that you get Hive rewards monthly according the amount of the token you have in your wallet, you'll be gaining more when you hold the token so have you started or are you still stacking up?
Be a part of this project and don't say later that you missed it, crypto is a risk anyways but what's life without taking risk hehe.
Thanks for reading, your comments and support will be very much appreciated
This isn't a financial advice, do your own research
Image was designed with Canva
Posted Using LeoFinance Beta
---
---