Not A Rich Hiver But I Could Do This Much - A Hive Helper
I came across the recent #edtopic and I couldn't stop thinking of how much help I've been able to give out ever since I learnt how to give one. Helping is one thing I've grown to learn from both my parents and others around, some weren't easy to do and others were but what's most important is that I was able to give help even the most little.
As a Hiver who is proud to be here, I've tasked myself to learn as much as I can so I could be of help to others coming in... Since I'm not a rich one yet.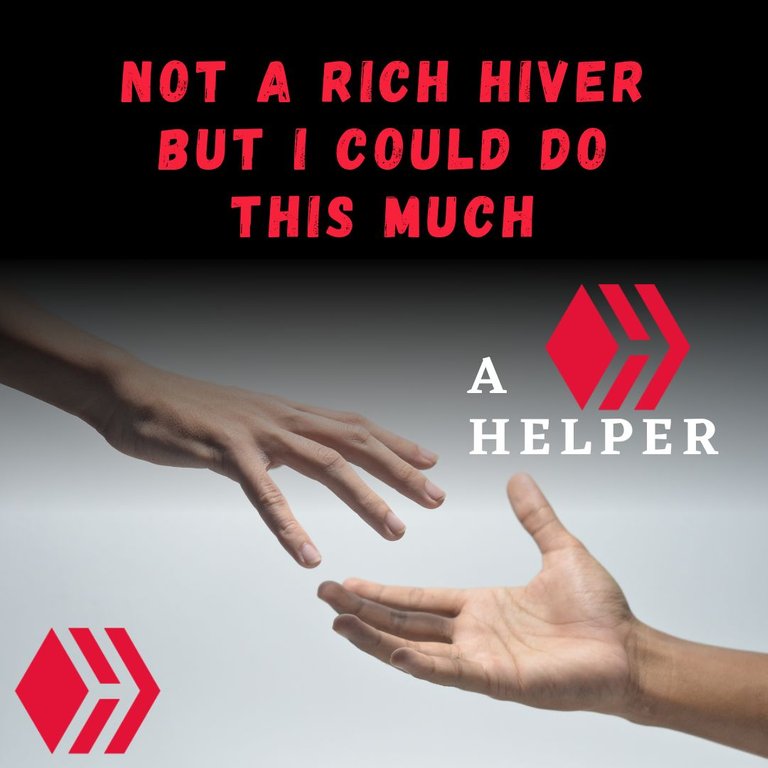 So yeah, I'm choosing to be a Hive Helper in my own little way. And I've come so far with that, it's not about bragging but a lot of persons have recommended me to others for some help they need on Hive. I don't know much but it surprises me how much I could give another who needs one.
How do I help on Hive?
I allow any question from anyone in need of help... When I started on Hive, I remember how much disturb I gave to my onboarder who in turn didn't feel stressed to help me out. He is always ready to answer my questions and give me as much guidance as I need. I've been on Hive taking any little chance to give guide to any who needs it. I can't start counting how many of them have gotten my help and felt comfortable around me, but I'm proud and happy to know that I have something to give regardless of the little I have.
I delegate resource credit or Hive power when I have to... I've done this a good number of times, I've also once helped an account power up a tiny amount of Hive. All that may seem insignificant but they were a big deal for me because it brought smiles to those who got my help.
I share updates I find on Hive... Blogging on Hive requires learning everyday and when I come across something new, I try to share them with those I know that are yet to find out about it. Even the most little update is taken precious by some of them and I think that is priceless.
There are so many other things I do to give help on Hive like joining donations for a cause, promoting projects and onboarding new persons to Hive... All this add up for the healthy Hiver that I plan to be.
Thanks for reading, your comments and support will be very much appreciated
Image is designed here
Posted Using LeoFinance Beta
---
---