Why Consistency is the Key to Success
We all know that Success is not a destination but a journey and during such mission, It is a process of learning, growing, and adapting to new things to progress.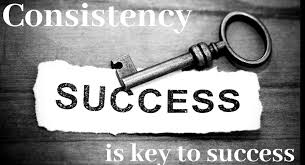 source
The major key to success is consistency because consistency is the key to a successful career, a successful relationship and a successful life. It's the key to achieving any goal that you set for yourself.
It's no secret that consistency is the key to success. You can't expect people to remember your brand if you make them remember it only a few times a year.
The idea of been successful requires the aim of being consistent because constantly putting your brand out there and being visible to your target audience is the key to success.
Regardless of the medium, you need to be there to support your brand and show your customers that you're always there for them.
Being consistent also means being committed to your target audience. If you can do this, then you'll be able to put out your content that appeals to them and keep them coming back.
Being consistent is the key to success and it's something that you should always strive for.
There's a reason why the saying " consistency is the key to success." The more you do something, the more likely it is that it will become a habit. Habits are the things that we do without thinking, and as we do them more and more, they become automatic.
Creating a habit around your business is key to its success and a good marketing strategy should be consistent and it should be implemented in a way that is easy to follow.
If you want to achieve something, you have to be consistent with your efforts. Whether it's reaching your fitness goals, losing weight, or making your business successful, you have to be consistent with your actions and your goals.
Being consistent with your work is perhaps the most important thing you can do to ensure success. Though, it is never easy to follow such trend but the end of it is always appreciated if the idea of not giving up is not in such people's mindset.
---
---